Investors in Monsanto (NYSE:MON) kept their ears open to warning signs from analysts at J.P. Morgan, which advised investors to be a bit more cautious. This came after the company issued the first quarter earnings for the fiscal 2014 earlier this week.
Recent solid momentum and weak corn prices make analysts and myself a bit cautious despite the still intact and excellent long-term prospects.
A Quick Look At First Quarter Trends
On Wednesday, Monsanto released its first quarter results. Reported revenues came in at $3.14 billion, representing 6.9% growth year-on-year. The growth is entirely attributed to strong agricultural productivity performance as revenues from seeds and genomics were down on the year.
While the company made gains in terms of gross margins, these efficiencies were made undone by higher R&D as well as selling, general and administrative expenses.
Reported earnings were up by 8.5% to $368 million, with diluted earnings per share advancing by five cents to $0.67 per share.
Reiterating 2014s Outlook
For the fiscal year of 2014, Monsanto continues to expect mid to high teen growth in EBITDA despite soft corn prices. Ongoing earnings per share are still seen between $5.00 and $5.20 per share.
Operating cash flows are seen between $2.9 and $3.3 billion, which is unchanged from the previously issued guidance.
Analysts Divergence
Analysts at different banks have a different interpretation to the results and prospects for Monsanto going forwards.
On the back of the earnings release, analysts at J.P. Morgan (NYSE:JPM) lowered their rating on the shares to Neutral while running a $115 price target. Analysts see price risk for domestic corn, limiting pricing power. This could also prompt farmers to plant less in the US and Brazil, creating pressure on volumes.
Note that corn prices have retreated significantly after trading at record highs in the summer of 2012, as can be seen below.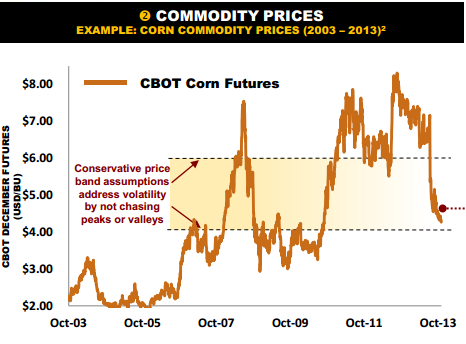 Morgan Stanley (NYSE:MS) remains upbeat, reiterating the Overweight rating, as the banks sees upside to $150 per share. Cost of goods sold will have a tailwind effect in the second quarter. Better "sentiment" on seeds demand, pricing and the Intacta performance in Brazil remains supportive as well.
The bank calls the first quarter performance "solid" in the light of difficult comparables in corn, higher R&D and SG&A expenses related to the acquisition of the Climate Corporation and write-offs in Fruits & Vegetables.
Rock Solid Financials
Monsanto continues to operate with a rock-solid balance sheet giving it much flexibility. The company operates with a cool $4.7 billion in cash, equivalents while debt is limited, giving it a net cash position of $1.4 billion.
On the back of strong operating performance, cash flows are expected to continue to increase. Between 2010 and 2013, Monsanto increased revenues by more than 40%, driven by growth in corn offerings and RoundUp 2, among others. Earnings more than doubled to $2.5 billion the meantime, and expected to be around $2.7-$2.8 billion for 2014.
Investors noted these strong trends as well, sending shares 40% higher as well over the past five years. The current valuation at $112 per share of nearly $59 billion gives the company a lofty valuation at 20-21 times earnings for this year.
While growth is impressive, the complementary dividend yield of 1.5% is modest.
Riding The Megatrends
The world population continues to grow, increasing the demand for food significantly in the past decade and for years to come. Monsanto is well positioned to benefit from this trend competing with the likes of DuPont (NYSE:DD), Dow Chemical (NYSE:DOW), Syngenta (NYSE:SYT) and Bayer, among others.
Growing demand for food is good for the company's corn business, but also for soy and weed controller RoundUp 2, for example. Based on Monsanto's recent presentation, it sees growth in the past decade in corn and soy roughly repeat itself for the next decade.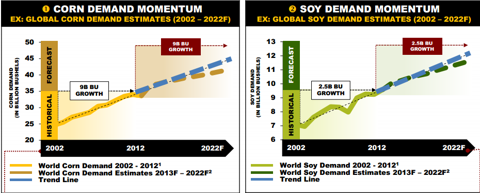 One of these prominent products of Monsanto is for example Dekalb, which aims to boost the yield of corn crops. As you can see from the illustration below the absolute gap in terms of bushels is not even that great against competing products. Yet as farmers operate with relatively high costs of seeds, land, machinery and fuels, it is exactly these small incremental differences in crop yield making a huge impact to their bottom line.
For this reason alone, these incremental improvements in yield are so important for Monsanto, allowing it to charge premium prices for its products without scaring farmers off, or making products like Dekalb uneconomical.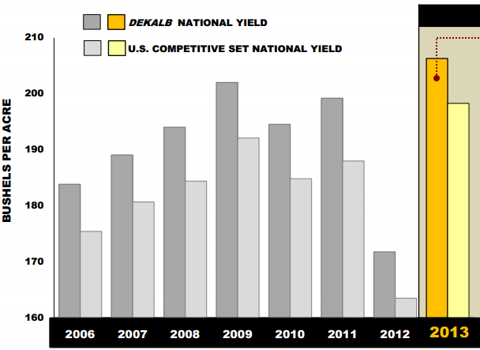 What's Left To Do?
Back in October, when Monsanto released its fourth quarter results, I last took a look at the company's prospects. Shares traded around $103 at the time as I was very enthusiastic about the nearly one billion acquisition of The Climate Corporation. This business will be integrated in Monsanto's Integrated Farming Systems business.
I was hoping for a renewed buying opportunity in the mid 90s but shares have only risen since then. While I still like the prospects now I am not in a hurry to chase shares amidst lower corn prices and the further momentum. I am therefore a bit more cautious at this point in time than a few months ago.
That being said, the long-term prospects remain very good despite the terrible public relationship track record of the business.
Disclosure: I have no positions in any stocks mentioned, and no plans to initiate any positions within the next 72 hours. I wrote this article myself, and it expresses my own opinions. I am not receiving compensation for it (other than from Seeking Alpha). I have no business relationship with any company whose stock is mentioned in this article.