Last year I published my return forecast for U.S. stock markets in 2014, and it created a stir because I used a simple formula rather than a crystal ball incorporating things like unemployment and quantitative easing. The formula simply states that stock market returns have three components - dividends, earnings and P/E expansion/contraction. This third factor, P/E expansion/contraction, is the wild card, driven by investor behavior. In the following I extend my forecast beyond 2014 and make a deeper dive into market segments around the world that should do well, as well as those that probably won't do well.
You can use the components formula above to forecast future returns. Simply plug in your estimates of earnings growth and ending P/E. For example, the following table uses the formula to peer into 2014. The cell highlighted in yellow - earnings growth of 6% and an ending P/E of 15 - is the average long-term situation. In other words, if 2014 is "average" we'll see a 16% loss next year. But what if it's not average? The purple cells highlight a band around the average and indicate a performance range between a 13% gain and an 18% loss. By contrast, losses are not in most forecasts for 2014; see for example Economists say Happy New Year. A 16% loss is a contrarian view.
Return Forecast for 2014 (1 Year)

Source: PPCA Inc
We can also use the formula to look beyond 2014, to the end of the decade, as shown in the following table:
Return Forecast for 2014-2019 (6 Years)

Source: PPCA Inc
This framework can also be used for foreign markets, which are currently near historical averages, so their expected returns are near norm, namely returns near 9%.
Despite recent market gains, or perhaps because of them, investors have been flocking into hedge funds as a defensive move. The demand for these products is sure to increase substantially in the years ahead as the crowd grapples with the harsh reality of the future. But separating the alpha wheat from beta's chaff is crucial in the business of intelligently selecting hedge funds.
In the future, we won't pay much for exotic hedge fund betas (risk profiles), but the market will continue to put a premium on superior human intellect. We'll know the difference because we'll abandon simple-minded performance benchmarks like peer groups and indexes, and replace them with the smart science envisioned in this short entertaining movie on the Future of Hedge Fund Evaluation and Fees.
Winners and Losers Forecast for 2014
In Searching for Alpha in Heat Maps, published in early April, 2013 I showed how heat maps could be used to profit from momentum effects. I then published my forecasts each quarter, and promised to report on their success at year end, so here is that report.
Returns for forecasted winners and losers in 2013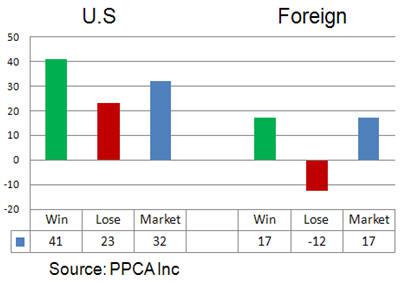 As you can see, momentum investing worked in 2013 for investors who went long my forecasted winners and short my forecasted losers. If you simply went long my forecasted winners, you won in the U.S. but not in foreign stocks, relative to their respective markets. If you simply went short my forecasted losers, you won in foreign stocks. The momentum of lagging segments persisted to a greater extent than the momentum of winners.
So now I'll offer forecasts for the first quarter of 2014 using heat maps. A heat map shows shades of green for "good," which in this case is good performance relative to the total market. By contrast, shades of red are bad, indicating underperformance. Yellow is neutral.
The table below is the U.S. heat map for the year ending December 31, 2013. We see that the best performing market segment comprises $45 billion (not shown) of small-cap-growth companies in the industrial sector, earning 62.9%. And the worst performing segment was small-cap growth in the materials sector, losing 16.7%. Many quantitative managers employ momentum in their models, buying the "green" and selling the "red." Fundamental managers use heat maps as clues to segments of the market that are worth exploring, for both momentum and reversal potential.
U.S. Heat Map for the Year Ending December 31, 2013

Source: PPCA Inc
Using this heat map, I forecast the following winners and losers for the next quarter. I'll continue to track the results on a cumulative and quarterly basis. Let the games continue.

Similarly, the following table is a heat map for foreign stocks in the year ending December, 2013. As you can see, healthcare stocks in Canada have thrived with a 61% return, while materials in Canada have suffered 33% losses.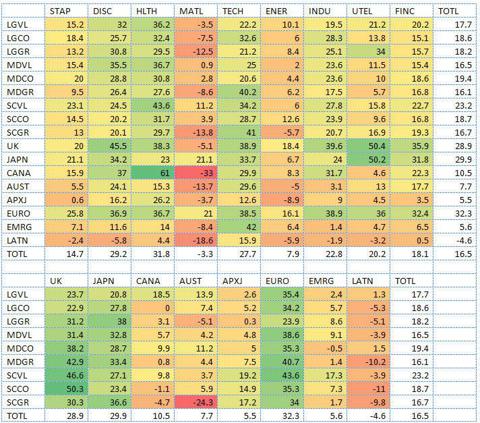 Consequently, the following are forecast for foreign markets.

Conclusion
Santayana said that those who don't remember the past are doomed to repeat it. The approaches described here use the recent past as a guide to the near term future, and a basis for conversation. Please weigh in with your own outlooks.
Disclosure: I have no positions in any stocks mentioned, and no plans to initiate any positions within the next 72 hours. I wrote this article myself, and it expresses my own opinions. I am not receiving compensation for it. I have no business relationship with any company whose stock is mentioned in this article.