The rise of solar energy in 2013 lifted many stocks throughout the industry. Many companies rallied more than 300% in the previous year. In this article, I will be discussing about one such company called SunEdison (SUNE). Precisely, SunEdison appreciated 306.5% in 2013 and I expect the company to sustain its bullish run in 2014 as well. Let's take a look at the reasons why I think SunEdison will yield terrific returns in 2014.
Streamlining Business
In the most recent quarter, SunEdison reported non-GAAP sales of $672 million and posted a small profit of $4.1 million, easily beating the analysts' estimates. However, majority of the attention that SunEdison has gotten lately comes from its planned strategic moves to spin off its semiconductor business in 2014. The company is expecting to gain roughly $40 to $50 million in cash flow from this spin-off, which would aid financing options for solar builders.
Moreover, SunEdison expects the worldwide solar demand to grow 15% in 2014 and 11% in 2015, thus the impending spin-off bodes well for the company as it will allow the company to focus on the improvement of its solar pipeline. RBC Capital Markets' analyst, Mahesh Sanganeria claimed that the planned spin-off indicates that SunEdison has the best strategy to monetize the significant growth expected in solar energy while many others may experience profitless prosperity.
Rooftop Trend
Currently, the rooftop solar sector is on the rise and this trend should continue in 2014. Goldman Sachs has projected that the rooftop sector will grow at a CAGR of 45% till 2016. Big name retailers, such as Wal-Mart (NYSE:WMT) and Costco (NASDAQ:COST), are aggressively adopting rooftop solar. These retailers have the scale and access to low cost financing to make rooftop solar economics work. Hence, rooftop solar should continue to grow as solar energy achieves grid parity in more places and more companies, which will ultimately benefit companies like SunEdison.
Price Drop
Due to the massive supply of polysilicon, the price of solar technology has come down considerably. Currently, the utility scale PV has come down to $2,000 per KW of capacity from $3,250 in 2010 and most solar market research firms project that the costs will keep climbing down in the coming years.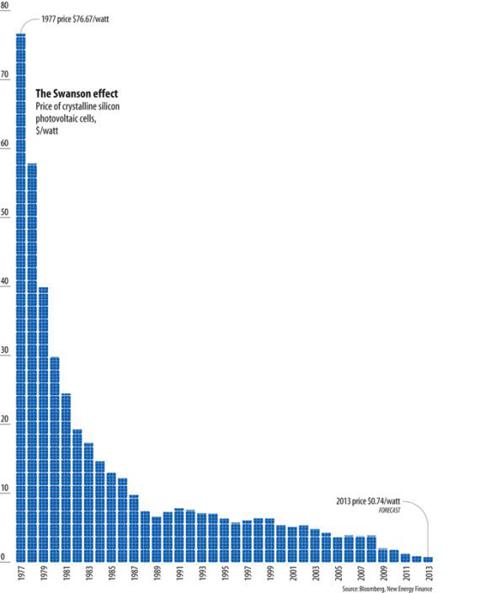 In addition, efforts are being made to bring down the soft costs of solar. These soft costs are the primary reason why the solar technology in the U.S. is considerably more expensive than in Germany. In addition to falling soft costs, solar panel prices are also estimated to fall as solar cells become more efficient, and manufacturers realize greater economies of scale. So, one can expect the prices to drop considerably in the foreseeable future. This will ultimately result in an increase in demand and benefit SunEdison as the company has roughly 3.1 GW worth of projects in the pipeline.
Rising Demand In China
China has been the world's biggest solar energy market by cumulative installed capacity excluding nuclear power since 2011 and it is expected to rise further in 2014.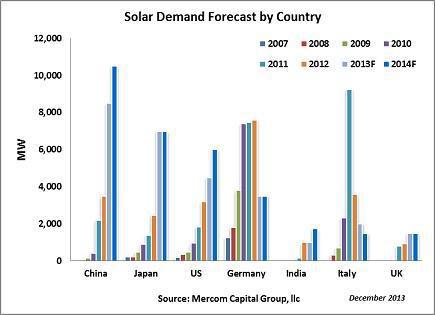 China doubled the pace of adding renewable energy capacity in the first 10 months of 2013 as the government worked to cut pollution in its largest cities. The solar power production in China increased 3.6 GW and as per Chinese Bureau of Energy, the country has an official solar power target of 12 GW installed in 2014. With the growth in GDP, pollution in China will get worse and the country's government is looking for energy solutions that save the environment and create jobs, and solar energy fits the bill perfectly.
Strengthening Balance Sheet
Recently, SunEdison announced that it has completed the redemption of all $550 million outstanding aggregate principal amount of its 7.75% senior notes due 2019, and its $200 million second lien term loan with an interest rate of 10.75%. These redemptions tag along with the company's successful, upsized offering of $600 million of 2.00% Convertible Senior Notes due October 1, 2018, and $600 million of 2.75% Convertible Senior Notes due January 1, 2021.
This deal has strengthened SunEdison's balance sheet by minimizing its annual interest expense. This deal will result in a net savings of more than $35 million per year.
Conclusion
After posting dramatic losses in the recent past, SunEdison finally shared a small profit in the most recent quarter. This indicates that the company has made great progress. Going forward, I expect the increase in demand of solar energy, boosted by cost reduction, to enhance SunEdison's margins. Moreover, the perfectly timed spin-off will also help the company to monetize the significant growth expected in solar energy. In addition, the company now has a better balance sheet and will save up $35 million per year in interest expense. This will aid financing options for solar builders. Therefore, I think investors looking to benefit from the booming solar industry, should consider Sun Edison for their portfolios.
Disclosure: I have no positions in any stocks mentioned, and no plans to initiate any positions within the next 72 hours. I wrote this article myself, and it expresses my own opinions. I am not receiving compensation for it (other than from Seeking Alpha). I have no business relationship with any company whose stock is mentioned in this article.