Recently at CES 2014, Intel (NASDAQ:INTC) announced that it plans to work in strategic collaborations with luxury retailer Barneys New York, Council of Fashion Designers of America, and Opening Ceremony (international design house and curator). The company formed the collaborations because it wants to explore and get a more realistic view of a fast emerging, multibillion dollar market for Internet of Things (IoT).
To start with, the company will design and develop a smart bracelet (based on its IoT technology) under the collaboration with Opening Ceremony, while Barneys New York will market the smart bracelet in its stores. The collaboration with Council of Fashion Designers of America will bring technology developers and fashion designers together to develop IoT products that can be used in day to day life.
Intel's approach:
There are a few things that are holding back the use of IoT products beyond Industrial Internet (IoT used for industrial machine-to-machine communication) like:
Most of the products are complex (not simple to use).
Most of the products are not self dependent, as the products need third party medium to interact like mobile phones.
There are some products that can add value, but most of the products don't deliver a user-experience good enough to make them more popular.
The company is developing its IoT technology while keeping two things in mind:
Real life solutions.
Enhanced user-experience.
The company intends to use its technology to develop the new products that can solve real-life problems in a simple way.
Reference products:
The company showed some reference products that demonstrate the advancements as well as benefits of its technology.
The smart earbuds that are developed by the company not only allow a user to listen to music but also monitor the heart and pulse rate of the user.
Outcome:
The product shows how Intel's IoT technology/products can add (without additional device or wires) more functions (monitoring heart rate and pulse) to a device without interfering with the routine functions/uses (listening to music) with very little power consumption.
Designed as a headset, it's the company's first "personal voice assistant" product. The company nicknamed the headset "Jarvis". It uses a low power, always-listening voice recognition technology. It allows its user to interact wirelessly with the user's personal systems and information (like calendar, appointments, etc. that reside on the user's phone) via voice commands.
Outcome:
The headset is always ready to engage with the user and doesn't need any additional action other than the voice command to get assistance. So, it's not just an order taking assistant; it's an always alert, intelligent assistant product, which takes care of a user's appointments, unread messages, unattended calls etc. to help the user to make intelligent decisions.
The smart headset not only demonstrates the advancement of Intel's technology but also the effectiveness of its approach. The product also demonstrates how the technology can make a product intelligent enough to help the user in decision-making.
Smart Wireless Charging Bowl:
Intel has developed a smart wireless charging bowl, which is based on magnetic resonance technology. It makes charging more convenient, as one can simply drop multiple devices into (without exact alignment or placement) the bowl for recharge.
Outcome:
The charging bowl is another example that shows how the company is active with new technologies to make life simpler for its users. In the future, the company intends to further enhance the technology to develop a wireless charging technology that can deliver "no wires" convenience across a broad range of mobile devices. The use of magnetic resonance technology shows that the company is leaving no stone unturned in the search for better products.
Technology behind the products:
Intel showed Quark at IDF 2013. Quark is the company's smallest ever SoC. It is designed to meet most of the requirements of IoT (small size, low power, open architecture and platform security).
Now just four months after the introduction of Quark the company introduced Edison.
Based on Quark technology, Edison is a product by the company for Internet of Things. Edison is based on 22nm process technology and is meant for ultra-small and low power smart-consumer products and wearable computing. It is like a small programmable computer housed in an SD card form factor with built-in wireless technologies (Wi-Fi and Bluetooth LE), NAND flash storage as well as a wide array of flexible and expandable I/O capabilities.
Edison runs the full Linux open source that enables multiple operating systems to run sophisticated user-developed applications. Customers can design and customize Edison as per their requirements by developing their own IP/applications around the core.
Conclusion:
Intel Corporation designs and manufactures some of the world's best microprocessors. The company is a dominant player in PC and Data-center markets, but the company has a negligible presence in Internet of Things market. This is due to the fact that the company traditionally operates in PC and Data-center markets. Its chips are considered as too power hungry to be used for IoT. But now with the introduction of Edison and numerous collaborations, the company is all set to become a significant player in the market.
The company is rapidly improving its IoT technology. Just four months ago, Quark was based on 32nm process technology and now Edison (based on Quark technology) is built on 22nm process technology. So the company is making smaller and smaller chips for IoT (a key requirement for IoT) .
With the help of the multiple collaborations and highly customizable Edison the company is building a new and open ecosystem for IoT technology, which will deliver the solutions for real life needs/problems and will also promote the use of its technology for the wearable and consumer products.
Rewarding innovations to gain popularity:
To encourage developers to innovate with Edison, the company has announced a 'Make It Wearable' challenge. The challenge invites creative minds from all around the world to get innovative with Edison. The best innovations will be rewarded in cash awards.
This will allow Edison to gain early popularity among developers.
Much larger business opportunity:
Currently, the company is concentrating more on the smart-wearable and smart-consumer products with Edison. However, Edison addresses the needs of a much broader market, i.e. Internet of Things (the smart-wearable and smart-consumer products are the part of IoT), which is a much larger business opportunity.
Internet of Things:
IoT means the networked connection of people, data, processes and things; where everything on the same network (person, device, application, system, etc.) can connect any time and interact with each other, not just manually, but also through the devices or applications, and can react to the particular events (mainly application generated events) that occur when something predefined happens or when an application from a connected device prompts another connected device to do something.
Internet of things includes machine-to-machine communication, person-to-person communication, person-to-machine communication.
IoT is used in industries, homes, businesses, vehicles, hospitals, etc. It helps in the automation of systems to make life easier and simple for its users. The IoT is gaining popularity due to the various reasons like:
For the collection of Big Data.
Need of more automated systems.
Availability of better, faster and more secure networks.
The rising popularity of mobile devices.
The ease of use.
According to Cisco, there will be 50.1 billion connected objects by 2020 from 8.7 billion in 2012, representing a compounded annual growth rate of 24.5% (see the chart below).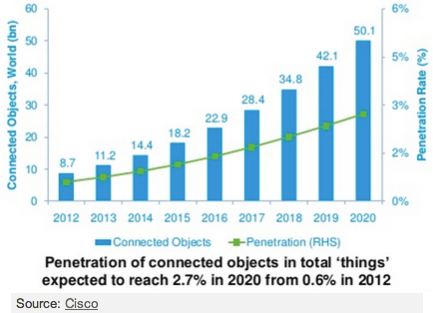 Company's presence and opportunity:
IoT is a massive opportunity for the company. Data centers are the integral part of IoT (for remote connectivity, cloud integration, and data collection). The company's presence as a leading provider of data center solutions should work as a big advantage for the company. Better technological understanding means the better integration of Data-center and IoT architectures that will lead to better performance.
The company's presence as a developer of the software products for embedded computing systems through Wind River, which develops real-time operating systems, middleware, and software design tools for a variety of embedded computing systems will further enhance the company's IoT offerings in the years to come, as it will allow the company to offer products ready to be implemented, fully developed solutions rather than just a programmable SoC.
Over the last few quarters, the company has been in the news for its late entry and little presence in the mobile-handset market, and its significant presence in the declining PC market. But more recently, the company has been making significant technological advancements (like Bay Trail for tablets and now Edison) to enter the new markets that hold significant opportunities. The reference products and the collaborations show how serious the company is about the markets beyond mobile handsets.
In fact, the company is among the very few companies that intend to use IoT for consumer products in a big way. There is every reason for the company to feel confident and excited about its possibilities in the IoT market.
Disclaimer: Investments in stock markets carry significant risk, stock prices can rise or fall without any understandable or fundamental reasons. Enter only if one has the appetite to take risk and heart to withstand the volatile nature of the stock markets.
This article reflects the personal views of the author about the company and one must consult its financial adviser before making any decision.
Disclosure: I have no positions in any stocks mentioned, and no plans to initiate any positions within the next 72 hours. I wrote this article myself, and it expresses my own opinions. I am not receiving compensation for it (other than from Seeking Alpha). I have no business relationship with any company whose stock is mentioned in this article.