I recently bought shares of Collectors Universe, Inc. (NASDAQ:CLCT) after hearing about the stock on Bill Gunderson's show, The Best Stocks Now- watch clip here. I was intrigued by the discussion that Gunderson put out about the stock. And of course, because I've never heard of that company before this show, I went to do some research of my own before buying. And I'd like to take this time to share what I found.
The Business
Based in Santa Ana, California, CLCT is a micro-cap stock of 152.32M that provides grading and authentication for high-value collectibles such as coins, trading cards, autographs and memorabilia. CLCT has multiple brands that specialize in those collectible areas such as Professional Coin Grading Service (PCGS), Professional Sports Authenticator (NYSE:PSA), and PSA/DNA Authentication Service- providing autograph authentication.
In fiscal quarter 4 in 2013, CLCT's PCSG expanded in Shanghai to work as a submission center and to develop the China market as they move to grow the overall business.
Performance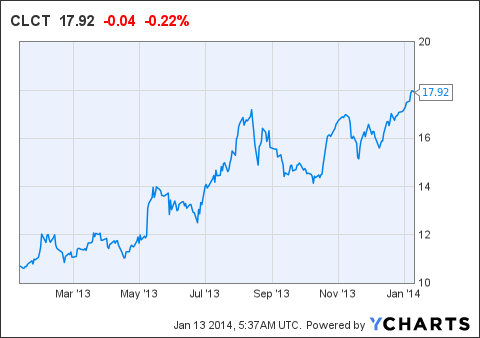 Over the last year, CLCT's price has risen from $10.71 per share on January 11, 2013 to $17.92 at the close of trading on January 10, 2014. What I'd like to point out which I didn't get on YCharts but on the Yahoo! Finance chart after drawing out a six-month chart with a single moving average (NYSE:SMA) of 10 and an exponential moving average (NYSEMKT:EMA) of 30 shows that SMA is mostly above the EMA- and there were some exceptions to that.
Financial Performance
Between June 2011 to June 2013, top line gross profit rose from 27.18M to 30.02M and bottom line net income rose from 5.11M to 5.73M- although in 2012 bottom line net income was at 6.74M. Between 2012 to 2013, selling general and administrative operating expenses and income tax expenses has increased. The selling general and administrative operating expense was a result of CLCT's expansion into China and business growth.
From June 2012 to June 2013, cash and cash equivalents has decreased by approximately 2.5M while property plant and equipment increased 0.45M. Total assets decreased by approximately 3.43M. Total current liabilities increased by about 1M while other liabilities decreased from 2.14M to 1.66M, which mostly brought up the total liabilities from 11.91M to 12.45M.
Ultimately, total stockholder equity decreased from 24.53M to 20.56M due to a decrease in retained earnings.
Dividend
CLCT's dividends is what I feel is the main drawing point for investors who want high yields. CLCT has paid a dividend since June 2006 with increases up to November 2011 where the dividend of .325 per share per quarter has remained consistent since. The current yield of CLCT is $1.30 per share at 7.3%.
Key Statistics
(The source of the following data was from Yahoo! Finance)
Beta = 1.30
Profit margin (NYSE:TTM) = 12.61%
Operating margin = 21.26%
Return on assets = 20.85%
Return on equity = 31.07%
Quarterly earnings growth = 103.10%
Current ratio = 2.33
Enterprise value = 134.81M
Short ratio = 13.60
Short percentage of float = 8.80%
Payout ratio = 163%
Some of these metrics are a little concerning to me, but not concerning enough to keep me away from CLCT. I do think they payout ratio at some point could be too much for CLCT and therefore it is possible that a dividend cut could be in the cards- but until then, I'm all for getting paid to wait. I do specifically like the ROA, ROE, and current ratio above all statistics, though.
Final Thoughts
Because CLCT is a micro-cap stock, I don't imagine it receives as much attention as it's capable of. That being said, I wanted to discuss the company a little from a number perspectives and provide the opportunity to readers to see why I believe that CLCT is worth a look.
My thoughts on CLCT is that it's obviously a growing company and the metrics show that it is a sustainable company- although the dividend sustainability may come into question at some time. Investors who hold shares in CLCT have a chance to get paid a hefty 7.3% dividend yield until that day comes- which is what I think makes CLCT an attractive investment.
Disclosure: I am long CLCT, . I wrote this article myself, and it expresses my own opinions. I am not receiving compensation for it (other than from Seeking Alpha). I have no business relationship with any company whose stock is mentioned in this article.