Our prediction that 2014 would be a year that saw increased M&A activity seems to be materializing early as Google (NASDAQ:GOOG) announced a deal to acquire Nest Labs and thus allow them to enter the consumer's home in a big way. The deal was valued at $3.2 billion and will be paid with Google's cash on hand. It appears this was both a strategic purchase to gain access to technology and also a purchase of talent to work on further products within Nest and most likely joint Nest and Google products moving forward.
That was sexy news and garnered a lot of attention, but the big news was that Charter Communications (NASDAQ:CHTR) took their bid for Time Warner Cable (TWC) to shareholders and have now officially started the sale process of the number two cable provider in the United States.
Chart of the Day:
The chart says it all really. The main sticking point is that Charter saw the weakness in Time Warner Cable's operations after disappointing results and guidance which tanked the shares from levels above $100 to the $80s and now that takeover speculation has hit Time Warner Cable is trying to force Charter to pay even more. Is a higher price justified after losing another 500,000 or so customers due to missteps such as the CBS fiasco?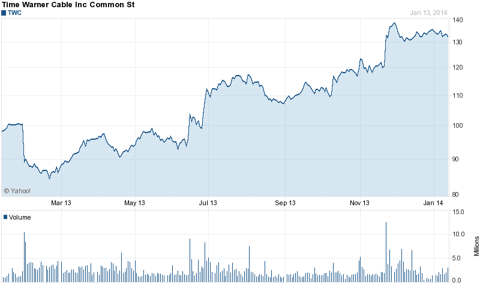 Source: Yahoo Finance
We have economic news today and it is as follows:
Retail Sales (8:30 a.m. EST): Est: 0.0% Act: 0.2%
Retail Sales - Ex Auto (8:30 a.m. EST): Est: 0.4% Act: 0.7%
Export Prices - Ex Ag (8:30 a.m. EST): Est: N/A Act: 0.3%
Import Prices - Ex Oil (8:30 a.m. EST): Est: N/A Act: -0.1%
Business Inventories (10:00 a.m. EST): Est: 0.3%
Asian markets finished lower today:
All Ordinaries -- down 1.51%
Shanghai Composite -- up 0.86%
Nikkei 225 -- down 3.08%
NZSE 50 -- down 0.70%
Seoul Composite -- down 0.15%
In Europe, markets are trading lower this morning:
CAC 40 -- down 0.46%
DAX -- down 0.55%
FTSE 100 -- down 0.18%
OSE -- down 0.72%
Cable Wars Escalate
Yesterday Charter Communications presented Time Warner Cable shareholders with a bid Time Warner Cable's board would not accept in order to put the company in play. The latest offer from Charter valued Time Warner Cable shares at $132.50 each, with a cash and stock component. The deal is worth $83/share in cash with the remainder to be paid with Charter stock. The deal now forces Time Warner Cable to the table with everyone knowing that their desired price (read top dollar) is $160/share and that Charter is not willing to pay that price when they started trying to negotiate when Time Warner Cable shares were in the $80s.
Our view is that Charter will ultimately have to pay up for Time Warner Cable, with $150/share being the area we think both companies could agree on. This could be accomplished by keeping the cash portion of the deal where it currently is and simply increasing the stock portion or by some creative deal making above us that John Malone can come up with...or may have already come up with.
A deal would once again energize Charter shares which have been trending sideways as investors wait for a deal.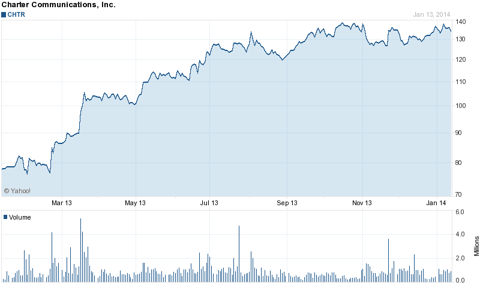 Source: Yahoo Finance
How could Charter pay more for Time Warner Cable and give the Time Warner Cable board the $100/share cash component they are demanding? Well enter Comcast (NASDAQ:CMCSA) and the deal begins to make more sense as a higher multiple could be paid for assets near their operating areas as there would be greater efficiencies realized and more opportunities for cost cutting. Comcast has reportedly been investigating a deal itself but has been moving slowly due to antitrust concerns, so teaming up with Charter could enable them to grab choice cable franchises in New York and California while leaving the majority of the territories for Charter to take over.
The Kitchen Is Warming Up
It seems to us that a full blown fight is about to erupt between Darden Restaurants (NYSE:DRI) and its private equity shareholders. The private equity guys are playing the role of activists here and recently forced the company to take some action, however the company's move fell far short of the desired restructuring investors wanted and the proposed transaction has drawn much scrutiny. So much scrutiny in fact that there are those who do not believe the new entity (an independent Red Lobster) would be able to survive let alone a going concern. That seems a bit of a stretch to us, but what is obvious is that there are far too many better ways for Darden Restaurants to not only create, but maximize shareholder value for this to be the idea they choose to implement.
The allure of the recently announced Red Lobster separation has quickly faded and the share price is right back where it was prior to the announcement. This indicates to us that investors are buying in to the activists' argument that the proposed transaction creates little value, if any.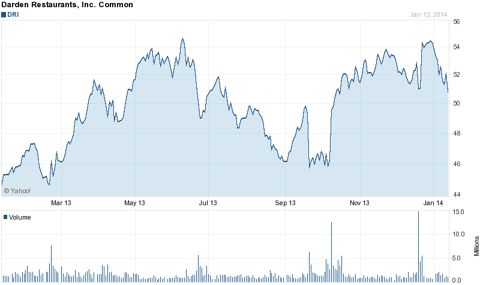 Source: Yahoo Finance
Our guess is that management and the activist investors deploy legal teams and then negotiate something more amicable for both sides, such as a spin-off of some of the smaller and new concepts or separating the real estate from Darden. Simply separating Red Lobster from the rest of the company does not solve the problems that Darden Restaurants is facing right now.
Disclosure: I have no positions in any stocks mentioned, and no plans to initiate any positions within the next 72 hours. I wrote this article myself, and it expresses my own opinions. I am not receiving compensation for it (other than from Seeking Alpha). I have no business relationship with any company whose stock is mentioned in this article.