Data from a recent Comscore report indicates that Apple's (NASDAQ:AAPL) iPhone had a modest 0.3% gain in the US smartphone subscriber market (from 24.8% to 25.1%). In comparison, Comscore indicates that Research in Motion's (RIMM) BlackBerry had about a 2% increase in US smartphone subscriber share (from 41.3% to 43.0%). The report compares market share data from the November 2009 to January 2010 period, with prior market share data from the August to October 2009 period.
The implication for Apple is that growth in iPhone unit sales could be slower in 2010 than we had originally forecast, and that this could result in a downside of $12 (or nearly 5%) of the $267 Trefis price estimate for Apple's stock.
iPhone Crucial for Apple's Stock
We estimate that the iPhone constitutes 52% of Apple's stock, and that the iPhone market share is one of the most important drivers of Apple's value.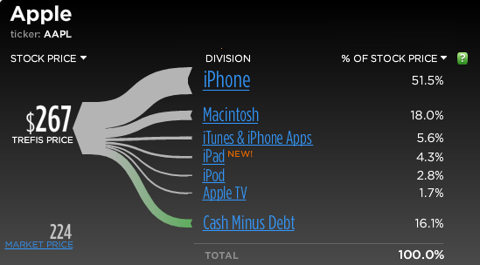 (Click to enlarge)
Trefis' Forecast Implies 67% Growth in 2010 iPhone Units

We forecast that within the global mobile phone market, iPhone's market share will increase from 2% in 2009 to 3.2% in 2010. This implies a 67% increase in iPhone unit sales, from 25 million in 2009 to 42 million iPhone units in 2010.
An increase in the iPhone's market share within the global mobile phone market is based upon two factors:
an increase in the share of the smartphone market within the overall mobile phone market
an increase of the iPhone share within the smartphone market
We believe that Apple will benefit from increases in both of these factors, which will drive up overall market share.
Comscore Data Suggests Flat Smartphone Share and Lower iPhone Unit Growth

Comscore's data indicates that Apple did not have significant market share growth within the smartphone market. This means that growth in iPhone unit sales are primarily driven by increases in the overall mix of smartphone users. We believe that the US smartphone market grew at a rate of 30% in 2009, and is likely to continue at this pace over the next few years. Although growth of the US smartphone is high, it is lower than the 67% implied growth we forecast for iPhone unit sales.
If iPhone unit sales were to grow 30% globally in 2010, Apple would sell around 33 million iPhones, implying a global mobile phone market share of 2.5% in 2010. By modifying the global iPhone market share in 2010, from 3.2% to 2.5%, you can see how this lower than expected share would result in a $12 loss to Trefis' $267 stock price estimate for Apple.
Disclosure: No positions