Back in July I wrote a Seeking Alpha article on BioMed Realty (NYSE:BMR) and I was highly bullish on the "pure play" Life Science REIT. Back then the stock was trading at $21.28 with dividend yield of 4.4%. Since the Life Science sector was new to my research platform, I spent a considerable amount of time educating myself on the operating fundamentals and I concluded the July article as follows:
The recent FDA drug approvals are growing and that makes the university-based research model more compelling. These factors should also have a strong impact on BioMed's lease-up fundamentals and future occupancy.
When mentioning 'life science' - most people naturally gravitate towards thinking about smaller, early stage, venture backed companies. This is part of the reason for the historical opportunity. However today the majority (80+%) of Biomed's rental income comes from research institutions (like Harvard, UPenn, Wake Forest, etc.) or public companies (like Merck, Pfizer, Sanofi, Roche, Bristol Myers Squib or say Regeneron).
In fact - less than 4% of BMR's rents come from early stage venture backed companies. Seven of BMR's top ten tenants have an A rating, and each of the other three tenants are public (aggregate market cap north of $30 billion).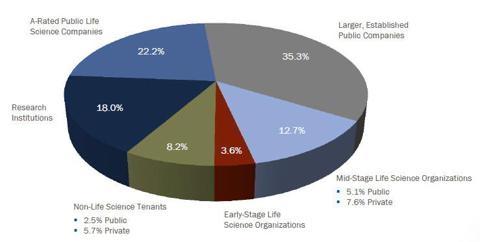 What makes BioMed most interesting, however, is the fact that the share price has fallen to a level that I am now strongly considering opening a position. At $18.32, it appears that BioMed is trading at a very attractive valuation level and I am contemplating exposure to the "pure play" Life Science sector. Back in July I felt strongly that BioMed was a "sleep well at night" REIT and now that the share price has fallen around 15% I am even more encouraged by the stress-free investment opportunity.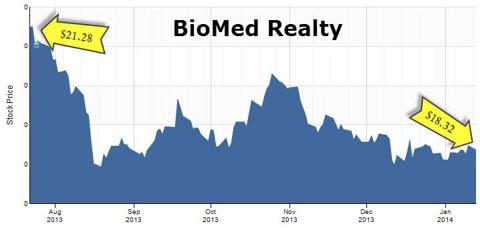 Let's Examine the Opportunity
BioMed has become the largest life sciences REIT based on most metrics and one of the biggest drivers for the sector is the continued FDA drug approvals with a solid pipeline of new drugs waiting approval. As noted above, BioMed leases its facilities to many large biotech companies and the basis for the REIT's success is in large part fueled by the sustained scientific achievement of 39 IPOs in 2013 with over $5.9 billion raised.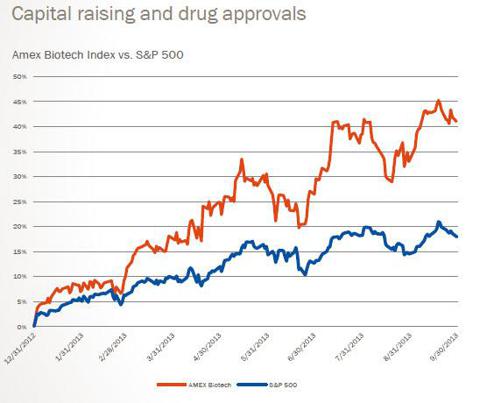 During the third quarter, BioMed experienced another solid quarter of execution with over 340,000 square feet of gross leasing activity, including 111,000 square feet of positive net absorption.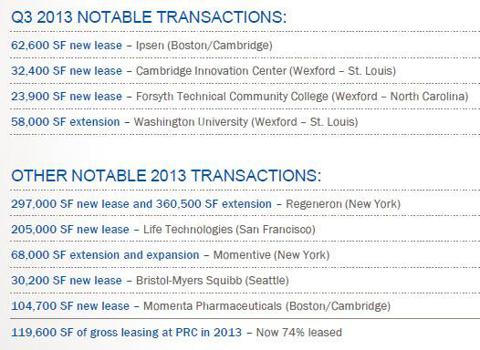 Financing activity for the Life Science industry continues at a robust pace. Total U.S. financing and partnered transactions in the third quarter were $14.3 billion, bringing the 2013 year-to-date total to nearly $58 billion.
Over 40% of BioMed's rents come from A rated companies and research institutions with another 40% of rents coming from publicly traded biotech tenants like Regeneron Pharmaceuticals, Life-Tech, Ironwood and others. In fact seven of the company's top 10 tenants enjoy corporate credit ratings of A or better.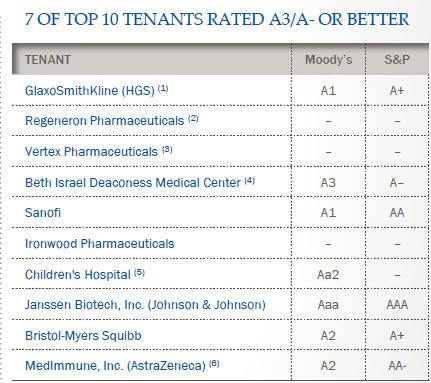 During the third quarter total revenues were $159.2 million, up 18% from the same quarter last year, driven by the increase in rental revenues for the quarter, which increased 15% over last year to approximately $117 million and were the highest in the company's history.
Core Funds from Operations (or FFO) per diluted share was $0.33 in the third quarter, while AFFO per diluted share was $0.29 and net income was $0.02 per diluted share.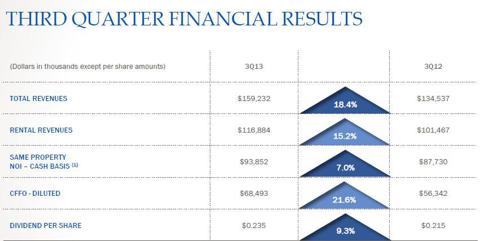 Also during the third quarter BioMed improved its financial flexibility by extended debt maturities and lower its cost of capital. Proceeds of the new $1.25 billion term loan were used to pay down the line balance which as of September 30th has a balance of just $20 million with $880 million of available liquidity by a large margin, the strongest liquidity position in our BioMed's history.
Also at the end of the third quarter, BioMed had healthy financial ratios and its leverage remains in great shape. The fixed charge coverage ratio was 3.5 times. Debt as a percentage of total gross assets held steady at 38.6% and net debt to adjusted EBITDA was 6.6 times. Unencumbered rents remain at 76% and the un-hedged variable rate debt is just over 8% of total debt and less than 4% of total assets.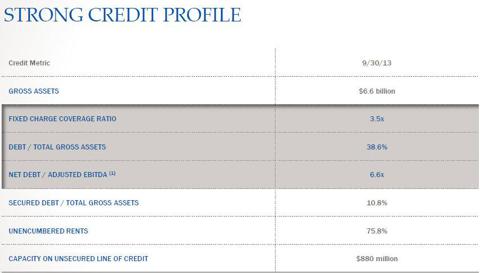 Since the Great Recession, BioMed has significantly improved its overall credit metrics and built a wider margin of safety around its core earnings model. Collectively, the improvements to the company's fundamentals have led to better consistency and sustainability practices - hence the usage of the phrase: "sleep well at night."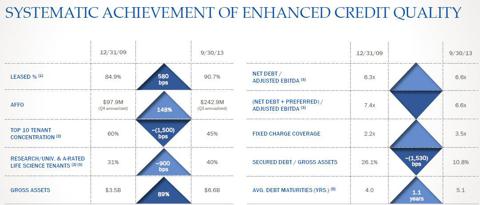 This REIT Looks Cheap To Me
Upon examination of BioMed's Price to Funds from Operations (P/FFO) multiple, it appears the stocks is trading at a very attractive valuation of 12.5x. Here is a snapshot of BioMed's P/FFO multiple and a select peer group: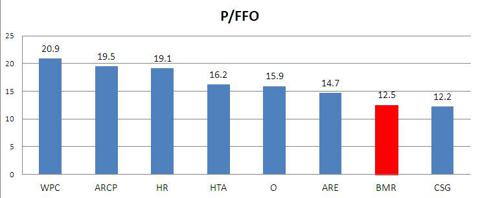 As you can see below (by reviewing the FAST Graph) BioMed is trading at a discount - the business value acts as a floor beneath the stock price and that's what gives the value investor confidence.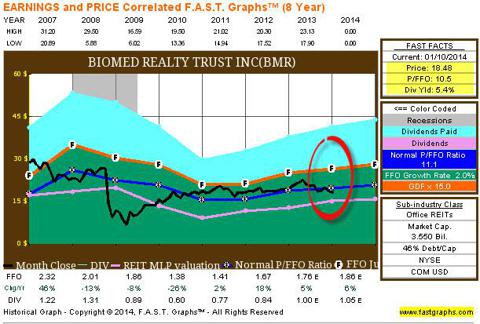 Upon closer examination (and as you can see above), BioMed cut its dividend in 2008 (shaded aqua blue area are dividends paid). However, since the Great Recession (as seen below), BioMed has begun to "claw back" its dividend and the shares are now trading at a discount (as compared to the last 3 years).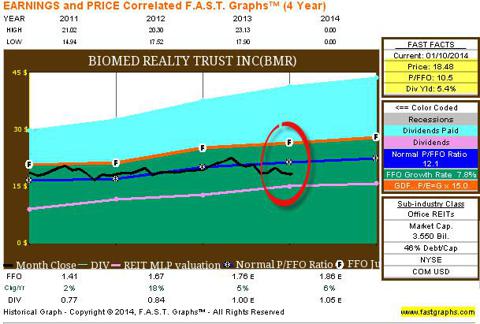 Now let's take a look at BioMed's dividend history. As you can see below, BioMed (like most REITs) opted to preserve capital and cuts its dividend in 2008 (it had a bank debt coming due too); however, you can see the trend forming in which BioMed has been consistent with its more recent dividend expansion strategy.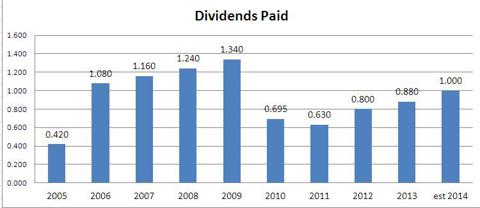 On December 16th (2013) BioMed announced a fourth quarter 2013 dividend of $0.25 per share of common stock, representing a 6.4% increase over the company's third quarter 2013 dividend of $0.235 per share. The dividend is equivalent to an annualized dividend of $1.00 per common share. As illustrated below, BioMed has continued to maintain a healthy dividend policy (since the Great Recession).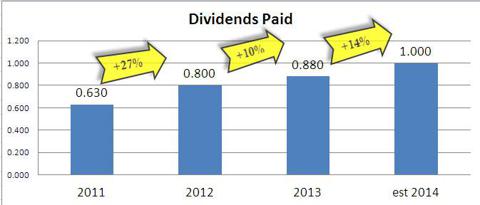 BioMed is currently paying a dividend of 5.46%, considerably higher than the 4.4% referenced in my article back in July (2013). Compared with the peer group, the company is trading in-line with the group; however, there's a much greater growth outlook for this "pure play" Life Science REIT.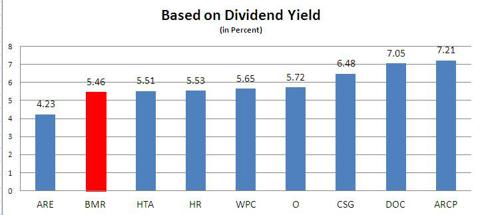 What's Makes Me Sleep Well at Night
As most of you know, I like the Triple Net REITs because I consider the fundamentals to be the most defensive in the real estate sector. Let's face it, long-term leases are just plain boring. Yet, that's precisely why I buy (and own) the Net Lease REITs - I don't see too many highs - Gramercy (NYSE:GPT) being an exception - or lows; just steady and reliable dividends.
I also like the Medical Office Building REITs - like Healthcare Trust of America (NYSE:HTA) - an equally defensive sector with a strong emphasize on critical mission real estate.
In my opinion, the Life Science REITs are somewhat of a hybrid between the Triple Net REITs and the MOB REITs. In other words, the Life Science REITs own similar "mission critical" properties and they are also leased on a longer-term basis. However, several things are unique to the Life Science REITs:
They enjoy annual rental increases of around 2.5%
They develop properties (many on a build-to suit or sale/leaseback basis)
There are just two "pure play" Life Science REITs
These differentiators are very important because what makes them important to me also makes them important to Ventas, Inc. (NYSE:VTR) and HCP, Inc. (NYSE:HCP). My point here is plain and simple: I consider BioMed a target. I have no inside knowledge to support that argument other than the fact that Ventas does not own a Life Science property and BioMed appears to be an enviable operation today, especially given the more recent decline in price.
Regardless of the "takeover talk," I'm feeling the love with BioMed. For whatever reason (and I don't see that being fundamentals), Mr. Market is less attracted to this "pure play" and I believe the underlying value to the REIT is worth more than Mr. Market is suggesting. I see a pattern of (dividend) predictability forming and more importantly, I believe that BioMed has become a "soundly valued" REIT (not a bargain) - at $18.32, a safe and very reliable addition to my "sleep well at night" portfolio.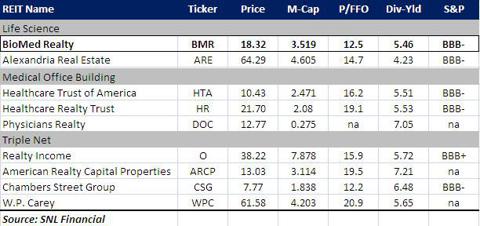 For more information check out BioMed's latest (November 2013) Investor Presentation. Many of the charts in this article were sourced in that same presentation.
Also, BioMed reports Q4-13 earnings on February 5th.
My Newsletter: For more information on REITs (including BioMed), check out my monthly newsletter HERE.
Source: SNL Financial and FAST Graphs
Other REITs mentioned: (NYSE:ARE), (NYSE:HR), (NYSE:DOC), (NYSE:O), (ARCP), (NYSE:CSG), and (NYSE:WPC).
Disclaimer: This article is intended to provide information to interested parties. As I have no knowledge of individual investor circumstances, goals, and/or portfolio concentration or diversification, readers are expected to complete their own due diligence before purchasing any stocks mentioned or recommended.
Disclosure: I am long O, DLR, VTR, HTA, STAG, UMH, CSG, GPT, ARCP, ROIC, MPW, HCN, OHI, LXP, KIM. I wrote this article myself, and it expresses my own opinions. I am not receiving compensation for it (other than from Seeking Alpha). I have no business relationship with any company whose stock is mentioned in this article.