In a previous article I spoke of a rule-based investment strategy that investor Nigel McCarter has used to deliver returns of around 23% over the last 20 years. In this article, I use the same rule-based methodology to analyze one of the world's most popular stocks and thereby present 19 compelling reasons to buy Apple stock (NASDAQ:AAPL).
Apple's best product yet!
There is no doubt that there is a great deal of research and opinion on whether or not to buy Apple shares. With so much reference material available, new analysis tends to focus on the technical specifications of new Apple products and the likely success of new product launches.
I believe that trying to predict the success of a new product launch requires looking into a crystal ball and even if it were possible, doing so would not necessarily provide much insight into predicting future stock movements.
I believe it is far better to treat the company like any other; to look at traditional measures of valuation, past performance and fundamental analysis. By using the rules that I spoke of in my previous article, we can look at Apple as an investment in it's own right and see whether it is worth buying. More importantly, we can ignore the qualitative outlooks and projections and focus on simple principles that are more easily understood.
As we go through the 20 rules detailed in McCarter's book, we will keep scores. Each rule is worth one point; any stock with a total score lower than 10 can be immediately discarded. Stocks above 10 are interesting.
Rules 1 - 5
Rules 1- 5 focus on understanding the basics of the company so we can do this quickly with Apple. We already understand how the company makes its money; by selling hugely popular products like the iPad and iPhone. We also know that this is a sector likely to grow over the next 5 years as the market for tablet computers and smartphones clearly has a long way to go. We can also say that Apple is a company both growing by itself and by taking over smaller companies and its revenue is greater than $100m (rule 4).
(Score: 5 points)
Rule 6 - EPS has been growing at more than 10% for the last 5 years
In the case of Apple, EPS has been growing at 42.4% annually for the last 5 years. (1 point)
Rule 7 - Share price has been growing 10% or more for the last 3 years
Since 2009, Apple stock has gone from $90 to $336 three years ago, to today's price of $532, representing a 16.1% annual return over the last 3 years. (1 point)
Rule 8 - The company has paid dividends every year for the last 5 years
Apple fails this rule as it did not pay a dividend from November 1995 until August 2012. (0 points)
Rule 9 - Dividend yield is between 2% and 7%.
Again, Apple stock meets this criteria with a dividend yield of 2.24%, which is just above the threshold of 2% and indicates that the share price is not too high in relation to the dividend payout. (1 point)
Rule 10 - Profit margin is > 5%
Profit margins in the retail industry are notoriously tight (McCarter, 2013). Although Apple is not strictly speaking a retailer, it's profit margin of 21.7% is impressive.(1 point)
Rule 11 - ROE is > 5%
The latest reading for ROS is 19.1%, well above the 5% threshold. (1 point)
Rule 12 - PE is > 5 and < 25
At 13.73, the current PE for Apple is below the historical median for any stock (14.5) and looks good value. (1 point)
Rule 13 - PS is > 0.1 and < 4
PS is 2.88. Calculated by dividing price per share by revenue per share, a PS between 0.1 and 4 indicates a stock has a good balance between revenue and profit, according to McCarter.
Rule 14 - PEG is < 1
For Apple, PEG is 0.96 and indicates a high growth rate relative to the share price. (1 point)
Rule 15 - Options outstanding < 3% of total shares issued
Historically, Apple has rewarded management with plenty of low priced options, but according to recent filings, Apple had only 4,096 options outstanding, less than 1% of total issued shares. (1 point)
Rule 16 - Current ratio > 1
Current ratio for Apple is 1.7, indicating a healthy cash balance situation. The company currently has just over $40bn in cash. (1 point)
Rule 17 - Equity/ Capital employed > 60%
Companies tend to perform better when they strike a good balance between debt and equity. Apple meets the condition with a score of 75.63 (1 point)
Rule 18 - No adverse qualifications in the auditor's report
There was nothing found. If there was, there is no doubt we would have heard it by now given the amount of coverage given to Apple stock. (1 point)
Rule 19 - No substantial unexplained changes between annual reports
Nothing found. (1 point)
Rule 20 - Directors and managers hold shares in the company
TRUE. (1 point)
Total score: 19
It's worth mentioning at this point, that I ran the rules based test on a database of over 4000 US stocks and Apple was one of only 3 stocks with a market cap over $15bn to make the shortlist. (The other two being SanDisk Corp. (SNDK) and Constellation Brands Inc. (NYSE:STZ)).
Clearly, with a score of 19 out of 20, Apple stands out and takes it's place in an elite group of stock investments. If you are new to investing, you could do worse than to make Apple the first addition to your portfolio. If you already hold the stock, now could be a great time to top up.
Fig 1: Google trend. The upward trend for Apple products continues according to Google search data.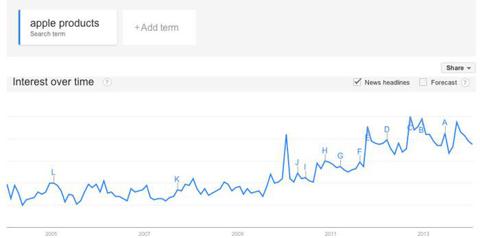 Fig 2: Technical buy. For the technically minded, it's also worth noting Apple is now touching the bottom of its upward channel.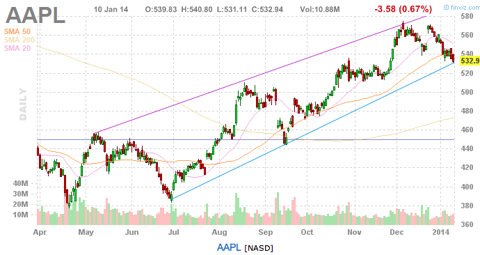 Disclosure: I have no positions in any stocks mentioned, but may initiate a long position in AAPL, over the next 72 hours. I wrote this article myself, and it expresses my own opinions. I am not receiving compensation for it (other than from Seeking Alpha). I have no business relationship with any company whose stock is mentioned in this article.
Additional disclosure: Financial statistics in this article were taken from a mixture of Yahoo! Finance, Finviz.com and Apple annual reports and filings. Please verify the data yourself before making any investment decisions.I have no commercial or personal relationship with the author of Four and Twenty Rules For Buying and Selling Shares.