We all know that whatever happens in Vegas, stays in Vegas--or at least we should hope! But recently it seems that what happens in Vegas is happening a lot more in Macau -- the "Vegas of the East." Most people in the US are shocked to learn that for every $1 spent in Vegas, $7 is spent in Macau! Below, we'll go over a couple of names that could help capture some of that Macau money. But first, a quick primer...
Macau is the only place in China where gambling is legal. Originally a Portuguese colony in the sixteenth century, Macau was "officially" handed back to China in 1999. Because Macau is considered a "Special Administrative Region," the normal laws don't apply. As most of us know, people tend to want what they can't have -- and gambling is certainly no exception. The growth that Macau is seeing is phenomenal (as we can see from the chart below).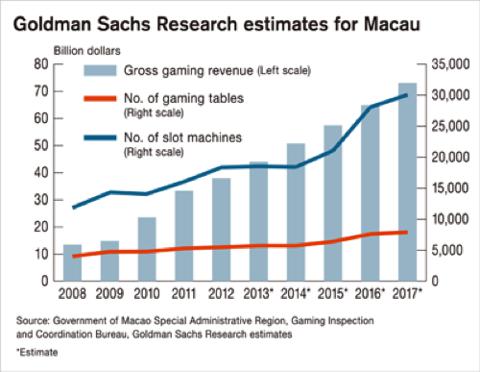 2013 was a record setting year for Macau, now known as "Monte Carlo of the Orient." Gaming revenues increased by more than 18% exceeding $45 billion. Goldman Sachs research estimates that Macau's growth has not peaked, as characterized by the chart above. The explosive growth of Macau has resulted in other Asian countries wanting to cash in on their piece of the gaming scene. The Japanese Liberal Democratic party has taken action by submitting a bill to parliament to legalize casinos. Should legislation pass, Japan has the potential to surpass Singapore, making it the would be second largest gaming hub in the world. Japan was selected to host the 2020 Olympic Games, shifting the government's focus to updating infrastructure and visitor accommodations. This shift in focus, coupled with the tremendous upside for revenue, could sway Japanese lawmakers---especially considering the precarious position of Japan's debt problem (this short video is excellent in understanding the magnitude of Japan's debt drama). In addition to Japan, Taiwan has submitted a bill to legalize gambling on the Matsu Island. Evidently, Asian expansion is no longer a matter of "if," but of "when." Here's how we're profiting from this growth and here are the two gentlemen helping us do it.
Wynning & Leaving Las Vegas in the Sand
Two of Las Vegas' larger than life legends, Steve Wynn & Sheldon Adelson, are both riding the waves of opportunity in Asia. In fact, today most of their money is earned from Macau; not Vegas. This trend looks likely to continue and by investing in their businesses, we're able to participate and profit.
When investing money in anyone's ideas, it's important to make sure they're "eating their own cooking." In other words, one should invest alongside owners/operators that have skin in the game. As you can see below, both Las Vegas Sands (NYSE:LVS) and Wynn (NASDAQ:WYNN) meet that criteria as both billionaire founders are the largest shareholders by a wide margin.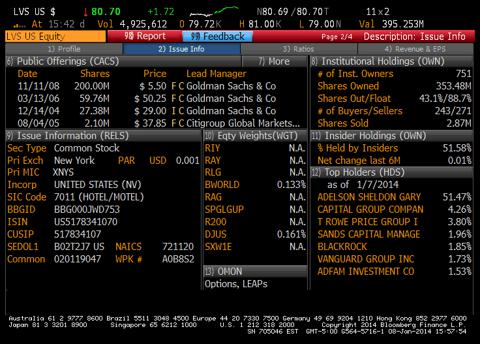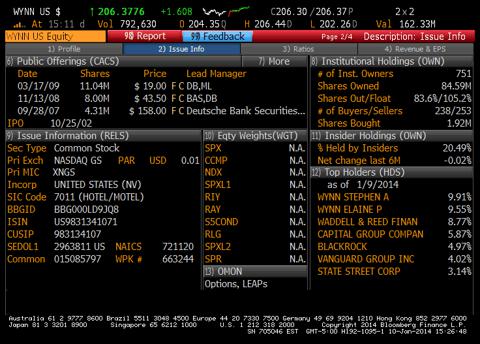 When managers of public companies have little equity ownership, costs can rise unnecessarily along with frivolous perks and unsuccessful pet projects. Both Steve Wynn and Sheldon Adelson have great track records of running great businesses and for raising shareholder value. Even better, they both have histories of returning that value back to shareholders (which again includes themselves) in the form of dividends. As you can see below, dividend yields for LVS and WYNN are higher than the industry and have been climbing recently.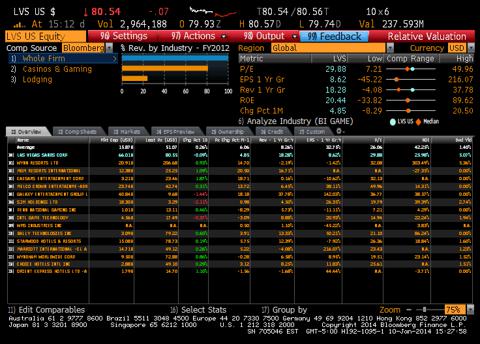 Buybacks have also been a part of their history and that should only continue going forward. For example, LVS recently abandoned plans for a gigantic development in struggling Spain and we would not be surprised if a significant portion of the $38B that was earmarked for that project makes its way back to shareholders in the next few years.
LVS and WYNN are unique companies profiting from a trend that not only seems unlikely to reverse---it seems likely to continue. Although it may take years to fully realize the potential, we'll be happy to collect and count our dividends in the meantime.
Disclosure: I am long WYNN, LVS, . I wrote this article myself, and it expresses my own opinions. I am not receiving compensation for it (other than from Seeking Alpha). I have no business relationship with any company whose stock is mentioned in this article.
Additional disclosure: THIS IS NOT AN OFFER OR A SOLICITATION TO INVEST.THIS IS A PRIVATE OFFERING AND IS NOT AVAILABLE TO THE PUBLIC.