Introduction
No, I am not a fortune teller. I am not psychic either. The writing was on the wall. Several factors have been blowing some big headwinds for Halcon Resources (NYSE:HK), but the bulls have been turning a blind eye on these headwinds for months. This is not surprising. But stocks are not women, and I never fall in love with a stock. Other bulls have noted at the comments section of my articles that Halcon is a "forget about it" kind of stock, and since they have enough confidence in management, they do not watch it day-to-day.
In fact, Halcon's case reminds me of ATP Oil & Gas, Delta Petroleum, and GMX Resources to name a few. The market had also turned a blind eye for months on these three energy companies, but I stood at the bearish side for all these stories. For instance, I warned all why GMX was a great short candidate at $3.5 in March 2013. GMX went broke in late 2013 and the stock is at $0.12 as of today. Both ATP Oil & Gas and Delta Petroleum have gone broke too. My bearish article about GMX is here.
No, I am not saying that Halcon will also go broke. However, the "Wilson premium" coupled with the Utica hype gave a tremendous valuation on Halcon in early 2013. To me, that rally did not have legs, because the company was fundamentally very weak. Halcon tried to bite off more than it could swallow, ignoring that the swallowing disorders would show up sooner or later.
The Bulls Have Been In Denial Since Early 2013
Back in early 2013, Halcon's bull parade was overcrowded. It was actually quite astonishing to me. Everybody was overtly and manifestly bullish of Halcon. Nevertheless, Halcon did not pass my initial "smell test". If I have learned anything after 25 years in the international markets, it is that when things get terribly one-sided, it is probably time to go to the other side. So this is Halcon's chart during the last 12 months: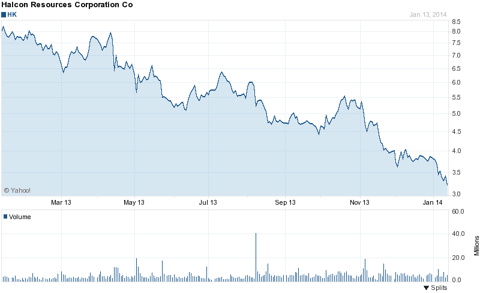 What this chart has been telling us is that Halcon's stock has been losing value day after day after day since early 2013. There is an established downtrend line that has dominated the chart since early 2013. Actually, this stock has been a horrifyingly bad trade since early 2013, while the timing for all my bearish articles about Halcon have been more accurate than a Swiss watch. These articles have been proven correct seven times out of seven.
And, please do not misunderstand me. But, there are more than 100 comments for almost any of my articles about Halcon, and the latest one has had 131 comments thus far. Most of these comments are bullish. Many of them could be categorized as "rather aggressive" or "hysterical". And apparently, I have spent a ton of precious time to answer all these bullish comments instead of leaving them unanswered like many other SA contributors do. To confirm my sayings, some of these bearish articles are here, here, here and here.
When the stock was at $4.78 in November 2013, I wrote the latest bearish article with the title: "The roller coaster continues and new lows should not be ruled out". Halcon's stock closed at $3.24 yesterday which is a 32% drop in less than two months. Not bad, for those who followed my bearish call and shorted Halcon at $4.78. My article is here.
In that article, I also noted that:
1) "The thing is that I am not going to change my bearish opinion about Halcon now. I have been consistently bearish on Halcon since early 2013, and I'll remain bearish at the current levels of $4.78. I do believe that the stock still has room on the downside."
2) "After all, Halcon is at a dangerous juncture right now and has to face several challenges in 2014. The stock will continue to move like a roller coaster, and another down leg is written on the wall which will most likely lead to new lows during the next months. Since I am not really excited by such rides, I'll avoid buying Halcon once again."
According to the stock performance, both statements were spot on.
In late August 2013, Stifel showed up finally and downgraded Halcon from Buy to Hold. Stifel was obviously late to this bearish party. Why did Stifel upgrade Halcon from Hold to Buy in early May 2013, when the stock was at $6.5?
Global Hunter and Canaccord Genuity were even more late than Stifel to this bearish party. They downgraded Halcon in November 2013. For Canaccord Genuity, Halcon was a BUY until 5th of November 2013. Shouldn't these analysts be competent enough to read between the lines in advance and evaluate Halcon correctly? Aren't the analysts paid to be ahead of the crowd?
What is also surprising is the fact that some other highly paid analysts have not revised their calls about Halcon yet. For instance, Robert W. Baird initiated coverage on Halcon with an "Outperform" rating in December 2012, when the stock was at $7.
Barclays also initiated coverage about Halcon in late 2012, when the stock was at 8$. Barclays had an "Overweight" rating.
Wunderlich also initiated coverage about Halcon in the summer of 2012, when the stock was at 10$. Wunderlich had a "Buy" rating. Where are these analysts today? Why don't they show up to let us know what they think about Halcon? Why do they leave the investors in the dark?
In early January 2014, when the stock was at $3.65, some financial authors from another financial publication joined the bearish club and started to worry about Halcon. Well, they remind me of the pretty and talented American singer JoJo and her top hit "Too Little Too Late", don't you think?
Halcon Update
In December 2013, Halcon announced a reduction to its 2014 capital spending program and unveiled 2014 divestment program plans. Here are the main points:
1) Halcon lowered its drilling and completions budget guidance for 2014 by 14% to approximately $950 million.
2) Halcon reaffirmed previously issued 2014 production guidance of 38,000 to 42,000 boepd.
3) Halcon plans to continue the portfolio management process and expects to divest additional non-core assets in 2014 for total proceeds of approximately $300 to $400 million.
According to the CEO: "We expect to fund our entire 2014 capital budget with a combination of cash flow from operations, borrowings under our revolving credit facility and proceeds from additional non-core asset sales".
There are several points here that make me scratch my head. There is also a red flag that I will discuss in the next paragraph.
My Remarks On Halcon Update
As of September 2013, Halcon had $3.03 billion long-term debt and negative working capital of $400 million. In fact, Halcon has been having negative working capital of $300-400 million since 2012.
In Q4 2013, Halcon received approximately $300 million from the sale of the conventional assets that were producing 4,500 boepd and had 21.2 MMboe of proved reserves.
Additionally, my rich estimate is that Halcon's operating cash flow will be approximately $550 million in 2013, based on the company's average production (pro forma) of 30,000-34,000 boepd. I also estimate that Halcon's operating cash flow will be approximately $150 million (pro forma the sale of the conventional assets) in Q4 2013.
Based on the 2014 production guidance of 38,000 to 42,000 boepd and assuming the oil and natural gas prices remain at the current levels, Halcon's operating cash flow could be approximately $650 million in 2014 (best case scenario).
The question now is: What does Halcon sacrifice to reach this production target for 2014? Here are my remarks:
1) According to the CEO, Halcon will keep borrowing money to grow its production in 2014. To me, this is a red flag. It is clear that the impact of reduced base declines and improved capital efficiencies will play a secondary role in the company's effort to increase its production for 2014. The production growth for 2014 will be primarily achieved by the increased CapEx which does not correspond with cash flow.
I believe Halcon has to learn valuable lessons from Lightstream Resources (OTC:LSTMF). Lightstream Resources (former Petrobakken Energy) is another intermediate energy producer with a heavily oil weighted production. Lightstream has been borrowing money during the last years to pay the dividend. This is why, it is a market laggard, as illustrated below: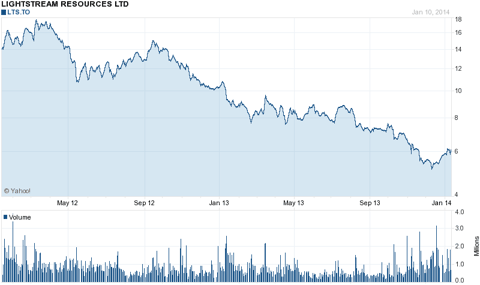 It seems that Lightstream's management team got the message finally, and announced recently a disciplined application of its capital in 2014. Lightstream's new strategic plan plans to improve the company's sustainability ratio (cash outflows to cash inflows) and strengthen the balance sheet by reducing debt levels while maintaining production at 2013 levels.
Lightstream Resources will drill a total of 90 wells in 2014 for approximately $360 million, accounting for approximately 65% of its 2014 capital program. The 2014 capital plan of $525-575 million is expected to deliver an average daily production rate of 45,000 to 47,000 boepd (80% oil and liquids) and an exit production rate of 46,000 to 48,000 boepd (prior to disposition activity). This means that the exit production rate for 2014 (pro forma) will most likely drop year over year (pro forma).
Lightstream Resources also altered its dividend policy by reducing the dividend and eliminating the dilution impact of the DRIP and SDP programs. Furthermore, it will actively pursue non-core asset sales in excess of $600 million over the next two years, with approximately $300 million targeted to be completed in 2014.
Lightstream's debt to quarterly annualized funds flow ratio was 3.1 in Q3 2013. Thanks to all these initiative, Lightstream expects to reduce its debt to funds flow ratio below 2.5 times by the end of 2015.
2) Halcon does not clarify whether the proceeds of ~$300 million from the sale of the conventional assets will go to the debt reduction. So I assume that Halcon will use all this money to reduce its debt. As a result, the long-term debt (net) will drop to ~$2.7 billion as of December 2013, excluding the negative working capital.
As mentioned above, my rich estimate is that Halcon's operating cash flow could hit $650 million in 2014. The company also plans to receive $300-$400 million from additional asset sales in 2014, as shown above. Thus, I estimate that Halcon will borrow approximately $50-$100 million in 2014 to complement its CapEx requirements of $950 million.
After all, Halcon's net debt to funds from operations ratio will be at ~4.31 times ($2.8 billion / $650 million) under the best case scenario by the end of 2014, excluding the negative working capital. Apparently, this is a very high ratio which is well above the ratio of the peers.
3) According to the corporate website, Halcon's non-core assets are: Woodbine, TMS, Wilcox and some other undefined exploratory plays. To receive $300-400 million from asset sales in 2014, Halcon must sell approximately 4,500 boepd of production.
The company's non-core assets currently produce less than 4,500 boepd as far as I know. So I wonder how Halcon can receive $300-400 million from non-core asset sales in 2014. Will it sell also its oilfield service subsidiary (Halcon field services)? Will it sell also part of its legacy production from its core assets (Bakken/Three Forks, El Halcon, Utica) and replace it with new production?
4) Let's assume now that Halcon does not sell any of its production from its core properties in 2014. What is next for 2015? After the major divestiture program of 2013-2014, Halcon will not have any non-core assets with substantial value to sell.
I forecast the company's 2014 base decline rate to be in the range of 30%-35%. The projected cash flow from operations will be approximately $650 million for 2014 (best case scenario), excluding the negative working capital. This amount of money is not enough to help Halcon grow its production once again in 2015 and pay down part of its debt. How will Halcon close this funding gap while reducing its high D/CF ratio (>4x)?
The answers are simple:
A) The short-sighted solution that cannot go on for long: The company continues to kick the can down the road, and keeps borrowing money from the revolving credit facility in order to complement its CapEx and grow the production.
Meanwhile, it offers notes and use the net proceeds to repay a portion of the outstanding borrowings under its senior secured revolving credit facility. Additionally, it refinances its existing debt (notes) by issuing new debt (notes), extending the maturity dates.
B) The permanent solution: The shareholders incur a heavy dilution of their stakes in 2014 and/or early 2015, if the company decides to reduce its debt without reducing its production.
My Takeaway
I believe that Halcon's shareholders have to start getting ready for some major shakeouts. I estimate these shakeouts to take place by the end of 2014 (the latest) because the company has to transition to a new business model.
The primary change is that Halcon must prudently manage the balance sheet by slowing the pace of capital spending to correspond with cash flow. I am not asking for a dividend. But I want to see Halcon generate cash flow in excess of capital requirements and lower its debt to funds flow ratio as soon as possible. This is a one-way road but nobody knows when Halcon is going to follow this road under the current business plan.
If Halcon does not make this change, it will be on a treadmill that cannot last for long. I do not know how long it takes for the management team to understand that the production growth is not a panacea. If it takes long for the management team to understand it, the company will transition to an inclined treadmill quite suddenly one day. In short, this is not the definition of prudent management, in my opinion.
Arsenal Energy (OTCQX:AEYIF) shows what the prudent management is. The prudent management in conjunction with the low debt ratio and the grossly depressed key metrics are the main reasons why I recommended Arsenal Energy at C$4.95 in November 2013. Some of Arsenal's core properties are close to Halcon's properties in the Williston Basin, as shown below: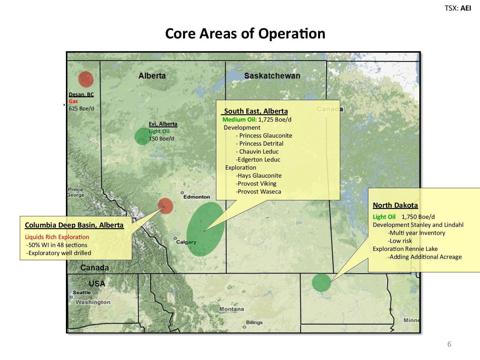 Arsenal's production is coming from the US (Bakken/Three Forks) and Canada. Arsenal's year/year base production decline rate is just 26% which is lower than Halcon's. Over the last two and a half years, Arsenal's capital efficiency has been $34,850/boe.
The company has been producing cash flow in excess of the capital required to replace declines and fund the company's growth strategy. As a result, Arsenal initiated a meaty dividend of 5% in August 2013. Pursuant to the dividend policy, the Board has set the initial dividend at approximately 10% of quarterly trailing cash flow, as shown below: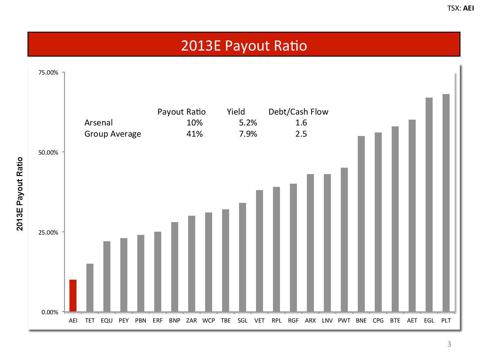 The exit rate for 2013 was 4,100 boepd due to tie-in delays. Arsenal has set a 2014 capital budget of $37.7 million. The budget includes the drilling of 16 (3.4 net) horizontal Bakken wells in North Dakota, 4 (4 net) Mannville wells in south-east Alberta, and one (0.5 net) Cardium well in the Alberta deep basin. Production is expected to average 4,200 boepd in 2014 compared to 4,000 boepd in 2013. My recent PRO-article about Arsenal Energy is here.
Conclusion
I have been standing at the other side of the hype about Halcon since early 2013, when Halcon was at $8. Through my bearish articles, I also explained the fundamental reasons why Halcon's stock was doomed to drop precipitously from those levels. Excluding the property in Fort Berthold, Halcon does not have a proven top notch acreage. Halcon has arrived late in the shale game, and its small position within the best portion of the Bakken play (Ft Berthold) is not enough to offset its staggering valuation or handle the debt burden. We all know that "one swallow does not make a summer".
Sometimes it is better to just stand on the sidelines. So I will be waiting to see how the winds are blowing from now on. I will be patiently waiting for some major shakeouts to take Halcon to the next level.
Last but not least, I believe that CAMAC Energy (CAK) is the new Halcon and will drop a lot in 2014. My followers will find it out over the coming months. I wrote a PRO-article about CAMAC, when the stock was at $1.48 one week ago. CAMAC closed at $1.3 yesterday. My bearish article about CAMAC is here.
Disclosure: I am long AEYIF. I wrote this article myself, and it expresses my own opinions. I am not receiving compensation for it (other than from Seeking Alpha). I have no business relationship with any company whose stock is mentioned in this article.