Alright guys, as you can tell, my previous article on Yahoo! (YHOO) was removed. I had to rewrite a substantial portion of the forecast and valuation estimate subsection. So if you had read my previous article I encourage you to scroll past all of the other subsections in this article, and go to the part where I mention my price forecast and earnings estimates. I know many of you are probably worried, and wondering if some elaborate conspiracy scheme is going on, but I assure you that's clearly not the case.
I underestimated the impact from taxes in my previous article, so I have to go back and apply a higher capital gains rate as Yahoo! is a C-Corporation. C-Corporations have to pay the normal corporate income tax rate even for capital gains. I also had a difficult time estimating the value of the cash following the liquidation of Alibaba. I have to apply a multi-stage growth assumption, especially because I will estimate the value of the business over the next ten-years (which will be different from what I usually attempt to do). I believe that a 10-year forecast will improve the accuracy of my assumption.
Granted, no one can completely predict the future, but I hope to give you all a great starting point, for during further research prior to making an investment into Yahoo!
Value of Alibaba and proposed use of cash
Historical cost accounting does not represent the value of an asset at its current market value, but at the cost basis at which it was acquired. It is only when the stock is sold that the unrealized gains materialize into earnings that can be attributed to the financial statement. This is why investors are urged to ignore typical ratio metrics and other performance indicators when considering an investment into Yahoo! as it's not going to be very indicative of future investment returns.

Source: Yahoo! Finance
Alibaba is expected to be worth in excess of $100 billion at its IPO. When translated into goodwill or ownership interest, Yahoo! is sitting on $24 billion in intangible assets that are not pertaining to its core business. Investors also anticipate Yahoo! to take the cash and buyback shares thus reducing the free floating shares, which will boost earnings metrics and share price. Currently Alibaba has approximately 2.181 billion shares outstanding. I expect the share price to be around $45.85 per share assuming a $100 billion market cap at IPO. I'm also going to assume that Alibaba will attempt to price itself at the higher end of the range in order to raise the most capital possible from the capital raise.
Reports indicate that Yahoo! was able to hold onto more shares, but will be required to sell 208 million shares of its Alibaba stake. This directly translates into $9.5 billion in capital gains with Yahoo! retaining a 14.47% ownership stake in the company. Management wants to retain $3 billion in cash to maintain a solid financial position. Currently Yahoo! has $2.66 billion in cash, so proceeds from the sale that will not be used to capitalize the balance sheet by much. So it can be assumed that the vast majority of the proceeds will go towards acquisitions or share buybacks.
Yahoo! Japan a key catalyst
There's also further upside from Yahoo! Japan. In the past year alone, Yahoo! Japan has been able to consistently appreciate in value (111.95% YTD gain) as it has been able to generate 15% net income growth year-to-date for fiscal year 2014 (ending on March). Yahoo! Japan also exhibited top line and bottom line growth between fiscal year 2012 and 2013.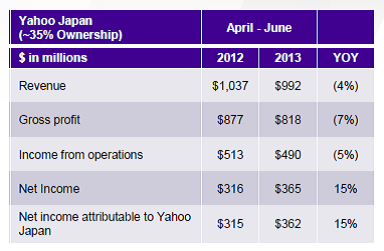 Source: Yahoo!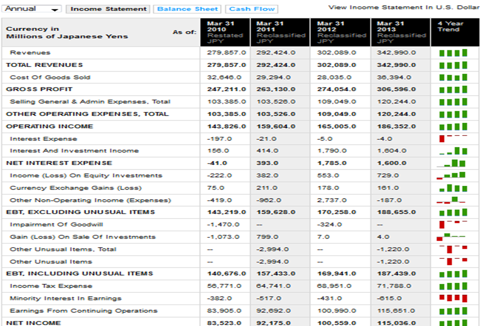 Source: Bloomberg BusinessWeek
Currently Yahoo! Japan's current market capitalization is 32.3 billion dollars (using current FX rates). Since Yahoo! owns a 35% stake in Yahoo! Japan, the ownership interest in Yahoo! Japan is worth approximately $11.305 billion.
Currently Yahoo! has a hedge that appreciates in value when the Japanese Yen depreciates in value. In other words, Yahoo! owns a put option contract again the Yen, and has instituted the position when the dollar-yen was trading at around 80.00. Currently the dollar-yen currency pair trades at around 105. Since the notional value of the contract is 3 billion dollars any amount that exceeds the execution rate will result in a high rate of return. A good way to think of this is to imagine if the currency depreciates by 5% at the execution rate, expect a 5% return against 3 billion dollars. As of the present moment, no one knows what the execution rate is. However, we know that the cash from this trade is expected to be paid out over the next several quarters.
So I'm going to try to estimate the value of the trade. I'm pretty sure Yahoo! invested far out of the money as the cost of the derivative premium was only $3 million. However, it's hard to determine how far out of the money. I'm willing to assume that the position is just now making money, and perhaps execution rate is in the range of 95 to 100 (dollar-yen). Assuming that's the case, the value of the derivative contract is 5 to 10 yen above the notional value implying the value of the trade is currently worth $150 million to $300 million. However, I'm not completely certain, no one is. Others estimate billions of dollars of return from the contract, but I'm somewhat doubtful of that as Yahoo! doesn't depend on investment income to generate earnings. To earn billions of dollars from this currency trade, the notional value of the contract would need to exceed ten billion dollars. This is clearly not the case however. Currencies fluctuate but they almost never hyper inflate against a basket of currencies, so I don't expect an outrageous percentage change in the dollar-yen pair despite the sustained uptrend.
Upside from core business
The reduction in operating expenditure and the continued acquisition of businesses has contributed to year-over-year earnings growth. Its top line performance hasn't been phenomenal, but I expect this to change in the foreseeable future.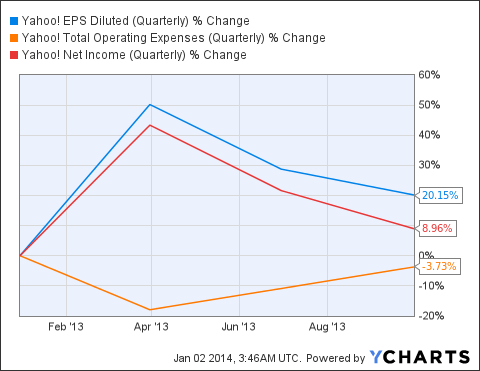 Source: YCharts
The company has been able to reduce its operating expenditure by 3.73%. The company has been able to generate 20.15% year-over-year EPS growth through both net income growth (driven by falling expenditures) and share buybacks. The improvement in earnings caused the value of the stock to trend higher.
The company's operating revenue has declined by 15% (year-over-year) based on data from the most recent quarter. However, I expect this decline in operating revenues to eventually abate as display based advertising is expected to recover assuming demand for digital ads continue to trend higher.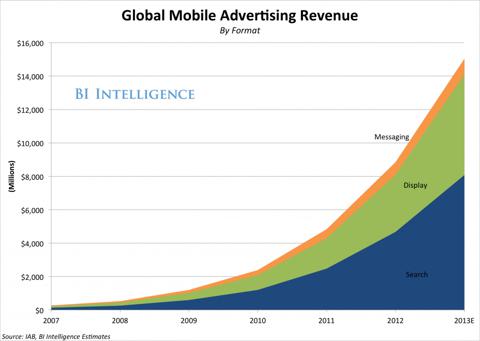 Source: BI Intelligence
Global advertising revenue for display based ads has continued to trend higher for the past six years. The competitive environment has become much more difficult. To be more specific, mobile advertising solutions became a major concern for companies launching ad campaigns. Yahoo! seems to have struggled to come up with a very effective solution to this problem.
I expect display based advertising to eventually stabilize. The sheer number of impressions, paired with click-through-rates will eventually trend higher so as long as consumption of media on Yahoo's! portfolio of websites continues. I make this case, because at some point the transition from TV based (network) advertising to digital advertising will increase the value of any form of digital marketing on more of an aggregate basis. Digital advertising is the only form of advertising that's growing in the double digits right now, according to Magna Global. So while Yahoo! is poorly positioned as of the present moment, there's no denying that even Yahoo! will be able to participate in the growing digital advertising market.
Yahoo! has grown its search based advertising business. Granted, there's no real surprise here. Search advertising is very effective on mobile devices. Google (NASDAQ:GOOG) takes the lion share of the mobile search ad business through the Android ecosystem. However, many mobile users download Yahoo's! Apps, so search isn't the only avenue for success with mobile.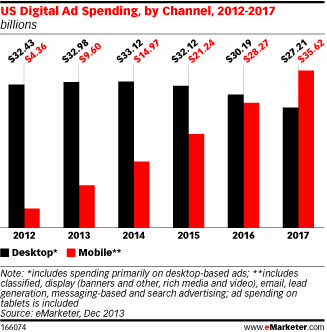 Source: eMarketer
Desktop advertising is expected to decline and decline at a pretty rapid rate. The growth in mobile advertising will offset the loss of desktop advertising. This will result in a consolidated growth rate between mobile and desktop to be in the mid-teens from 2012 to 2017.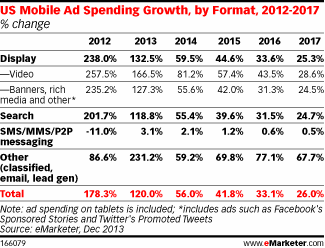 Source: eMarketer
Yahoo! mobile banners ads, search ads, and e-mail ads should be able to grow. Yahoo's! portfolio of mobile applications should eventually result in consolidated revenue growth. Display ad spending for mobile is expected to grow 59.5% in 2014 based on the above graphic. Yahoo's! revenue and earnings growth will depend heavily on mobile.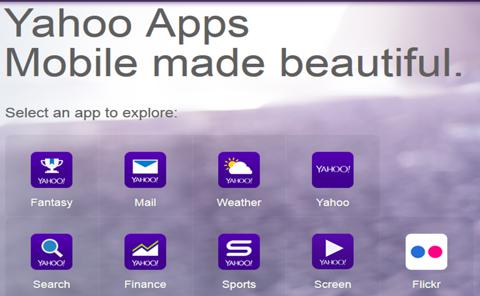 Source: Yahoo!
Yahoo's! core business will eventually recover. The company has spent a lot of time over the past year to improve the quality of its web products. The favorable environment for digital advertising should eventually translate into growing revenues from display based ads. In other words, I expect Yahoo's! mobile advertising products to offset the decline in desktop ad-revenue eventually.
Financial forecast assumptions
Making a forecast on future earnings and prices is going to be exceptionally difficult. On one hand, I expect organic growth, and a sudden increase from the sale of Alibaba stock. Currently, there's no consensus estimate of EPS for fiscal year 2014 that will be completely accurate as it will be heavily dependent on what price Yahoo! can sell Alibaba stock following the IPO. This will be difficult to measure, but I'm going to assume that Yahoo! will be able to earn $9.5 billion from selling 208 million shares in Alibaba. I expect Yahoo! to pay 35% tax (I'm not even going to bother applying marginal tax as it's largely irrelevant considering the sheer scale of the sale as earnings that exceed $18.333 million are taxed at a progressive 35% rate). I expect Yahoo! to generate $5.9 billion in investment related income in its 2014 fiscal year (after factoring in the $276 million cost basis and taxes).
I believe that Yahoo! will start to close the remainder of its Alibaba position assuming a $200-$300 billion market capitalization over the next five years. I'm pretty certain that Yahoo! will try to holdout for a while, because there's no way income from its core operations will grow at a faster rate than the market appreciation of its Alibaba holding. I'm going to assume that Alibaba will reach $200 billion in value by 2015, and Yahoo! will exit out of its position over the next four years at varying prices ($91.70 per share to $126.80 per share).
I give Yahoo! Japan a fair value of $56 billion (market cap) by 2019. Since Yahoo! owns 35% of Yahoo! Japan, the holding should be worth around $19.6 billion. After subtracting the $2.55 billion cost basis from the projected value and factoring in a 35% capital gains tax, net proceeds will be $11.08 billion. The contribution of Yahoo! Japan from selling the value of the stock at some distant point in the future should result in a contribution of earnings in the range of $2.217 billion per year over a five year period.
I value the Japanese Yen currency pair trade over the course of two years. I estimate a fair value of dollar yen currency pair at approximately 115 to 120 by the year of 2015. Granted this isn't exact figures, I'm arbitrarily choosing a value based on the momentum of the given trade (however I plan on doing more conclusive research on the Yen in a future article). For now, I believe that since the notional value of the contracts are $3 billion and I assume that the value of the trade is worth 20 to 25 full points above the execution rate at 90 to 95 (also an estimate), I estimate $600 to $750 million contribution from the currency hedge over the next two years.
I assume that Yahoo! will find an alternative use for the capital that can provide either earnings growth or capital gains. Since the consolidated impact isn't completely certain, I'm going to assume that the earnings from capital will compound at around 12% per-year (long-term growth rate of the stock market). Cumulatively I expect Yahoo! to generate $42.527 billion from paper assets it currently owns over the next ten years, and generate $90 billion in cumulative income from investing the $42.526 billion at a compound growth rate of 12% over the same timeframe. This is why the EPS figure over the next ten years continues to trend higher, because I factor back in the expected return on investment from the cash that is generated from the sale of its assets.
My EPS forecast includes earnings from core operations. I expect core operations to improve from rising margins and rising ad sales. This effect will be realized over the next five to ten years as I expect accretion from M&A, and industry growth. I expect the net income margin from its core operation to reach 13% in 2014. I expect net income margin from core operations to reach 20% (comparable to peers in the space) over the next ten years. I expect consolidated revenue from its core operation to sustain mid-teen growth, which will be similar to the global average growth rate for digital advertising. I factor back in earnings growth that comes as a result of M&A in the expected earnings from capital section of my table. M&A, investments, and share repurchases result in improved profitability and revenue or capital gains. I quantify the impact separately assuming a CAGR of 12% on capital. Historically Yahoo! has generated CAGR well excess of 12%, so my estimate is extremely conservative.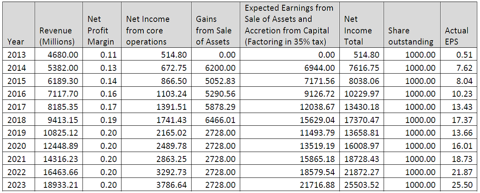 Note: All values are in millions with the exception of net profit margin, and actual EPS.
The timing of asset sales will result in years where net income may be higher and lower over the ten year period. I already factored in the after tax earnings from the sale of its core assets. Following that, I expect Yahoo! to reinvest the capital, into M&A, and venture capital. Assuming Yahoo! can repeat its historic success with investments, and earnings should increase by an additional $90 billion over a ten-year period on top of the $42 billion it will generate from liquidating assets it already owns. Granted, Yahoo! may have other assets that could be worth substantially more that I have not factored back into my assumption. I use a ten-year forecast, because I have no way of knowing when Yahoo! will buy and sell assets, so by spreading the effect over a longer period we're able to understand the overall impact from the sale of assets. Granted, Yahoo! could dump its assets within a single year, but that's pretty improbable, because Yahoo! has demonstrated that it slowly exits out of its financial positions.
I factor in the sale from assets into earnings, because GAAP recognizes the earnings at the point of sale, which results in higher net income. Yahoo! uses historical cost accounting, which is different from mark-to-market accounting (records assets at market value with year-over-year appreciation credited to unrealized gains (losses), earnings are only recognized when assets are sold). Since Yahoo! doesn't use mark-to-market, tangible book value isn't likely to improve until after it liquidates its core assets.
EPS and Price Forecast
In my previous article I estimated that EPS for 2014 was going to be $3.70. I revised the assumption substantially higher for 2014, in order to include the impact from selling its Alibaba stake, for a $6.2 billion capital gain. The impact on EPS would be felt immediately, and going into future fiscal years, I estimate an eventual liquidation of its remaining assets.
In my previous earnings forecast, I expected EPS to remain flat at elevated levels, because of asset sales. In this revised EPS forecast I include the expected gains from reinvesting the capital into businesses at a 12% return on investment, which resulted in a sustained improvement in earnings over the next 5-10 years.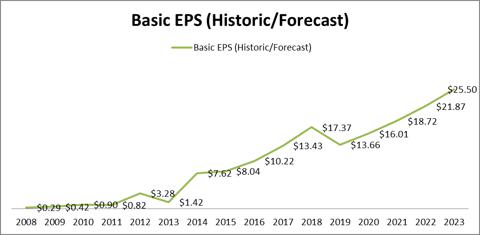 I expect Yahoo! to go through periods of rapid growth, and decline. This is because assets will be sold and purchased at varying points having varying impacts on the financial statement. Even if Yahoo! were to convert from historical cost to mark-to-market, it's not until after the assets are sold that the income statement is impacted. So from an accounting standpoint, distributing the impact from earnings, and reinvested capital seems most practical.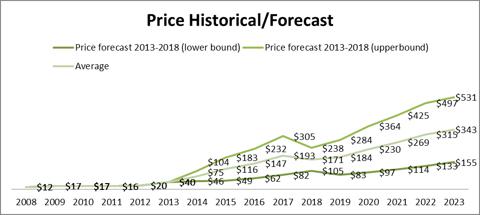 I excluded the impact that a share buyback will have on earnings per share and the share price. There's no way to estimate the impact from a share buyback without contradicting myself. In my previous article, I didn't include the impact from share buybacks either. However, I lowered my price assumptions in this article, because I expect the stock to trade at a lower multiple despite the significant improvement in earnings, because the gains on the sale of assets come from investment activities and not from core operations. In my previous article I estimated that Yahoo! would trade at $130 per share. I have revised that forecast to $75 per share.
In the most realistic scenario ($75 per share), I expect investors to generate an 82% return on investment. If markets get wildly excited, the stock could trade at $104 per share, but that's pretty unlikely hence it's the upper bound of my forecast.
In the absolute worst case scenario, the stock could gain $6 in value resulting in a 12% return on investment. The worst case scenario is if Alibaba isn't priced at a $100 billion market cap at IPO. If that happens Yahoo's! earnings won't be as good for fiscal year 2014.
I estimate Yahoo! will trade at approximately $193 by 2018. This gives investors a pretty decent ROI. Granted a lot could go wrong, so I offer $82 per share for my lower bound estimate. Either way, the investment offers quite a bit of upside and fairly limited downside.
Conclusion
It took me a couple days to come up with a better method for quantifying Yahoo's! business. Granted I spent most of my time thinking rather than writing. I went over all the assumptions to ensure that the calculation could offer some predictive value. Some of you have requested that I continue to offer updates on my analysis. I'll be sure to keep that in mind going forward. I found the criticism from the comments to be fairly constructive when I rewrote the article. So be sure to leave a comment (I read every one), and thanks for all of the support!
So by now, I'm pretty sure all of you know how I feel about the company: Yahoo! is a strong buy.
Disclosure: I have no positions in any stocks mentioned, and no plans to initiate any positions within the next 72 hours. I wrote this article myself, and it expresses my own opinions. I am not receiving compensation for it (other than from Seeking Alpha). I have no business relationship with any company whose stock is mentioned in this article.