In order to answer this question there are many factors to consider. For investors, the instrumental factors that jump out are fundamental and operating trends and respective rail company comparisons. Understanding how revenues are defined and growing, how operating ratios are improving, and how leverage is incorporated are just several examples of this. There are also, however, ever-changing variables for the industry that will significantly drive adjustments to any particular company's fundamental and operating trends. These include key operations and access to ports and other freight gateways, political environments associated with the rail industry, labor-related impacts affecting efficiency and productivity, consolidation and network alliances within the industry, and mega-infrastructure developments such as the Panama Canal expansion project.
The goal of this article will be three-fold. First, the article will attempt to provide a comprehensive overview of the fundamental and operating trends and characteristics of the rail industry in North America. This will be grouped by Class I railroads along with a few other rail companies. Prior to this article being written I have initiated a long position in the Union Pacific Corporation (NYSE:UNP). Initiating this position is based on the premise that Union Pacific is arguably the top rail company to own. Second, the article will attempt to provide an overview of existing and near-term operations as compared to impacts from the Panama Canal expansion project. Lastly, the article's comprehensive high-level information will serve as a transition into follow-up articles for each rail company focusing on more detailed break downs of business operations.
Ultimately the goals are to deliver transparency for investors to be able to begin to understand how rail companies compare against one another fundamentally, to aid in highlighting the operations and drivers today for these businesses, and to relate these aspects to the potential impacts of the Panama Canal project. Taking this comprehensive approach will set the stage for further analysis.
FUNDAMENTAL ANALYSIS
In order to paint an overarching picture, the fundamental analysis section will be organized into multiple areas comparing the listed companies below.
Class I Railroads
Burlington Northern Santa Fe, LLC
Canadian National Railway Company (NYSE:CNI)
Canadian Pacific Rail Limited (NYSE:CP)
CSX Corporation (NYSE:CSX)
Kansas City Southern (NYSE:KSU)
Norfolk Southern Corporation (NYSE:NSC)
Union Pacific Corporation
Other Railroads
Florida East Coast Railway
Genesee & Wyoming, Inc. (NYSE:GWR)
Pacer International Inc. (NASDAQ:PACR)
Historical Stock Performance
The table below provides a snapshot of how these peers have performed against one another. All of the stock performance information is based upon the calendar year as all companies' fiscal years fall within this time period. The compound annual growth rate, or CAGR, is based off of each company's closing stock price as of December 31, 2013.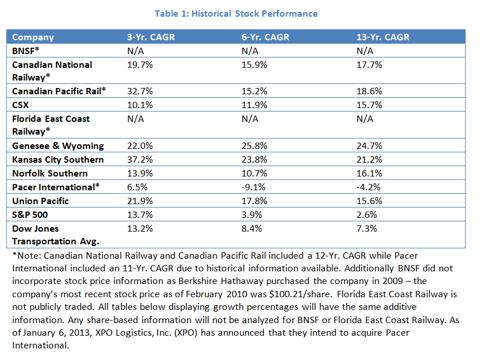 From this table it is clear that all rail companies have performed very well over the long term, with the exception being Pacer International. Aside from Pacer International, the lowest return value at year-end 2013 from an initial investment of $1,000 over the 13-Yr. period would have been $6,150 (Union Pacific), with the highest value being $16,400 (Genesee & Wyoming). The rail industry has significantly and consistently outperformed the S&P 500 and Dow Jones Transportation Average. Both indices have made up ground of late, but have fallen well short over longer-term trends.
As we digest the performances of these companies, it is interesting to see the relative performance of Genesee & Wyoming and Kansas City Southern. As smaller, faster growing rail companies, these two have outperformed their larger peers dramatically over the long term. The interesting trend amongst the bigger rail companies including Canadian National Railway, CSX, and Norfolk Southern is that Union Pacific has outperformed all three during both the 3-Yr. and 6-Yr. time periods. Canadian Pacific Rail has been a very strong performing rail company serving as a middle ground between smaller and bigger companies. Considering historical stock performance is important in that it provides us with some insight to further evaluate other fundamental trends which should also display positive correlations.
Revenue and Income Trends and Forecasts
The focus and comparisons on revenue trends will include analysis on each company's respective trailing twelve-month period, or TTM, in addition to CAGR trends. All revenues and net income are in billions and carloads are in thousands. Earnings per share, or EPS, information is based on diluted shares.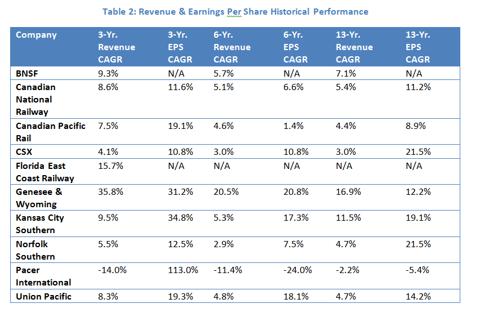 As we review each table it will be good to attempt to build off the prior information to piece together correlations. First though, when considering revenue growth, an important question we should ask ourselves is, have any of these companies made significant acquisitions during these time periods? The answer is yes for both Canadian National Railway and Genesee & Wyoming. Aside from the failed attempt to merge Canadian National Railway with BNSF, Canadian National Railway acquired U.S.-based Wisconsin Central in 2001 ($1.3 billion), Canadian-based British Columbia Railway in 2004 ($1.5 billion), and U.S.-based rail lines Elgin, Joilet, and Eastern Railway Company in 2009 ($373 million). Genesee & Wyoming has maintained an acquisition approach as part of the company's growth strategy. The company's most notable acquisition of late was the purchase of RailAmerica, Inc. in 2012 ($1.9 billion).
When considering the more recent revenue growth trends, BNSF, Canadian National Railway, Canadian Pacific Rail, Kansas City Southern, and Union Pacific all have displayed solid growth. Both CSX and Norfolk Southern have lagged these peers. Both Genesee & Wyoming and Florida East Coast Railway have accomplished the most robust growth. Pacer International is the only company to display negative growth rates for both revenue and EPS. For mid-year revenue growth trends all companies display significant drop-offs stemming from the impacts of the recession. Longer term revenue trends for the most part mirror their mid-year averages with upside exceptions being BNSF, Kansas City Southern, and Norfolk Southern.
When comparing short-term EPS growth rates, Genesee & Wyoming and Kansas City Southern provide some of the fastest growth; however, Pacer International is the clear leader. Union Pacific significantly outperforms its larger peers Canadian National Railway, CSX, and Norfolk Southern, and Canadian Pacific Rail follows suit stride-for-stride. Mid-year EPS trends display a substantial drop-off for most companies with the exception being Union Pacific which maintains its average, and on the negative side, Canadian Pacific Rail and Pacer International reverse course considerably. Again, this stems from impacts of the recession. Over the long term, most companies return to higher averages. Two interesting observations include the much higher long-term trend performance for both CSX and Norfolk Southern. It would appear that much of these companies' growth occurred earlier within the past decade.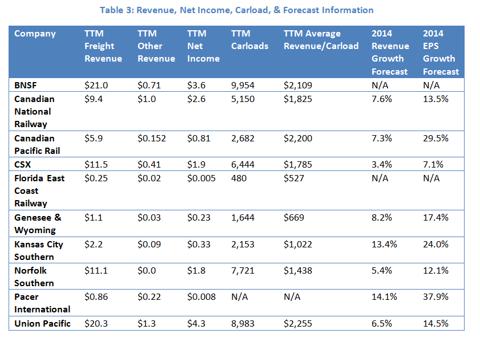 The above table gives some relative insight into the comparative scale of where these rail companies are today based on their revenue and EPS growth trends. This is based on revenues and income, carloads, and average revenue per carload. From this information it is quite impressive that Union Pacific is able to perform as it does against its peers at the level of scale that the company has achieved. This is part of why my premise is focused on emphasizing Union Pacific's value as an arguably top rail company. When combining the revenues of BNSF and Union Pacific, these companies offer a formidable snapshot of the two rail leaders in North America, representing roughly 50% of the market share for Class I railroads. The table also clearly illustrates the relative scale of the other larger rail companies including Canadian National Railway, CSX, and Norfolk Southern; Canadian Pacific Rail, the only middle-ground company; and the smaller rail plays including Genesee & Wyoming, Kansas City Southern, and Pacer International.
This table also allows the ability to compare profit margins amongst these peers. Only Canadian National Railway has a higher profit margin than Union Pacific. Additionally, Union Pacific has moved the second most carloads and has attained the highest average revenue per carload. Only BNSF and Canadian Pacific Rail join Union Pacific by having average revenue per carload above $2,000. When considering the revenue and EPS forecasts for 2014, most all of these rail companies are expected to incrementally improve from their 2013 growth rates. While Pacer International has significantly underperformed this peer group, the company seems to be in the midst of a potential rebound. For forecasted EPS, Union Pacific, Norfolk Southern, and Canadian National Railway find themselves at the lower end of the group. Pacer International, Canadian Pacific Rail, and Kansas City Southern are the top leaders.
Operations, Cash Flow, and Dividends
One of the standard ways to compare rail company operations is to use the operating ratio. This ratio simply takes all of a company's operating costs and expenses as a percentage of the company's revenue. Most all of the companies in this peer group have witnessed declining operation ratios over the long-term, which is a good thing. Exceptions include Canadian Pacific Rail and Pacer International. The following charts below depict the comparative operating ratios for each of the rail companies between March 2011 and September 2013.
When comparing operating ratios amongst the Class I railroads, Canadian National Railway has been the top performer over the years and is the only railroad company to have had a quarter of late with an operating ratio below 60%. Union Pacific has dropped below 65% for the first time ever this past September. Canadian Pacific Rail has displayed the most dramatic drop in operating ratio of late, which may be part of the driver for the companies' expected EPS growth for 2014. BNSF, CSX, Kansas City Southern, and Norfolk Southern all have operating ratios near the 70% level. Kansas City Southern has displayed the most improvement, while CSX has seen a slight increase in their trend.
For the other rail companies, there is a clear distinction between Florida East Coast Railways and Genesee & Wyoming maintaining much more efficient operating ratios than Pacer International.
In order to compare company cash flows and dividends, the following tables will provide free cash flow per share, or FCFPS, and dividend per share, or DPS, growth trends; and operating cash flow, or OCF, and free cash flow, or FCF, amounts and their respective 13-Yr. averages, and dividend payout ratio and free cash flow payout ratios. All operating cash flow and free cash flow and their 13-Yr. averages are expressed in billions.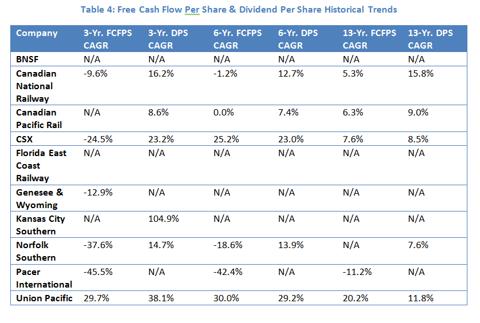 Free cash flow per share growth is tricky as many of the rail companies had negative free cash flow during 2007 and during 2000. The table below will highlight TTM operating cash flow and free cash flow trends against 13-Yr. averages in order to provide more clarity on this. What the above table does do is clearly display Union Pacific's ability to outperform the entire group during economic downturns. Similarly on the dividend per share growth side, Union Pacific strongly outperforms the group with the only exception being Canadian National Railway's higher long-term average. CSX has also significantly increased their dividend more recently, and Norfolk Southern has maintained strong consistent dividend growth over time.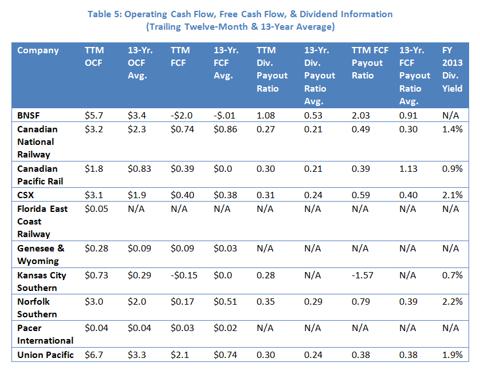 The above table more clearly displays cash flow information based on the TTM period. With the exception of Pacer International, all rail companies display significant TTM increases in operating cash flow from their 13-Yr. averages. The only companies continuing this trend when we look at free cash flow are Genesee & Wyoming and Union Pacific. Union Pacific's TTM free cash flow is almost three times that of its closest peer (direct result of scale).
The dividend payout ratio is included as it is widely utilized. However, I place more value on the free cash flow payout ratio as it flows directly from the operational cash generated by a company. Union Pacific has the lowest TTM free cash flow payout ratio which places the company in the best position for dividend increases in the near term. Canadian Pacific Rail has a comparable TTM free cash flow payout ratio to Union Pacific. On the dividend yield side, only CSX and Norfolk Southern have current yields higher than Union Pacific. Based on the TTM free cash flow payout ratio and dividend per share growth rate trends, these two companies will most likely not be able to outperform Union Pacific, putting Union Pacific in a strong position as the leader based on dividend yield and growth potential.
Valuation
The following tables will provide a snapshot of the peer group based on TTM information and 2013 estimated price to earnings, or P/E. All valuation measures incorporate stock prices as of the market close on January 10, 2013. Enterprise value and debt are expressed in billions.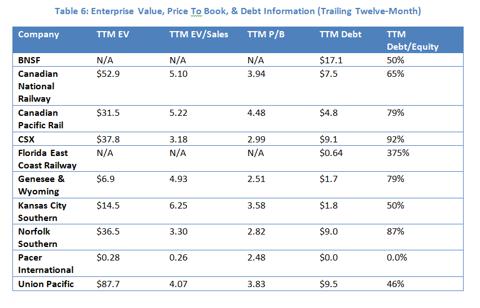 Based on the above information, it would appear that TTM EV/sales mirrors recent revenue growth trends from the previous tables. Kansas City Southern is an exception as its valuation seems above recent revenue growth rates amongst peers. Both CSX and Norfolk Southern have lower valuations in-line with lower revenue growth trends. TTM P/B follows a similar pattern with Genesee & Wyoming and Kansas City Southern displaying contradicting valuations, and Canadian Pacific Rail being slightly overvalued. On the debt side, the majority of companies have debt/equity ratios at 65% or higher with exceptions being BNSF, Kansas City Southern, Pacer International, and Union Pacific.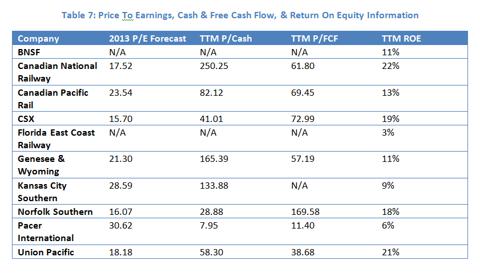 When considering P/E, we can see a similar trend that correlates to recent revenue and earnings growth. Canadian Pacific Rail, Genesee & Wyoming, Kansas City Southern, and Pacer International all trade at higher premiums to the group. Pacer International is an anomaly as the company is still in transition from the recession. It seems that there is justification for CSX and Norfolk Southern trading with a P/E near 16, lagging the group. The previous information has displayed both of these companies lagging the peer group in a majority of categories. Both Canadian National Rail and Union Pacific trade with a P/E near 18. This would suggest that most of the rail companies are possibly trading at a fair valuation. If growth trends continue in the near-term, all public rail companies will most likely offer value to investors.
Price/cash is not necessarily a vitally important consideration, but it does provide an interesting perspective between companies when considering debt levels. TTM P/FCF is an added measure to highlight operational strength related to each company's capital expenditure program and dividend payouts. In both of these categories, Union Pacific significantly outperforms the peer group. All remaining companies generally produce a similar TTM P/FCF with poorer performing exceptions being Norfolk Southern and Kansas City Southern (negative free cash flow). Both Canadian National Railway and Union Pacific outperform their peers with respect to ROE. CSX and Norfolk Southern are not far behind. Smaller growth companies such as Canadian Pacific Rail, Genesee & Wyoming, and Kansas City Southern, despite robust growth, are laggards. This clearly illustrates that larger rail companies seem to have stronger ROEs. BNSF is the only exception.
In summary the rail industry, as evidenced by the public companies driving it, appears to be in strong collective standing. There are not many weaknesses to attempt to expose any of these rail companies in a negative connotation. However, when considering Union Pacific, the company significantly outperforms the peer group with TTM OCF compared against the 13-Yr. average, TTM FCF compared against 13-Yr. average, FCFPS and DPS growth, operating ratios, ROE, debt/equity ratios, and fair valuation in-line with the peer group. At Union Pacific's scale, this is a testament with respect to the competitive landscape.
The next couple of sections will look to dig deeper into the dynamics mentioned in the introduction and will attempt to consider important variables affecting the rail industry.
EXISTING OPERATIONS AND NEAR-TERM STRATEGIES
For this section it will be important to initially compare rail companies by their track properties, rail facilities, and rail equipment. Additionally it will be crucial to begin to break down how rail companies compare based on intermodal operations, how they have access to shipping lines, how they have access to other commodities, and how their capital spending budgets relate to these factors.
Rail Properties, Equipment, and Capital Expenditures
All rail property information is as of 2012 year-end.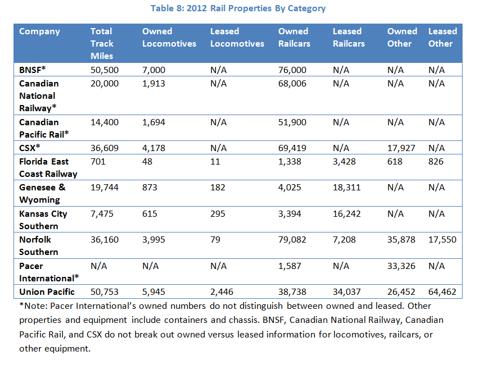 Much of the information on the above table reflects the scale at which each rail company operates through its infrastructure, locomotives, railcars, and other equipment as utilization needs dictate. For general reference total track miles include route miles, second and other main line, passing lines or sidings, crossovers, turnouts, way and yard switching and terminals and classification yard lines, and trackage rights. Locomotives include multipurpose, switching, and auxiliary units. Railcars include covered hoppers, open hoppers, gondolas, boxcars, refrigerated cars, flat cars, among others. Other equipment includes containers and chassis, and other work equipment and vehicles.
The table below provides an overview of comparable 2012 capital expenditures by categories for the rail companies. All numbers are expressed in millions.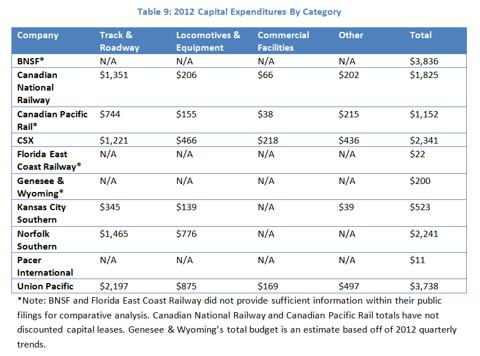 In order to provide more transparency, the general makeup of each category is as follows. For track and roadway, components include rail and other track material, crossties, ballast, bridges, signals, line expansions and other capacity projects. For locomotives and equipment, components include locomotives, railcars, and other rolling stock. For commercial facilities components include buildings and other commercial facilities. The other category includes positive train control and other regulatory requirements, information technology, public-private partnerships, among other items.
From this table, it is clear that track and roadway and locomotives and equipment are the most intense parts of the capital budget. This information correlates directly to the owned rail properties in the preceding table. Union Pacific spends 50 - 65% more than other major railroads such as Canadian National Railway, CSX, and Norfolk Southern as a result of the need to maintain a greater amount of track-related miles. For locomotives and equipment, the picture is a little more extreme when comparing the same major rail companies. Norfolk Southern's expenditures are more closely aligned to Union Pacific, while Canadian National Railway and CSX's expenditures are significantly less. This is most likely the result of the amount of owned railcar equipment that Norfolk Southern operates. Both Union Pacific and CSX disclose positive train control expenditures in separate line items. Most other rail companies likely include this item within their "other" category.
We can also assume that BNSF has similar breakdowns of its capital budget program to Union Pacific as both companies have comparable rail properties.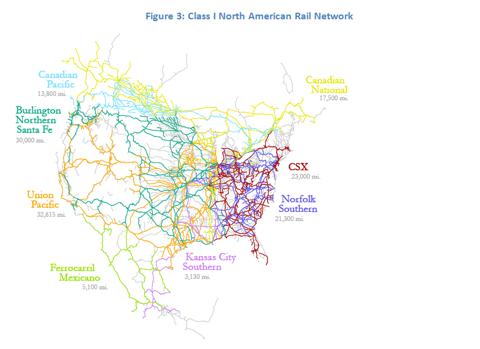 When we put the Class I railroad track route miles together we get a snapshot of North America's major comprehensive rail network. With this graphic in mind we can also compare 2012 revenue ton miles against this peer group:
BNSF: N/A
Canadian National Railway: 202 billion
Canadian Pacific Rail: 135 billion
CSX: N/A
Kansas City Southern: N/A
Norfolk Southern: 186 billion
Union Pacific: 521 billion
From this, we see that there is a direct correlation here with rail track and roadway properties and revenue ton miles.
North American Ports and Intermodal and Automotive Growth
Ports reflect major gateways for how vast amounts of goods are moved between global regions through shipping lines. By considering the container-related information below, we will be able to compare this against intermodal and automotive revenues, carloads, and revenue per carload amongst the group of rail companies. Intermodal and automotive categories are strongly tied to ports and shipping lines.
The following information provides some oversight regarding how United States, of U.S., ports compare against one another. All of these graphics are from the Panama Canal Expansion Study Phase I Report: Developments in Trade and National and Global Economies, November 2013; or 2013 Panama Canal Report, for future reference. For a link to the full report, please click here.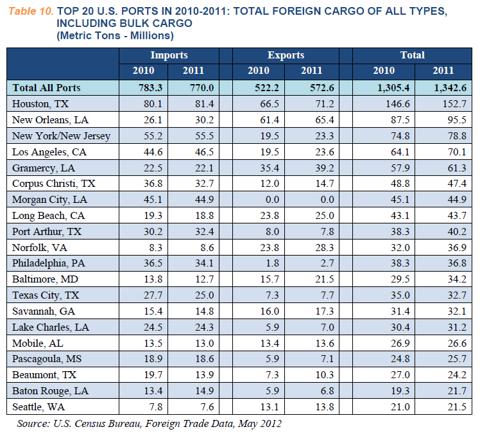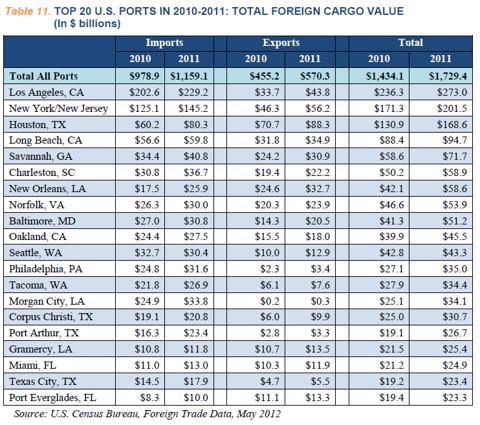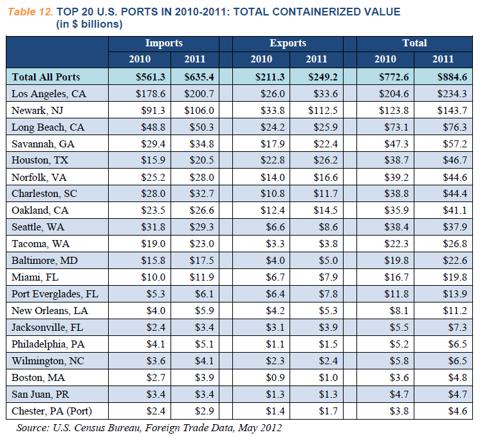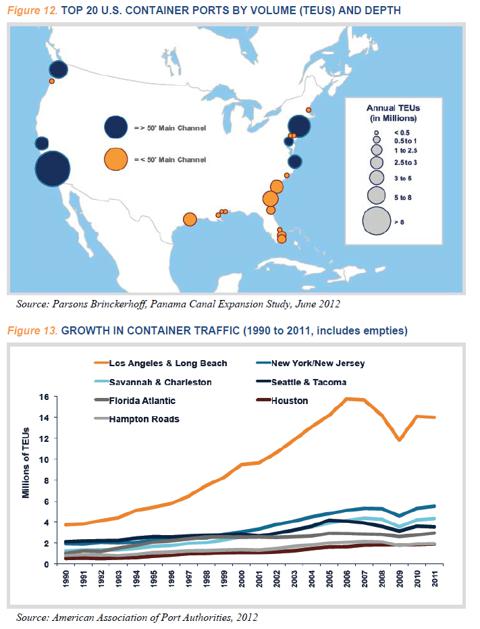 To summarize these graphics, it is clear that there are differences between how we can compare ports. We can look at tonnage, value, or twenty-foot equivalent container units, or TEUs. When comparing tonnage, ports located on the U.S. Gulf Coast come out on top as ranking by cargo weight favors ports handling large quantities of liquid and/or dry bulk cargoes. These cargoes are significantly heavier and lower in average value per ton than container and other general cargoes. These cargoes also typically represent petroleum and petroleum-related products.
When comparing value, there is more of an even distribution across ports with Los Angeles, Newark, and Long Beach being significant leaders. When it comes to container TEUs, the largest ports are located on the U.S. West Coast and to a lesser extent, East Coast. From the growth in container traffic figure above we can see that Los Angeles/Long Beach and Seattle/Tacoma display slight post-recession downtrends while New York/New Jersey, Savannah/Charleston, and Florida Atlantic display slight uptrends. As of 2011 it is also apparent that Los Angeles/Long Beach has not recovered market share to levels prior to the recession. East Coast ports however, are trending past their pre-recession highs.
The table below provides whether or not each Class I railroad serves the top 20 ports in the containerized value list above. This is based on having an intermodal rail yard with access to the port. Most yards are not on-dock, but are within a minimum of a couple miles of the ports.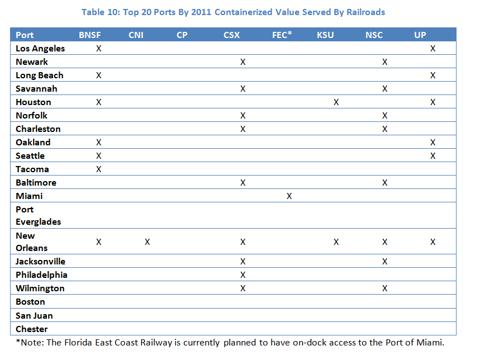 The port of Miami is an example where both CSX and Norfolk Southern do not directly serve the port, but rather transfer railcars at Jacksonville via the Florida East Coast Railway. From this information it is clear that both BNSF and Union Pacific have access to the top performing ports within the U.S. This correlates with their fundamental trends and properties and capital expenditures. However, there is much speculation as to what the impacts will be once the Panama Canal expansion project is completed. This will be discussed further in the long-term strategies section.
The table below provides comparative intermodal statistics for each of the rail companies. All data is as of each company's 2013 third quarter. Freight revenue is expressed in billions, and carloads are expressed in thousands.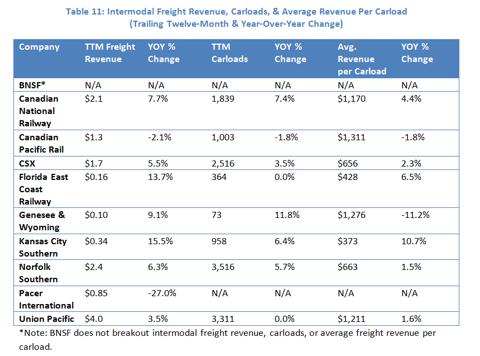 On the freight revenue side for intermodal statistics, Union Pacific being the clear leader makes sense comparatively by scale, but when considering carloads, Norfolk Southern is the TTM leader. Another interesting factor is the discrepancy occurring between average freight revenue per carload. This definitely deserves more scrutiny on a company by company basis. It would appear that longer carload hauls equate to higher pricing gains. This would make sense as BNSF, Canadian National Railway, Canadian Pacific Rail, and Union Pacific all send a number of carloads to Chicago over a much longer distance than many East Coast rail company distribution hauls.
This is an important relationship to highlight as there are distinct opportunities for freight customers. Deciding upon whether to use a ship line to one port, rely upon rail to another point, to a final warehouse or distribution center affects freight customer costs. This also directly relates to how the Panama Canal expansion will impact the current environment.
When considering East Coast growth rates, it would appear that Norfolk Southern has outperformed CSX of late mostly stemming from intermodal carload growth as pricing seems fairly competitive. It would also appear that Canadian National Railway may be taking market share from Canadian Pacific Rail, who is the only company displaying negative trends throughout all intermodal categories.
The table below provides similar information amongst rail companies for automotive statistics. All data is as of each company's 2013 third quarter. Freight revenue is expressed in billions, and carloads are expressed in thousands.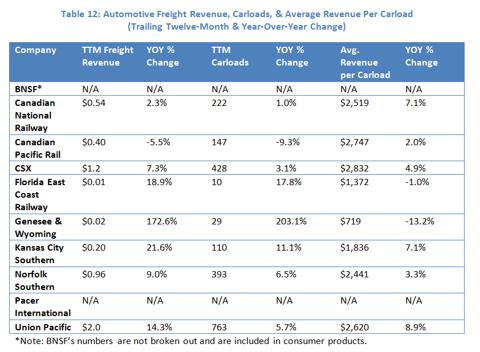 Union Pacific has benefited more than any other rail company with the increase in automotive-related consumer demand. The company generated 67% more freight revenue than its closest peer. Pricing to transport automotive goods is more competitive between larger rail companies, as evidenced by average revenue per carload. CSX is the clear leader on the East Coast, while Canadian National Railway may again be taking market share from Canadian Pacific Rail. Genesee & Wyoming has benefited from its acquisition of RailAmerica significantly. Kansas City Southern's robust growth seems more relevant here than when considering the intermodal category.
Other North American Commodities
The tables below will provide similar information regarding freight revenue, carloads, and average revenue per carload as related to coal, petroleum and chemicals, and agriculture. Additional figures within North America will be included to provide geographic context relative to rail company route miles for these domestically extracted resources.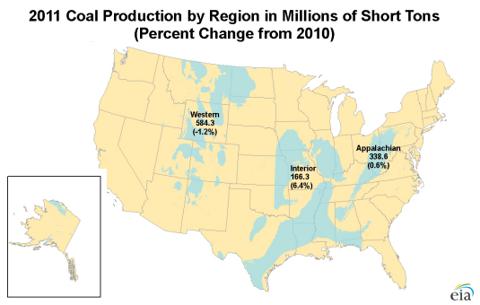 As evidenced by the map above, the majority of coal production in the U.S. comes from the Western and Appalachian areas. The table below provides information amongst rail companies for coal statistics. All data is as of each company's 2013 third quarter. Freight revenue is expressed in billions, and carloads are expressed in thousands.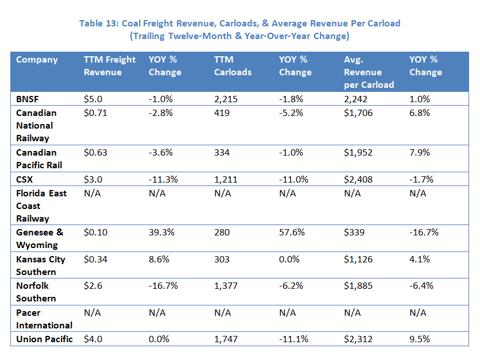 BNSF, CSX, Norfolk Southern, and Union Pacific all generate significant revenue from coal production; average revenue per carload is fairly consistent with CSX leading the way. As the freight revenue and carload leader, BNSF has displayed less volatility, while Union Pacific has been able to offset carload declines through improved pricing gains. Canadian National Railway and Canadian Pacific Rail have similarly been able to reduce some carload declines through pricing gains. CSX and Norfolk Southern have had to deal with declining carloads and declining pricing. A reoccurring trend post Genesee & Wyoming's acquisition of RailAmerica is significant increases to revenues and carloads, however, the company seems to be witnessing declining pricing as well across all commodity categories.
The figures below provide a geographic illustration for gas production areas, oil refinery locations, and fertilizer production facilities. When comparing the chemicals and petroleum category, fertilizer will be included as some rail companies include this group within. The fertilizer production facilities report can be found here.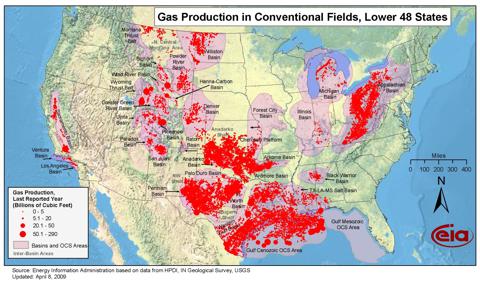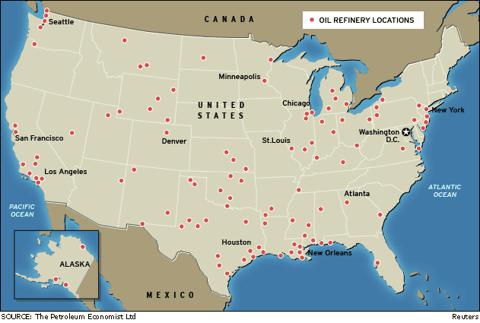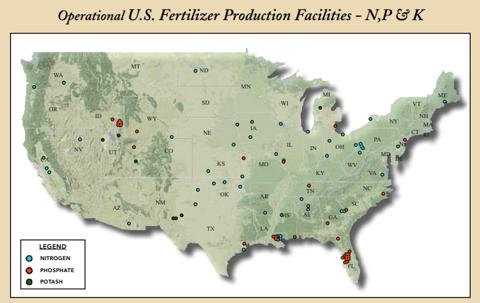 The table below provides information amongst rail companies for chemical and petroleum statistics. All data is as of each company's 2013 third quarter. Freight revenue is expressed in billions, and carloads are expressed in thousands.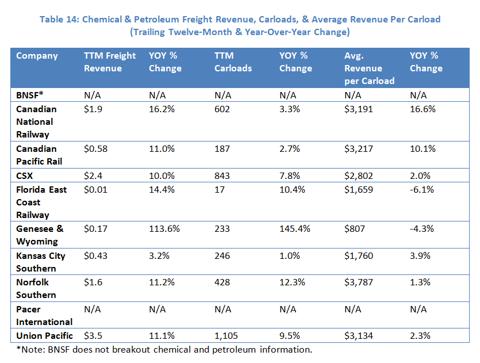 While Union Pacific generates some of the highest freight revenue for chemicals and petroleum, Norfolk Southern has the highest average revenue per carload. Every company in the peer group generated a double-digit increase in freight revenue with the exception being Kansas City Southern. Both Canadian companies saw the highest increase in average revenue per carload. Union Pacific outpaced most peers with its network exposure to Texas and Louisiana.
The three figures below provide geographic commodity information for corn, wheat, and soybean.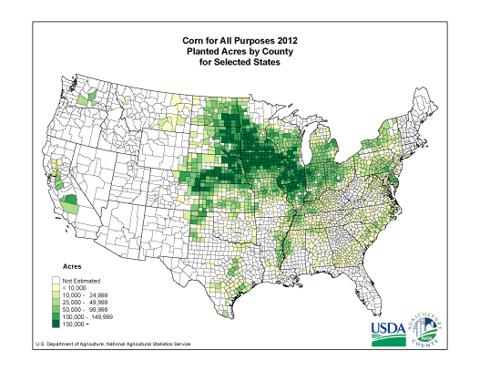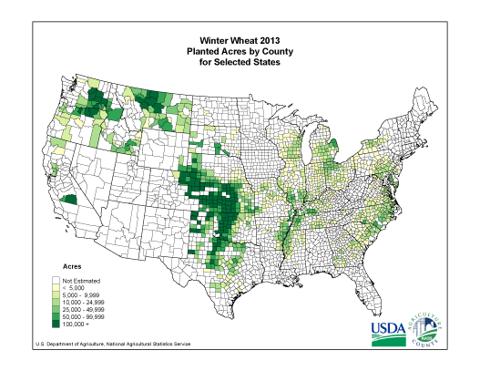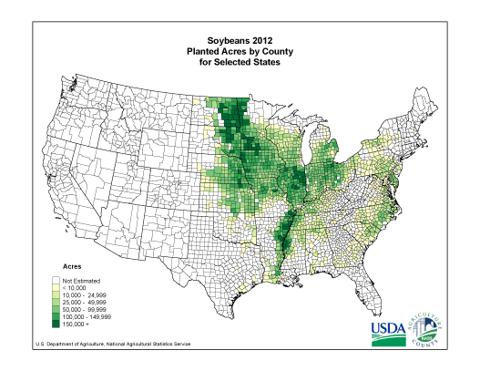 The table below provides information amongst rail companies for agriculture-related statistics. All data is as of each company's 2013 third quarter. Freight revenue is expressed in billions, and carloads are expressed in thousands.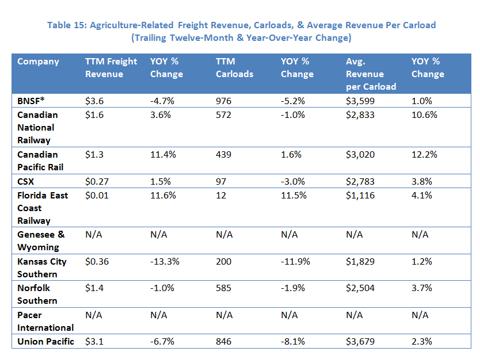 Both BNSF and Union Pacific are the clear leaders based on freight revenue and carloads for agriculture-related freight products. It appears that U.S.-based rail companies have struggled more recently than their Canadian peers from greater carload declines. Canadian Pacific Rail especially has performed strongly with average revenue per carload leading the way. It is interesting to note that when comparing the larger rail companies, CSX does not compete as strongly as in the other major commodity categories. This is the one area where Norfolk Southern dominates CSX regionally.
In summary, the tables below provide a quick snapshot of the percentage of these TTM revenue and carload categories between rail company peers.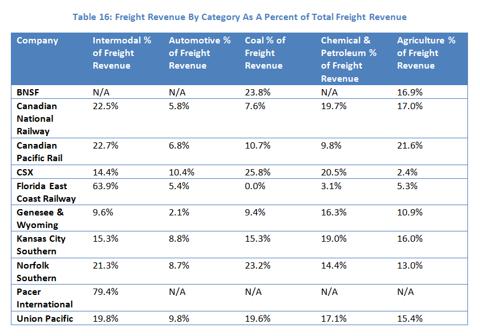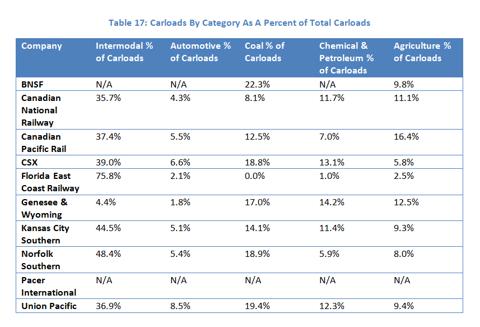 It is clear that intermodal carloads have been and will continue to be a major driver for the rail industry. All major rail companies have at least a 20% portion of their freight revenues derived from this category, CSX being the only exception. Norfolk Southern will be a formidable intermodal competitor for CSX as they equally share access to shipping lines. CSX seems to be more highly exposed to coal and chemicals and petroleum (including fertilizers) than the group, but all major rail companies have significant exposure to these areas. Overall, as the global economy continues to improve, all North American rail companies should continue to see growth in a majority of these categories.
PANAMA CANAL MEGA-PROJECT AND POTENTIAL IMPACTS
The anticipation of the Panama Canal expansion and its impacts on shipping lines and North American ports has generated a significant amount of interest and speculation with respect to the rail industry. There are other factors to consider as well such as transloading from ship lines to trucks, warehouse and distribution center growth and development as related to rail proximity, and intermodal growth in the trucking industry. While all of these areas are important, the section below will focus on the Panama Canal project and its potential impacts on the major global freight gateways and related rail operations.
Panama Canal Expansion Project
According to the 2013 Panama Canal Report, the Panama Canal supports an estimated five percent of the world's total cargo volume. The report also provides the following key factors to be considered with the expansion project:
Expansion will allow for the passage of larger container vessels, potentially reducing the cost of trans-ocean shipping, particularly for routes serving Far East and U.S. East and Gulf Coast ports.
Trade between Asia and Western economies has come to dominate demand for Panama Canal capacity.
More cost-effective service, using larger vessels operating at deeper drafts, could improve the ability of U.S. exports in the East Coast and Gulf Coast regions to compete in global markets for agricultural products and energy.
The Panama Canal Authority (NYSEARCA:PCA) estimates that the combined effect of allowing between 12 and 14 larger vessels per day through the new locks and using the existing locks for smaller vessels will double capacity.
Increased container ships up to 13,000 TEUs (5,000 TEUs currently) will play a role in potentially increasing capacity from 300 million Panama Canal Universal Measurement System (PCUMS) tons to 600 million PCUMS tons.
The figure below provides the regions in the U.S. which are expected to receive benefits from the project. A key question to think about is whether these benefits will be at the expense of the West Coast ports, or just a resulting factor of continued demand trends.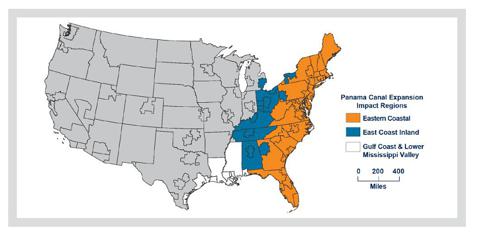 Without getting into technical details the figures below provide illustrations of the Panama Canal expansion project.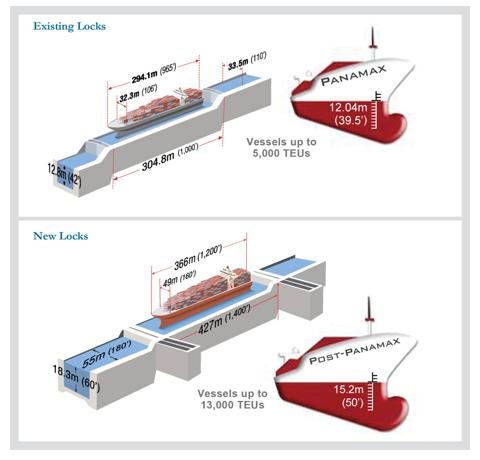 The expansion project will include a third traffic lane and set of locks which will accommodate much larger vessels in addition to the continued operated capacity for smaller vessels. The figure below provides the current channel and new approach channel and third set of locks under construction for both Atlantic and Pacific Ocean access.

The schedule for an open to traffic date over the course of the development of the project has changed from the initial summer 2014 date to most recently near the end of 2015. Quality control and labor issues have been the primary reasons for multiple delays, much stemming from cost overrun complaints by the leading consortium company. The project began construction in 2008 and is currently estimated to have 72% complete. More progress has been made on the Atlantic side than the Pacific to date.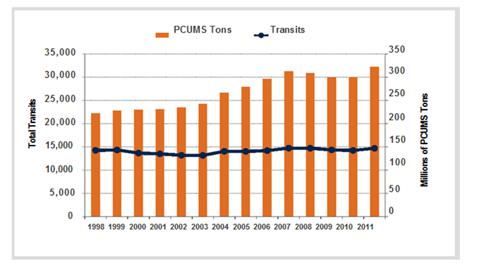 The figure above provides a correlative indication of why ports on the East Coast and Gulf Coast have witnessed container growth above their pre-recession highs as compared to the West Coast ports. Both total transits and millions of PCUMS tons are at post-recession all-time highs.
Shipping Line Developments
The paramount factors which will affect shipping lines as related to the Panama Canal project are vessel operation patterns, Panama Canal tolls, and port and terminal fees associated with serving larger vessels. Additionally, rail costs to haul carloads from intermodal facilities will also play a major role.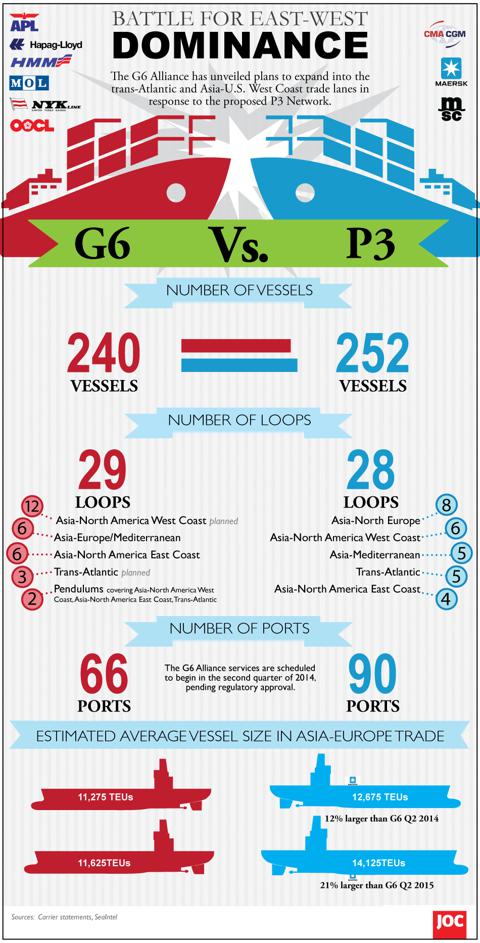 Adding to these factors is the impact to come from the P3 Alliance. The figure above provides some comparative statistics against the G6 Alliance. With the ever-changing environment of some of the largest shipping lines joining forces, it remains to be seen how this will impact other alliances and smaller shipping lines.
The sole purpose of a shipping line is to provide customers with an efficient freight service through economies of scale. As vessels continue to be able to carry more containers, a greater emphasis will be placed on port facility operations being able to handle berth needs, crane processing, storage/yard capacity, and truck-related and equipment service needs.
On the port side, U.S. West Coast ports already have the channels and water depths alongside berths required to accommodate larger vessels. On the East Coast side, only Baltimore and Norfolk can accommodate larger vessels today, while Miami and New York/New Jersey are expected to be able to prior to the Panama Canal expansion being open to traffic. The majority of other East Coast ports have study-level information on dredging and improvement needs, which are ongoing. There seems to be a majority of ports in both the East Coast and Gulf Coast which have Greenfield development capacity. Costs are substantial with Boston and Jacksonville ports requiring around $250 million for dredging and the Port of Savannah requiring around $650 million for its deepening project.
Comparing shipping line route options for East Asia trade to the U.S. East Coast and Gulf Coast will also depend on how many ports can be accessed with larger vessels for customers through the Panama Canal versus the Suez Canal. It is anticipated that many large ports worldwide outside of the U.S. may already have capacity to meet larger vessel container needs; and that other ports globally will compete to develop infrastructure needs as well. The more ports a shipping line can access along its route, the better efficiencies gained.
Other typical shipping line concerns affecting the costs of transportation faced include (many unrelated to Panama Canal expansion) port and terminal access (the "last mile"), road congestion (especially in major urban areas such as Los Angeles and New York) and the environmental impacts of trucking and port drayage. Government regulations at the local, regional, state and federal levels may also affect costs and therefore impact routing decisions.
Rail Developments
These adjustments of daily activity from ports will transition to intermodal rail yards including adjustments to differing peak container/cargo periods and abilities to handle increased demand trends efficiently over time. For rail companies, just as with ports, this means having adequate infrastructure in place to compensate this.
Ports on the East Coast do not currently have fully adequate connections to rail as their counterparts do on the West Coast. Limitations include ports of Baltimore and Charleston, the Port of Miami, and ports of New York/New Jersey. The Port of Miami has a plan to develop and reconnect rail to be on-dock, and New York/New Jersey ports are looking to improve on-dock or near on-dock intermodal transfer facilities. Additionally as a result of passenger rail congestion, trucks carry roughly 85% of vessel-based containers in the New York/New Jersey area; therefore freight rail initiatives will need to be successful in reducing rail congestion. In 2010, 75% of container cargo tonnage imported from Northeast Asia through East and Gulf ports was moved by truck to inland destinations.
West Coast rail operations have benefited from train efficiencies. Double-stack container unit lengths have increased from typical 6,000 - 7,500 feet (200 - 250 container capacity) to 10,000 - 12,000 feet (325 - 400 container capacity). Some experiments have involved 18,000 feet (600 container capacity) double-stack container unit lengths. This train length efficiency will provide West Coast rail companies the ability to potentially reduce freight customer costs and compete against East Coast and Gulf Coast ports via the Panama Canal.
The figure below provides the varying times it takes shipping lines to get to each port and additional time required to reach inland destinations by rail.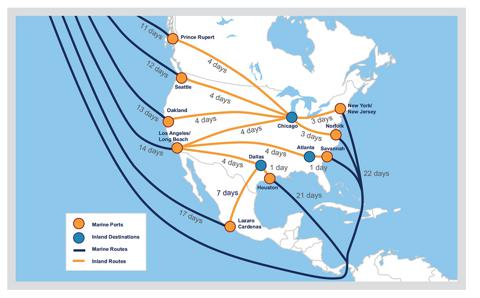 Financing of major infrastructure improvements will need to be made to facilitate any re-routing of shipping lines, and more generally, to account for the long-term demand of goods moved. Numerous rail projects are underway with the West Coast's Alameda Corridor project serving as a precedent for public-private partnership project development. Other rail lines and port facilities across the country are partnering in such arrangements to finance significant infrastructure improvements. Similar to ports, rail companies are investing hundreds of millions to billions of dollars for these capacity needs.
Extra Thoughts
The year 2040 projected trends for total U.S. trade value from Northeast Asia and waterborne container trade are expected to increase more than four-fold and three-fold respectively. The figure below highlights an important baseline of these trends as China clearly has taken U.S. import market share from Canada and Mexico.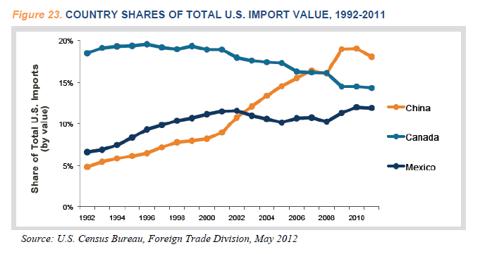 The increased demand for containers over time will necessitate significant increased capacity for U.S. import and export activities. How these goods will move from the primary port gateways by rail will similarly require investments in capacity improvements. Rail companies providing the most efficient services will be able to capture strong growth in trade as freight customers will want smooth efficiencies across the entire supply chain.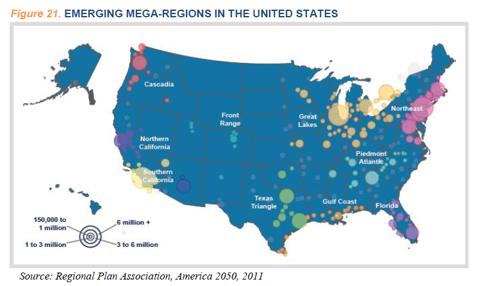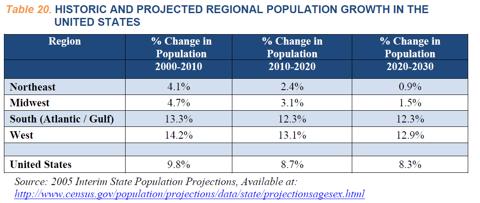 As the figures above reflect, population growth will continue to expand greatly in the West and South (Atlantic/Gulf) U.S. regions. There are many import and export activities within the U.S. that depend upon the entire Class I rail network. The West Coast ports have witnessed significant market share growth over the past couple of decades despite a significant majority of the population being closer to the East Coast and Gulf Coast ports. It is interesting to note that future population trends will be occurring most robustly in areas closer to the West Coast ports.
CONCLUSION
When considering the key points mentioned and the 2013 Panama Canal Project Report, there are some risks associated with how estimated benefits will actually transfer to East or Gulf Coast ports. It is also clear that the Panama Canal expansion will not necessarily increase global cargo volume, but potentially will re-route how a portion of goods are shipped. Regardless of the expansion project, Far East U.S. imports will continue to rise significantly over time.
There is no clear indication of how toll rates of the expansion project will be set. There are speculations that loaded and empty containers will be tolled equivalently. Toll rate policies will directly influence shipping line routes. Another item that will not be understood until the expansion project opens is how intermodal rail and truck costs will adjust within the competitive markets. What is certain is that BNSF, Canadian National Railway, Canadian Pacific Rail, and Union Pacific will not meekly allow East Coast railroads to take market share from the West Coast ports. What is additionally certain is that CSX and Norfolk Southern will face significant regional competition for carloads amongst each other, and to date, Norfolk Southern is leading the East Coast intermodal market.
The report itself admits that it will remain to be seen whether the expansion project will bring enough new container traffic to East Coast ports to lower the unit costs of their train operations. West Coast ports and rail infrastructure is well-poised to handle additional container capacity today. The East and Gulf Coast ports collectively need to make significant investments, which may or may not yield competitive returns on investment to the extent West Coast ports have experienced over the past twenty years. There is definitive risk for the current investments being made in the East and Gulf Coast regions, which is in the billions for both ports and rail.
Even if the Panama Canal expansion project does provide re-routing of shipping lines, based on global goods movement long-term demand trends, there may be a near-term adjustment with East and Gulf Coast increased market share, and reversion back to West Coast ports claiming higher market share over the long-term.
What is clear through fundamental analysis is that all major rail companies have a strong operating business model. As long-term demand increases, most all rail companies should continue to prosper and provide solid returns for investors. Based on the perceived risks and lack of clarity associated with the Panama Canal expansion project, the significant infrastructure capacity accessible to West Coast ports, and Union Pacific's outperformance amongst its peers in the fundamental analysis section, I have selected this company to be my long-term rail position.
Disclosure: I am long UNP. I wrote this article myself, and it expresses my own opinions. I am not receiving compensation for it (other than from Seeking Alpha). I have no business relationship with any company whose stock is mentioned in this article.