Introduction
The purpose of this article is to review my investing performance in 2013, which was the second full year in which I followed a dividend growth investing strategy. Dividend growth investing involves buying attractively valued stocks of companies that consistently pay and grow their dividends. A combination of organic dividend growth, dividend reinvestment, and regular investment of new capital can lead to compound growth of dividend income over several years.
Indeed, my primary goal as a dividend growth investor is to create and maintain my own dividend growth machine, a diversified portfolio of stocks that produce a sustainable and rising dividend income stream over time which beats inflation. My secondary goal is to achieve a satisfactory total return on my investments. I pursue these goals in order to put myself in a financially secure position when I eventually retire. As a relatively young person (32 years old) in an early stage of my career (I recently became a professor), I have no intention of retiring soon because I think I have the potential to accomplish a great deal in my career. Consequently, I plan to work for several more years, continue to follow a sensible investing strategy, and let my dividends grow along the way.
In the following sections, I will review how my dividend growth machine performed in 2013. Given that I provided quarterly updates for the first three quarters of 2013 in previous articles, I will focus to some extent on events that occurred in the fourth quarter and review prominent changes that occurred during the year. As always, I will be presenting real results from a real portfolio involving real money.
Input To The Machine
New capital represents the input to my dividend growth machine and allows me to buy stocks. Where does new capital come from? It reflects savings of my job income, which I get by living below my means. I naturally live a relatively frugal lifestyle that allows me to save and invest a considerable portion of my job income on a regular basis. However, two major changes happened in 2013 that affected the amount and timing of new capital for investment:
In the middle of the year I moved to a different state and started a new job. To prepare for the cost of my move and a two-month transitional period in which I would have no income, I did not contribute any new capital from March to June. Instead, I retained my savings and used them to defray expenses incurred in July and August. Once I started my new job -- which pays a higher salary than my old job -- I was able to resume investing new capital at a higher rate than before, making up for the spring hiatus.
In November I rolled over the money from two retirement plans held with my former employer into an IRA and converted it into the existing Roth IRA that I opened at the start of 2013. I had set aside external money to cover the estimated taxes on the conversion (which I paid before the end of the year). The rollover money was approximately $25,000, providing a substantial boost to my Roth IRA.
Keeping those points in mind, the figure below shows how much new capital I contributed each quarter to my investment accounts in 2012 and 2013. Note that I excluded the rollover money from the contribution total for Q4 2013.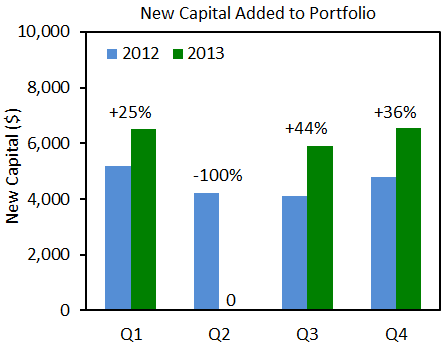 Interestingly, the absence of new capital contributions in Q2 2013 was more than compensated for by the higher contributions in other quarters. As a result, my contribution total for 2013 of $18,965 (an average of $1,580 per month) slightly exceeded my 2012 total of $18,300. Given the major change in my life, I am pleased that my total contribution of new capital did not decline year over year.
Parts Of The Machine
Dividend growth stocks represent the parts of my dividend growth machine. I aim to invest in the stocks of companies with the following characteristics:
A track record of paying dividends and growing them year after year at a satisfactory rate (typically much higher than inflation).
Revenue and earnings growth that support continued dividend growth, as well as a stable balance sheet.
A business that is understandable and has competitive advantages (e.g., economic moat, high switching costs, strong brands, etc.)
A stock that is either undervalued or fairly valued based on historical comparisons and estimates of fair value.
The first table below shows the composition of my portfolio at the start and the end of 2013, with holdings in my Roth IRA denoted by [R] and various changes highlighted. The second table indicates when transactions were made during the year.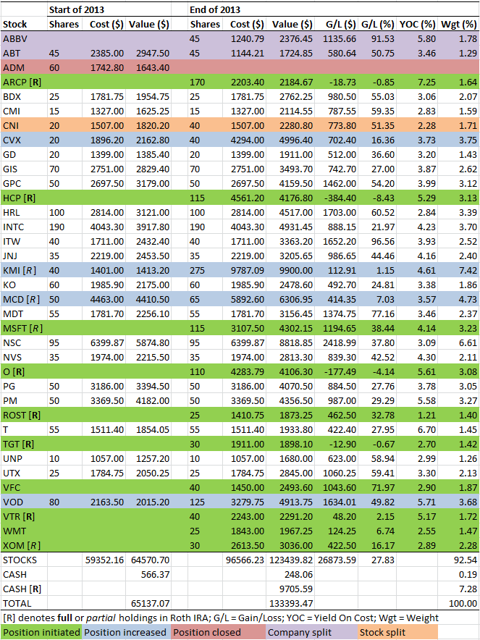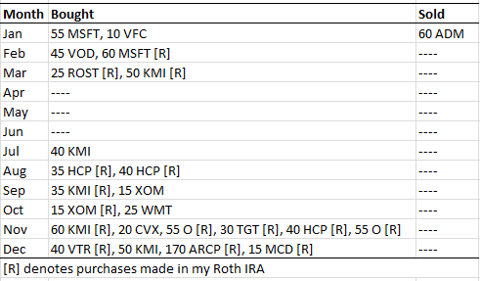 I started the year with 25 stocks and ended it with 35 stocks. I will briefly discuss the highlighted changes to the portfolio:
Altogether I made 24 transactions in 2013: 23 purchases and one sale. For comparison, I made 19 purchases and zero sales in 2012. I continue to abide by Seeking Alpha author Chuck Carnevale's wise words about portfolio turnover: "A portfolio is like a bar of soap; the more you handle it, the smaller it gets." Besides low turnover, I also try to minimize other "frictional" costs of investing. I aim to keep transaction fees to no more than about 0.5% of my total costs. I had a 0.54% ratio in 2012 and I reduced that to 0.36% in 2013.
Besides monitoring the operating results of the parts of my dividend growth machine, I also monitor the dividend growth. The figure below shows the distribution of dividend increases that took effect during 2013: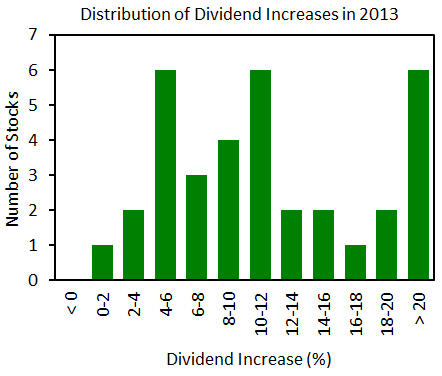 There were dividend increases for 34 of the 35 stocks in my portfolio. The mean increase was 11.7%, the median was 10.1%, and 19 companies had double-digit percent increases. I was very satisfied with dividend growth in 2013. The lone company that did not increase its dividend was Intel (NASDAQ:INTC). I know several dividend growth investors who have either reduced or eliminated their Intel positions due to the absence of a recent dividend increase, but I continue to hold. I plan to see whether the company's operating results have improved during their upcoming quarterly earnings report, which will give me a sense of the prospects for a dividend increase in 2014. If the results continue to be lousy, then I will consider reducing my position.
Output Of The Machine
Dividends and capital gains represent the output of my dividend growth machine, all of which is selectively reinvested when sufficient cash is available. As mentioned earlier, my primary investing goal is to build a sustainable and rising dividend income stream. The figure below shows the dividends I received during each quarter of 2013, along with the quarterly numbers in 2012 for comparison.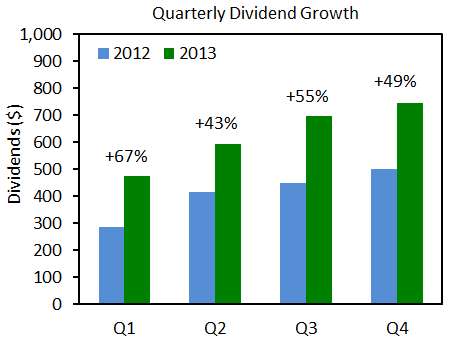 There were solid year-over-year dividend increases in all quarters. By the end of the year I had received a total of $2,509.20 in dividends, which is 52% higher than the $1,649.63 that I received in 2012. Moreover, my forward 12-month dividend total was $3,912.46 at the end of 2013, so I can already look forward to a substantial year-over-year increase in 2014. This is the crux of dividend growth investing: a growing dividend income stream over time, regardless of what happens in the stock market.
My secondary investing goal is to achieve a satisfactory total return. The portfolio table (see above) shows that my portfolio's value increased by 105%, from $65,137 to $133,393. The figure below shows end-of-month portfolio values since the start of 2012.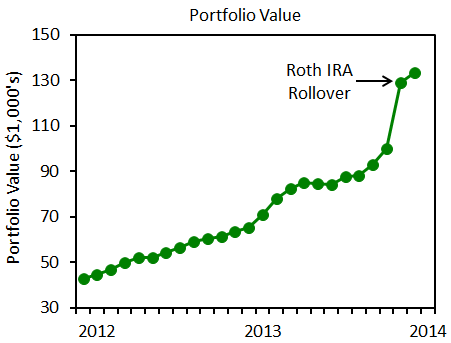 The overall increase in 2013 can be divided among the following sources: 36.8% reflected rollover money into my Roth IRA, 31.7% came from unrealized capital gains, 27.8% was contributions of new capital, and 3.7% came from dividends. Using the XIRR function in Excel, which takes into account when rollover money and new capital were added during the year, I achieved an annualized return of 31.3% in 2013. Since January 1, 2012, I have achieved an annualized return of 20.6%, which I consider to be a satisfactory total return. Note that my returns are not directly comparable to the routinely cited return of an index such as the S&P 500 (nor do I care for such comparisons). A valid comparison would require calculating an index return that reflects new capital investments in a relevant index fund that mirror the amounts and timing of my contributions throughout the year.
I hope these results serve as a concrete demonstration of how a relatively young investor can achieve continued success with dividend growth investing. I opined in a previous article that it is a sensible strategy for young investors with long time horizons and a potentially better alternative than following the conventional "advice" of aggressively pursuing high-risk, high-growth stocks. I may not be hitting home runs with my investments, but I will gladly settle for consistent singles and doubles.
Outlook For 2014
I do not expect any major changes to my portfolio or my investing strategy in 2014. I plan to continue making regular purchases throughout the year; once I finish investing the rollover money in my Roth IRA, I will likely average one or two purchases per month. The only stocks that are under consideration for potential sale this year are Intel and Vodafone, but I will continue holding them for the time being, until I have more information on which to base my decisions. In general, I expect nearly all the stocks in my portfolio to continue increasing their dividends, thereby keeping my dividend growth machine humming along.
As for the broader stock market, I have no prediction about whether it will have a good or a bad year because it is simply irrelevant to my primary investing goal. I view it as a market of stocks rather than a stock market, which means I focus on identifying individual stocks that meet my dividend growth investing criteria. If the stocks in my portfolio continue to pay and grow their dividends in a manner supported by their operating results, then I will likely be a satisfied investor.
Disclosure: I am long ABBV, ABT, ARCP, BDX, CMI, CNI, CVX, GD, GIS, GPC, HCP, HRL, INTC, ITW, JNJ, KMI, KO, MCD, MDT, MSFT, NSC, NVS, O, PG, PM, ROST, T, TGT, UNP, UTX, VFC, VOD, VTR, WMT, XOM. I wrote this article myself, and it expresses my own opinions. I am not receiving compensation for it (other than from Seeking Alpha). I have no business relationship with any company whose stock is mentioned in this article.