Editors' Note: This article covers stocks trading at less than $1 per share and/or with less than a $100 million market cap. Please be aware of the risks associated with these stocks.
It has become a monthly routine to update our readers on analysts' targets and recommendations for gold miners, silver miners and precious metals streaming companies.
This is the first offering for precious metals streaming companies in the new year of 2014. This installment for the month of January summarizes our current data on price targets and recommendations and reports on changes in price targets since our December edition in this series.
Streaming companies provide venture capital for mining companies in exchange for an interest in mine production. Such companies offer leveraged exposure to the underlying commodity at a reduced risk compared to mining companies.
In our data base we are considering four precious metal streaming companies. In alphabetical order: Franco-Nevada (NYSE:FNV), Royal Gold (NASDAQ:RGLD), Sandstorm Gold (NYSEMKT:SAND) and Silver Wheaton (SLW).
We registered the following developments for three of the four companies on our precious metals streaming watch list since our last installment:
Not all analysts release their predictions to Yahoo.com, our source of data for this article. Instead, in many cases analyst data are considered as proprietary information only available to subscribers of the analysts' services. It is for this reason that our data base may consider fewer analysts than actually follow some of the companies.
The table below summarizes our data. The first three columns list the company names, ticker symbols and share prices at the time of writing. Price targets (low, median and high) are listed in the following three columns. These targets are followed by a column giving the numbers of analysts providing data to Yahoo.com and the mean recommendations given by these analysts ranging from 1.0 (strong buy) to 5.0 (sell). This concludes the data sourced directly from Yahoo.com.
The following columns are colored in light green and contain data derived from our source data. These data points are given in percentages related to the share price at the time of writing. The column titled "median-price" gives the differences between the share price and the median target price. The column titled "high-low" gives the differences between the high and the low targets. The last four columns titled "target change" document the changes in price targets since the December report with the last columns giving the average change over the low, median and high price targets.

The four diagrams below visualize four columns from the table above: "median-price", "high-low", target change average" and "recommendation".
"Median-price". A relatively high difference between the current share price and the median price target can indicate a high potential for share price increase during the coming 12 months. Caution needs to be exercised, however, since catalytic events typically take some time until they are reflected in analysts' price targets.
Sandstorm Gold is trading 45% below the median price target, down from 70% a month ago. Silver Wheaton is second in this ranking trading 38% below the median price target (down from 62%). Royal Gold (23% down from 41%) and Franco-Nevada (7% down from 19%) complete our list.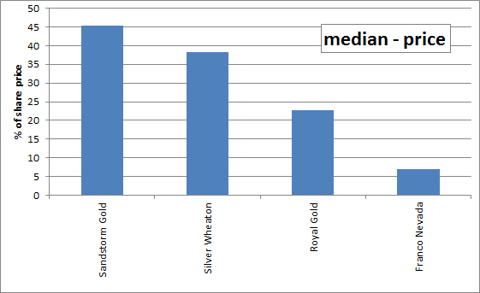 "High-low". Small differences between high and low targets indicate that analysts concur on the price targets whereas a high difference indicates diverging analyst opinions.
Unchanged from last month disagreement among analysts is highest for Silver Wheaton followed by Franco-Nevada, Royal Gold and finally Sandstorm Gold which provokes the least degree of disagreement regarding price targets.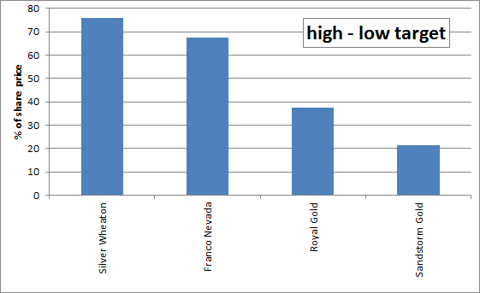 "Target change average". This diagram visualizes the average target change since the beginning of November. Price targets for Franco-Nevada and Royal Gold have been lifted ever so slightly during the past month, and Silver Wheaton's targets have been cut a little. These changes are negligible compared to the target cuts for Sandstorm Gold, a whopping -21%.
In total the target changes added up to an average cut of -5.4% with Sandstorm Gold being the driver of this number.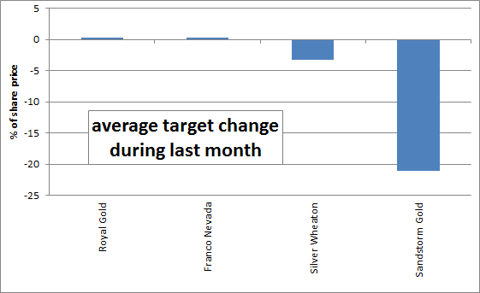 "Recommendation". The analysts investment recommendation expressed on a scale from 1 to 5 with 1 indicating a "strong buy", and 5 indicating a "sell" recommendation.
Royal Gold's recommendation improved slightly since the last report in our series. Overall the order has been maintained with Silver Wheaton leading the charge and Franco-Nevada being viewed as the least attractive of the four.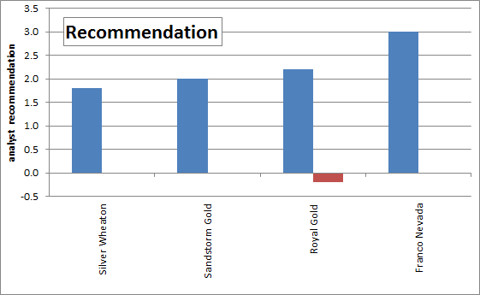 The final diagram for this article shows the relative performance of the four considered companies during 2013. We are finding it quite remarkable that the best performer of this group in the past year is receiving the worst recommendation score by analysts, and has consistently received them throughout the past year.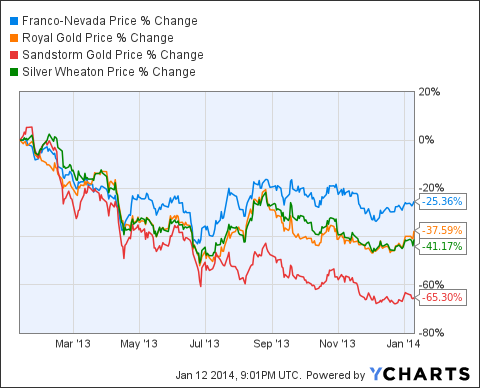 Disclosure: I am long SAND, SLW. I wrote this article myself, and it expresses my own opinions. I am not receiving compensation for it (other than from Seeking Alpha). I have no business relationship with any company whose stock is mentioned in this article.