With the big banks continuing to look to exit the metals warehousing business it is our belief that some volatility might be ahead for certain metals, particularly some of the base metals. Rumors of abusive practices have been highlighted by respectable news agencies and the stories all seem to arrive at the conclusion that prices have been manipulated, so as chatter about big banks exiting the business picks up once again we want to remind readers about what could happen.
Today we see mostly red arrows for physical commodity prices, but commodity equities are on the rise in many cases. It is particularly true for some of the smaller players who have been developing large projects the past few years, news we cover later in the article.
Chart of the Day:
Natural gas (NYSEARCA:UNG) prices are again on the rebound after having found support at $4/MMbtu a few days ago. As far as the commodities we follow go, it is one of only two moving higher this morning with the other being WTI Crude.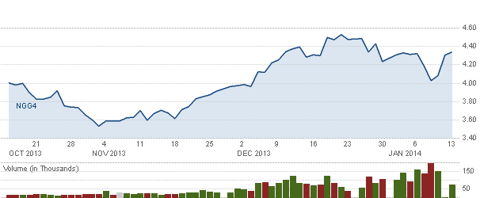 Source: CNBC
Commodity prices this morning are as follows:
Gold: $1,245.90/ounce, down by $5.20/ounce
Silver: $20.35/ounce, down by $0.035/ounce
Oil: $92.14/barrel, up by $0.34/barrel
RBOB Gas: $2.6028/gallon, down by $0.0313/gallon
Natural Gas: $4.326/MMbtu, up by $0.052/MMbtu
Copper: $3.325/pound, down by $0.0215/pound
Platinum: $1,433.60/ounce, down by $10.30/ounce
Partnership News
We are seeing another secondary in the MLP sector, this time with AmeriGas Partners, LP (NYSE:APU) filing to sell 8 million units for an affiliate of Energy Transfer Partners, Heritage ETC, LP. The units priced at $42.73 each (see press release here) and the underwriters for the deal have the option to purchase an additional 1,200,000 units at the same price less the underwriting discount. None of the proceeds from this sale will go to AmeriGas Partners as they will be retained by the seller.
Copper
Thompson Creek Metals (TC) is seeing its share price move strongly higher after Merrill Lynch upgraded the shares to 'Buy' from 'Neutral'. The company announced yesterday that concentrate production from Mt. Milligan contained 10.9 million pounds of copper, 21,100 ounces of gold and 41,800 ounces of silver between start-up through December 31, 2013. This is good news for the company which has seen its share of issues arise while bringing the project online, some of the issues being internal and others simply industry issues. We are moving this name back to our list of stocks to do some fresh research on and may have more write-ups to come depending on what we can uncover.
Thompson Creek could be an interesting momentum play if it can break above the $2.50/share level and hold it. With their production figures and guidance we could see further upgrades and coverage being initiated in the near future.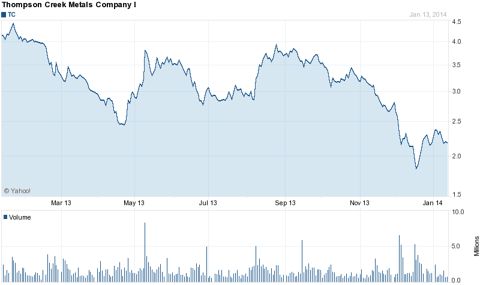 Source: Yahoo Finance
Turquoise Hill (NYSE:TRQ) announced that they had successfully raised approximately $2.4 billion in gross proceeds from their rights offering with strong demand (see press release here). The company issued 1,006,116,602 new shares, or 100% of what was available under the offering. Further, Rio Tinto (NYSE:RIO) exercised its full allotment and was not required to participate further due to the strong demand and thus its stake remains unchanged at 50.8% of the outstanding shares of Turquoise Hill. For those who do not follow the company, it is the owner of 66% of the large Oyu Tolgoi copper, gold and silver mine in Mongolia as well as coal operations in Mongolia.
Shareholders did have to kick extra money into the company in order to avoid dilution, but Turquoise Hill might not be a bad speculation at this point as it could be a takeover candidate down the road.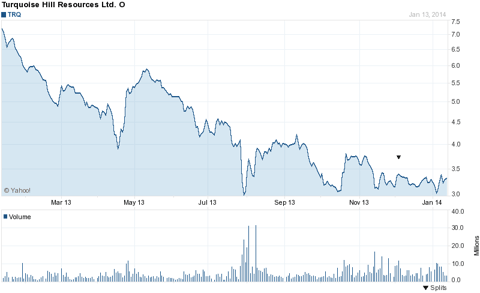 Source: Yahoo Finance
Now readers know that we have been bullish of Freeport-McMoRan (NYSE:FCX) which in many ways resembles these smaller names. Our thinking is that if you are trying to simply get exposure to copper that Freeport-McMoRan is the play as it is a large copper producer but also diversified into other areas. Both Turquoise Hill and Thompson Creek Metals are smaller names that are quite volatile and will fluctuate with the price of their underlying commodity production more so than Freeport-McMoRan. For those looking to add risk to their portfolio, both names are worth looking into to see if they fit your risk profile, but for the majority of our readers we suspect that Freeport-McMoRan is the preferred avenue for copper exposure at this time.
Disclosure: I have no positions in any stocks mentioned, and no plans to initiate any positions within the next 72 hours. I wrote this article myself, and it expresses my own opinions. I am not receiving compensation for it (other than from Seeking Alpha). I have no business relationship with any company whose stock is mentioned in this article.