Investors in Wells Fargo (NYSE:WFC) hardly react to a decent fourth quarter earnings report. The diversification, continued loan growth and focus on costs allows the bank to report increasing earnings. This is despite the hiccup in the mortgage market, with the company continuing to be the largest mortgage originator in the US.
After shares of banks have risen sharply in recent years, the valuations are much more normal again. While the bank is well-managed, the valuation is fair leaving prospective investors with "fair" expected returns.
Solid Fourth Quarter
Wells Fargo reported very solid fourth quarter results. Reported revenues fell by 5.8% compared to a year before and came in at $20.66 billion. While the year-on-year trends are not encouraging, revenues were up by 0.9% compared to the third quarter of 2013.
Reported earnings to shareholders rose by 10.5% to $5.37 billion despite the fall in revenues. Earnings rose by 1.0% compared to the third quarter and came in at $1.00 per diluted share, beating consensus estimates at $0.98 per share.
Some Key Observations
Wells Fargo's results have been driven by top line growth as well as expense control, while commission revenues were under pressure, partially due to lower mortgage originations.
Net income in relation to average assets was essentially unchanged at 1.47%. Yet the bank made some improvements in its efficiency ratio which fell by 30 basis points to 58.5% of total revenues. This is largely the result of job cuts as the number of employees fell by some 4,300 to nearly 265,000 over the past year.
This is quite impressive as the average asset base rose by 9% to little over $1.51 trillion. Net interest revenues were flattish at $10.8 billion despite the asset growth as net interest margins fell by 30 basis points to 3.26% amidst lower long term yields. Non-interest income fell by 13% to little below $10 billion as mortgage banking revenues halved to little over $1.5 billion.
Financial Position Improves ...
High retained earnings continue to bolster the financial position of Wells Fargo despite the growing asset base. The Tier-1 capital ratio improved by 58 basis points to 12.33% while the book value of the shares rose by 7% to $29.48 per share. As such, shares trade around 1.5 times their book value now.
Wells Fargo's full year revenues of $83.8 billion for 2013 fell just slightly compared to a year ago. More importantly, earnings rose by 16% to $21.9 billion, coming in at $3.89 per share.
Besides growing earnings through the larger asset base, profitability has been increasing faster on the back of lower charge-offs which the company has been taken in recent years. Between the end of 2009 and 2013 these charges have fallen by more than 80%, leaving little room to be a driver for future earnings.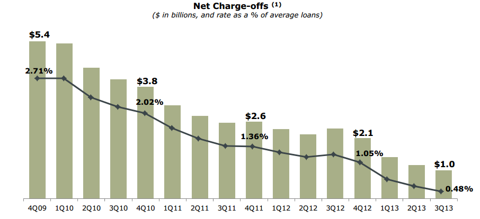 This has resulted in of course higher earnings, and improved returns on equity as seen below. Returns on equity for 2013 came in at 13.9%, marking another year of consecutive improvements, coming right in the middle of the targeted 12-15% return range by the bank.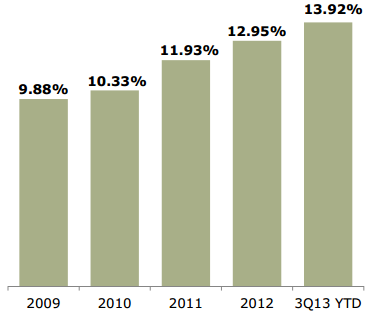 ... Allowing Greater Payout To Investors
For the fiscal year of 2013, Wells Fargo returned some $11.4 billion through dividends and repurchases to its shareholders. The bank recently hiked its quarterly dividend to $0.30 per share, paying out a competing 2.6% yield. On top of these combined $6 billion in dividend payments, shareholders "received" $5.4 billion through share repurchases, with the bank retiring shares at a rate of 2.2% per annum.
What's Ahead?
Despite the temporarily underperfomance of the mortgage business, Wells Fargo is happy with the performance overall driven by loan and asset growth. The banks till targets an efficiency ratio of 55-59% for the first quarter of 2014, boding well for earnings if it can achieve a performance somewhat in the middle or lower end of that range.
The banks is awaiting approval from the Federal Reserve to hike payouts even more. Yet the current pace of share repurchases and dividends already reflect payout ratios of little more than 50% of annual earnings. Higher interest rates are necessary to boost earnings in the long run but impact mortgage earnings for now. Funding costs fell to just 11 basis points for Wells Fargo, so growing net interest margin have to come from higher rates.
Given the fair returns on equity, the lack of further funding benefits and lack of further potential for meaningful lower loan charges, earnings growth going forward might be much more limited.
Trading around $45 per share, the bank trades at a fair 11 times earnings while providing fair combined dividend and repurchase yields of 5%. Any drivers for excessive returns are gone, and by now Wells Fargo remains fairly valued, providing decent payouts in the mean term.
Disclosure: I have no positions in any stocks mentioned, and no plans to initiate any positions within the next 72 hours. I wrote this article myself, and it expresses my own opinions. I am not receiving compensation for it (other than from Seeking Alpha). I have no business relationship with any company whose stock is mentioned in this article.