The Mosaic Company's (NYSE:MOS) revenue is mainly driven by its phosphate segment, which contributed around 74% to the total revenue in third quarter of 2013. This segment reported year-over-year sales decline of 18.5% to $1.42 billion, mainly due to the fall in phosphate prices. The wholesales phosphate fertilizers, Di-ammonium Phosphate (DAP) and Mono-ammonium Phosphate (MAP) prices have been falling since 2011. However, after the significant fall in 2008-2009, phosphate prices are currently trailing $200 per metric ton, or mt, above the 2009 lows.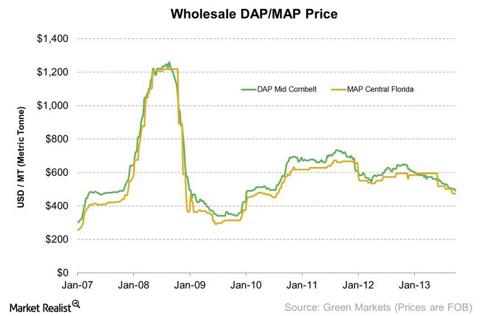 Mosaic's phosphate segment is the main revenue driver for the company. The phosphate prices fell from $533 per mt to $436 per mt in the third quarter of 2013 year-over-year, which is a point of concern for Mosaic. The fall in the prices is attributed to the weak demand from China and India, which contributes nearly 25% of Mosaic's total sales. The company expressed its concern for both phosphate and potash future prices, which will be negatively impacted by the unfavorable government subsidies and depreciating Indian Rupee. These factors will significantly impact the earning capabilities of all fertilizer companies like CF Industries (NYSE:CF), Potash Corp. (NYSE:POT), and Agrium (NYSE:AGU).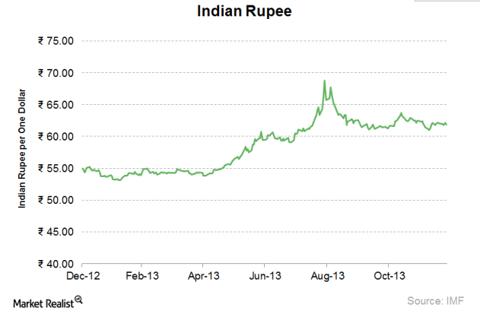 Source: IMF
Further, the phosphate prices are derived from the change in supply and demand in central Florida, as around 85% of the U.S. phosphate rocks are mined in Florida and Utah, with most of the phosphate companies have their plants and warehouses in Florida. By analyzing the factors, Mosaic estimated the average selling price of phosphate for the fourth quarter of 2013 to be in range of $370 per ton to $400 per ton.
In order to maintain its position in the phosphate market, Mosaic is focusing on establishing joint ventures and acquisitions. For the seven-month stub period, the company will be investing around $900 million to $1.1 billion in its Saudi Arabian joint venture to produce phosphate. This strategy is expected to rejuvenate the phosphate segment and maintain the phosphate revenue contribution.
Acquisition enables Mosaic to deepen footprints in phosphate
In the beginning of the fourth quarter, Mosaic signed a contract with CF Industries to acquire CF's Florida-based phosphate facilities for $1.4 billion. Based on the regulatory approval, this transaction is expected to close by the end of the first half of this year. In this agreement, Mosaic will acquire the 22,000-acre South Pasture phosphate mine and beneficiation plant in Hardee County, a phosphate manufacturing facility in Plant City, and an ammonia terminal and finished product warehouse facilities in Tampa.
CF's South Pasture mine and beneficiation plant are expected to have the proven and probable phosphate reserves of around 70 million tons. Further, these facilities produce approximately 1.8 million tons of phosphate fertilizer annually, which would add to Mosaic's current annual production of 8.2 million tons. The Hardee County beneficiation plant will help Mosaic save around $500 million since the company isn't required to construct the plant. Instead, it will use these savings to develop phosphate rock reserves and improve the productivity from the existing mines.
It is expected that with the completion of this acquisition Mosaic has an excellent growth opportunity with significant cost savings. There are high entry barriers to establish new phosphate mines; developing a mine requires a huge capital expenditure of around $2.1 billion to $2.3 billion to produce one million metric ton of phosphate in the time frame of around three to four years. This transaction will help Mosaic save the time and capital, which will allow it to develop its existing facilities.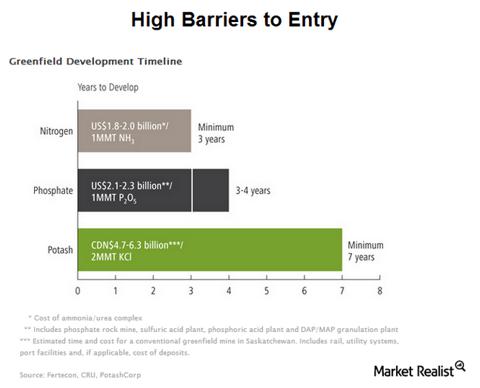 Enormous Synergy with these agreements
Along with this deal, Mosaic also signed strategic agreements with CF Industries to supply around one million tons of ammonia per year. In one of the agreements, CF will be supplying approximately 725,000 tons annually for 15 years, beginning from January 2017, and ammonia prices will be based on the prevailing natural gas in the U.S.
Mosaic will also buy around 270,000 tons of ammonia from CF's Trinidad operations at Tampa market-based pricing. This will allow Mosaic to forego its proposed ammonia manufacturing plant at its Faustina phosphate facility, which will result in saving future capital expenditures of nearly $1.1 billion. To maintain the ammonia supply to its Florida facilities, the company has simultaneously planned for capital expenditure of $200 million to build marine assets, which will be used to transport ammonia to its Florida facilities.
Mosaic will be most impacted by these transactions, as it will generate significant synergies for the company, and it will have a positive impact on its total capital expenditure related to the complete transaction. This will cost around $2.1 billion, which includes $1.4 billion related to acquisition consideration, $500 million to develop reserves and improve existing mines, and $200 million for establishing the transportation system. It is estimated that this will be offset by the total cost-savings related to foregoing the Faustina ammonia project and the savings resulting from not constructing the beneficiation facility.
These new phosphate assets and the long-term ammonia supply agreement will strengthen Mosaic's position among the phosphate producers. Further, the company will be able to enhance its operational capacity and efficiencies by lowering production cost and reducing its capital investment.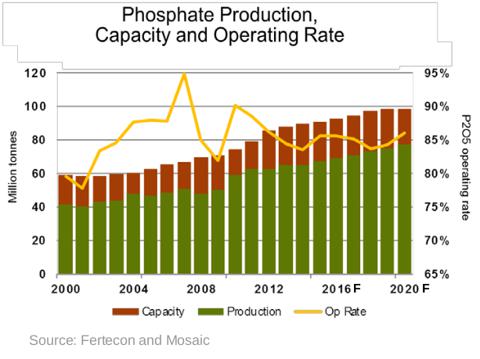 This will enable Mosaic to enhance its 2015 EBITDA by $230 million and add $0.30 to the total EPS for the 2015 earnings, assuming no change in the outstanding share count, which is 427 million shares, and ignoring the debt related cost.
Opportunities for CF industries
CF Industries' phosphate segment gross margin declined 55% year over year to $73.2 million in the first nine months of 2013. By divesting its Florida-based phosphates mine, the company will be a pure nitrogen based company. This will allow CF to focus on its nitrogen segment, which has contributed nearly 85% to its total revenue for the first nine months of 2013. The company planned for the capital expenditure of $3.8 billion to increase its nitrogen production at two of its existing facilities in Donaldsonville and Port Neal. The company will commence its operations at the Donaldsonville plant by 2015-2016. The agreement between CF Industries and Mosaic will decrease the risk of CF's projects, as CF will supply one million ton of ammonia to Mosaic, which will enhance the chances of higher returns from the project. This expansion program is estimated to generate the mid-teens returns upon its successful commencement. Along with its expansion plan, the company has increased the quarterly dividend by 150%, from $0.4 to $1, which will further enhance the investors' confidence in the stock.
Conclusion
With this acquisition, Mosaic is expected to strengthen its presence in the phosphate fertilizer segment. The integration of this newly acquired phosphate plant will offer huge synergies to the company, and it will be able to expand and improve the productivity of its existing facilities. With this strategy, Mosaic will able to lower its production cost by optimizing the operational rate and enhance its phosphate production. This will in turn enable the company to maintain its profitability in the declining phosphate prices scenarios.
Disclosure: I have no positions in any stocks mentioned, and no plans to initiate any positions within the next 72 hours. I wrote this article myself, and it expresses my own opinions. I am not receiving compensation for it (other than from Seeking Alpha). I have no business relationship with any company whose stock is mentioned in this article.