I believe the analyst predictions of PetSmart (NASDAQ:PETM) are too pessimistic. The Deutsche Bank Downgrade by analyst Mike Baker is the most recent and tangible manifestation of the bear thesis on PetSmart. The bear thesis is based around several arguments that current retail trends will hamper the growth of PetSmart over the coming quarters. Representing the bear argument, Baker writes in the Deutsche Bank Downgrade: "…we continue to see industry headwinds that should create a difficult comp environment in 2014 and beyond. We continue to see e-commerce as a threat. But, we also believe a slowing growth rate on super premium food will impact traffic, and coupled with minimal inflation will weigh against total comps as well."
For what it's worth, Baker also lowered his estimated EPS for FY 2014 and FY 2015 to $3.95 and $4.39, respectively. His estimates are below the consensus estimates of the 26 (!) analysts that offer such estimates. Additionally, Baker flags the slowing comparable sales and transaction data. He continues, "Comps have decelerated [six] quarters in a row, and we think they will remain in the 2% range going forward, primarily due to slowing traffic trends." To me, the bear case on PetSmart encapsulates the larger negative narratives surrounding retail and specialty retail in particular. Namely, the onslaught of kamikaze-like online sales/pricing will erode the traditional brick and mortar retailers to profitless ghost-towns awash with tumbleweeds and little else. The most company-specific argument relates to the shipping and tax cost of pet food. The argument holds that the drive to provide competitive online "Free Shipping" on heavy pet food, PetSmart will have to suffer abysmally lower margins on a cornerstone (Pet Food, Treats, and Litter represents approximately 53.9% of YTD sales) of their business.
With such dark clouds invoked by the bears, the future of PetSmart may seem bleak. However, I believe the bear thesis does not account for several company-specific qualities that insulate and drive the growth of PetSmart as the market adapts to online commerce. I would like to present three major rebuttals to the downgrade. First, I believe management has been in front of the trends that Baxter highlights as troubling. Second, pet supplies offer a highly defendable market. Last, many of the concerns have been priced into the stock over the past year.
I) The sky is not falling: Competent management has been adapting to the industry.
There is plenty of market share to be had.
Traditional: PetSmart's competitive advantage lies in its brand's recognized leadership in its unique market and products. Even Baker the bear highlights the current management team, noting that "…we continue to believe that PETM is a very well-run company and is the best in class operator in the space..." The impacts of online sales on traditional retail have been long-known and publicized. However, PetSmart and other private pet supply stores have been able to substantially grow their sales despite the rise of e-commerce. In fact, PetSmart has been developing quite nicely alongside e-commerce. Part of this trend may be the fact that the pet supply industry is quite fragmented and PetSmart's position is the largest in the nation, followed by privately held Petco.
The pet industry is also ripe for consolidation, as most of the players are quite small. According to IBISWORLD industry research, 92.2% of all pet-related businesses employ four or less people. Past trends indicate that these smaller stores, as a whole have trouble competing directly and have to evolve. IBISWorld again: "A significant portion of the Pet Stores industry's revenue comes from two specialty supply retailers: PetSmart and PETCO. The other portion of the industry consists of family-owned stores, small franchises and small chains of pet stores… In the five years to 2018, major players PetSmart and PETCO are expected to grow their share of the industry."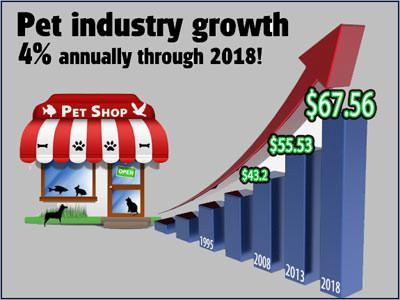 Online: PETM has been tinkering with its online business. It certainly is not a new theory that online sales erode margins and threaten traditional retailers. In fact, Baker's point on the coming shipping price wars is nothing novel and actually mirrors one of the analyst questions on the third-quarter call. Management responded to Baker specifically and literally during the third-quarter Q&A: "And what you're seeing us do is a variety of different tests around free shipping, $4.99 shipping, different percentages off given thresholds of the overall basket. And really, the intent there is to really understand where do we find that sweet spot of what works for us, what works for our customers. I think we continue to be pleased with the overall growth in our e-commerce business. It is growing faster than the overall market, and it is profitable."
Click to enlarge images.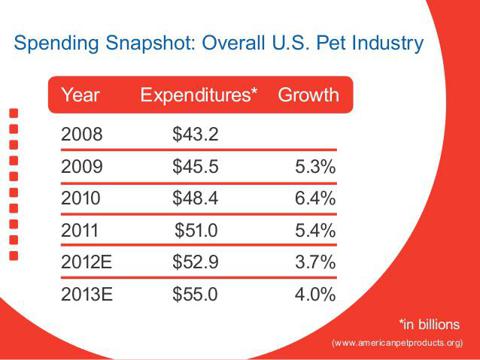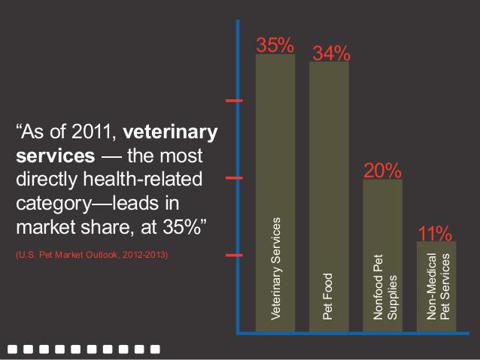 II) The stock has been hammered on this downgrade. PETM is not some high-flying "damn-the-fundamentals" stock. In fact, the valuation is quite pedestrian. The market share is growing in tandem with population growth. Fellow Seeking Alpha Contributor Kiran Pande examined the growth of both populations, theorizing that the pet population grows up to 60% faster than the human population in the highly recommended article entitled "PetSmart: An Unparalleled Breed of Growth." Coupled with management and independent estimates of pet industry overall organic growth ranging from 2%-5%, the industry looks to be able to sustain growth as both the pet and people population of the United States increases.
The market is bifurcating, and the high-end opportunity looks promising. Even if PetSmart loses some pet food business to online retailers, premium and prescription products will buoy margins. Baker flagged this trend as being under pressure specifically, but does not offer any data supporting lagging or slower sales of premium or natural food. It should be noted that his remarks regarding "premium food" does not apply to "natural" products that are also high-margin items distinct from premium food. For instance, the "natural" product that dominates the category is cat litter, which makes up approximately 55% of the category, making it a poor analog or read-in for premium/higher margin products as a whole, according to market research firm PackagedFacts.
Even if Baker is correct in grouping all higher-margin items into his assessment of premium food, he might be alone in that assessment. Consider Cindy Frei's MarketResearch.com piece on the 2013 trends in the pet industry. Three of the first four trends Ms. Frei highlights indicate increasing demand of organic, natural, and other premium foods and its likelihood to continue and increase. PackagedFacts illuminates: "In Packaged Facts' August 2012 Pet Owner Survey, approximately two-fifths (38%) of pet owners feel that natural/organic brand pet products are often better than standard national brand products, and 63% report they are very concerned about the safety of the pet products they buy." Also contradicting Baker's concerns are Wal-Mart (NYSE:WMT) and Petco, both of which recently launched their own brand of natural pet food. Merrick, a large traditional pet food manufacturer, acquired a natural and organic pet supply company back in April 2012 in order to capitalize on the premium push.
More specifically, PetSmart management identified natural and premium pet food as a key focus of the company's strategy due to the increased margins and prices that fresh, natural, or premium food carry. In short, many of the potentially lost sales from massive online retailers are of the low-margin non-premium SKUs that the company has sought to reduce anyhow. Matthew McAdam, the Senior VP of Merchandising, summarizes from the analyst day:
National brand products in the science and natural categories are sold primarily in the pet specialty channel. And channel-exclusive assortments are the fastest-growing categories due to the desire for quality ingredients, and they are a key differentiator for us to drive loyalty… In dog, we will significantly expand the space for natural brands while reducing space for widely distributed products, to allow for the expansion of key segments like unique proteins and limited ingredient formulations, as well as wet foods and formulations. In cat, we will have the biggest expansion ever of channel-exclusive foods with almost 300 new items there, primarily in the natural category, with some growth also coming in the science category, all while reducing the space for widely distributed.
In a tinge of strangeness, the same Deutsche Bank AG analyst, Mike Baker, indicated that almost 75% of PETM's food offerings are channel-exclusive in his question on the third-quarter call.
III) Pet Services provide a strong defensive market. The American Pet Products Association (APPA) offers the following breakdown of the estimated 55.53 billion dollars of pet expenditures in 2013:
Food $21.26 billion
Supplies/OTC Medicine $13.21 billion
Vet Care $14.21 billion
Live animal purchases $2.31 billion
Pet Services: grooming and boarding $4.54 billion
Assuming the worst-case scenario becomes reality and online retailers are able to capture an amazing 80% market share of both Food and Supplies/OTC Medicine categories -- which is a hyperbolic assumption by any means -- that still leaves over 50% or about $27.95 billion of the total U.S. Pet Expenditures market for brick-and-mortar retailers. Considering PetSmart's trailing 12-month sales are around $6.9 billion, the company -- even under our imagined disaster scenario and no further pet industry growth is possible -- would still have room to expand sales and take share. Even under the most ideal circumstances and assuming PetSmart is unable to regain any traction in their dominant categories and no new categories/innovations arise, online retailers can only target less than half of the entire pet spend market.
Such assumptions prove to be even more wild and farfetched when one considers that PetSmart's services segment is in the early innings of growth. Only the most basic grooming and pet training are available at each of the company's 1,300-plus stores. More complex services such as boarding and day-care services are only available at the 196 locations with PetsHotels. Further, full veterinarian services are available at only 65% of locations. Large scale Veterinary Services are a unique differentiator. PetSmart's partial ownership of Banfield Pet Hospital is a unique scalable advantage that will further bolster the Services portfolio. A recent IBISWorld Press Release summarizes: "According to IBISWorld Industry Analyst Andy Brennan, 'the emerging trend of pet parents has also commanded high demand for premium pet products and services." Since pets are often considered family members, pet owners frequently lavish them with all-natural and organic pet foods and treats, in addition to high-end services." Each of these unique and established growth opportunities gives the company a counter to make up any potential ground lost to online merchants.
Another weapon that PETM has that deserves mentioning is the PetSmart Charity. Silently, PetSmart Charity has become the largest pet-adoption organization in the United States. According to company estimates, the Charity has raised more funds than the ASPCA and is responsible for one out of every 10 pet adoptions in the United States. The adoption centers in PetSmart provide a bevy of both new people and pet customers to come into stores and carry a unique driver of sales that cannot be emulated online.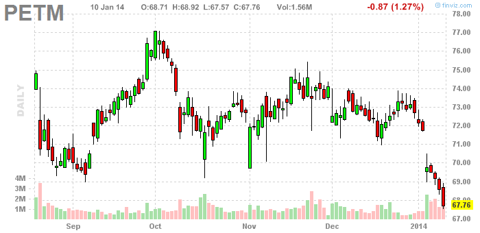 IV) The stock has been hammered on this downgrade. PETM is not some high-flying "damn the fundamentals" stock. In fact, the valuation is quite pedestrian. Analyst estimates of Q4 and yearly earnings have been reduced over the past year, with the average expectation decreasing to the point that the "highest whisper numbers" now are less than the consensus average estimates of the 20+ analysts that offer projections. Despite one's valuation of analyst projections, the trends provide a decent feel for the Street's read on the company, especially when the number of analysts is large. Anyway, my point is that a lot of the growth projections have been reduced. I used Reuters to keep track of the analysts here.
Historically, PETM has done well in the fourth quarter both in terms of margins and total revenue. Based on my spreadsheet, which harvested company filings for earnings data, Q4 has been a big earner for the company. Currently, the consensus mean Q4 sales estimate is 1,835.26 million, which would represent the first time in over 5 years that the company would deliver a Q4 that failed to best the previous year's Q4. However, even the highest Q4 estimate provided is 1,865.33 million, which means that no current major analyst expects the trend to continue. I find these estimates to be pretty clear evidence that the analyst community is sympathetic to Baker's claims and have built in a level of pessimism in predicting the company's underperformance, if anything, perhaps the downgrade was late.

P/E ratio is a metric that I have mixed feelings about, but right now PETM is trading below the average S&P 500 stock. Until Baker's downgrade, the stock was a few ticks above the average market multiple. Looking at the Reuters data again, PetSmart's multiple of 16.74 is below both the S&P average as well as the average industry multiple of 21.15. I have trouble comparing PETM to most specialty retailers, as I believe there are not many significant similarities between the pet industry and many of the specialty retailers' industries other than the fact that they are both classified as discretionary spending. For those who value forward-P/E ratios, PETM sports a 14.87 projected P/E.
Cash flow ratios are quite generous. PETM is currently tagged with a 10.79 TTM cash flow ratio and an impressive 16.49 TTM free cash flow ratio, both of which are better than the industry average. Again, I am not trying to indicate that the modesty of these ratios makes a huge point that the company is undervalued. I am mentioning these metrics to illustrate the relative strength of the company's fundamentals. By no stretch of the imagination is PETM getting priced like a momentum-growth monster, which is the crux of my problem with the downgrade.
Balance sheet strength is very evident with PETM. The company, unlike most retailers, operates with a very modest debt load that it has decreased over time. All of the company's long-term debt revolves around its capital leases, which should be quite manageable as the company's total debt-to-equity ratio from the most recent quarter is 43.16, roughly half of the industry's average of 85.81. However, Baker is prudent to point out that the margins need some work, but based on my research, the company's operating margin has gradually smoothed upward over time as the company expands. Looking back to my spreadsheet, the operating margin increase has been sustained over the most recent three quarters. In fact, the past three quarters have seen the highest consistent quarter-over-quarter operating margins, hovering around the 9% level. The Q4 analyst predictions seem even gloomier when one considers that historically, Q4 has traditionally carried the highest operating margins of the year. Also, the company's tax rate is steeper than most other retailers, with a five-year average of 37.83%.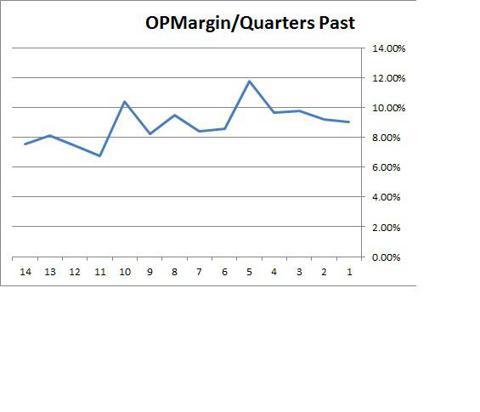 Return on assets is stellar. PETM maintains a ROA consistently above the industry average which is remarkable for a retailer competing with online vendors. The TTM ROA (15.73) is almost double the 7.84 industry average. Looking at the five-year average ROA for the company standing at 10.37, one can contextualize the success of the new developments and initiatives. The major weight on margins has actually been softness in the aquatics business, which may be an industry-wide problem, rather than proof that online retailing has begun to take its toll on margins. PetSmart has always squeezed more out of its assets than most retailers and if the status quo trends continue, investors can expect that to remain the case. An encouraging short term sign can be found in the declining SG&A spending per store over the last two quarters.
The stock has gone nowhere fast. Looking back one calendar year, the stock is actually down 1.33% as of Monday's mid-day price of $67.11. Since the start of 2014, the stock is down 8.21%. Despite the poor stock performance, the short interest in the stock has grown over the past month. According to NASDAQ's Dec. 31, 2013, data, 9,259,094 shares were sold short, which produces an astounding 10.16 days-to-cover figure. I mention short interest only to highlight the negative sentiment surrounding the stock. It seems that the short side trade on PETM is quite crowded, I am not sure how much more possible downside the sellers are seeing. As per the third-quarter earnings call, management is still expecting 2.5%-3.5% comparable traffic growth for the fourth quarter rather than the negative number Baker predicts.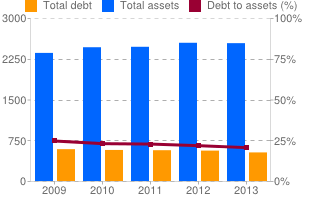 Capital is being returned to shareholders. The company raised its dividend 18% before the third quarter. It also revealed a new $535 million buyback plan. Neither fact alone makes the stock a buy, but taken together, the capital return indicates that company is not totally blind to shareholders. Speaking of the buyback, the company has been quite active in taking advantage of the stagnating stock price by retiring about 3.74 million shares over the past five quarters. Hopefully, the company can take further advantage of the damage done by the downgrade and snap up more shares at what I believe is a reasonable valuation.
In conclusion, I feel that the downgrade has reawakened the slumbering PETM shareholders, but like the old saying goes, sometimes it is best to let sleeping (stocks) lie.
Disclosure: I'm long PETM February 2014 call spreads, but may initiate a position in the common stock in the next 72 hours. I wrote this article myself, and it expresses my own opinions. I am not receiving compensation for it. I have no business relationship with any company whose stock is mentioned in this article.