As I covered yesterday afternoon, "all eyes are on Gamestop's (GME) Holiday sales". I predicted a massive beat on sales, a miss on earnings (due to product shifts), and a complete collapse in the stock price. The range of $40-$45 Apr14 puts that I recommended are up between 220% and 135% in one day. However, the most important questions now, is "why is the stock plummeting?" and "what should I do next?" This applies to both Gamestop (NYSE:GME) longs, current GME shorts, and traders sitting on the sidelines.
Review of the GME Position

The above chart from Google Finance highlights the past 5 years of GME-note the flat returns from 2009 to 2012, followed by a massive run-up in 2013.
In mid-2012, GME was the "perfect long position," with strong cash flow, a budding dividend program, aggressive repurchases, and a large short float- a near-perfect bull thesis. I personally sold my shares at $28-$32 (nearly 2x) due to disappointing developments in digital.
On August 29, 2013, at a price of $50.66, I suggested that it was "time to short Gamestop." While my direct short did not work out in the initial timeframe, I decided to position myself with $40 Apr14 puts.
On 13 January, I submitted an article suggesting that GME would blow out revenue estimates, but miss on earnings due to a shift in product mix, and the stock would ultimately tank (even on a "beat"). This thesis ultimately panned out as promised, as the below chart (Google Finance) highlights.

The Actual Holiday Sales
The Holiday sales (Thanksgiving through New Years) reported this morning (Jan 14), highlight a 9.3% increase in sales, which led to blistering comparable store sales growth of 10.2% (US 7.1%). This sales growth was driven by the Xbox One (NASDAQ:MSFT) and the PlayStation 4 (NYSE:SNE) However, new software sales slipped by 22.5%, likely due to the tepid spending alongside new console purchases. This is unsurprising as consumers (judging from personal experience as a gamer) typically buy just 1 or 2 new games with a $400-$500 console as opposed to potential shopping sprees of 3-4+ games on 'normal' years.
The biggest hit to the stock was a reset outlook for $1.85-$1.95 for Q4 EPS versus a consensus of $2.14. Also, reading between the lines, but GME should have generated nearly $200M in FCF during this quarter, and yet the repurchases were rather tepid (compared historically) at $39.5M. This suggests that management knew their stock was overvalued the entire time.
The Valuation Thesis
My original valuation thesis for a baseline/slightly bullish discounted cash flow (DCF) case called for a GME 'fair value' of close to $35. The DCF table is shown below, accounting for $600M of free cash flow (NYSE:FCF) in FY14, tapering off to a flat $200M run rate in 2021+. As I've mentioned before, this is actually a semi-bullish case, as many pundits because GME could start showing losses within 3-4 years.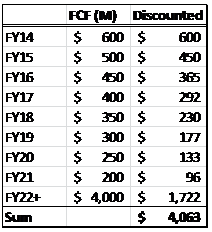 Based on the latest sales update and corresponding developments with Sony's cloud gaming service on the horizon, I have updated the FCF chart to reflect a new baseline/slightly bearish case. Please note this is still far from 'full bearish' as I'm expecting GME to stick around and find a subsistence existence, perhaps as the 'new' Radioshack (NYSE:RSH).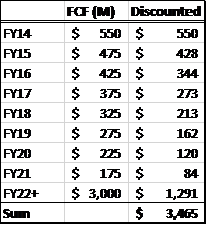 The updated case reflects a shift in expectations, slightly lower, over the next 8 years, ending in steady FCF of $150M/yr for 2022+. This model uses a 10% discount rate (middle of the road assumptions-many people use 12-14% for higher-risk plays), and calls for a 'fair value' market cap of $3.47B, or approximately $30/sh.
I believe that if enough bad news comes out, GME could easily trade below $30, perhaps below $20, but I would personally exit all of my short positions at $30 unless the environment markedly changed (e.g. ban on used sales, accounting issues, etc).
Failure to Grow a Digital Presence
As I've mentioned before, pretty much all of GME's ventures into digital have been abysmal failures. This isn't surprising. GME is a retail company, and a very well managed one at that. GME is NOT a technology company.
To reiterate, the 'failures' include halted mobile Jolt Gaming, failed streaming startup Spawn Labs, marginal online casual game site Kongregate, and PC download afterthought Impulse Driven, which is nothing compared to Valve's Steam offerings.
Do not be fooled by GME's current "digital sales growth." This mostly amounts to low-margin gift cards and DLC expansion packs and will eventually be squeezed out by other stores such as Wal-Mart (NYSE:WMT), as even 7-11 now offers "digital" iTunes and Steam Wallet cards.
Current Short Interest
No decision to short a stock should ever be made without checking the current short interest to determine if the trade is "too crowded." In the case of GME, the short interest is high - at nearly 25% of all outstanding shares - but there is still ample 'room' based on historical standards. I believe GME could 'support' another 10M short shares before becoming excessively volatile on covering fears.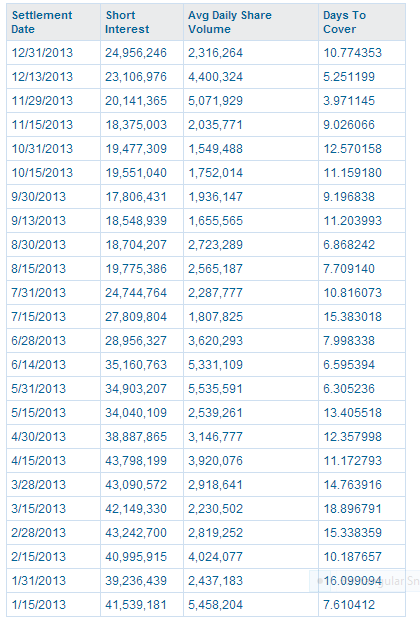 Investment Recommendation
I am personally long the Apr14 $40 puts, but due to their rapid value change (3x overnight) and high intrinsic/potential value ratio, I am looking at other options, to include an insured short of the common stock.
I believe the optimal position would be a direct short of the common with 'insurance' via the Apr14 $38-$39 calls ($2.70-$2.30). This results in a breakeven (assuming GME at $37) at $34.30, and a maximum loss of $3.70 per contract. The direct put approach would be the $38 puts at $3.80, which provides a similar maximum loss and breakeven point.
I have a trailing stop on my option position (3-5% on the common), and I recommend others do the same to avoid losing all of your gains on a potential rally.
Disclosure: I am long MSFT. I wrote this article myself, and it expresses my own opinions. I am not receiving compensation for it (other than from Seeking Alpha). I have no business relationship with any company whose stock is mentioned in this article.
Additional disclosure: I am short via GME $40 Apr14 puts. I reserve the right to update my positions as the market dynamics change.