Having a new technology center in the Kingdom is just good business. The new deepening of "collaboration between Saudi Aramco and Halliburton (NYSE:HAL) research and development scientists," leveraging Halliburton's diverse unconventional expertise, "will allow solutions to be developed locally and quickly implemented in the Kingdom's fields," notes a recent press release.
"The center is expected to provide technology and solutions to existing and future partners in the region and around the globe, contributing to the development of local workforces and national economies."
This appears to be added insurance if anyone doubted OPEC's ability to return volley in regards to the U.S. shale revolutions, or potential ones in other countries on the way. Halliburton sees "significant continued growth in our mature fields business as this market evolves more and more towards higher-end integrated projects." Interpreted another way, this confirms the often-cited trend that mature fields globally are on the decline, but the right technology solutions can help recovery factors. Examples of mature field intervention methods include water flood, CO2 injection, miscible floods or maximizing reservoir contact to the use of multilaterals, well extensions or infill drilling as well as refract program, notes Halliburton executives. Their results suggest that production and ultimate recovery was increased by 7%.
Halliburton cites, "on average, 60% of IOCs' (international oil firms) portfolio fields are in decline with the average decline rates being more than 8% per annum." Think Exxon Mobil (NYSE:XOM), Eni, Chevron (NYSE:CVX), BP, Statoil. National oil companies or NOCs have the same issue with declining fields but they also lack the organizational capacity and expertise to sustain production, among other factors. (However those NOCs in joint ventures with U.S. independents are learning how to apply new technologies and best practices.) The ownership of oil reserves around the world by NOCs is steadily increasingly, and they also own 75% of mature fields' reserves.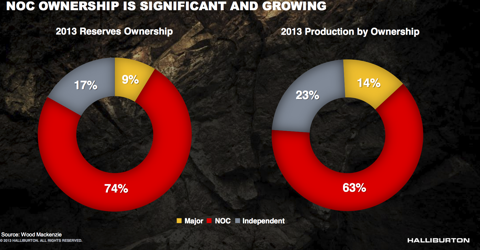 And the cost of incremental production is rising, or "service intensity." From 2001, it cost less than $3 million to increase production by 1000 boe; in 2013 it was around $10-11 million. Halliburton calculates this as 12.2% CAGR. In addition to the Saudi Arabia connection, Halliburton also supports Kuwait's national oil company.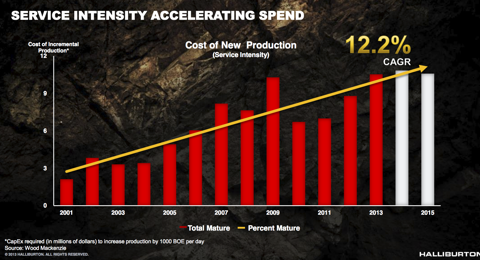 This service intensity, which bodes well for oil services firms like Halliburton and competitors Schlumberger (NYSE:SLB), Baker Hughes (BHI), Weatherford (NYSE:WFT) and Fluor (NYSE:FLR), is a sign of the times ahead. In mature fields, Halliburton expects a further tripling of their mature fields revenues over the next three years to $9 billion. The deepwater sector, also with high service intensity, saw licensing activity increase 40% in 2012 over 2011.
Unconventional exploration and development is the other main growth area for oilfield services firms. It is characterized by high service intensity as well, and developing shale oil resources is a key future direction for adding supply in the years ahead, especially in the U.S.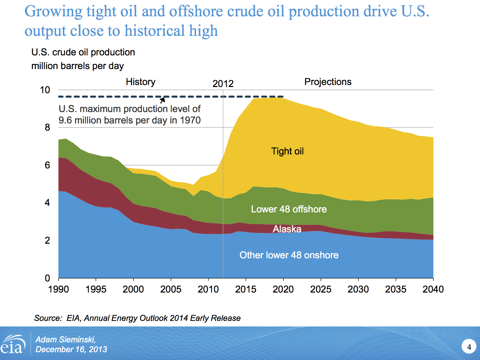 In the global unconventionals space, Halliburton drilled and completed some of the first unconventional wells in most of the international plays. They operate in Australia, Argentina, China, Saudi Arabia and many others. (See article on global shales, specifically the tables with reserves by country.)
Halliburton affirms the current phase and future of the shale oil plays - a focus on efficiency and maximizing capital, whether an E&P or oilfield services firm. Halliburton suggests the following increases in production from their early projects and their services approach to unconventionals: 27% in the Utica, 24% in the Bakken, 29% in the Niobrara, and on down the line of the major basins in the United States.
Halliburton says: "This is the new normal...Every dollar matters; it's about maximizing production, utilizing technology to extract every barrel, less risk, less cost, more barrels. You have to be the most efficient, lowest-cost service provider and you have to make better wells.
Lastly, oilfield services firms can take a lead role in developing sustainability practices, making the entire process more resource efficient through water use and by integrating gas-fired power and solar in the processes. Halliburton has made strides in this regard. A number of E&P firms are also incorporating progressive environmental, social and governance (NASDAQ:ESG) practices into their operating activities. In a study by the U.S. SIF Foundation, 11% of professionally-managed U.S. investments - $3.74 trillion - were selected based on environmental, social and governance (ESG) criteria.
With intensified efforts globally to extract hydrocarbons, leading oilfield services firms are a natural investment choice. A global firm like Halliburton provides exposure to global and domestic unconventionals development, deep water markets and mature fields, an emergent growth opportunity.
(Source: SA Transcript for Analyst Day)
Disclosure: I have no positions in any stocks mentioned, and no plans to initiate any positions within the next 72 hours. I wrote this article myself, and it expresses my own opinions. I am not receiving compensation for it (other than from Seeking Alpha). I have no business relationship with any company whose stock is mentioned in this article.