Mr. Market is currently, as I type this, trying to make his mind up. Tesla (NASDAQ:TSLA) announced two pieces of news today - one great, one not so great.
From the Tesla bear camp - and the "looking to the past" camp, on Tuesday, Tesla announced that it was recalling 29,000 of its Model S sedan adapters:
Tesla Motors, the electric car maker from Silicon Valley, is recalling about 29,000 of its 2013 Model S sedan and their adapters because during charging, the adapter, cord or wall outlet could overheat and cause fires.

Tesla will notify owners and provide an "over-the-air" software update. Some owners have already received this update, according to a notice on the National Highway Transportation Safety Administration web site. The recall affects nearly every Model S and adapter the company produced for 2013.
And additionally, on Tuesday, from the bull camp, Tesla announced that it had shipped 6,900 vehicles for Q4 2013, blowing away guidance of 6,000 vehicles. It was reported while VP Jerome Guillen was at the podium at the Detroit Auto Show and promptly reported by Seeking Alpha:
Tesla Motors ( +6.6%) delivered 6.9K vehicles in Q4, according to Vice President Jerome Guillen in his remarks at the Detroit Auto Show.
Previous guidance from the automaker called for a total of "slightly under" 6K.
Guillen is still on the podium so more revelations could be coming.
Then, after the guidance news was issued, it was reported by CNBC that Tesla was in fact recalling the vehicle, as opposed to simply the adapter: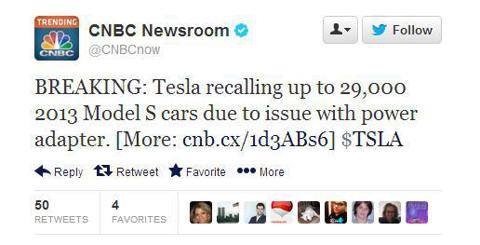 Investors struggled to find out what the news meant - as some people have "vehicles" confused with adapters. Is CNBC correct? Are the adapters being recalled, or is it the entire vehicle? Surely, it could make a huge difference. If 29,000 vehicles are coming back to the factory, Tesla would be under $100, right? If this is simply a software update and an adapter recall, no big deal - Tesla should close the week much higher - especially on the bullish comments from Detroit.
Either way, I have some beef with how CNBC put this headline up if it does turn out to be a simply software update. And I think others who instantly shorted on the news or panicked are going to have the same beef.
Today, after Tesla's pop to near $150 on the guidance, the stock has been coiling and condensing mid-day today while the market digests the news:
- quote via TD Ameritrade)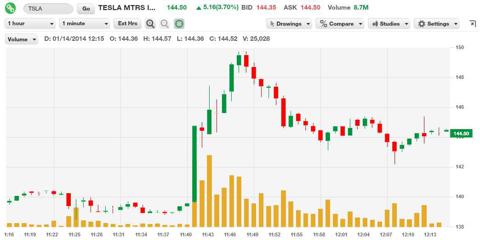 As a quick trading strategy, after both news articles were announced, I picked up a long ITM straddle on Tesla that expires at the end of the week. While I'm long-term bullish on Tesla, it's likely that supplemental news will be released today and that once clarification ensues that the market is going to make its mind up going forward. I'm predicting Tesla to finish the week either above $150 or under $140 - depending on how the news goes over.
Aside from the two big news items, Seeking Alpha did a fine job of recapping the other bullish news that came from Tesla in Detroit:
Tesla Motors ( +4.6%) plans to double sales and services locations in the U.S. this year.
VP Guillen insists the reported recall issue is a rather standard firmware update. Whether or not that's a question of semantics, the potential for an upgrade/recall has been well-telegraphed.
On the Q4 production tally, analysts are quick to note that although the number beats Tesla's guidance handily, it's roughly in-line with expectations.
The Model X didn't make an appearance, but is being worked on "vigorously," according to execs. The comments on the Model X were pretty thin gruel for debate either way.
The supercharger network in the U.S. is progressing ahead of schedule.
All things aside, I would say that Tesla has produced some positive looking news today by beating guidance. Every company that is trying to do something revolutionary runs into roadblocks - the Model S recall, if it is for the entire vehicle is no different. In the world of mechanical engineering, sometimes you need to learn as you go - especially when you're pushing forward in a field that others haven't been able to.
The backward looking news of the recall isn't pretty - but the forward looking news of guidance and a bullish 2014 is what investors should worry about. Tesla remains sound for the long term in this investor's opinion.
It'll be interesting to see how the market takes today's news. I'm bullish long-term and on a ITM options spread for the week while the market makes up its mind.
Best of luck to all investors.
Disclosure: I am long TSLA, . I wrote this article myself, and it expresses my own opinions. I am not receiving compensation for it (other than from Seeking Alpha). I have no business relationship with any company whose stock is mentioned in this article.
Additional disclosure: I have an ITM option spread on TSLA with $143 calls and $145 puts.