Changeable U.S. Weather and the Volatile Natural Gas Market
If you have been watching or trading the natural gas market the last few weeks, you have witnessed nothing short of a market (and most weather models for that matter), that has suffered from a "neuropsychosis". Weather models are supposed to be improved given the fact various governments around the world have poured billions into augmenting them. However, take hurricane Sandy and a host of other false alarms that forecast models heedlessly spit out, and you can see why going back to the old way of forecasting, using historical analog weather patterns, common sense and nature are sometimes much more reliable.
Climatology More Important Than Meteorology, in Commodity Trading
In this day in age, with global climate change and more extreme weather year after year, a meteorologist has to evolve more into a climatologists' role. There are many ways to do this. From studying sea surface temperatures in the Atlantic and Pacific, to what is happening at the poles, in order to discard many of these forecast models.
You can listen to an archived Bloomberg Radio report I did a week ago, explaining some of these variables and how to trade commodity markets based on the weather. Click here to listen.
Several previous articles of mine pointed out some of the different criteria I use to forecast. Here's another one( below), in which unusually low geomagnetic activity, is creating high latitude blocking over the poles and could be having an effect on creating this off and on major cold U.S. outbreaks. Look for another "polar vortex" the end of January and early February that will make national news with more frequent eastern snows, again.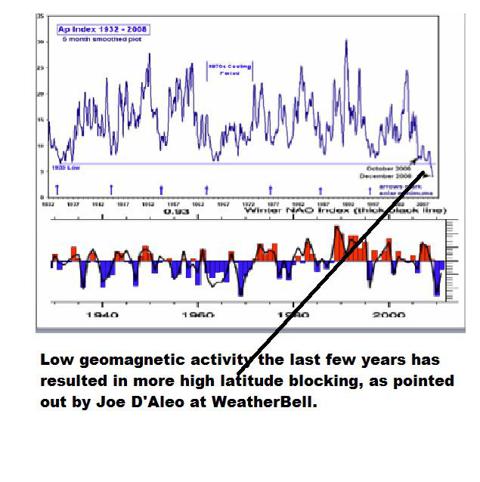 Yes we have seen places like New York City (one of many examples) fluctuate from bone chilling near historical cold a week or so ago, into the 60s once again last week. However, almost all climatological signals that I look imply that February will see more volatile weather, but on average be colder than normal. While we do not have the consistently severe cold winters, like we had in the 1970s and early 1980s, we will likely still see one of the top 5-8 coldest winters in 50 years.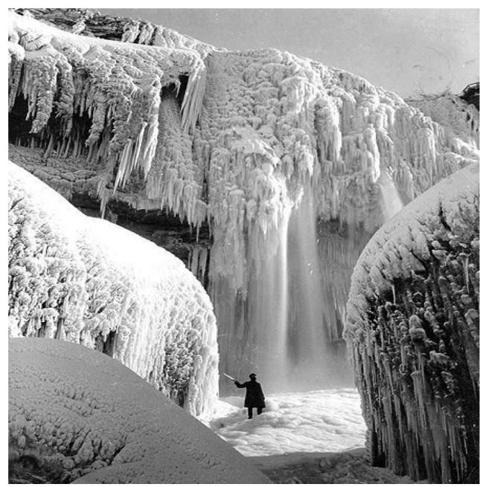 Niagara Falls during the winter of 1913. While winters are not nearly as severe as they once were, resulting in volatile natural gas prices, the cold later next month might rival this, for a week or so anyway.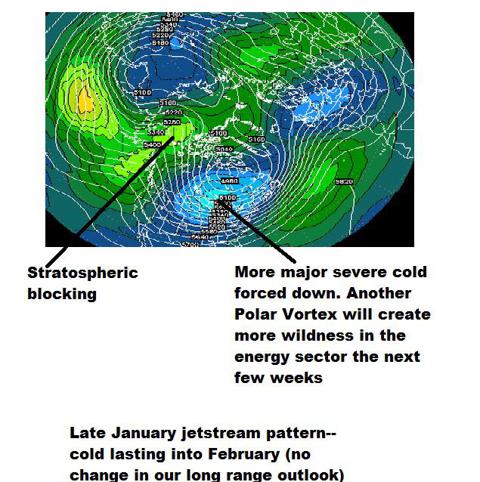 Commodities and How Weather is Affecting Them
Natural Gas -- I still there is a reasonable chance, that natural gas prices could test the $4.70-$5.00 area in February, as long as we do not continue to have the volatile weather pattern but consistent cold weather. This week's EIA will likely show a draw over 300 BCF's, the highest ever. I look for (NYSEARCA:UNG), still, to trend higher into February, unless our forecast changes.
Crude Complex -- The crude market is in a medium term down-trend due to lack of overseas war threats, OPEC not cutting back production, and more important huge U.S. supplies and great production capacity. There will continue to be trading opportunities in various heating oil-crack and gasoline spreads with colder, snowier weather arriving in the U.S.
Cattle -- This market has quietly rallied some 70% the last couple years. The initial impetus for higher prices was the back to back drought in Texas to Kansas that forced ranchers to liquidate their herds. Previously higher corn prices brought on by the Midwest droughts meant it was no longer profitable for ranchers to hold onto all of their cattle. Now, with the severe early winter stressing millions of livestock, prices have soared further. Longer term (not sure of the timing), this may be the next big shorting opportunity just as coffee, gold, grains and cotton have been over the last 1-2 years.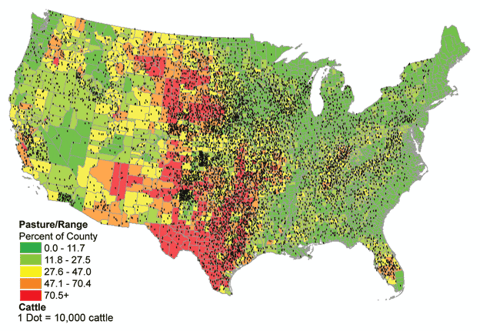 The majority of cattle that graze in the U.S., are of course located in the Plains and western Midwest -- areas stymied by droughts. If conditions improve and corn prices stay low through 2014, cattle prices will eventually fall as some ranchers, potentially rebuild their herds. However, that could still be a couple years away.
Corn/Soybeans -- I am becoming increasingly concerned about Argentina's developing drought and this may put the brakes on the corn market, which has fallen some 50% the last year. One of our best longer term trades of the last year or two.
Strong demand for soybeans, are offsetting what still looks to be a huge Brazilian crop. However, traders will be watching the weather and maps like these (below) to gauge corn and soybean price action in the weeks ahead. Most climatological variables I look at, however, only suggest short-term concerns in Argentina and longer term, prices for soybeans (NYSEARCA:SOYB) could still fall 10% by next spring or summer.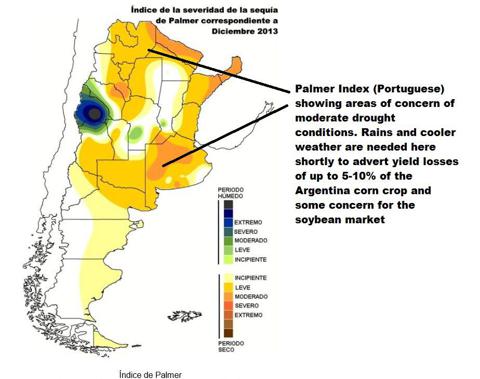 Cocoa -- Earlier weather issues last summer in west Africa, combined with anticipated stronger global demand and grind data, has kept this market in an uptrend. At this stage, the Harmattan Wind is weak, so the mid-crop is developing well, otherwise prices would explode. In the short-term, unusual wet weather will continue for another two weeks that may be causing some black pod issues to parts of the final, un-harvested main crop. This will probably keep cocoa prices firm on breaks, heading into the spring, as there will still be a supply deficit. However, if El Nino does not form by summer, then a rebound in production and lower prices may occur later. A wild card to production is the continued wet weather in Indonesia that may be causing some short term crop issues as well.
OJ -- The smallest crop in more than 25 years, exacerbated by the 'Greening disease" is pushing futures prices closer to the fair cash value. Dryness in Sao Paulo, Brazil may have lowered the Brazilian crop just a bit. While it is getting a bit late for Florida to see a freeze, I am unsure of this market at the present time.
Sugar -- Has been in a 3 year down-trend, following the Indian Monsoon drought of 2009, due to a global rebound in world production. It will take major 2014 Indian and Brazilian production issues for prices to go back anywhere close to 20 cents/lb. again. Right now, this is a bit unlikely.
Disclosure: I have no positions in any stocks mentioned, and no plans to initiate any positions within the next 72 hours. I wrote this article myself, and it expresses my own opinions. I am not receiving compensation for it (other than from Seeking Alpha). I have no business relationship with any company whose stock is mentioned in this article.