Back in May, I wrote a piece for Seeking Alpha detailing how upcoming currency devaluations in Venezuela and Argentina would hurt MercadoLibre's financial performance. In my article, I argued that the numbers in two of MercadoLibre's top three markets were inflated by at least 500%. Two months later, Bill Alpert of Barrons published an article supporting my position and warning that shares of MercadoLibre could fall as much as 50%, due to these same reasons. In the below article, I will explain why MercadoLibre (NASDAQ:MELI) is a conviction short now more than ever.
Devaluations and Their Impact on Financial Performance
During the first quarter of 2013, the government of Venezuela announced that they would devalue the currency by 32%. Major multinational corporations with exposure to the Venezuelan currency started to miss earnings estimates left and right, blaming their disappointing performance on this government measure. Some of the companies that publicly reported material negative financial impacts due to currency devaluation in Venezuela include:
Colgate (NYSE:CL) Colgate announced to investors that the devaluation would cost them $275 million.
Kimberly Clark (NYSE:KMB) The company made various charges as a result of the devaluation.
Avon (NYSE:AVP) Avon's shares were hit hard by this announcement, and their first quarter performance was negatively impacted as a result.
The Upcoming Devaluation
By law, every year, the citizens of Venezuela receive a currency-exchange allocation of $400 for overseas e-commerce purchases. This allocation allows citizens with credit cards to buy goods and services overseas at the official exchange rate of 6.3 Bolivares per dollar. This share is automatically renewed each year during the first five days of January.
For the first time since the currency controls were imposed, the allocation to purchase foreign currency was not renewed. According to several media outlets, the reason for the delay is that the government is planning to devalue the currency again. This isn't surprising at all. Several government actions point to this measure, including an increase in minimum wage. I'm willing to bet that this time, the devaluation (percentage-wise) will be even larger. The following table shows the historical spread between the black market exchange rate and the official exchange rate in Venezuela.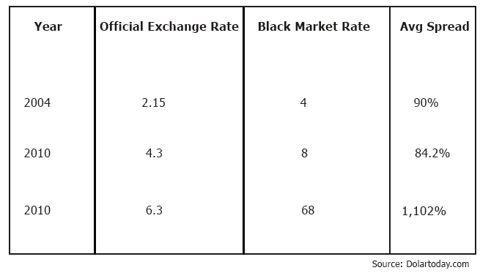 The Venezuelan government has avoided devaluing the currency for political reasons, but now that the presidential and local elections are out of the way, and the socialist party will be in power for another six years, they may be forced to devalue the currency further, to deal with chronic shortages of food and other necessity products. If the government wants to keep up with the black market exchange rate, which is far more realistic, they must maintain an average spread within 100% of the black market rate. To do so, they will need to devalue the Bolivar by 200%-300%. If a 32% devaluation caused such a hit to companies with Venezuelan exposure, we can only imagine what a 200% devaluation would do to the financials of said enterprises, especially MercadoLibre, which derives a large percentage of its revenues from Venezuela. My sources say that the devaluation will be announced tomorrow in a special address to the congress and that the new exchange rate will be set at around 25 BSF per dollar representing a decrease in value of over 200%.
MercadoLibre is Vulnerable
The Venezuelan Bolivar is not the only currency inflating MercadoLibre's financials (the Argentinean peso is in a similar situation). Furthermore, devaluations are not the only thing threatening a collapse in the stock of MercadoLibre. Slowing growth, a softening Brazilian economy, and increased competition from technologically superior platforms like Amazon and Rakuten also pose as negative catalysts for stock.
Bottom Line
MercadoLibre is in trouble and insiders seem to know this. CEO Marcos Galperin has sold 39% of his direct holdings in the past few days. According to Herb Greenberg, Mr. Galperin has a consistent record of selling right before the stock is about to tank. I believe that investors should follow suit as well.
Disclosure: I am short MELI. I wrote this article myself, and it expresses my own opinions. I am not receiving compensation for it (other than from Seeking Alpha). I have no business relationship with any company whose stock is mentioned in this article.