Estimates continue to rise for Waddell & Reed Financial (NYSE:WDR) following the company's 5th straight earnings beat.
It is a Zacks Rank #1 (Strong Buy) stock.
Investment managers like Waddell & Reed continue to benefit from a strong equity market and from inflows by investors as they rotate into stocks. In fact, the 'Investment Management' industry ranks in the top 10% of all industries based on earnings momentum.
Waddell & Reed Financial is an investment manager with $114 billion in assets under management as of September 30, 2013. Approximately 79% of that was in equities. Waddell & Reed was founded in 1937 and is one of the oldest mutual fund complexes in the United States.
Third Quarter Results
Waddell & Reed delivered strong third quarter financial results on October 29. Earnings per share came in at 80 cents, beating the Zacks Consensus Estimate by 11%. It was a stellar 31% increase over the same quarter last year.
Total operating revenues were up 18% year-over-year to $347.1 million, which was also ahead of the consensus of $341.0 million. This was driven by a 20% increase in assets under management (AUM) to $114 billion, which was due to "a combination of strong market action and solid, sustained inflows across equity and fixed income assets." And higher AUM = higher investment management fees.
Waddell & Reed was also able to leverage its fixed expenses, as operating expenses declined from 72.8% to 70.2% of revenue. This led to a 31% in operating income.
Excellent Earnings Momentum
Following strong Q3 results, analysts revised their estimates significantly higher for both 2013 and 2014. This sent the stock to a Zacks Rank #1 (Strong Buy). And as the stock market had a strong fourth quarter, analysts continued to raise their estimates for Waddell & Reed.
The 2013 Zacks Consensus Estimate is now $2.84, up from $2.72 ninety days ago. The 2014 consensus has risen from $3.23 to $3.57 over the same period.
This trend is nothing new. As you can see in its "Price & Consensus" chart, consensus estimates have been surging higher over the last several months as Waddell & Reed has delivered 5 consecutive positive earnings surprises.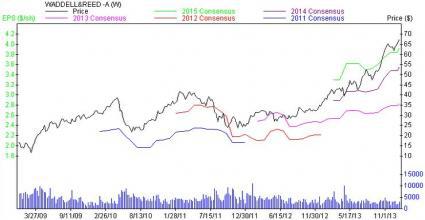 Over that stretch, the stock has soared +115%.
Strong earnings momentum can be seen throughout the investment management industry as equity markets continue to rise and investors pour billions of dollars into stocks. In fact, the "Investment Management" industry currently ranks in the top 10% of all industries based on earnings momentum.
Waddell & Reed reports its Q4 earnings results on February 4.
Valuation & Dividend
Shares of Waddell & Reed have been on a tear lately and currently trade at 19x 12-month forward earnings. That's not exactly value territory, and it is above its 10-year historical median of 16x. Its price to tangible book ratio of 12.9 is also above its historical median of 10.8.
But given the strong industry tailwinds and excellent earnings momentum here, this valuation premium seems reasonable.
Waddell & Reed also pays a dividend that yields a solid 2.0%. The company recently increased it by a whopping 21%.
The Bottom Line
With strong earnings momentum, favorable industry trends and reasonable valuation, Waddell & Reed still offers attractive upside potential.