Traditionally, investors whose portfolios are geared toward income-generation in retirement are the ones who opt for dividend reinvestment plans (DRiP). The general idea is to keep investing since they don't really need the income they get through dividends at the moment, as they're yet to retire.
However, there's more to dividend reinvesting than just preparing for retirement. It presents a way of investing for cash flow and capital gains at the same time - for great businesses.
I recently wrote a full article for another finance site where I'm a contributor on how you could combine both cash flow investing and capital gains investing in DRIP. Here is my thesis from that article.
If you reinvested the dividend you received in a given quarter, you become open to two potential advantages:

The subsequent dividends you'll receive from the company would be higher, which embodies what cash flow investing is all about.
The value of your position increases in an event that the stock price of that company rises, which is what investing for capital gains is all about.
These are obvious truths, but making them work, especially the second one requires that you can identify a company is high growth prospects. Microsoft (NASDAQ:MSFT) is a company with such high growth prospects and I'll explain that below.
Before I dive into the growth prospects I mentioned, I would like to start by making a solid case for this strategy of investing. A comparison of the total return profiles of Microsoft and Google (NASDAQ:GOOG), which doesn't pay dividend at present, would make you understand this strategy better.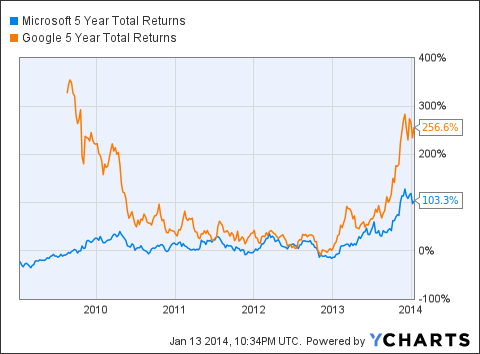 MSFT 5 Year Total Returns data by YCharts
I chose to compare five-year total return because this strategy is more efficient on a longer term. The chart clearly shows that Google's total return at present is higher than that of Microsoft. But what I want to show you here is the consistency that Microsoft's had more than Google. You can see that the degree of oscillation in Google is higher than in Microsoft. In my opinion, the higher oscillation in Google is a result of the fact that it doesn't pay dividend. In essence, it's stock doesn't enjoy the padding effect that Microsoft enjoy in dividend. Moreover, you can see that throughout the period shown in the chart, the drops that Google had were usually sharper than that of Microsoft's, again a result of lack of dividend.
Long story short, with this strategy, you can bank on consistent growth. In essence, this strategy is not a magic way of growing the value of your portfolio, but rather a simple way of maximizing the value of your position in great companies with growth potentials.
Microsoft's growth prospects that make it qualify for this strategy
A bright future of cloud computing
At present, Microsoft is placing its bet on the future on cloud computing. According to Satya Nadella, executive vice president of Cloud and Enterprise at Microsoft, "$2 trillion is at play as the world shifts to the cloud." This is what he is most excited about in the growth of this segment of Microsoft. And Microsoft is achieving progress with this venture, with its Server and Tools segment having the highest revenue growth in fiscal 2013, a trend that has continued in this fiscal year as shown in its first quarter fiscal 2014 earnings.
Another thing that confirms that Microsoft is progressing in this venture is the fact that its Sever and Tools segment is growing fast toward being the segment that contributes the highest revenue to the company. It's currently contributing the second highest revenue to the company. However, interestingly, it was third as at 2011. And with cloud computing being an almost new innovation, you can expect Microsoft's market value to take a surge if it keeps heading in the right direction. Moreover, gaining grounds early in this business means that it would own a good portion of the cloud computing market.
You can see this cloud computing of a thing in action in Xbox One. According to figures from Microsoft, over three million Xbox One consoles were sold in 2013, actually about six weeks after its release. In my opinion, the high rate of demand only goes to show that people are interested in the cloud computing technology. In fact, that Microsoft's competitor Sony (NYSE:SNE) has sold over four million consoles of PS4 further confirms that people want to go cloud computing.
Speaking of Sony, having brought Gaikai, you can expect this company to give Microsoft a tough time in the race of who will be in charge of the upcoming cloud gaming industry. The Gaikai acquisition is already bringing a lot to the table with the company recently announcing its cloud gaming innovation in PlayStation Now. However, just as a Forbes contributor argued, Microsoft's experience and status as a leading tech company in the world should make it easier for it to dominate this business over the long-term.
A growing search engine business
During its first 2014 fiscal quarter, Microsoft's devices and consumer segment grew $301 million in revenue from the same period in fiscal 2013. The company attributed the growth to an increase in its ad revenue, which grew 47% during the quarter. Microsoft's Bing search query has risen from almost zero in 2008 to over 3% of total worldwide search queries in 2013, overtaking Baidu that was once second behind Google.
Moreover, the growth of Microsoft's cloud computing business should make its search engine business grow at a faster rate. The company last year adopted a strategy of integrating Bing into almost all Microsoft devices. With this, the company wants to leverage its extensive customer base to expand its search engine business. For instance, for the 3 million plus Xbox One already sold out, 3 million users of the internet would be compelled to use Bing as their default search engine since it will be more convenient.
Bringing it all together
The two growth potentials I referred to above are realistic, especially as we're already seeing the said growth taking place in both cases. In the end, like I said earlier, these growths will come with significant increase in the company's market value. Google and Apple (and even Microsoft itself) are testaments to the increase in market value that comes with such growth. So if you enroll in Microsoft's DRIP, you will have additional benefits to enjoy by the time these growths start reflecting in its stock.
Lastly, the fact that Microsoft is likely to continue increasing its dividend payout makes this even more attractive. At present, Microsoft pays out 32.51% of its free cash flow as dividends. This means that it still has over 67% of its free cash flow that can be used for dividend payment, hence, a sign that dividend payment can be maintained and even increased.
Disclosure: I have no positions in any stocks mentioned, and no plans to initiate any positions within the next 72 hours. I wrote this article myself, and it expresses my own opinions. I am not receiving compensation for it (other than from Seeking Alpha). I have no business relationship with any company whose stock is mentioned in this article.