"Total return bond portfolios should float above water in 2014" - Bill Gross, January 2014 Investment Outlook
Recently an investor approached me stating that bonds were just not that attractive. While a ~4% yield on investment grade corporate issues are, agreeably, not that attractive, asset-manager PIMCO has worked its way around it with high-yield alternatives that take advantage of low short-term rates to leverage out and take advantage of higher rates further along the yield curve.
Each of these funds pay monthly distributions, yield over 7% and are seen as a balanced way to achieve managed bond income in the current interest rate environment.
1. PIMCO Corporate & Opportunity Fund (NYSE:PTY), $17.98
Yield = 8.67%
Fund Card: September 30, 3013
Managed by Bill Gross himself, PTY currently yields 8.67% on the share's market price. This is a closed-end fund, which is advantageous for two major reasons. First, Gross can use leverage to increase results and second, he is not under pressure to sell any holdings when bonds come under pressure.
In mutual funds, managers are forced to buy and sell according to net purchases. When investors fear the bond market, as they did the second half of 2013, net purchases were negative and bond mutual funds with high redemption levels were forced to sell holdings regardless of value.
For PTY, Gross not only manages the fund, he is also a large investor. In this regard, Gross feels that the management fee he charges is low enough to encourage his ownership versus the creation of a private, self-managed bond fund for his own holdings.
Many balk at PIMCO's closed-end bond fees, which are sometimes north of 2%. According to Allianz Global Investors, the parent company of PIMCO, the current expense ratio is 0.90%, including the interest expense.
The share price has been clobbered when looking at the one-year chart, however what investors should realize is that including dividend payouts, the fund has actually made money over the time period.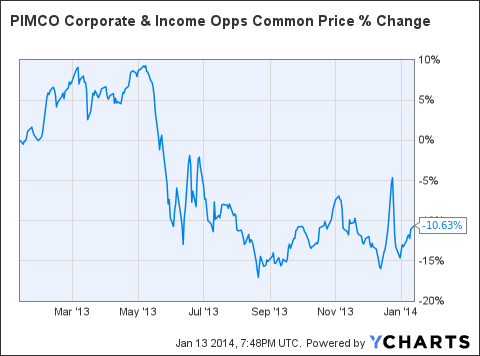 On January 14, 2013, PTY closed at $20.12, which the chart above attributes to a 10.63% share decline to the current price of $17.98. Dividends over the past year have been $0.13 monthly, which add to $1.56 over 12 months. Also to note however is that a long-term gains distribution of $1.84 is payable to shareholders with an ex-dividend date of December 26, 2013. This will be paid on January 17, 2014.
In adding distributions, the shareholder on record over the last 52 weeks will have received a total of $3.40 between monthly distributions and the year-end special dividend.
When adding $3.40 to the current price of $17.98, the total return is $1.26 ($21.38 - $20.12). This equates to a 6.26% yield, before taxes.
Rather than ladder individual bonds, investors are eager to pay Gross to use leverage to enhance his results in PTY. 6.26% is a great total return in bond-land, especially considering the effects of the taper tantrum.
To maintain a high distribution, PIMCO borrows short and buys long. The funds effective maturity is 8.83 years as of Q4 2013 and the holdings are rated across the spectrum, as noted in the 2013 semi-annual report.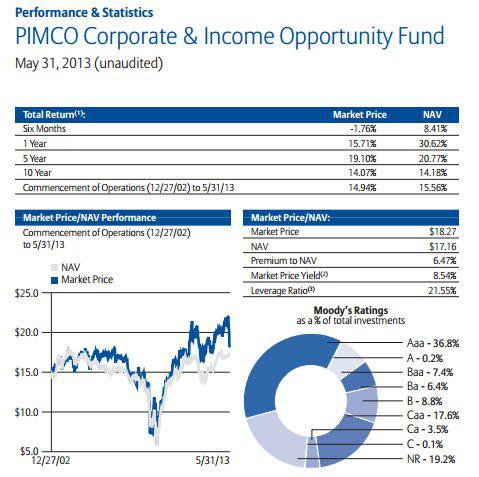 The fund invests in bonds across the spectrum, as determined to be the most attractive by Bill Gross. These include mortgage-backed securities, corporate bonds & notes, municipal bonds, preferred stock, asset-backed securities and sovereign-debt obligations.
The current 8.67% yield does come with risks however. While not an out-of-the-ball park premium, the fund does trade ~21% above net asset value. While the benefits of leverage and fund liquidity warrant some sort of premium, anything over 10% warrants caution.
For this reason, investors may consider ownership of PTY in a laddered-PIMCO fund portfolio as a solution to manage risk and achieve attractive returns. For those keeping track, Gross' holdings in PTY are ~17MM.
2. PIMCO Dynamic Income Fund (NYSE:PDI), $29.34
Yield = 7.85%
Fund Card: September 30, 2013
PDI's inception was in 2012 and is managed by Dan Ivascyn and two other PIMCO bond managers. Bill Gross is an owner of the fund, holding 100,000 shares that he purchased last October. Ivascyn on the other hand holds 370,443 shares which equate to nearly $11MM, quite a lot in respect to Gross' PDI holdings of ~$3MM.
While PDI does have a lower distribution versus PDI, the fund is very investable and is actually on sale, a rarity for PIMCO funds. Currently PDI trades at a 4.42% discount to NAV. As noted in the premium/discount history since inception, the fund started trading at a discount near the beginning of the taper tantrum.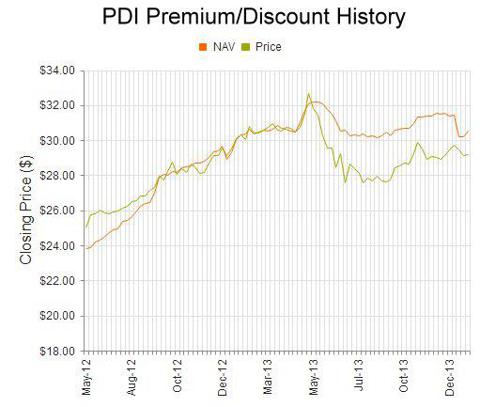 PDI does come at a higher cost, however, as the management fees are 2.04%. When combined with the interest expense, total expenses are 2.91%. These expenses are considered high, so one may legitimately ask why Bill Gross, Dan Ivascyn or anyone else hold this fund. After all, the fund holds $1.43 billion in common asserts.
The main focus the fund currently employs is the purchase of non-agency mortgage securities. The potential for appreciation is huge, according to PIMCO's outlook, especially as housing continues to improve. The fund uses leverage and also sprinkles in other types of bonds, such as corporates into the portfolio.
As the chart above notes, PDI's NAV went from ~$24 to ~32 in the first year of operation from May 2012 to May 2013. While some of this return has been under pressure, the current NAV of $30.56 employs quite an attractive sub-two year capital return.
The credit quality of PDI's holdings are mixed, as of the 2013 semi-annual report, they were split about equally between investment-grade, junk and non-rated bonds. As a closed-end fund, non-rated securities often are seen as a great option to buy as sales of the fund's shares would not result in the sales of these often thinly-traded securities.
PIMCO credit managers are able to assign risk where rating agencies do not, which may offer attractive valuations and returns for PIMCO closed-end fund holders.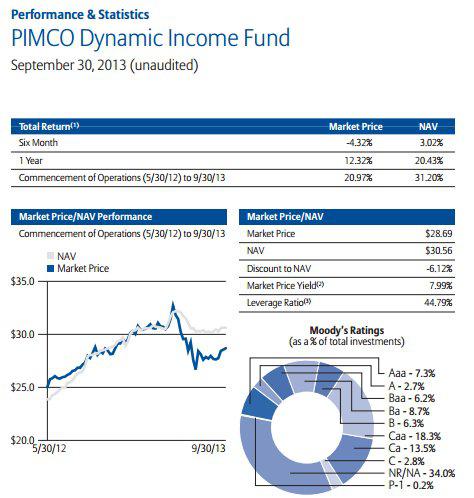 Ivascyn's fund did well enough in 2013 to announce a special distribution of long-term gains in the same fashion as PTY. The distribution, payable to holders on December 26, 2013, amounts to $1.31 of which $1.21 is income and the other ~$0.10 is mixed between short and long-term gains.
In looking at share price alone, PDI has returned -2.72% over the past year.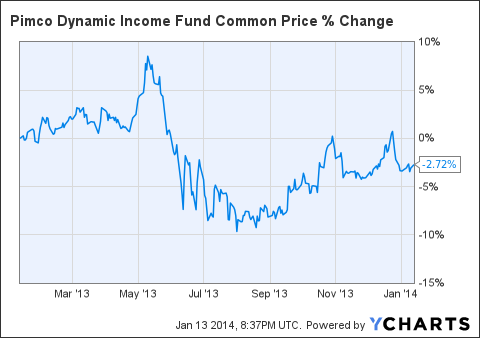 When looking at total return including dividends, the fund has actually returned
Jan 14, 2013 close: $30.22
Jan 12, 2014 close: $29.21
Cumulative dividends: $3.4981
Total return: $2.4791, or 8.2%
Income investors looking at PDI have several reasons to buy and hold this fund. As domestic real estate prices continue to trend higher, the fund should do quite well, the discount that is over 4% is rare for any PIMCO fund, Gross and Ivascyn together hold ~$20MM in insider shares and the current yield (monthly distributions were upped to $0.191 from $0.177 in October 2013) of 7.85% should whet the bond investor's palette.
3. The PIMCO Dynamic Credit Income Fund (NYSE:PCI), $22.53
Yield = 8.18%
Fund Card: September 30, 2013
PCI is a flexible closed-end bond fund that is a great option in creating a high-yield bond fund portfolio. Bill Gross does own ~$2MM in shares, the fund yields north of 8% and it also trades (as does PDI) at a rare discount.
The current discount of 6.86% to NAV is about average, considering the fund inception was January 31, 2013, and the normal PIMCO premium was caught with the pressure of the ensuing taper tantrum that began less than four months later.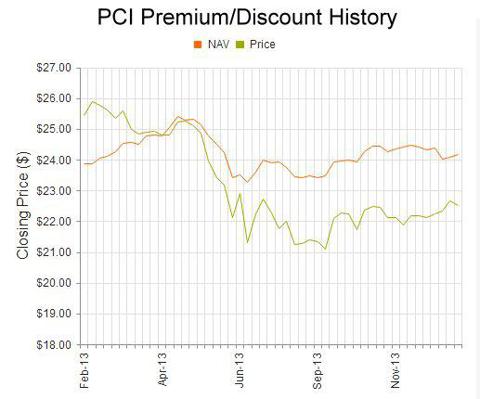 The initial fanfare of PCI was huge, as it attracted over $3 billion in funding just one short year ago. While the NAV ascent was disrupted in May 2013, one can note from the premium/discount chart above that the fund is now in the "since-inception black," as current NAV is $24.19.
So why do the shares trade for such a large discount at $22.53? The quick answer is that the fund is new, unproven and not managed by all-star managers Bill Gross or Dan Ivascyn. Also, including interest expense the fund fees total $2.18%. Regardless, PCI is a great option to build an income portfolio with regardless of >2% fees and leadership.
As a balanced high-income fund, PCI uses leverage to buy a host of bond types and uses the same PIMCO research that each bond manager receives. Bill Gross makes a point to keep all funds on the same trajectory, as one PIMCO fund selling to another is deemed inefficient.
According to the 2013 semi-annual report, nearly half of the PCI portfolio is in non-rated securities. About 35% is in investment-grade securities while a notch above 17% is in junk-grade bonds (Caa or less). Lower-rated bonds generally do better in conditions of improving economic conditions, as aggregate profitability for junk-rated firms goes up and as such, higher profitability lowers credit risk.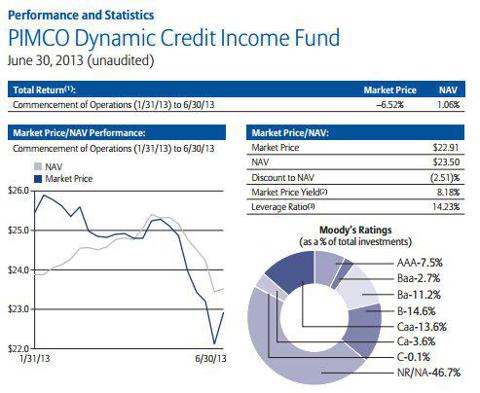 Creating The Ultimate Bond Portfolio
While PIMCO's high-yield bond funds mentioned above have a great track record and offer an average yield north of 8%, most investors who like bonds may prefer to shelter their portfolio from the risk of leverage and premium/discount risks.
In the trifecta of PTY, PDI and PDI, the PTY premium is balanced somewhat as both PDI and PCI are trading at a rare discount. As the world's largest bond manager with great access to leverage, PIMCO closed-end funds generally trade at a premium.
PIMCO's offerings of bond mutual funds may help reduce this risk. Two selections are PIMCO Investment Grade Corporate Bond Fund (MUTF:PBDDX), yielding 3.43%, and PIMCO Diversified Income Fund (MUTF:PDVDX), which as a multi-sector bond fund, offers a larger spectrum and higher yield (4.39%) versus the investment grade bond fund. Yields for these two funds are calculated by monthly distributions over 2013, not including special dividends (which pump these funds up to 6.33% and 5.11%, respectively).
In creating a diverse PIMCO bond portfolio, the investor who places equal parts in PTY, PDI, PCI and PBDDX would yield over 7% while hedging the leveraged portfolio with a 25% weight in investment-grade managed bonds. The investor who has an $200,000 bond portfolio in this set-up would be receiving about $1,172 per month in income on average, not including special dividends.
Investors should note that while closed-end bond funds generally have stable distributions, mutual funds vary month-to-month.
| | | | | | |
| --- | --- | --- | --- | --- | --- |
| Fund | Amount | % Bonds | Yield | Cash/Year | Cash/Mo. |
| PTY | $50,000 | 25% | 8.67% | $4,335.00 | $361.25 |
| PDI | $50,000 | 25% | 7.85% | $3,925.00 | $327.08 |
| PCI | $50,000 | 25% | 8.18% | $4,090.00 | $340.83 |
| PBDDX | $50,000 | 25% | 3.43% | $1,715.00 | $142.92 |
| Totals | $200,000 | 100% | 7.03% | $14,065.00 | $1,172.08 |
Disclosure: I have no positions in any stocks mentioned, and no plans to initiate any positions within the next 72 hours. I wrote this article myself, and it expresses my own opinions. I am not receiving compensation for it (other than from Seeking Alpha). I have no business relationship with any company whose stock is mentioned in this article.