In a recent meeting, Disney's (NYSE:DIS) CEO did not deny the possibility of selling off the broadcast network ABC. The ABC Television Network reaches approximately 99% of US TV households and competes with other broadcast networks like CBS, (NYSE:CBS) and Fox, owned by News Corp (NYSE:NWS). We estimate that a sale of ABC could generate $3.5 billion for Disney and that continued declines in ABC viewership could lower this amount even further.
Sale of ABC Network Could Generate $3.5 billion for Disney
We estimate that ABC Networks constitutes about 5% of Disney's stock, or about $3.5 billion based of our $70 billion estimate for the value of Disney.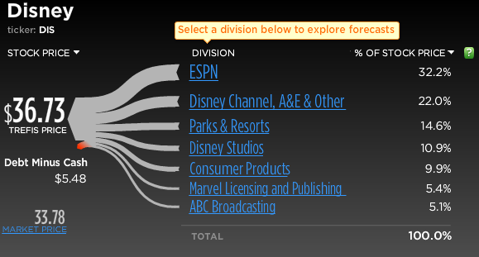 ABC Viewership Has Been Declining
ABC's ratings have suffered in recent years despite a variety of popular programming such as Lost, Desperate Housewives, Ugly Betty, The Bachelor, Grey's Anatomy. Declining ABC network viewership is the main reason for potentially selling off ABC and instead focusing on cable programming channels (Disney Channel, Lifetime, History) that are growing in popularity.
ABC's primetime viewing (average viewing households per minute) has suffered a steep decline from 6.3 million households in 2006 to 4.3 million households in 2009. A similar trend is evident in morning and day time viewership which declined from about 3 million to 2 million during same period.
Although we forecast a slight rebound in ABC viewership over time, you can modify our forecast above to see how Disney's stock may be impacted if declines in ABC viewership were to continue.
For additional analysis and forecasts, here is our complete model for Disney's stock.
Author's disclosure: None.