There are many reasons that investors should consider owning REIT shares today. As Thomas Bohjalian, Executive VP and Portfolio Manager at Cohen & Steers, wrote in a recent white paper:
The recent pull back in shares of real estate investment trusts has created an attractive entry point, in our view, as many high-quality companies are now trading for less than the value of their underlying properties. We expect REITs' performance profile to improve in 2014, as the benefits of a strengthening economy should outweigh headwinds from higher Treasury yields.
Triggered by interest rate sensitivity, REITs have been the beneficiary of a downright pounding that started in late May 2013. However, since that time REIT valuations have become dramatically more attractive from a year ago. Bohjalian adds:
This divergence led to meaningful improvement in valuations, with many property sectors falling to sizeable discounts relative to the value of their real estate holdings.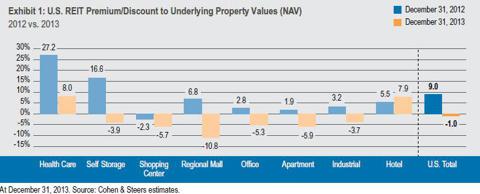 Although the market provided the inertia that clobbered REIT shares, the true laws of gravity seem to always apply, whether the driving forces are real or make-believe. In the case of REITs, economic growth generally has a greater effect than rising treasury yields. As Bohjalian explains:
It may be counterintuitive given the market's recent reaction, but REITs have historically done well in periods of rising Treasury yields. This is because rising yields are often associated with an improving economy, which benefits REITs in the form of higher occupancy and rents and stronger investment demand for real estate.
Since the beginning of the modern REIT era in the early 1990's, REITs had positive returns in six out of the eight periods in which treasury yields experienced a sustained upward trend.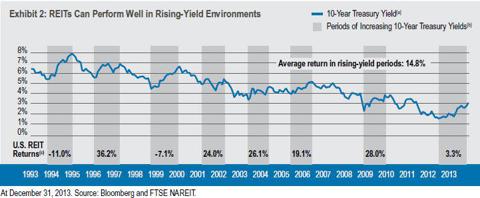 Bohjalian believes that "REITs are now priced into current valuations, and any further interest-rate headwinds are likely to be countered by improving real estate fundamentals." In addition, Bohjalian believes that "if the market continues to price REIT properties below what they're worth, we anticipate that more REITs will look for strategic alternatives to realize value of their assets."
A few examples include the recent announcement by Essex Property Trust (ESS) to acquire BRE Properties (BRE), and the pending merger of American Realty Capital Properties (ARCP) and Cole Real Estate Investment Trust (OTC:COLE). Also, and as I mentioned in an article yesterday, Ventas, Inc. (VTR) could be an interesting play for BioMed Realty (BMR), a Life Science REIT trading at one of the lowest multiples in the broader Health Care space.
Also, it would not surprise me to see a bigger fish swallow up Spirit Realty Capital (SRC), considering the Triple Net sector has seen a wave of consolidation. I can see the free-standing sector evolving much like the Health Care sector with just a few dominant names and a lot of "wanna-bees".
In an article yesterday I mentioned that National Retail Properties (NNN) has tended to stay out of the "mud slinging contest," but it would seem that a combination of Spirit Realty and National Retail could create some magic as the asset pools are comparable, and the combined diversification would be comparable to Realty Income (O) and American Realty Capital Properties (upon closing with COLE).
So How Much REIT Exposure?
I'm frequently asked this question, and I usually answer by saying that it depends on your overall tolerance for risk. Most importantly, by employing diversification correctly, investors can reduce risk without sacrificing returns.
In the same Cohen & Steers white paper referenced above, Thomas Bohjalian explains:
The UBS Global Real Estate Investors Survey for 2013 indicated that 59% of respond ants recommend a 5-10% allocation to global real estate securities, with 23% indicated an 11-15% allocation. We believe that investors should consider allocations to real estate securities within the context of their investment objectives and risk tolerance, taking into account the asset classes historical diversification benefits and the potential to enhance total returns over time.
As much as I love real estate and of course the liquid sub-sector we call REITs, I cannot recommend putting all of MY eggs in one basket. I'll save it for another day, but I've been there and done that (and I do have the T-shirt to prove it).
By diversifying, you provide yourself with insurance that if one of your stocks blows up, it will not severely impact your egg's nest. There is clearly a wider "margin of safety" in the overall US equity REIT sector today; however, it's important to be an investor and not a speculator. Remember, an intelligent investor is one who buys sound securities where he (or she) knows his principal will be safe, and he (of she) will get a fair return on his (or her) money. Here's some sound advice for Frank J. Williams in the classic handbook, If You Must Speculate, Learn The Rules:
This is a matter of cold, hard common sense and safety. It is absolutely unsafe to gamble in stocks unless the trader can protect himself at all times. It is wiser to build up a substantial reserve before invading the stock market to fritter away money in hopeless attempts to beat it.
What About Other Non-REIT Stocks?
On occasion I have been asked about other non-REIT holdings that I own (or have previously owned). As noted above, it's important to maintain a well-balanced portfolio that is populated with assets that yield returns with sufficiently different attributes from other investments. In other words, one critical element to managing risk is to create a portfolio of assets that behave differently across various market conditions.
If you take a look at the REIT investments you can see that I don't own any mortgage REITs, and I maintain a conservative portfolio of income producing stocks. Much like my REIT investing philosophy, I use the very same principles of value investing for my non-REIT picks. Similarly with REIT stocks, I look for non-REIT securities driven by underlying earnings, and I look to buy them when they are trading at a discount. I like to see consistent profit margins over a long period of time, and I pay very close attention to the risks that could potentially jeopardize the sustainability of the income stream.
Essentially, instead of filtering out the most advantageously valued REITs with highly sustainability rental revenue, I use the very same recipe for non-REITs, that is, stocks with above average appreciation potential and safe and growing dividends at attractive prices.
Of course, finding attractive dividend stocks is just one ingredient. The other ingredient is to buy them at the RIGHT price.
First Pick: I recently purchased shares in Wal-Mart (WMT). That's a "no brainer" for me. With more than 10,700 locations across the globe, there is no better "brick and mortar" platform, and as much as I like to talk about real estate, the real reason that I bought the stock is because of the durability of the earnings stream. This stalwart retailer has proven itself by its impeccable operating history, and this stock is a "classic lesson" in valuation - it never missed a beat growing its operating income.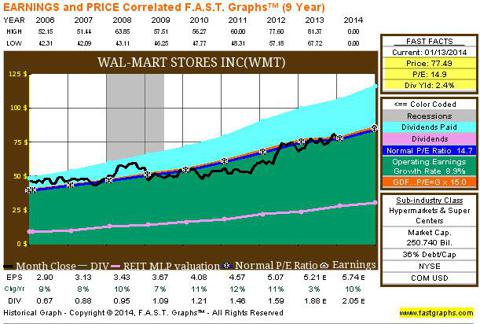 Second Pick: Another stock that I can identify with from a real estate perspective is AT&T (T). I also have iPads, iPhones and a Universe account; consequently I have a big stake in the company already. Not as much in my exposure to the stock in so much as the fact that my family relies on the services of AT&T every day, and more importantly, I see the family checkbook every month.
Like Wal-Mart, I consider AT&T to be a fairly valued stock today (P/F is 13.4x), and I especially like the 5.5% dividend yield. Clearly, AT&T is a prime example that you don't have to load up on REITs to enjoy high-paying dividends.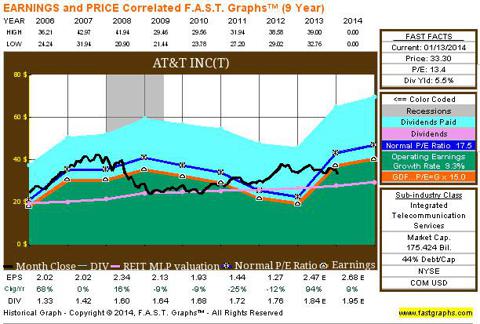 Finally, my third pick is my "home town hero," Ingles Markets (IMKTA). Headquartered in Black Mountain, North Carolina, Ingles has built a powerful moat of repeatability. Founded in 1963, Ingles operates 203 stores (and 11 million square feet of retail space) in six states. In addition, the company operates 70 (in store) pharmacy centers and 67 fuel centers. All of the company's stores are located within a 280 mile radius of the company's headquarters and distribution center.
I live about one mile from an area Ingles grocery store, and my wife is a very frequent customer (in fact, she may be the biggest customer in the entire chain). Ingles owns a majority (around 75%) of its locations (both free-standing and shopping centers), and that provides valuable and often recognized "alpha" to the balance sheet.
Throughout the years, Ingles has carved out an impressive geographic footprint tending to locate sites in secondary trade areas where competition is less intense. This successful operating strategy has allowed Ingles to "fly under the radar" and also provide customers with high quality, value oriented products.
Ingles recently announced a dividend of $0.165 (sixteen and one-half cents) per share on all of its Class A Common Stock and $0.15 (fifteen cents) per share on all of its Class B Common Stock. This is an annual rate of $0.66 and $0.60 per share, respectively. Ingles is trading at a sound value today, and given the strong brand recognition and underlying real estate quality, I see a strong potential that a larger fish, like Publix or Kroger (KR), may attempt to swallow up the 50-year-old chain.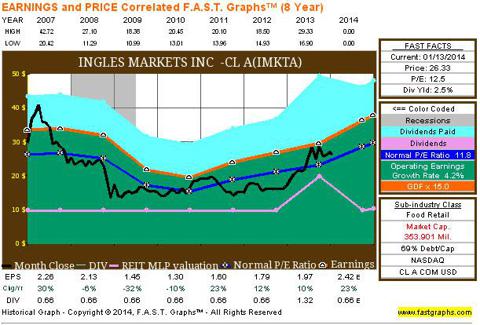 Closing Thought
So now you have it. I just can't escape real estate, and although I maintain a bullish sentiment with publicly traded "brick and mortar," it's virtually impossible to find an investment that isn't correlated to the land that we live on - at least in some form or fashion. Yet regardless of the specific asset class, one must not lose site of the all-important elements of investing; that is, staying focused on the world of investing and don't being a speculator. Frank J. Williams said it best:
Generally a stock will find its correct level in the market. It may sell above its worth for a time or perhaps a little below, but in the end the market's estimate will be fairly accurate. The business of the speculator is to make a thorough study of the stock he intends to buy and by watching its market action decide for himself where the level of true worth is. Having decided this, let him wait patiently until the stock sells at his price before buying. It will get there in time.
Be Ready for the Bargains!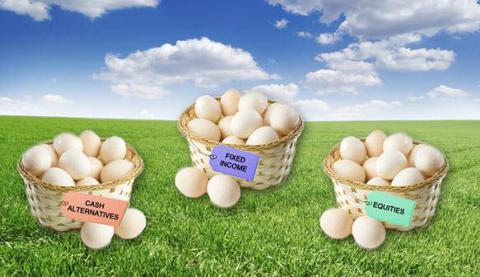 Make sure to check out my REIT newsletter - iREIT Investor - the source for intelligent REIT investing.
Source: FAST Graphs, SNL Financial, and Cohen & Steers.
Disclaimer: This article is intended to provide information to interested parties. As I have no knowledge of individual investor circumstances, goals, and/or portfolio concentration or diversification, readers are expected to complete their own due diligence before purchasing any stocks mentioned or recommended.
Disclosure: I am long O, DLR, VTR, HTA, STAG, UMH, CSG, GPT, ARCP, ROIC, MPW, HCN, OHI, LXP, KIM, T, WMT, IMKTA, . I wrote this article myself, and it expresses my own opinions. I am not receiving compensation for it (other than from Seeking Alpha). I have no business relationship with any company whose stock is mentioned in this article.