I have pretty high expectations on Microsoft (NASDAQ:MSFT) going into 2014. While MKM Partners believes that Microsoft will trade at $30 per share by the end of 2014. I clearly don't think that this will be the case as PC stabilization, commercial licenses, and mobile could be headwinds that either boost earnings or at least boost investor sentiment over the course of 2014.
Microsoft's software ecosystem for mobile isn't half bad, as it's going to connect the software libraries from the Xbox One, tablet, smartphone, and PC in order to build a powerful ecosystem. The commercial business has the most value to shareholders and with Office 365 made available to Android, and iOS I expect further upside regardless of whether or not Microsoft gains significant market share in mobile.
Mobile roadmap could work
Despite the unlikely rumors of Sony (NYSE:SNE) using Windows Mobile 8 for its Xperia lineup of smartphone's and a Nokia (NYSE:NOK) phone using Android OS, it seems that Microsoft should be able to achieve its goal of 10-15% market share over the next five years by investing heavily into its brand, marketing, and perhaps another acquisition.
Granted, buying out another mobile OEM should probably be the last resort in order to guarantee market share as it isn't very accretive to shareholders over the short-term (look at what happened to Motorola). However, to be fair, Motorola's market position was declining before Google (NASDAQ:GOOG) ever bought them out, and turning around a hardware company is harder than it looks. Plus, Samsung (OTC:SSNLF) operates at substantially greater scale, using the same Android operating system. The only difference between Motorola and Samsung besides the slight differences in hardware is the sheer amount of money spent on marketing. Google makes money from marketing; it doesn't use marketing to make money.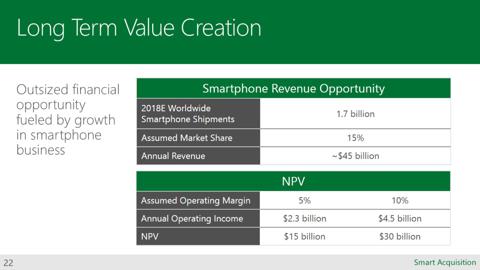 Source: Microsoft
Microsoft believes that it will reach 15% market share from its Nokia handset division by 2018. The figure is attainable, when considering Microsoft will be selling handsets at a projected $176 ASP. The average selling price is low enough to capture the emerging middle class in China. As consumers begin to adopt Windows phone, a positive feedback loop will emerge, resulting in further market share gains.
Microsoft has $76 billion in cash/equivalents, so it could buyout another smartphone company in order to generate market share gains (Lenovo, Huawei, HTC, and LG Mobile could be candidates). With Nokia, Microsoft bought $15 billion for $7.2 billion based on its conservative NPV estimate. It could technically buy another mobile handset maker, (could be accretive) which could then reduce the near global monopoly that Android has on smartphone handsets.
Microsoft has the financial resources to push any handset maker into the number two or three position in certain regions, which would counter Samsung's carpet bombing advertising antics. It could only help that Samsung is now transitioning into its own internally developed operating system (Tizen), which looks to be inferior to Windows Mobile 8.
Segment & marketing analysis
Microsoft's largest segment by revenue is its commercial licensing segment, which is the commercial licenses for Windows, Server, Office 365, for businesses. Commercial licensing revenue has trended higher especially after Microsoft's transition to Office 365 paired with the ending support of Windows XP (the install base of Windows XP is primarily business and not consumer).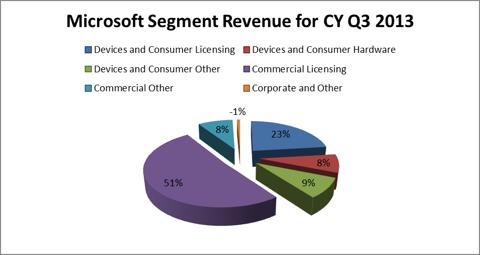 Source: Microsoft
Historically, Microsoft's commercial business has shown consistent growth. Going forward, consumer and devices should be able to trend higher following the successful rollout of Xbox One, and Windows Mobile 8. Currently Microsoft CRM (customer relationship management) and Skype are growing at gangbuster rates, while Bing has been able to gain market share in the United States, further asserting Microsoft's strength across many of its businesses.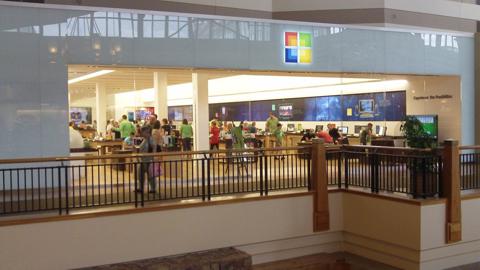 Currently, the fastest growing operating system by percentage and not by unit count is the Windows operating system for mobile. Consumers are also transitioning to Windows 8 (for PC) as the interest in touch based capabilities was better than expected. Currently, 40% of the devices sold in big box chains are touch capable. The simplified OS layout is most effective when touch capability is included. Touch capable devices sell at higher average selling prices; therefore the added utility from touch capability should result in higher margins from PC vendors in the Windows ecosystem. Remember, higher selling prices can negate falling volumes resulting in a net improvement on revenue.
Microsoft's product ecosystem is closely tied to its success, and it could only help that Microsoft is considered to be the most trusted brand across the older and younger generation. Microsoft can advertise multiple products, through product placements within advertisements (Nokia Lumia 1020, Xbox One, Windows 8 PC). I know that advertisers prefer to focus on one specific product (which is fine), but I don't see why advertisers have not bothered to throw in a guy walking in the background with a Nokia phone, or have a Windows laptop sitting on a desk nearby while the ad is rolling. It doesn't make sense to only advertise the one product, and leave out the others in its advertisements.
Microsoft's primary focus with advertising has been to push for comedy and to make fun of its rivals (essentially make what's cool less cool). That being the case, Microsoft's advertising has had mixed responses with hits and misses that go along the way. "Don't get Scroogled," Samsung vs. Apple (NASDAQ:AAPL), "that's not cool", were huge hits, but Microsoft can do more to drive eyeballs and sales.
Microsoft should make fun of Samsung over Apple. Let's be honest, Samsung is an easier target to pick on. While it's true that Microsoft partners with Samsung, it's not like Samsung can ship PCs with Linux. The incentive for Microsoft to target Samsung has increased, as Tizen was chosen over Windows 8 to be the primary OS for Samsung's mobile products. To Microsoft, Tizen is not cool, and with Samsung carpet bombing ads all over the place, a Samsung smear campaign from Microsoft should be on its way.
Office 365 is Microsoft's main growth driver
The real upside to Microsoft has been the transition of its Office Suite to the cloud. Now, I know that some of you have your doubts, but being able to access and work with documents from different devices has more practicality and utility than you could imagine. I currently work on articles using two laptops, and if it weren't for the fact that I spent $400 on my office suite program in 2012, I would be romping on Office 365 right now.
I believe that users will eventually transition to Office 365 at some point in the future. Office 365 is compatible with Mac, iOS, and Android. Because the install base, for PCs, and tablets is expected to grow exponentially, the market potential for Microsoft is humongous, which is illustrated below.

Source: Gartner
Currently Office 365 for the home is sold at about $9.99 per month, which translates into approximately $120 per year in revenue per subscriber. Microsoft's annual addressable market will also include tablets. In the emerging market, tablets are used as a PC alternative due to being substantially cheaper. I estimate that the average consumer upgrades their tablet PC once every two years, and a PC once every four years. This implies that the install base for PCs and tablets will be 2.5 to 3 billion (combined), by 2015. Assuming Microsoft can sell Office 365 to 2-3.5 billion people and with some overlap (commercial and consumer) the company could generate $72-$144 billion per year from its subscription licensing business (each office 365 subscription works on up to 5 PCs). The global market for office licenses would have to be fully saturated in order for these figures to actually occur.
Conclusion
The growth potential from Microsoft's mobile and commercial/consumer licensing business is astronomical. It's hard to imagine a $300 billion market cap company sitting on businesses that could be worth even more. Microsoft barks like a cash cow, but it could generate high growth rates, similar to a smaller business just because it has a monopoly on office based software solutions.
I don't see any great alternative to Microsoft Word, Excel, and PowerPoint, and even if someone were to come up with something really neat, the lack of familiarity with the software would make it dead on arrival. If it looked similar to Microsoft Word, Excel, and PowerPoint I could only imagine the number of lawsuits that Microsoft would file in court against the company for patent infringement. Let's assume the company comes up with a completely original idea that could make work life easier, and could cannibalize the Windows Office Suite, I'm sure Microsoft would buy that company out, and burry the threat before it becomes too serious.
Microsoft's fat dividend, growth potential, and an improving portfolio of businesses makes the company a no-brainer investment decision.
Disclosure: I have no positions in any stocks mentioned, and no plans to initiate any positions within the next 72 hours. I wrote this article myself, and it expresses my own opinions. I am not receiving compensation for it (other than from Seeking Alpha). I have no business relationship with any company whose stock is mentioned in this article.