Back in January 2013, I saw a fantastic opportunity in Corning (NYSE:GLW) to own deeply discounted shares for the long term. Back then, the company traded at $12.65 per share and didn't have a great short term track record. The stock was essentially range bound, and plenty of critics complained that the stock had gone nowhere for years.
But patient investors were rewarded, as the stock has recently crossed the $18 mark. This stock pick has proven to be one of my best performers, ever since I recommended it January 10, 2013. The question now is if the same bullish conditions are still present and what the latest reports behind the 2014 Consumer Electronics Show in Las Vegas has revealed. Before we can answer that, I'll present some facts regarding the financials that any investor who is long GLW should know.
Firstly, we can look at the latest Annual Report to see where revenues are coming from. The company is divided into the following segments: Display Technologies, Telecommunications, Environmental Technologies, Specialty Materials, Life Sciences, and Other. From the 2012 Annual Report, we see the following revenue breakdown:

Source: sec.gov
Basically, it comes down to the following revenue breakdown: Display Technologies 36.3%, Telecommunications 26.6%, Environmental Technologies 12.0%, Specialty Materials 16.8%, Life Sciences 8.2%, and Other 0.001%.
Obviously the Display Technologies segment is a major leader for the company, but the revenue breakdown doesn't explain the whole picture. You see a much better understanding of the importance of the Display Technologies segment when looking at the net earnings breakdown.
Net earnings breakdown: Display Technologies 82.2%, Telecommunications 9.0%, Environmental Technologies 5.9%, Specialty Materials 7.3%, Life Sciences 1.65%, and Other with a small loss.
Now we can truly understand that the Display Technologies segment is the life and blood of Corning. Since we've seen a sluggish T.V. market lately, it comes as no surprise to why the stock had been struggling as well.
A very important distinction that we must make is that the widely popular Gorilla Glass 3 is not part of the Display Technologies Segment. This fast growing product that is a critical component of most of the cell phones being used and bought today is actually part of the Specialty Materials segment. The Display Technologies segment produces glass substrates for LCD televisions, notebook computers, and desktop monitors.
Not to fear, the trends discovered from CES 2014 reinforce a bullish future for the stock, in more ways than the optimism generated from Gorilla Glass has done for the stock in the past.
A few things really struck out during CES 2014. For one, there seems to be a race to the top in television technology. It's unclear which products will ultimately dominate in the years to come, but Corning doesn't have to depend on this outcome. Two technologies seem to be pitted against each other- 3D televisions vs. curved screen televisions. If CES 2014 has taught us one thing, it's that there are strong supporters and skeptics on both sides of the 2 technologies.
What seems to be accepted is that only one will find a home in the living room, and whichever one it is will benefit Corning equally. As I mentioned earlier, the sluggish global T.V. market hasn't been good for GLW's stock in previous years, and this trend can be linked to the global recession that started in 2008 and 2009. The recovery has been delayed in the television space, as no great technological breakthrough has been seen for some time. It appears that this is all about to change.
Whether it's the curved screen TVs being displayed by Samsung who win out, or the creative 3d technologies, you can be sure that GLW will have its hand heavily in both. Skeptics to the curved screen televisions think that it is 3d who will win instead of curved screens, because the curved screens are harder for the customer to get used to. Of course, I have no idea if they are right or wrong, but let's run with that assumption for a little bit. The itvc.org (International Television Expert Group) believes that over 20 million TV homes will have 3d technology by 2015. Here's how they see the predicted breakdown: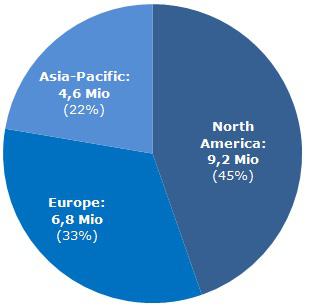 Source: itvc.org
Those numbers would still only infiltrate 1.6% of the homes in North America, leaving incredible opportunities for growth. Analysts pinpoint opportunities such as the World Cup and other key factors such a push from broadcasters and pay TV platforms as key catalysts for this expected growth. The new technology represents opportunities not only for the manufacturers but also for the content creators, which will drive up the growth even further in a sort of compounding fashion. The new and the unknown in this space leaves vast opportunities for wealth in many aspects.
However, this trend doesn't even cover the biggest force of CES 2014. It gets better for Corning's display technologies segment again... there is big excitement and anticipation for the new 4k televisions.
The picture on these 4k televisions is absolutely phenomenal. 1080p will soon be obsolete with the introduction of this new technology. The 4k products stole the show for the television market, and many of the possibilities explained above with the 3d televisions is also relevant for 4k. New content needs to be made and distributed. Platforms will have to adapt to the changes and more bandwidth will be needed. The impact of this new technology will be a much needed jolt to the technology sector as more of these products will be innovated and produced.
Netflix (NASDAQ:NFLX) has already capitalized on this trend and made a performance at CES 2014 with the new 4k technology. You can imagine the improvements that need to be made to internet speeds and other similar technologies in order to support the push towards 4k televisions. The technology will continue to get better, as it always does, and as these new products grab the excitement of consumers it will mean big profits for the display technologies segment of GLW.
A great quote about the 4k technology goes like this:
"If the transition from SD to HD felt like having scales removed from your eyes, this step up is akin to having them temporarily removed and given a thorough polish."
Source: Mirror
ESPN (owned by Disney DIS) and Youtube (owned by Google GOOG) have made deals involving 4k, and the 2nd season of House of Cards will be filmed in 4k. The excitement around this technology will only continue, and it will mean great things for the long term profitability of GLW. If this thing really takes off in the mainstream- as it seems to already have- expect to see a great explosion of growth for GLW once these television units ship out.
Consider how the stock performed during the last major technological upgrade with TVs. In 2005, 1080p TVs first came out from companies like LG (LG) and Samsung (OTC:SSNLF). For several years after, GLW enjoyed the boom in sales from everybody upgrading to the new technology. This obviously pushed up the stock price, doubling it since 2004 and keeping it high until the bear market in 2008.
Source: Google Finance
It's not illogical to think that a similar boom can happen with the 4k upgrade. The best part is that this trend is still very early, as 4k TVs have not been released into the marketplace yet. Better yet, the balance sheets are much more solid now than they were in the past. Management has learned from their mistakes during the dot com bubble and subsequent crash, and from their weakness during the housing bubble and bust. If you compare the balance sheets now to how they were back in 1999 and 2007, you'll find that GLW is on much better stable ground and much more conservative. They have less debt and more assets, while keeping earnings healthy and also rewarding shareholders with a dividend.
Another interesting piece of data to look at is commodity prices. Knowing that a majority of GLW's profits come from a glass product, it could be helpful to look at a chart of glass product prices and see if there are any noticeable trends. While not the central basis for analysis, this aspect can be a good supplement to the catalysts uncovered from CES 2014. Look at the long term price chart of glass products.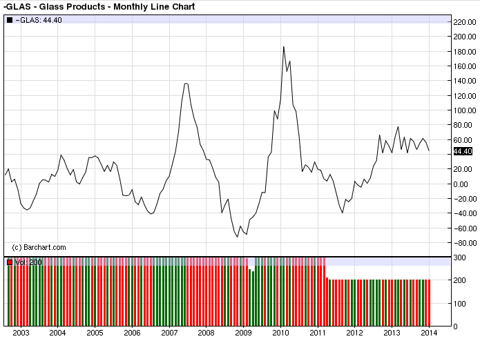 Source: barchart
One simple observation we can make is a slight long term uptrend. Notice how from the left to the right of the graph we've seen a little over a $40 difference, in a little over 10 years. You can see that the price is volatile, as we can see from the swings in 2006-2007 and 2009-2010. However, despite the volatility, the price seems to be following a generally linear increase. Until a new catalyst convinces us otherwise, we can expect this trend to continue. Good news again for GLW.
As I am writing this article, the -GLAS price has fallen -14.86%. This may or may not have had an effect on the stock price falling -1.48%. I don't want to speculate and make parallel claims that really aren't there, but it could be a possibility. Either way, we see a history of price volatility in this glass product price. Management has either done a good job in dealing with this volatility, or this price could have little effect in the grand scheme of things. Again, we can't make a certain conclusion based on this information, but this pullback could be a buying opportunity.
At the time that I first went long GLW, the valuations were absolutely a bargain. The balance sheet was very solid, and debt was low. To see if the conditions are still bullish for the company, it's important to update the valuations with the current stock price and then analyze.
As of the close of 1/13/14, GLW is trading at $18.02. Based on the 2012 Annual Report and this share price, the valuations now look as follows.
1. P/E Ratio = 10.06.
Obviously the stock still looks cheap. While it would've been nice to capitalize on it when the P/E was still in the single digits, the reality is that we don't know how much higher this stock could rise. If I am right about the 4k trend, then we definitely aren't too late yet.
2. P/B Ratio = 1.26.
When I first bought the stock in January 2013, it was trading below book value. With this kind of a margin of safety, the stock was a no brainer. The fact that I got such a discount on the significant assets- many of which were real estate properties- was an even bigger reason to buy the stock. I discussed these advantages in my stock picks article.
3. P/S Ratio = 3.39.
This ratio is a bit high for my tastes, but it isn't terribly high. With so many other companies trading at P/S ratios above 10, it makes this one a little bit easier to stomach. We know that you could be worse off in this category but it does temper excitement.
4. P/C Ratio = 5.44.
Not much to say here. The cash flow is healthy and looks good.
5. Debt to Equity Ratio = 0.38.
This is perhaps one of the best reasons to buy GLW for the long term. The debt is so low, and with a quick and current ratio over 5. This kind of low debt will help the company to survive any future recessions or commodity price fluctuations. It's also a good sign that they have been constantly improving this ratio the past several years.
6. Average 3 Year Earnings Growth = -38%.
The earnings haven't grown much since the peak in 2010, which greatly contributed to its limited price range in 2012 and 2011. The company has made great progress in staying profitable since 2005. The decade before they really struggled with having positive years consistently, even while their stock price climbed to above $100.
7. Dividend Yield and Payout Ratio = 1.8%, 0.28.
These both are sufficient. The low payout ratio also is a healthy sign, showing that the dividend is sustainable. The dividend gives us a chance to compound our returns and hold for the long term.
Value Trap Indicator = 271.12.
The company isn't in strong buy territory. But, this company looks poised to continue its recent bullish behavior.
Investors who are long GLW should definitely continue to hold, while those who don't mind the slight premium have many great reasons to buy this stock.
Disclosure: I am long GLW, . I wrote this article myself, and it expresses my own opinions. I am not receiving compensation for it (other than from Seeking Alpha). I have no business relationship with any company whose stock is mentioned in this article.