Investors in Convergys (NYSE:CVG) are enthusiastic about last week's announced acquisition of Stream Global Service. The deal will increase the size of Convergys by nearly 50%.
Shares rose from $21 to spike towards $24 following the announcement of the deal. Ever since, shares retreated to levels around $22 per share. While the deal is nicely accretive and has many strategic benefits, I remain cautious given the inherent volatility of the business model operating with such small margins.
A Big Deal
Convergys announced that it will acquire Stream Global Services which is a provider of customer management services as well. Convergys will pay some $820 million in cash for Stream. Convergys will acquire the company from funds which are managed by Ares Management as well as Providence Equity Partners, among others.
Stream generated revenues of $943 million with 40,000 employees in 2012 while reporting adjusted EBITDA of $111 million. This values the company at 0.9 times annual revenues and 7.4 times EBITDA. The company has shown solid growth in recent years as can be seen below.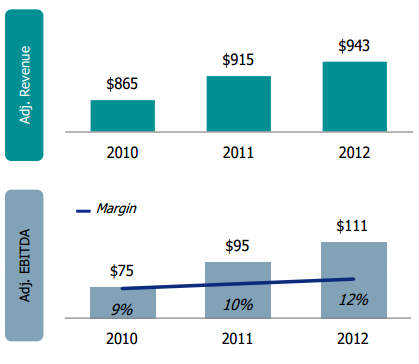 The deal will accrue to earnings by $0.35 per share in the first year after closing, not accounting for one-time costs.
Stream serves leading companies in many industries with its client list being complementary to Convergys. Stream's strong presence in Europe and Latin America give Convergys better offerings for its multinational clients. Despite the size of the deal, Convergys expects to close the deal rather soon. Closure is seen in the first quarter of this year.
With Bigger Implications
Following the deal, Convergys will be a $3 billion customer management service company with bigger delivery capabilities not only in the US but on a global scale. The outsource customer management service industry remains fragmented with an estimated size of $55 billion at the moment. The deal will make Convergys the second largest player in this field.
Following the consummation of the deal, Convergys is expected to employ 125,000 workers which service clients in 35 languages through 135 contact centers in 25 countries. As such the diversification, better client offerings, expected accretion and synergies are strong financial as well as strategic rationales behind the deal.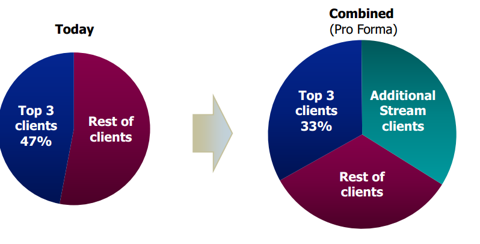 On top of client diversification, the revenue share of Europe and Middle-East will roughly triple to 20%. The share of technological clients will double to 18%, reducing the reliance on communication clients to 59%. The companies will form a transition team which will oversee the integration between the corporate structure and cultures. Anticipating a smooth integration, annual cost synergies are seen around $25 million.
Financial Implications
The 2013 outlook remains intact, as the deal will not have an impact. Revenues are seen around $2.04 billion, adjusted EBITDA is seen at $248 million, while earnings are seen at $1.10 per share. The company operated with $652 million in cash and equivalents before the deal was announced. The company holds just $61 million in debt, for a solid net cash position. The deal will be financed with $400 million in cash and the remainder through term loans and credit facilities as provided by Citigroup (NYSE:C) and Bank of America (NYSE:BAC).
The firm will continue to operate with a lot of liquidity following the deal, while operating with a modest $200 million net debt position. Combined, both firms will generate revenues of $3.0 billion going forwards. Combined EBITDA is seen around $360 million, while earnings could increase towards $1.45 per share, around $150 million. This values equity in the firm at about 15 times earnings.
A Multiple Check
The $820 million price tag values Stream at 0.9 times annual revenues and 7.4 times EBITDA. Convergys' own equity valuation, after backing out the net cash position, was about $1.5 billion before the deal was announced. This values Convergys at 0.7 times revenues and roughly 6.0 times EBITDA.
As such, Convergys is paying a 20-30% premium compared to its own valuation, yet $25 million in anticipated synergies can easily explain this. On top of that is the much higher growth of the business as well as strategic and diversification benefits, adding to the appeal.
What's Next?
Long term investors in Convergys have seen dramatic moves. Shares peaked over $50 in 2000 only to lose 90% of their value through 2008. Ever since, shares have steadily risen to current levels at $22 per share.
Essentially, outsourcing remains a very low margin business. Revenues have hovered around $2 billion in recent years, steadily increasing. Following the deal the company will now generate $3 billion in revenues. The steady rise in its shares has been on the back of significant improvements in operating earnings.
The deal will be accretive, with earnings seen increasing towards $150 million per annum as the company is using its strong cash balances to turn into productive assets. The valuation at 14-15 times earnings, even when factoring in the synergies is not that appealing. The low margin business, questionable track record and low dividend yield are concerns of mine.
While investors are happy with the accretive nature and the diversification benefits, I remain cautious. The accretion comes mostly from using low yielding cash to invest in productive assets.
While I applaud the deal, given the benefits outlined above, I remain cautious and stay on the sidelines. The low margin and somewhat volatile business, combined with a questionable long term track record makes it rather easy for me to stay on the sidelines.
Disclosure: I have no positions in any stocks mentioned, and no plans to initiate any positions within the next 72 hours. I wrote this article myself, and it expresses my own opinions. I am not receiving compensation for it (other than from Seeking Alpha). I have no business relationship with any company whose stock is mentioned in this article.