Investors in JPMorgan (NYSE:JPM) hardly reacted to the released fourth quarter earnings report on Tuesday. The legal expense and settlement bills totaled $21 billion for 2013, more than reported GAAP earnings over the past year.
The aggressiveness of the bank results in occasional settlements, fines and lawsuits. While the past year probably represents a peak in these kind of costs, the bank remains involved in new investigations, as it remains to be seen what the "true" sustainable cost of operating so aggressive really is.
Solid End To A Troubled 2013
On Tuesday, JPMorgan announced that its fourth quarter revenues fell by 1.1% to $24.11 billion on a "managed" basis. Reported revenues were a bit lower at $23.16 billion.
The bank reported earnings of $5.28 billion, down 7.3% on the year before. Reported GAAP earnings came in at $1.30 per share, down nine cents compared to last year.
Adjusted earnings came in at $1.40 per share, up five cents on the year before, and five cents ahead of consensus estimates. As usual a list of "one-time" items distorted reported earnings. The bank reported charges related to the Madoff settlement and funding valuations of $1.1 and $1.2 billion, respectively. These charges depressed reported earnings by $0.59 per share.
There have been some positive items as well including gains on the sale of Visa shares, gains on the sale of One Chase Manhattan Plaza and reduced reserves in the real estate portfolio and card services. Combined, these items resulted in $1.9 billion in one-time gains, boosting reported earnings by $0.49 per share.
Diving Into The Business
The community banking and consumer banking business of the bank performed relatively weak. Revenues fell by 7% to $11.3 billion on lower non-interest revenues which fell 17%. This is mainly the result of lower mortgage fees and related income which fell by a third. Reported earnings rose by 19% to $2.37 billion as credit loss provisions totaled just $72 million, compared to $1.09 billion a year earlier.
The corporate and investment banking business reported a 21% decline in revenues to $6.0 billion. This decline was largely due to the funding value adjustments of $1.5 billion on OTC derivatives and structured notes. Reported earnings more than halved to $858 million. Excluding these items earnings came in at $2.1 billion.
Commercial banking revenues inched up nicely by 6% to $1.8 billion driven by higher loan balances, while earnings were flat as provisions for credit losses inched up a bit.
The asset management business reported a 15% increase in revenues to $3.2 billion, as earnings rose by 18% to $568 million. Growth was driven by inflows, but notably through rising markets with client assets totaling $2.3 trillion.
Strong Adjusted Results
JPMorgan has been in the news a lot in 2013 following the involvement in many scandals. This includes obviously the "London Whale", the Madoff case, and mortgage securities settlements, among many other smaller issues. As a result, the legal expense tab and settlements totaled $7.6 billion more than the actual reservations over the past year.
Dimon stresses the progress made in control, regulatory and litigation agendas. Settlements over the London Whale totaled $6 billion while claims over mortgage linked securities cost an astonishing $13 billion. The important resolutions in the Madoff case and the RMBS basis is in the best interest for the company and shareholders according to Dimon.
Reported GAAP earnings came in at $17.9 billion, down from a reported $21.3 billion the year before. Adjusted earnings came in at $23.3 billion for the year, while revenues were essentially unchanged a just below a $100 billion.
While headline results are still impressive, especially in absolute terms, JPMorgan boosted its balance sheet by 2% to little over $2.4 trillion. Return on equity for 2013 came in at 9%, and 11% based on tangible equity basis. These numbers are not too impressive. The reported Tier-1 Capital Ratio came in at 11.9% which is down 70 basis points on the year before. On a Basel III basis the Tier-1 Common Ratio was 9.5%.
How Much Potential Is Left?
While 2013 has been an a strong year,with exception of the legal expense bill, drivers for earnings growth are slowing down. Home equity, subprime and credit card delinquency trends are stabilizing in recent quarters and historically lower levels do not leave much room for an additional boost to earnings.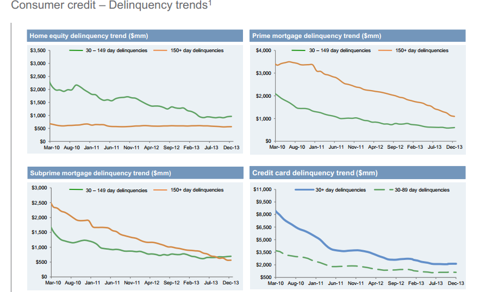 Takeaway For Investors
Investors in JPMorgan had a great run. While shares did see a spike downwards from $50 in 2007 to lows of $15 during the crisis, the sell-off was less violent compared to other banks while the bank avoided painful dilution.
Shares fell back to lows in their thirties mid-2012 on the back of the London Whale. Ever since, shares have nearly doubled again, currently trading in their high-fifties, around all time highs. The nearly $220 billion valuation, values the bank at roughly 10 times adjusted earnings, while the quarterly dividend of $0.38 per share provides investors with a 2.6% yield.
While a price-earnings ratio of 10 is not expensive, returns on equity remain subdued as the bank already trades at a premium to its book value. While repurchases and the dividend yield might give investors "fair" expected returns, don't expect spectacular capital gains following the arguments as outlined above.
Strong upside can be driven by a structurally lower legal and settlements bills, yet for now the aggressiveness of the bank results in structural high expenses in this category.
Disclosure: I have no positions in any stocks mentioned, and no plans to initiate any positions within the next 72 hours. I wrote this article myself, and it expresses my own opinions. I am not receiving compensation for it (other than from Seeking Alpha). I have no business relationship with any company whose stock is mentioned in this article.