When it comes to picking great stocks I usually look at the most battered sector in the market first. The financial industry had a difficult time during the financial crisis and Wells Fargo (NYSE:WFC) is among the companies that have weathered the ensuing storms the best. Warren Buffett's favorite has delivered over and over and is the highest valued Wall Street banking firm (in terms of price to book value).
The banking giant has returned 29.85% in the last year and is only marginally outperformed by Goldman Sachs (NYSE:GS) which returned 30.25%. Bank of America (NYSE:BAC), an unlikely rebound candidate as of late (and therefore one of the most interesting) stole the show in 2013 and delivered 45% of share gains to investors.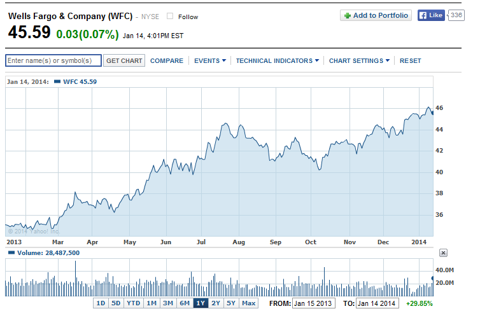 After shares of financial institutions fell off a cliff in 2008 and 2009, almost all banks have made substantial progress in turning themselves around and have dealt with their legacy issues (high delinquencies and credit losses, bloated cost structures and inferior return on capital measures). Over the last five years, in the post-crisis years, financials have proved to be great contrarian investments with the majority of financial institutions delivering returns above the 130% mark. Only Citigroup (NYSE:C) is lagging the peer group and is, in my opinion, still the most promising rebound candidate in the financial sector.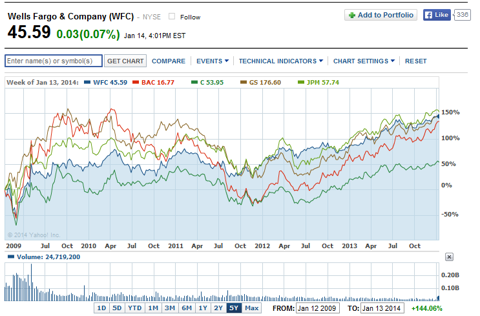 Appealing 2013 results hint at earnings strength going forward
Wells Fargo's Q4 2013 net income was $5.61 billion compared to $5.58 billion in Q3 2013 (up 1% q-o-q) and compared to $5.09 billion in Q4 2012 (up 10% y-o-y). Wells Fargo's diluted EPS increased to $1.00 per share in the most recent quarter vs. $0.99 in Q3 2013 and vs. $0.91 in the same quarter last year.
Comparing full year 2012 and 2013 results works out even better for Wells Fargo: Net income increased to $21.9 billion in 2013 vs. $18.9 billion in 2012 (up 16%) and the bank increased its profitability measures 'return on assets' and 'return on equity' markedly y-o-y (see chart below). In addition, Wells Fargo is one of the strongest deposit-catching franchises in the sector: Core deposits increased by $34.4 billion to $980.1 billion at the end of FY 2013.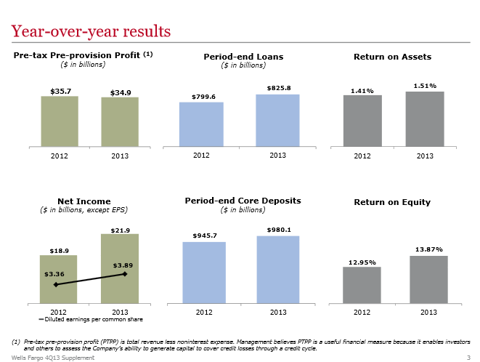 Wells Fargo also repurchased 30 million shares in the fourth quarter of 2013 and purchased another 11.3 million shares via a forward repurchase transaction expected to settle in the first quarter of 2014.
Chairman and CEO John Stumpf commented on the achieved results for fiscal year 2013 and was upbeat about Wells Fargo's earnings outlook in the coming year:
"Wells Fargo had another outstanding year in 2013, including strong growth in loans and deposits, and double-digit growth in earnings. In the five years since our merger with Wachovia, we have grown our businesses, invested in our franchise's future and contributed to the U.S. economy's recovery. Our 264,000 team members made it possible through their strong commitment to our consumer, small business and commercial customers, and the communities they serve around the world. Strong earnings power and capital levels, and an improving economic outlook are major reasons why we look ahead to 2014 with optimism."
Peer group valuation comparison
Wells Fargo is top value among the large-cap Wall Street banking institutions. Buffett's core holding presently trades at just above 11x forward earnings resembling an earnings yield of 8.8%. As I have said in my recent piece about J.P. Morgan (NYSE:JPM), thesis here, banks are highly cyclical investments and still exhibit very promising risk/reward ratios as banks improve their cost structures, increase lending and generally benefit from lower delinquencies and loan write-offs. Ultimately, paying about 11x forward earnings, which also is the peer group average of all large-cap firms under review, is not expensive at all. Big banks have the potential to profit from above-average EPS growth in the next two to three years which then in turn justifies meaningful multiple expansion.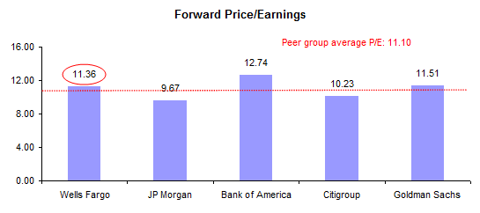 Wells Fargo trades at the highest price to book ratio of all major financial services companies. This is because Wells Fargo has earned a coveted reputation for being a well-managed, highly profitable company run by acclaimed CEO John Stumpf. Adding to its reputation has been Wells Fargo's savvy acquisition of Wachovia in a time of extraordinary stress and turmoil while other players panicked and questioned their own survival. Wells Fargo trades at a P/B ratio of 1.59 which compares to 1.16 of Goldman Sachs and 1.10 of J.P. Morgan.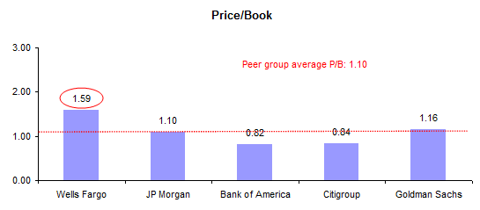 The summary table below depicts Wells Fargo's premiums to the peer group average ratios P/E, P/B and D/P. Most notable is Wells Fargo's high P/B ratio of 1.59 which reflects a 45% premium to the average P/B in the peer group.

Conclusion
With the Wachovia transaction proving to be highly earnings accretive, outstanding earnings- and profitability and a relatively low valuation, investors can easily understand why Wells Fargo is a favorite investment of Warren Buffett. The company is run by an outstanding, over-delivering CEO and engages in opportunistic acquisitions to drive shareholder value; just like Warren Buffett. In addition, the bank posts strong capital adequacy levels (Basel 1 Tier 1 common equity ratio of 10.82%, Basel 3 Tier 1 common equity ratio of 9.78%) and is regularly repurchasing shares. Investors who desire exposure to a supremely run, well-capitalized and shareholder friendly banking franchise should consider Wells Fargo. Strong, long-term BUY on earnings prospects driven by Wachovia, low valuation and above-average EPS growth in the years ahead.
Disclosure: I am long WFC, BAC, C, JPM. I wrote this article myself, and it expresses my own opinions. I am not receiving compensation for it (other than from Seeking Alpha). I have no business relationship with any company whose stock is mentioned in this article.