(Editors' Note: This article covers a micro-cap stock. Please be aware of the risks associated with these stocks.)
For those of you that are not familiar with Document Security Systems (NYSEMKT:DSS), it is a company that operates in two segments. First, the company licenses and monetizes its patents and intellectual property. Second, the company also develops anti-fraud, anti-counterfeiting, authentication and mass-serialization technologies for governments, corporations and institutions.
Over the last couple of months, shares of DSS have been on a roll as they've more than doubled since I wrote about them in September, urging investors to seriously consider doubling down. However, due to unforeseen circumstances, shares have recently tumbled and investors are left with a tough decision about whether or not to hold or sell their shares.
Shares started rolling when it was announced that DSS had filed a lawsuit against Apple (NASDAQ:AAPL) in November. That along with Markman hearings that were supposed to take place in the spring, contributed to the quick rise in share price. Unfortunately for long investors, another delay has come in the way with regards to the Bascom case.
DSS Updates Litigation Cases
Shares have been hit hard today (-15%) as it was announced that the US District Court of Northern California issued a stay of proceedings in the Bascom Research case (a wholly-owned subsidiary of DSS) in light of Alice Corp. v. CLS Bank Int'l, a Supreme Court case covering the patentability of software. So what does all this mean? Two words: another delay.
This marks the second Markman delay in which DSS had to postpone its hearing against technology giants Facebook (NASDAQ:FB) and LinkedIn (NYSE:LNKD).
Jeff Ronaldi, CEO of DSS talked about the recent events saying, "Document Security Systems, along with other owners of important software intellectual property, look forward to the results of the Alice Corp. v. CLS Bank case, which should help to clarify what subject matter is patentable under US Law."
All eyes will now be on the Supreme Court's ruling in the case of Alice Corp. v. CLS Bank Int'l. It's anticipated that a ruling will likely be made in June. As a result, the Markman hearing for DSS is expected to be rescheduled after June 2014.
VirtualAgility vs. Salesforce
Not all was lost today, as the company had some good news to share with investors. On January 9, 2014, the US District Court in the Eastern District of Texas denied the defendants' motion to stay in the VirtualAgility case.
As a result, the case between VirtualAgility vs. Salesforce et al will continue as scheduled, with the Markman hearing on April 2, 2014 with a jury selection for November 2014. For those of you that are new, DSS is an investor in VirtualAgility which filed a patent infringement lawsuit against nine defendants.
So What Should Investors Do Now?
That is the million dollar question investors are asking themselves right now. As we can see in the chart below, many investors sold first and asked questions later as volume was more than 3X the running ten day average and almost 5X the three month average.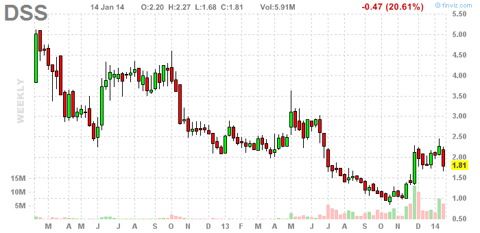 Looking at the technicals of the stock we can see that shares are barely holding on. That is why I came up with a couple of scenarios of how I believe everything will play out over the next couple of months.
#1) Shares will rebound and bounce back after being sharply sold off, basing around $1.80 - $2.00 and moving up towards the upcoming Markman hearing in April.
#2) Shares of DSS will bounce back a little before continuing the downtrend that shares have been in for the last two years.
#3) Shares will continue to slide with no technical bounce as investors run for the hills as the stock falls back into the $1.00 - $1.25 trading range.
So what scenario is the most likely take place? While nobody knows for sure what will happen, I believe the scenario that will most likely take place is #2. So what should investors do? Well it really all depends on what type of investor you are (short, medium or long term).
If you are a short term investor I would highly recommend staying away from this stock unless you are shorting shares. If you are more of a medium to long term investor who has the patience to hold stocks for awhile even amidst all the volatility, I would recommend looking for a spot down the line to add more shares.
As always, I'm providing you with my track record and other particular stocks that I like. The link provided will show you all of my picks, how they have fared, and where I think they will be going in the near future. I think you will find my track record to be very impressive and useful.
Disclaimer: Investors are always reminded that before making any investment, you should do your own proper diligence on any stock mentioned in this article. Have a great day and as always, I look forward to hearing your thoughts or questions that you might have.
Disclosure: I have no positions in any stocks mentioned, and no plans to initiate any positions within the next 72 hours. I wrote this article myself, and it expresses my own opinions. I am not receiving compensation for it (other than from Seeking Alpha). I have no business relationship with any company whose stock is mentioned in this article.