Introduction: Rationale for Silver Stocks Rally - the Fed
With December's employment data showing one of the largest misses from expectations in recent memory, I expect 2014 to be the big year of the silver stocks, up sharply from 2013 - the year that will, in retrospect, be looked upon as the most difficult year of the 12-year bull market in precious metals.
But the appalling December employment miss is only the tip of the proverbial iceberg. As bogus as the monthly US Labor Department employment data are, zerohedge.com points out a fact about jobs which cannot massaged by the US Labor Department: The labor market participation rate has now reached levels not seen since 1978 (see graph from zerohedge.com).
Today's abysmal job market, not seen since the nasty 1970's, nearly-nonexistent private credit creation (ex: student loans), and plunging money supply statistics (see chart, below, courtesy of Incrementum Liechtenstein) defy any outlook for a happy ending to the five-year-long Quantitative Easing program launch by the Fed.
Expect the media to begin discussing a relapse back into recession (a recession from which the US really never recovered) sometime during the first quarter.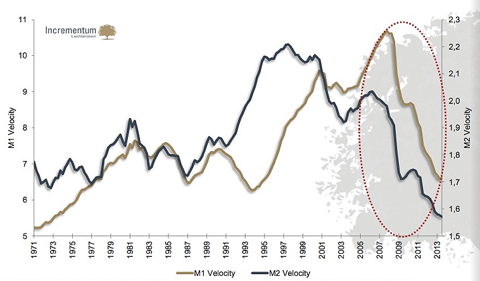 Courtesy of Incrementum Liechtenstein - page 2 - larger graph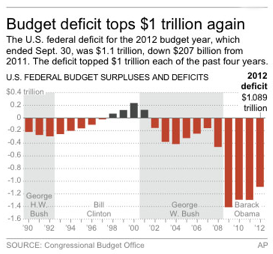 And as I've mentioned in prior articles, at some point in 2014, the Fed will need to end its so-called "taper" program. And when that announcement comes, the precious metals, led by silver, will soar once again.
Consider this:
Among the hoopla of "taper" talk, we have to step back and ask ourselves: From where will the trillion dollars come to pay for a $485 billion trade deficit and a $600 billion budget deficit expected by the Congressional Budget Office (CBO) in 2014?
In one of his (or her) most important and brilliant blog entries of nearly 20 years of posts, the anonymous and mysterious blogger, who calls himself Friend of a Friend of Another (FOFOA) - (some speculate that FOFOA is a Bank of International Settlements banker) - wished everyone a Happy New Year with his not-so-happy "Year of the Rains" post.
In this post, FOFOA warns readers of the financial calamity to come in 2014 - and presumably the ushering - in of QE4 (5?) by the Fed in response to the heavy "rains" for 2014 proffered by the author.
And the real crux of his "Year of the Rains" post is presented in the chart, below - a chart which simultaneously shows US trade deficits (blue line) and incremental foreign purchases of US Treasuries, year-over-year (red line).
From the chart, 2013 stands out as the year when foreigners gave up on the 40-years-plus arrangement of recycling US dollars paid for import goods back into the US Treasury market. The arrangement has dampened the tendency of a decline in the US dollar throughout approximately four decades. The assumption, therefore, is: "cost-push" inflation may substantially pick up in 2014.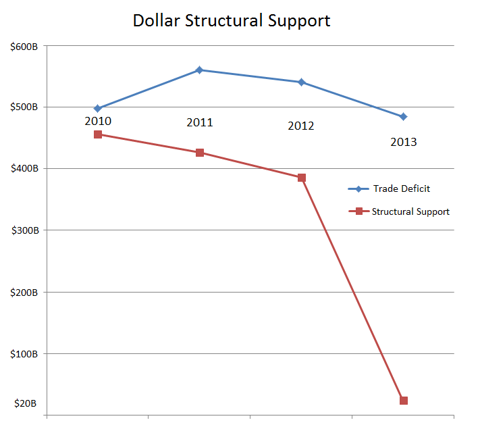 Courtesy of Friend of a Friend of Another (FOFOA)
From the chart, it shows that from 2010 through 2012, foreigners (led by China and Japan, according to Fed TIC data) bought approximately $400 billion per year of US Treasury debt. But in 2013, only approximately $20 billion (through October 2013) of additional US Treasury debt had been absorbed by foreign central banks.
Essentially, it appears that for the first time in four decades, the Fed will need to finance the largest importer on the planet. All else being equal, it's inconceivable that the Fed's $4 trillion balance sheet can ever be "tapered", but instead, the US central bank must accelerate its purchases of US debt in 2014.
And with only mere weeks following Bernanke's announcement of a $10 billion per month taper, the Fed has already begun "jawboning" an excuse to back out of the $900 billion per year program.
The Chicago Tribune reported that Richmond Fed President Jeffrey Lacker told an audience attending a Greater Raleigh Chamber of Commerce gathering that a headwind to the Fed's guarded US economic recovery could foil plans to unwind its $4 trillion balance sheet.
That headwind and plausible "excuse" for an "about-face" to Fed policy which Lacker talks of, is Obamacare.
"I think the Affordable Care Act is something that we are watching very closely because it's something that could well have a substantial economic impact," Lacker said.
The point is, from Lacker's injection of the ACA in his speech in Raleigh, I believe the Fed under new Fed Chair Janet Yellen will ultimately reverse the taper course soon - sooner than market participants may now think.
David Stockman and FOFOA Draw Same Conclusion
And for the first time in a long time I'm jumping back on the King World News (KWN) bandwagon of precious metals perma-bulls.
And one of KWN's most distinguished guests, former Office of Management and Budget Director David Stockman warned of the coming tsunami of newly created US dollars. Stockman served under President Ronald Reagan during the first term as Reagan's first Director of OMB.
"This (2014) is the year of the end game. The party is over," Stockman told King World News. "We are now just at the point where they are rounding up the Wall Street drunks who are swilling on the fifth consecutive seasonally maladjusted phony recovery."
Stockman knows the nuances of economic cycles, flow of funds and Fed policy. He knows it all from the inside; and when Stockman believes that 2014 is the year when the Fed becomes further unglued enough to reinvigorate the printing presses, all Fed credibility will be lost.
If FOFOA and Stockman have timed this correctly, a rush into precious metals and mining stocks could be breathtaking in 2014.
The 2 Silver Stocks Poised to Outperform the GDXJ ETF
And the stocks I believe are poised for exceptional returns will be the low-price juniors, such as Silvercorp Metals (SVM) and Silver Standard (SSRI).
Of the stocks that make up the GDXJ, Silvercorp, Inc. and Silver Standard are the two stocks which derive the vast majority of their revenue from silver mining. As the precious metals complex rises in price, silver typically outperforms gold, platinum and palladium.
I expect the most aggressive traders will assess an over-weighting to both Silvercorp and Silver Standard during the next bull market move in the precious metals. Each company represents a leveraged play to the silver price.
Silvercorp Metals - $2.555
Market Cap: $435.57 million
Forward P/E (fye Mar 31, 2015): 11.64
PEG Ratio (expected): 6.18
Price/Book: 1.16
Revenue: $160.16 million
Quarterly Earnings Growth: n/a
Current Ratio: 2.41
Silvercorp is a silver-producing Canadian mining company, operating two mines in China. The Company is currently developing the GC project in southern China to become its third operating mine in China. Silvercorp has paid a cash dividend since 2007. At today's stock price, the cash dividend yield is 3.75%.
According to the company's fiscal 2014 second-quarter financial statement, the total production cost per ounce of silver dropped 36% to $3.41 per ounce, from the first quarter production cost of $5.33.
Cost per Ag Oz.
2014Q2 2014Q1 2013Q4 2013Q3 2013Q2
$3.41 $5.33 $5.82 $1.52 $1.05
Silvercorp's production cost per silver ounce is among the industry's lowest, allowing for a large gross margin during any rally in the price of silver.
Taken from the six-months ending Sept. 30, Silvercorp reports 59.7% of its revenue derived from the sales of silver bullion.

Silver Standard - $7.50
Market Cap: $605.65 million
Forward P/E (fye Mar 31, 2015): n/a
PEG Ratio (expected): -0.06
Price/Book: 0.73
Revenue: $212.44 million
Quarterly Earnings Growth: n/a
Current Ratio: 9.10
Silver Standard Resources, Inc. is the largest publicly-traded silver mining company in the world. The company operates the Pirquitas Mine in Argentina, as well as explores and develops properties in Argentina, Mexico, the United States, Chile, Peru and Canada.
Unlike the very low cost of silver production at the Silvercorp mines, Silver Standard's cost of production is rather high by comparison. However, the company's second-quarter results show a modest improvement of 4% to $13.03 per ounce, compared with $13.58 for the first quarter. Year-over-year, the cost per ounce of silver production fell 21.2%, from $16.54 per ounce for the second quarter of 2012.
Though, Silver Standards potential for profit doesn't stack up to Silvercorp's ultra-low $3.41 per ounce of silver production, Silver Standards stock price sells at a rather steep discount of 73% of book value.
Silver Standards' second-quarter report can be found here.
As of the nine months ending Sept. 30, Silver Standard reported 95% of its revenue derived from the sale of silver bullion, making it the purest play on silver mining of any stock included in the Junior Gold Miners Exchange Traded Fund, GDXJ.

Disclosure: I have no positions in any stocks mentioned, but may initiate a long position in SVM, SSRI over the next 72 hours. I wrote this article myself, and it expresses my own opinions. I am not receiving compensation for it (other than from Seeking Alpha). I have no business relationship with any company whose stock is mentioned in this article.