What's up with Vical's (NASDAQ:VICL) stock? There's no question the market has been treating it like the red-headed stepchild since the company's former lead product, Allovectin 7, failed its Phase 3 trial late last summer. But yesterday, as you can see from the chart below (courtesy StockChart.com), the price broke the downtrend line of resistance that had formed since the bottom dropped out last August, rising some 25 cents to close at $1.59.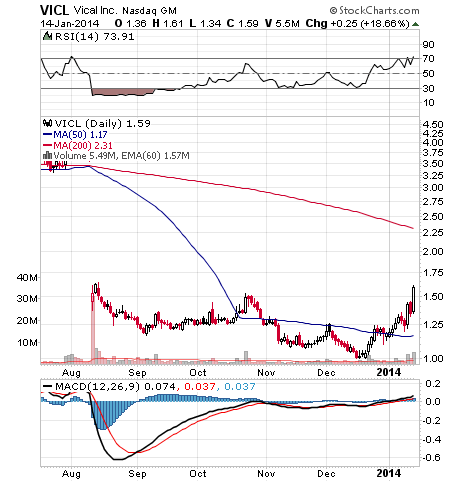 The answer to my question can be found in a table of Vical insider trades (courtesy ARN: The Analyst Rating Network), a portion of which is shown below: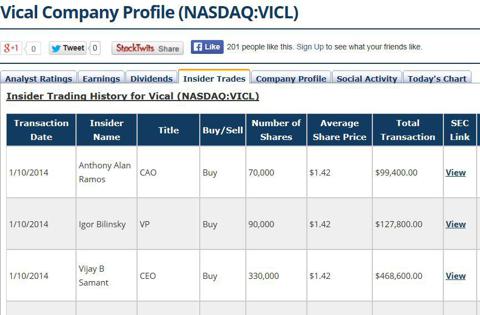 As seen above, three insiders made major purchases on Friday, January 10, 2014, with the chief executive officer, Mr. Vijay Samant, purchasing just under $0.5 million in his company's stock. Simply put, these purchases cost the individuals involved significant coin.
Insiders, of course, sell stock for a variety of reasons, but they purchase stock for only one: to make money.And for three officers to lay out this kind of money following the catastrophic failure of the company's former lead product makes you really scratch your head. After all, the drug trials under way with their partner Astellas (OTCPK:ALPMY) (here and here) won't read out for several years while the herpes (HPV-2) Phase 2 trial has only recently enrolled its first patient.
So, again, what's up?
Technical Analysis
The daily chart for Vical, courtesy StockChart.com, shows the stock breaking above the downward line of resistance in place since last August, with the first line of resistance now standing at the 200-day moving average (red line). The stock is overbought, with the MACD just slightly positive.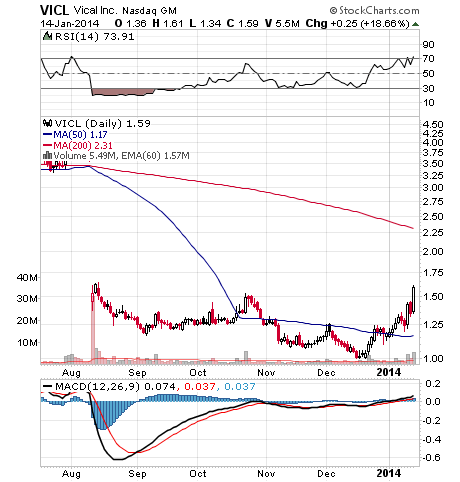 The weekly chart for Vical shows the stock approaching the previous high reached late last summer. The Relative Strength is neutral, with the MACD positive. Resistance lies just above $2.50.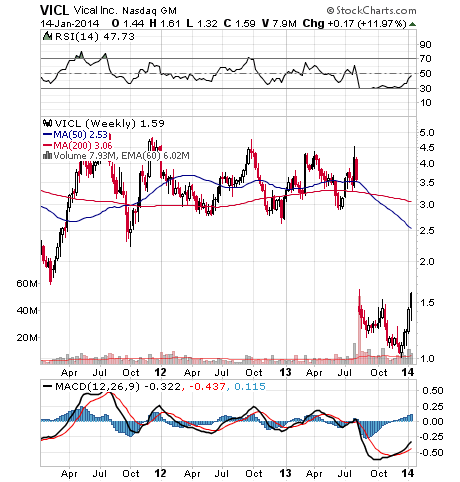 Disclosure: I am long VICL. I wrote this article myself, and it expresses my own opinions. I am not receiving compensation for it (other than from Seeking Alpha). I have no business relationship with any company whose stock is mentioned in this article.
Additional disclosure: I am not a registered investment advisor and do not provide specific investment advice. The information contained herein is for informational purposes only. Nothing in this article should be taken as a solicitation to purchase or sell securities. Before buying or selling any stock you should do your own research and reach your own conclusion. It is up to investors to make the correct decision after necessary research. Investing includes risks, including loss of principal.