The recent 10-for-1 split announcement by MasterCard (NYSE:MA) should highlight the extreme profitability of facilitating financial transactions around the world. In fact, the market appears desperate for lower fee, cross border alternatives with the sudden rise in popularity of the Bitcoin, yet for investors very few growth companies exist that offer the opportunity to participate in the internet and mobile financial transaction arena. The previous mentioned MasterCard and competitor Visa (NYSE:V) have already reached market values around $100 billion and don't exactly offer new opportunities.
The interest in the financial transaction arena centers on the sizzling operating margins generated by leaders in their respective sectors. In Q313, MasterCard generated a sizzling 56.3% operating margin in the global payments segment, while Western Union (NYSE:WU) produced a still strong 21% number in the money transfer business. The vast difference in the industries and hence margins was the requirement in the money transfer business to set up global originating agents that share commissions.
A few recent IPOs of Xoom, Inc. (NASDAQ:XOOM) and Qiwi (NASDAQ:QIWI) offer some potential modern financial tools that have caught investor attention. Xoom is particularly interesting with its focus on disrupting the money transfer business by removing the costly agent process with an all-digital focus. The question is whether Xoom can obtain the scale to profitably take market share from industry leader Western Union and reach or even exceed the margins of those larger industry players.
Money Processing Market
The market is divided between the credit card processors that facilitate payments around the globe at high fees and the payment transfer firms. In the middle now is the new Bitcoin that is part currency and part payment processor hoping to disrupt the whole market.
Both segments have the established players versus the incumbents. Naturally in the payment processing segment, MasterCard and Visa are the leaders but upstarts like Square are attempting to overtake that leadership with a focus on mobile. The payment transfer segment is led by Western Union with Xoom hoping to lead the revolution towards the mobile and online world.
Both sectors will need to keep an eye on Bitcoin after it generated $126,000 in sales on Overstock.com (OVSK) during the first day offered as a payment option. Whether this was a novelty test by hardcore Bitcoin fans or the start of a revolution could greatly impact growth rates in the money processing sectors. According to bitcoin.org, Bitcoins offer simple mobile payments, security, fast international payments, and low fees all while protecting users identities.
Disrupting Money Transfers
Xoom is a leader in the online consumer-to-consumer international money transfer industry. Customers use Xoom to send money to family and friends in 30 countries, but in reality the focus is on the primary distribution markets of India, Mexico, and the Philippines. According to the World Bank, the international consumer money transfer volume totaled $513 billion in 2011 and is forecasted to grow to approximately $685 billion by 2015, or a 7% CAGR.
Xoom continues to replace the antiquated model requiring an extensive network of originating agents in the US and significant infrastructure in receiving locations to fund cash transfers. Amazingly this old model of cash-to-cash money transfer has not evolved in over 100 years. The outdated system of limited store hours, long wait times, and non-transparent fees left the market open for new modern communications forms.
Xoom has eliminated the originating agents and associated commissions with a focus on transferring money with a US-based bank account, credit card or debit card. Currently, over 90% of the gross sending volume is funded by bank accounts through the Automated Clearinghouse system, or ACH. Customers in 30 countries have access to distribution via different methods including direct deposit into recipient bank accounts in all countries, cash pick-up at disbursement partner locations in most countries, and even home delivery in the Dominican Republic and the Philippines.
Xoom has an advantage of being an online only focused venture though it faces extreme competition from Western Union and MoneyGram (NYSE:MGI) on a global basis. Within each country it faces other competitors such as ICICI Bank (NYSE:IBN) in the US to India market.
Is The Service Cheap Enough?
According to Xoom.com, the following fee structure exists when transferring to the prime country of the Philippines.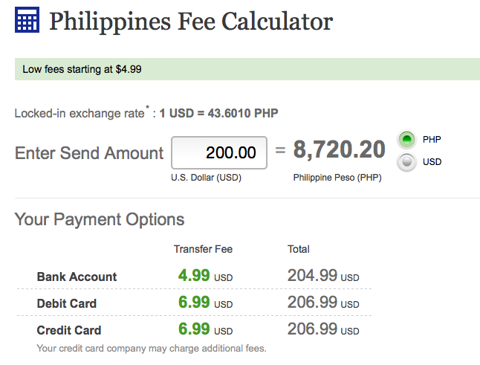 The service may be cheaper and quicker than the antiquated systems requiring agents, but a charge of $5 to distribute to a bank account and $7 for a credit card account is a significant amount for a person in the Philippines. India has better rates at $2 less than the average Philippine charge. Also, customers are dinged by a loss in the currency translation by an estimated 1% to 3%.
As an example of the competitive landscape, Western Union lists these charges for transferring to a bank account of $5 for funding by a bank account and $10 for funding by a credit or debit card. The time length is listed from three to six days. The delivery time can be substantially reduced with pickup at agent locations, but the charges are substantially increased all the way to $20 for paying with a credit or debit card.
Long-Term Growth Opportunities
The global money transfer market is expected to grow to $685 billion by 2015, but the World Bank estimates that the US only contributed $129 billion of outbound remittance in 2010, of which only $82 billion was sent to countries that Xoom serves. Xoom estimates that it has a 7% market share of that total available market. Currently Xoom only serves a fraction of the market providing years of potential growth expanding into not only more origination markets; but also new recipient markets.
The company has identified Canada, the UK, and other developed countries throughout Western Europe for potential new origination markets. New recipient markets include China, Eastern Europe, North Africa, South Korea, and Vietnam. With only China listed in the top-four origination markets not served by Xoom, the ability to serve new origination markets will be the bigger key to long-term growth.
Financials
The financials are generally improving with operating margins in the last couple of quarters hitting roughly 10%. The gross margins of nearly 70% smash the 42% gross margin from Western Union. For now, Xoom spends nearly 20% on both research and development and marketing and 10% on customer service and operations and general administrative. Conversely, Western Union only spends 20% on all the marketing and administrative type costs combined.
Considering Xoom management forecasts the company already at the targeted gross margin of between 65% and 70%, the key to long-term success will be whittling down these operating costs. The below table highlights the limited progress on the expenses prior to the IPO:
Table - Historical Margins

The company has made decent progress since going public considering the Q313 operating expenses were reduced to 60% of revenues.
Higher Margin Possibilities
The possibilities of high operating margins is where the story for Xoom gets really interesting long-term. With Western Union maintaining operating margins in excess of 20%, Xoom has those margins as an initial target. With Xoom having considerably lower costs of revenues without the agent commissions, the company has the ability to obtain higher operating margins. The absurdly high 55% operating margins from MasterCard appear impossible to reach, but something in the middle of these two firms isn't out of the realm of possibility. Even if Xoom only reduces operating expenses to 40% of revenue, its operating margins would soar to nearly 30%.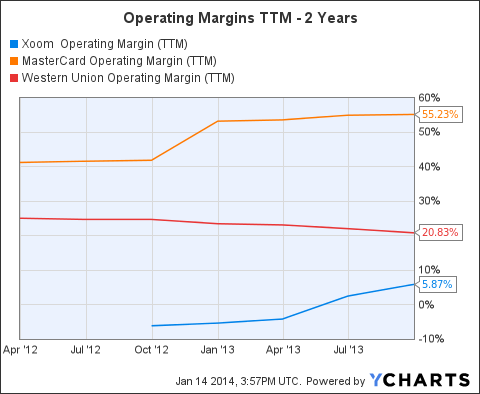 XOOM Operating Margin (TTM) data by YCharts
The possibility of reaching those lofty operating margin levels make the investment thesis in this stock very compelling at a market value of $1 billion. With over $240 million in cash, Xoom actually trades at a lower enterprise value multiple of revenue than MasterCard that has a $100 billion market cap.
With 26% revenue growth in the next two years, Xoom will reach $193 million in annual revenue by the end of 2015. At 20% operating margins, the company would generate roughly $38 million in operating profit. With an enterprise value of less than $800 million, the stock is very attractive at those levels especially considering revenue will continue growing and margins could pick up even further.
Conclusion
The companies that dominate the global money transfer and payment processing business operate with impressive margins worthy of investor attention. New upstarts are working to disrupt those segments with Xoom focusing on modernizing the money transfer business. If the company continues growing revenue in the 20% plus range, the operating expenses will logically drop providing the ability to generate operating margins in excess of 20%. The stock might be slightly pricey until it can prove the higher margin case.
Fellow financial IPO Qiwi that focuses on online payments in Russia has seen its stock soar with growth accelerating and more importantly operating margins reaching 23%, up from 17% in the prior Q3. From a corporate size perspective, Xoom is about one to two years behind Qiwi and could deliver a similar margin expansion with revenue growing from over $100 million to nearly $200 million in the next couple of years. Matching the same success of Qiwi would place the stock on a path to a $2.7 billion market cap in 2015, or a roughly 170% gain.
Though investors in all of these money transfer and payment processing stocks need to keep an eye on whether Bitcoin becomes a disruptive force in the global money transactions arena.
Disclosure: I have no positions in any stocks mentioned, and no plans to initiate any positions within the next 72 hours. I wrote this article myself, and it expresses my own opinions. I am not receiving compensation for it (other than from Seeking Alpha). I have no business relationship with any company whose stock is mentioned in this article.
Additional disclosure: The information contained herein is for informational purposes only. Nothing in this article should be taken as a solicitation to purchase or sell securities. Before buying or selling any stock you should do your own research and reach your own conclusion or consult a financial advisor. Investing includes risks, including loss of principal.