2013 was a spectacular year. Not only was the US stock market up very big, as the S&P 500 gained 29.6% (32.4% with dividends) in its best year since 1997, but many other markets and asset classes also performed very well. Housing continued its recovery, Japan's stock market soared 57%, art auctions set records, and Europe climbed out of a recession which severely threatened markets in 2011 and 2012. However, while there were big winners in 2013, it is the big losers of 2013 that may actually reveal more about the future of the global economy. The poor performance of China, gold, and bonds in 2013 is critical to understanding 2014.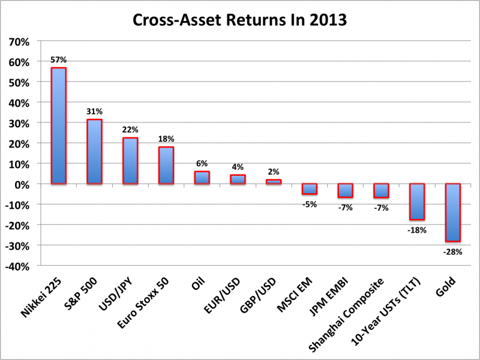 Source: Business Insider
2014 could be positive, could be great, could be volatile, could be boring, or could be terrible - it truly depends on the real status of the global economy, which is still at a confusing and vulnerable juncture. On one hand, the economic recovery in the US has grown stronger and the turnaround looks to be gaining traction; on the other hand, China and emerging markets have slowed tremendously and may jeopardize the entire global economy, which relies heavily on high expectations and strong demand to fuel growth.
Clues from 2013 - The Good
There is plenty to cheer about when we look at our current situation:
Market at all-time highs. Though buying stocks after such a huge rally is dangerous, the market still hasn't shown confirming signs of a reversal. Caution is warranted, but we can't yet rule out new highs.
"Good years often follow great years." According to Sam Stovall, Chief Equity Strategist of S&P Capital IQ, history suggests that 2014 could be a good year. Since 2013 was a "great" year, with the S&P 500 (NYSEARCA:SPY) up nearly 30%, 2014 has a high statistical probability of being positive as well. He points out that after years in which the market was up 20% or more, the market has gained an average of 10% in the following year with a 78% chance of being a positive year. Even though he thinks 2014 will be rocky, probability still points to a decent year.
Economic growth. We've had a few growth scares since the end of the recession in 2009, but US growth has been pretty good this year with Real GDP growth at 4.10% in the third quarter of 2013.

Source: YCharts.com
Housing recovery. Home prices (NYSEARCA:XHB) have continued rising in the past year, with the Case-Shiller 20-City Composite Index rising 13.6% from October 2012 to October 2013. While a number of warning signs exist, such as rising interest rates and 20 straight months of rising prices, the recovery in housing has been essential to our overall economic recovery.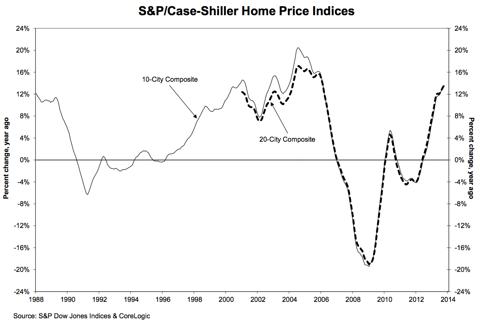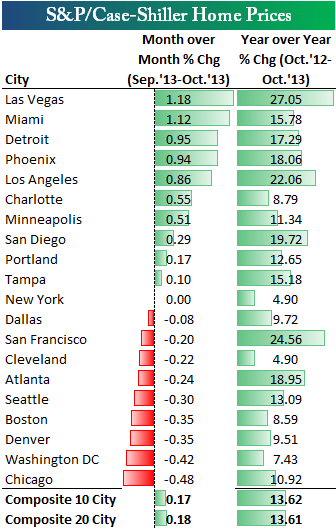 Source: SeekingAlpha, Bespoke Investment Group
Unemployment decreasing. After hitting a massive 10% in October 2009, the Unemployment Rate has been gradually decreasing over the past 4+ years, falling to 6.7% as of December 2013. Though it has been helped by the concurrent fall in the Labor Force Participation Rate (down from 65% to 62.8% over the same period), an improving employment situation is a good sign of recovery and a great boost to the individual consumer.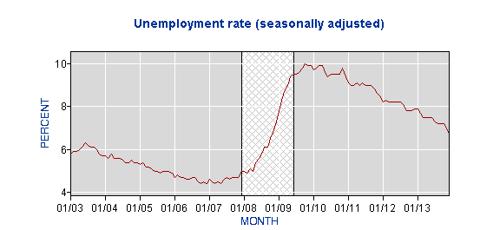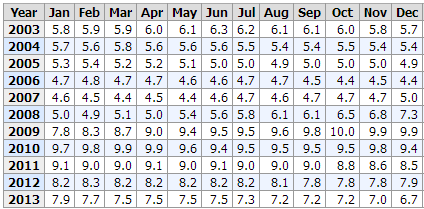 Source: BLS.gov
Confidence rising. According to the recent Conference Board Consumer Confidence Index, the Reuters/University of Michigan Consumer Sentiment Index, and the NFIB Small Business Optimism Index (see: Doug Short, Advisor Perspectives), confidence is on the rise. Though still not at pre-recession levels, the feelings of confidence and optimism among both consumers and investors have grown, and the hope is that this leads to an increase in spending and investing.
Clues from 2013 - The Bad
The stock market has been great and the economic situation appears to be vastly improved in comparison to the recession or even to the growth scares of 2011 and 2012, but many risks still stand out:
US stock market up sharply. The fundamentals have definitely improved and a rally was warranted after the extreme pessimism of the 2007-2009 recession, but the rise in stocks may be too sharp to be sustainable in the long-term. With the S&P 500 up 177% from the 2009 bottom to recent highs, such a large gain in a relatively short time is a bit dangerous. It's not only the extent of the rise, but also the steep angle at which the market has climbed (steeper than the housing bubble period and similar to the tech bubble era). Obviously there could be a lot of room left to the upside, but the market may need some time to digest before continuing its ascent. If the sharp rise is in fact unsustainable, the market will either see a significant correction or will be stuck in a sideways trend until fundamentals catch up to support further price increases. With many analysts and strategists expecting 2014 to be a mediocre but positive year (~5-8% gain), flat performance is fairly realistic. While another fantastic year is possible if all goes well, it is highly unlikely. Bears and doubters have fought this historic rally all the way up, but eventually they could be right if the market doesn't take a breather.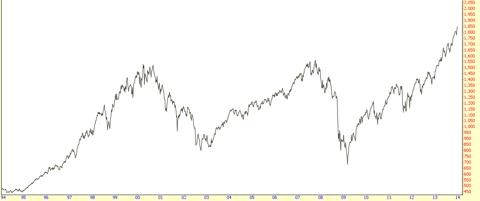 4.5 years without recession. The current expansion cycle could definitely continue for a while before the next recession begins, but history suggests that we're approaching the bull market's final stages. There is no definitive length for an expansion to last, but many believe the business cycle typically lasts 4-5 years between recessions. Historically, in the 33 cycles in the US since 1854, expansions have averaged 38.7 months (3.225 years). Since 1945 however, expansions have averaged 58.4 months (4.867 years). We're now 4.5 years, or 55 months, into the current expansion. It's possible that we continue for some time, but the high-confidence period is now behind us. A recession is naturally due sooner than later.
Signs of speculative excess. The rally since 2009 has shown many signs of overspeculation and "bubble-like" behavior, not necessarily in the market as a whole but definitely in a number of specific companies and sectors. For example: some cities have overheated real estate markets; Twitter (NYSE:TWTR) and Facebook (NASDAQ:FB) represent the huge hype in the technology sector; stories of teens day-trading are making their rounds; Bitcoin is another mania/bubble; art auctions set records; car auctions set records; tallest buildings in the world being built; private equity is beyond overheated; Tesla (NASDAQ:TSLA) and 3D technology (NYSE:DDD), (NASDAQ:SSYS) may be very successful in the long-term, but are enormously hyped right now; and newsletter optimism is at extremes. "Easy Money" policy makes all of this much more likely.
Fed tapering. A large part of the market participants' confidence relies on continued Central Bank and Federal Reserve support. The Fed has been so stimulative and "easy money" for the past decade (especially since the Great Recession), that any threat to continued support by the Fed is bad for stock prices.
Though many still believe the Fed can step in and support markets in case of turbulent times or emergency (the "Bernanke Put"), the Fed is having an increasingly harder time controlling the monster it created. Tapering has already begun, perhaps at the worst time, but inevitable regardless. The Fed has helped the economy recover for at least a few years, and may be given much credit if the recovery is successful. But now the economy must become self-sustaining, as government and central bank stimulus is either gradually or frighteningly rapidly removed.
Less spending, less money printing, less QE = Less money in the system = Deflationary pressures = Stronger US Dollar = Lower gold prices.
CHINA, GOLD, BONDS
The three big losers of 2013 - China, Gold, and Bonds - are extremely important for understanding the global economy in 2014 and beyond. The slowdown in China (NYSEARCA:FXI) and emerging markets (NYSEARCA:EEM) could result in a global slowdown and even trigger a recession. Since expectations were so high for emerging market growth and demand, much of the world economy depends on them. A slowdown in economic growth would lead to falling profits, falling commodity prices, falling inflation, and even a potential deflationary recession.
Gold (NYSEARCA:GLD) and Bonds (NYSEARCA:TLT) have been showing warnings signs since 2011, as both have fallen while the stock market has continued higher. Both gold and bonds are generally correlated to inflation expectations, and yet they both fell in 2013. While stocks soared, gold and bonds may be signaling a dangerous deflationary period which most investors seem to be ignoring. In judging the state of the global economy, it appears that the 3 big losers of 2013 are the best clues.
PREDICTIONS FOR 2014
Stock Market Forecasts:
We expect the stock market will most likely end the year in the +10% to -10% range, but a steep correction is not ruled out.
Bullish Scenario:
S&P 500 - 1980
Dow Jones Industrials - 17800
Bearish Scenario:
S&P 500 - 1650
Dow Jones Industrials - 14800
Stock market rally continues, a lot of volatility probable but not necessary, "boring" and narrow trading ranges possible. A dip or correction is increasingly likely, but investors must make sure the "dip" isn't really a full-blown recession. The psychologically-significant and memorable thresholds of S&P 2000 and Dow 18,000 pose as critical levels of resistance above. It may be hard to break above those levels; it may be hard to stay above those levels; but either way, we can view them as key milestones in this bull market.
If the stock market continues rising, 2014's high could even reach S&P 2150 (16% gain), but it will retrace much of that move before year-end. Within 2014, some form of pullback (decline of 5-9.9%) is almost guaranteed, a correction (decline of 10-19.9%) is increasingly likely, and a bear market/crash (decline of 20%+) is possible [see Sam Stovall: Crash, Correction, Pullback]. The likelihood of a 20%+ correction completed within the year is less likely, but the chances of a 20%+ correction at least beginning sometime within 2014 are high. 2014 could be an enthusiastic continuation of the bull market, a pause before the next stage of the bull market, or even the beginning of a steep correction; the key to predicting the outcome is to pay attention to when the market is overheated and/or approaching strong resistance levels (such as S&P 2000, Dow 18k).
PORTFOLIO STRATEGY for January-March 2014

We got the bounce we were looking for in China and emerging markets in the second half of 2013. Gold had its worst year since 1981, while natural gas was the #1 commodity of the year. Exactly what we thought would happen. However, the natural gas producers are going to benefit even more over the next months and years. While natural gas itself has risen nearly 50% since its lows near $3 at the beginning of 2013, the natural gas companies are yet to catch up. Since it takes a few quarters for the higher natural gas prices to show up in their earnings, we expect some of our favorite natural gas companies to perform very nicely in 2014. We consider natural gas to be the best opportunity around right now, and we're buying a number of these stocks for very cheap.
Our strategy for the first half of 2014 is to see whether the stock market has more room to rise, to be ready to short in case the market falls, and to focus on the major opportunities in natural gas and value stocks.
We see huge potential moves in certain energy stocks. We're also watching a few interesting companies that could be major recovery plays - Alcoa (NYSE:AA), JetBlue (NASDAQ:JBLU), Barnes & Noble (NYSE:BKS), and even Weight Watchers (NYSE:WTW).
On the other hand, we are shorting or will short companies we think are at the end of the road and due for a major correction - Netflix (NASDAQ:NFLX), Cloud computing (CRM, N), Costco (NASDAQ:COST), Starbucks (NASDAQ:SBUX), 3D Printing (DDD), (SSYS), Clothing retailers (Macy's (NYSE:M), Abercrombie (NYSE:ANF), Under Armour (NYSE:UA), and Auto manufacturers (NYSE:F).
WHAT TO WATCH FOR IN 2014
S&P 500 at 2000, Dow at 18,000 - Will stocks make it that high? And if they do, will they be able to break through those levels and stay above them?
Japan 16,000 or Failure - Japan's Nikkei (NYSEARCA:EWJ) - Will it stay above 2013 highs? The 16k level is critical. Back in May 2013, the Nikkei plunged sharply after approaching 16,000. As it now fights to get back over 16k and stay above it, it reveals a lot about the future direction of global markets. If Japan's Nikkei can't hold above 16,000, we may see some trouble.

Stronger US Dollar - Many people expected the dollar (NYSEARCA:UUP) to collapse or continue falling, but it has been fairly strong since mid-2011. We expect it to firm up and continue higher over the next few years, especially if recession fears grow.
Fed Tapering - The Fed has been under intense pressure to practice safer monetary policy than it has over the past few years. The market currently expects a $10B per month taper of the QE program, and further "tightening" or less "loose" policy could be bad for stocks.
Inflation/Deflation - Inflationary predictions have proven to be wrong so far, and deflation is the bigger threat. If deflationary pressures grow, the stock market could drop. The Fed's tapering program is disinflationary.
Technology Stocks - Will the hot technology companies like Twitter, Facebook, Yelp (NYSE:YELP), Netflix , Amazon (NASDAQ:AMZN), and Google (NASDAQ:GOOG) continue their enormous runs? They may have more upside, but the risk far outweighs the small rewards.
Bitcoin - It has many signs of a bubble, from overspeculation to faulty assumptions to parabolic price increases. It may go higher, but for now $1000 is strong resistance.
Is this not extremely parabolic and unsustainable?

Tesla - Elon Musk is a legendary entrepreneur and great businessman, but his companies are way too overhyped at this point. Tesla could be the next Ford (F) if everything goes right, but the stock is beyond ahead of itself and has a lot of room to fall. A drop to $80-90 is definitely possible.
3D Printing (DDD, SSYS) - It may be a revolutionary technology and have a big future, but 3D printing stocks have risen in a parabolic fashion and are due for a big correction. A 50% drop could happen.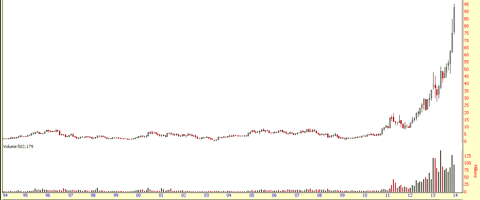 Starbucks - Starbucks is up 1000% since the 2009 bottom, and is a great company, but its luck is about to change. Starbucks stock has soared while coffee prices have plummeted. Now, however, coffee (NYSEARCA:JO) has bottomed at $100 and Starbucks appears to be reversing a sharp uptrend. Starbucks could easily drop 20%.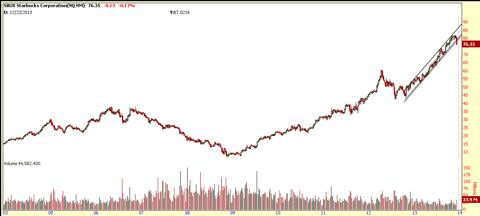 Craft Beer Craze - With Sam Adams (NYSE:SAM) as perhaps the best-known company in the "craft brew" craze, we think the trend in craft beer is about to end. Beer is considered a staple, but "craft beer" is overpriced. Sam Adams stock rose nearly 1400% since the 2009 bottom; it could retrace 40-50% of that move.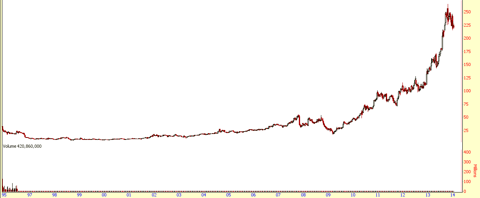 Junk Bonds (JNK, HYG) - The most dangerous asset class to be in if there is a recession, Junk bonds (NYSEARCA:JNK) have been one of the most popular investments since the end of the recession. Keep an eye on these, because they will reveal when a recession is taking hold.
China & Emerging Markets - If China and emerging markets continue their slowdown, the global economy is in big trouble. They did well in the second half of 2013, but the risks remain.
Gold above $1200? - Gold must stay above $1200 if it is to bounce higher. It looks like it is due for an oversold rally, but prices have many barriers overhead. $1500-1600 should be the top of a retracement, with $1800 being the max. Better to stay away.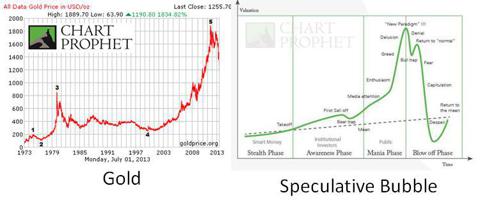 Copper above $3? - Copper must stay above $3 for the economic recovery to continue.
Apple (NASDAQ:AAPL) - Apple will never be #1 again and its best days are behind it. It is an amazing company, but it will never break above the $705 all-time high again.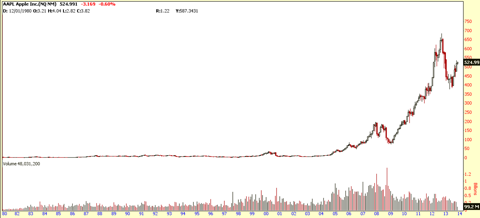 New York City (NYSEARCA:NYC) - Though newly-elected Mayor de Blasio could be good, it is very unlikely he will be able to keep the record-setting streak going. New York has seen record-low crime and murder rates in the past few years, and the numbers have been so low that it is almost impossible to outdo them. Therefore, even though de Blasio could be good, he most likely will not be as successful as Bloomberg. He will be good, average, bad, or terrible, but he will probably not be great. And the crime rate will almost certainly rise.
Detroit Recovery - Most people think Detroit is long gone, but we think Detroit will recover and presents one of the best investment opportunities around. It has a rich history, an existing infrastructure, original professional sports teams, big cities nearby, a growing startup culture, and very low real estate prices. Would you even believe Detroit is the 2nd best performing real estate market since the recession lows? Would you believe New York is in last place?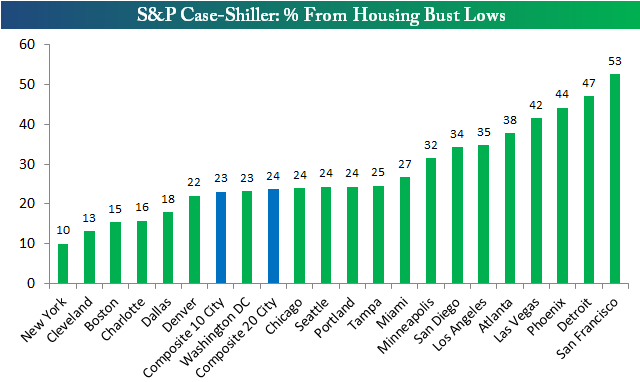 Source: SeekingAlpha, Bespoke Investment Group
Natural Gas: Buy of the Decade - Watch for the natural gas (NYSEARCA:UNG) trend to continue higher, as companies pour billions of dollars into infrastructure and shipping natural gas around the world.
Disclosure: I am long AA, BKS. I wrote this article myself, and it expresses my own opinions. I am not receiving compensation for it. I have no business relationship with any company whose stock is mentioned in this article. I am short COST, DDD, F, NFLX, SAM, SBUX. May initiate positions in any stocks mentioned in article.