Iberiabank (NASDAQ:IBKC), Old National (NYSE:ONB), and BancorpSouth (NYSE:BXS) made investors scads of money in 2014. Unfortunately, those enriched didn't include their shareholders. Instead, the money went to those lucky enough to own the companies these three banks bought. Consider the fortunes made:
- Teche Holding (NYSEMKT:TSH) climbed over 40% on an Iberiabank takeover during the first 2 weeks of 2014.
- Old National is buying United Bancorp (OTCQB:UBMI). The gains so far in 2014: a whopping 65%.
- BancorpSouth made Ouachita Bancshares owners ecstatic on a juicy takeover priced at a lofty 2.2X TBV.
As said, these deals haven't made the acquiring bank shareholders any wealthier. All three acquirers are down to start of the new year as the market recognized the hazard of overpaying for takeovers. In each of the above cases, these acquiring banks are paying enormous premiums for their targets. Iberiabank is laying out 1.7X TBV for Teche. Old National and BancorpSouth each are spending 2.2X TBV for their deals. Granted, the targets are high-quality banks. However, the steep valuations are daunting.
All of which brings me to Newbridge (NASDAQ:NBBC). This North Carolina regional is one smart shopper when it comes to buying banks. This quarter Newbridge expects to complete its acquisition of CapStone Bank (OTCQB:CPSE) for a 1.3X TBV. Moreover, Newbridge just took over Savings Security last quarter at a zero cost (outside of integration and merger expense). As I will outline later, CapStone is a very strong bank that gives Newbridge an entry into the lucrative North Carolina Triangle; the Savings Security purchase opens up Greater Wilmington along Cape Fear. Newbridge is already undervalued at 1.38X TBV and 8.8X EPS, a significant discount to its peer group and an absurd discount to most other acquirers. With these two opportunistic acquisitions in hand, Newbridge offers an asymmetric risk/reward providing 30-45% upside with only a modest downside risk.. For $7 and change, investors get in on a three-banks-for-the-price-of-one sale.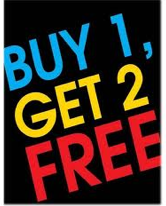 Asymmetric Risk/Reward
- Downside protection: The CapStone acquisition puts a floor underneath the stock at $6.67 (risk of 5% loss), reinforced by the simple fact - Newbridge is immunized by its already basement valuation despite an improving story.
- Upside potential emanating from acquisitions, cost efficiencies, and improving credit: 1.8X TBV, or $9.18 for "conservative" gain equaling 30%; 2.0X TBV, or $10.20, for "optimistic" scenario with gain over 45%.
Catalysts:
- Two game changing acquisitions
- Robust loan growth
- Credit improvement
- Acquisitions
Story
Newbridge is a $200 million market cap North Carolina regional bank with $1.7 billion in assets, created in 2007 through the union of Lexington State Bank and FNB Southeast. The bank accumulated a toxic loan portfolio courtesy of lenient lending standards, neatly removed through a 2011 recapitalization.
Remarkably, Newbridge Bancorp has gone from near-death's-door to an "acquirer of choice". With the help of private equity, the North Carolina bank recapitalized, jettisoned its nonperforming loans and repaid the bulk of its TARP. Within a year of fixing its balance sheet, the bank announced two potentially transformative acquisitions: CapStone Bank and Security Savings. Under the market's very nose, this once sick bank has morphed into a profitable financial with a clean balance sheet and a well-thought-out plan to expand into high-opportunity MSAs.
Geographic Footprint Expansion: Two Game-Changing Acquisitions
Newbridge's 36 branches are concentrated in North Carolina's largest metropolitan areas including Charlotte, Raleigh, the Piedmont Triad and the Greater Wilmington market. Its two announced takeovers expand the bank's Raleigh and Wilmington footprint, strengthening these two key MSAs and adding the North Carolina Triangle MSA.
Newbridge fills in the map with the two acquisitions. You don't need much imagination to see how much valuable territory the bank gains through these purchases.
The Security Savings acquisition, completed in October, adds 6 branches to Greater Wilmington along the Carolina coast.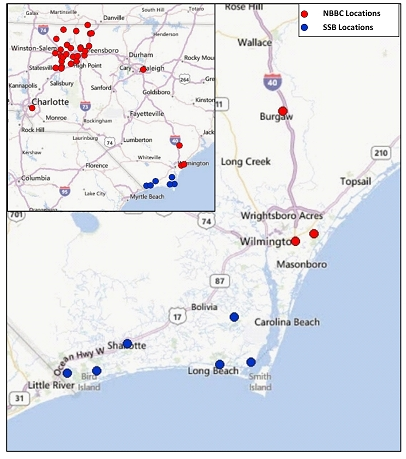 The CapStone acquisition - expected to be completed this quarter - will add 4 branches to Newbridge's sole Raleigh office, building a significant presence in the North Carolina Triangle.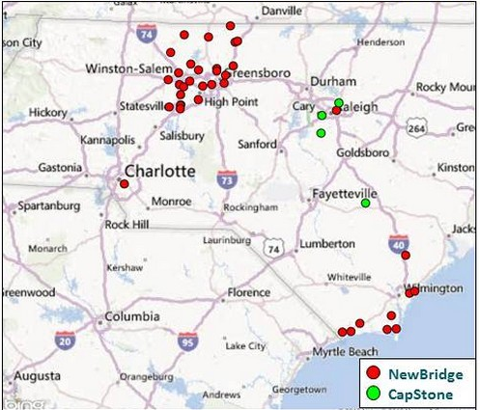 Catalyst #1: CapStone Merger: A Steal
Any way you look at it, the CapStone acquisition is impressive. Not only does Newbridge enter the lucrative North Carolina Triangle, but the bank gains the unusually powerful CapStone franchise. CapStone ran a 51% efficiency (MRQ), astounding for a bank with $376 million in assets. Its assets return 1.09%. Credit quality is very good with net-charge offs 0.23%. CapStone has grown its tangible equity, earnings, loans and deposit base while maintaining outstanding credit quality. Remarkably, Capstone picked up Patriot State Bank's $139 million assets at the end of 2012 for $10.6 million and wound up finishing this year's Q3 with tangible equity of $43.7 million, up almost 50% since the beginning of the year. How many banks can quadruple net income in a year (or double net income stripping out a bargain profit)? As management candidly told me, CapStone (in some ways) is a better bank.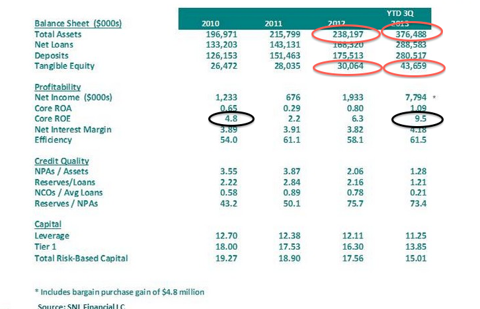 Newbridge won CapStone for a mouth-watering 1.3X, unusually inexpensive for a high quality bank. Compare the CapStone purchase to other acquisitions. Home Federal (NASDAQ:HOME), Ouachita, Taylor Capital (NASDAQ:TAYC), Teche, United and Washington Banking (NASDAQ:WBCO) - all very strong - were taken over at larger premiums. Yet, CapStone had a stronger ROA, NIM, efficiency ratio, and Texas ratio than these acquisitions.

Catalyst #2: Security Savings Bank
Newbridge acquired Security Savings through an unusual North Carolina-assisted transaction involving no premium. Security Savings was a 100-year-old mutual savings bank that had cleaned up much of its problem loans but could not raise capital unless it converted to stock. There is quite a bit of upside. Security has been disgorging its toxic assets, dumping roughly half of its assets in the last 2 years. My guess: Much of the heavy lifting has taken place.
With the acquisition, Newbridge expands its footprint along Cape Fear and Greater Wilmington at minimal cost. Newbridge expects Security Savings to contribute 10% of earnings in 2014.
Catalyst #3: Robust Loan Growth
Newbridge has been investing in high opportunity North Carolina MSAs including Charlotte, the Piedmont Triangle, Raleigh, and Greater Wilmington. The bank recently converted its loan production offices to full-service branches with commercial lending teams in Charlotte and Raleigh. These investments are paying off. Management describes loan growth as "robust" with organic loan growth up 9% and loan interest up 4% YTD.

Catalyst #4: Improving Credit
Last quarter, Newbridge took a provision loan loss of $33,000, a bit of an improvement over year-ago quarter's $29 million charge. This is arguably the biggest turnaround in loan loss provision. It's likely Newbridge will reverse its loan loss provision in 2014.
Notice the dramatic drop-off in nonperforming loans to a low $9 million. Yet, the bank has continued to allow a $25 million loan loss, suggesting that very soon Newbridge will reverse the allowance. The reserve to nonperforming loans stands at a whopping 2.73, towering over that of its peers 0.95. Of 100 banks with $1 to $2 billion in assets, Newbridge is the 17th most conservatively reserved. NPL is an excellent 0.73%. The bank's Texas ratio is a stellar 7. Newbridge is getting mighty close to seeing loan loss provisions boost the bottom line.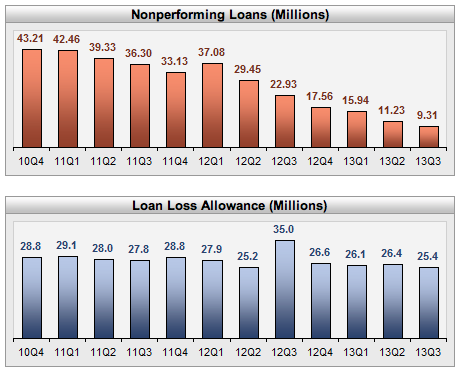 (courtesy of bankregdata.com)
Catalyst #5: Potential Acquisition Candidate
Trading at 1.3X TBV and 9X EPS, Newbridge is priced below its peer group's average 1.8X TBV and 18X EPS. Newbridge would be very attractive from both a valuation and geographic perspective for a would-be acquirer.
Covering Your Risk
With investing, investors should focus on the downside risk before pulling the trigger. In Newbridge's case, the downside is limited due to how Newbridge structured its game-changing CapStone acquisition. Newbridge negotiated a takeover of CapStone Bancorp in an all stock transaction worth at the time $64 million. Because Newbridge's share price has tumbled since the merger announcement, the CapStone acquisition is currently valued at $61 (should the deal be consummated according to Newbridge's current share price.) The lower Newbridge goes, the more stunning the CapStone acquisition. CapStone has the right to walk away should Newbridge reach $6.67. The determination price of $6.67 serves as a floor underneath the stock, giving a potential 5% downside risk. A share price below $6.73 serves as a trampoline as you can see in the chart below.
Of course, CapStone could get another bid or even walk away from the deal should Newbridge tumble below the $6.67 determination share price of the merger agreement. But then, Newbridge would fall below 1.3X TBV and become a very attractive acquisition target in its own.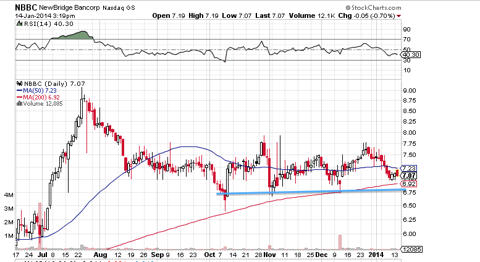 Who Would Be Your Fellow Shareholders?
While Newbridge Bancorp has not gained much of a following in the general market (only 42 Seeking Alpha readers have signed on for alerts), the bank has attracted the backing of deep-pocketed private equity.
PE received shares in return for a capital investment. Endicott Management holds (9.9%), Wellington Capital (9.4%), EJF Capital (5.9%), and Black Rock (2.6%). According to Newbridge's CEO, several of these equity groups were discouraged from taking a larger 24.9% stake in the company to avoid a loss of management independence.
Even more telling, management has been on a buying spree for 4 years purchasing a million dollars worth of stock. Impressively, insider buying exceeds selling by a four-to-one margin. During the last 6 months, management has spent $130,000 buying shares - there have been no sales. Needless to say, both private equity and insiders have spoken in the best possible way - with cold hard cash.
Valuation
NBBC has the lowest P:TBV and PE of its peer group (see NBBC's 10K for complete peer group list). However, its revenue growth has outpaced most of its peers while its ROE of 16 and ROA of 1.3 is the best of its group.
Newbridge should reprice to valuations in-line with its peer group. At its peer average 1.8X to 2.0X TBV, the stock trades to $9.18-$10.20 for a 30% to 45% appreciation.
Risk
- Newbridge is a small-cap bank servicing only one state. As such, the bank is vulnerable to an economic downturn in North Carolina. At this point in time, banking is very competitive in North Carolina. Response: The state's economy is improving. Newbridge is expanding its footprint and is actively seeking acquisitions in South Carolina and Virginia.
- Most banks are experiencing net interest margin compression. Newbridge is no exception. Response: The bank forecasts "robust" loan growth in 2014. With the Federal Reserve's bond buying taper, net interest margins may start increasing.
Bottom Line
Newbridge offers investors a compelling risk/reward with 30% to 45% upside and limited downside.
It pays to purchase the smartest shopper. BUY.
Disclosure: I am long NBBC. I wrote this article myself, and it expresses my own opinions. I am not receiving compensation for it (other than from Seeking Alpha). I have no business relationship with any company whose stock is mentioned in this article.
Additional disclosure: The opinions in this document are for informational and educational purposes only and should not be construed as a recommendation to buy or sell the stocks mentioned. Past performance of the companies discussed may not continue and the companies may not achieve the earnings growth as predicted. The information in this document is believed to be accurate, but under no circumstances should a person act upon the information contained within. We do not recommend that anyone act upon any investment information without first consulting an investment advisor as to the suitability of such investments for his specific situation.