Indian automaker Tata Motors (NYSE:TTM) has been growing faster than both Ford (NYSE:F) and GM (NYSE:GM) but still trades at a discount compared to both of them with a P/E of only 10.
Here is Tata Motors' annual growth (for years ending March 31). Where numbers were not available in USD, I used the average currency conversion rate for the period to estimate the numbers in dollars.
The falling Indian Rupee makes the estimated 2014 growth look slightly muted in USD compared to the Rupee.
Tata Motors also was quick to turn around Jaguar Land Rover after the acquisition. We can see that the post acquisition loss in 2009 was short lived and quickly turned to growing profits.
In both the above graphs, the 2014 estimates have been calculated by extrapolating quarterly revenues and net income from the previous five quarters.
After, the acquisition Tata Motors completely transformed Jaguar Land Rover (JLR), a company that was mired in unattractive and aging models and new designs that never saw the light of day.
2013 was a record year for JLR selling 425,000 vehicles worldwide thanks to models like the Range Rover Evoque. Tata Motors also plans to enter the market with a Jaguar Crossover in 2016. I expect this to be as much of a hit for Jaguar as the Cayenne was for Porsche.
However, all is not rosy for Tata. It's own brand vehicles are struggling showing big YoY declines for a few months now. For the full year of 2013, Tata brand sales fell to 435,095 from 613,750 in 2012 including passenger vehicles and commercial vehicles.
The falling Tata brand sales however, have been more than offset by improvements at JLR. 2014 and beyond look even more promising for Tata Motors thanks to the continued growth at Jaguar and Land Rover and the introduction of new JLR models like the F-Type coupe and the Jaguar crossover. Also, Tata plans to introduce two new Tata models in 2014 and a new Nano diesel. The Tata Nano is the cheapest production car in the world.
Based on my estimates from extrapolating the EPS from the last five quarters, Tata has a forward P/E of about 8. Yahoo! Finance has an estimate of 7.35. In comparison, it has a forward P/E of 8.5 for GM and 10.8 for Ford. Tata also has a higher Net Margin of 4.7%, which I expect to rise to 5.5% for the year ending March 31. As JLR continues to become a larger proportion of Tata income, these will continue to rise. Ford and GM have net margins of 3.9% and 3.5% respectively.
The chart below shows Tata Motors stock performance over the last 5 years compared to Ford, GM and the Indian BSE 30 Index.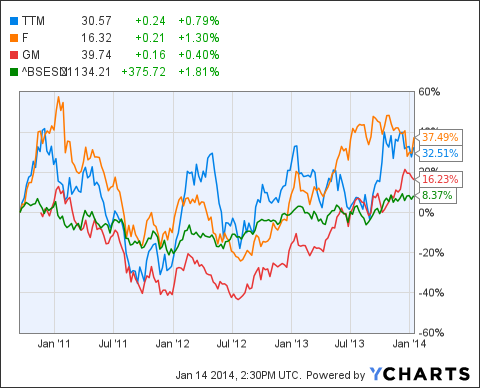 This shows that, while Tata has handily beat the Indian index, its valuation has not caught up with its growth compared to its peers. If Tata Motors were to catch up in valuation with GM or Ford the stock would be currently trading between 35 and 45, representing a significant upside for the stock.
Conclusion
Tata Motors is undervalued compared to its larger peers. The falling Indian Rupee, which Tata does hedge against, and falling Tata brand sales are risks that are more than offset by growing Jaguar Land Rover sales. Also, JLR represents higher margin luxury vehicles compared to the Tata brand.
This makes Tata one of my favorite picks in the automotive industry along with Tesla (NASDAQ:TSLA).
Disclosure: I am long TTM, TSLA. I wrote this article myself, and it expresses my own opinions. I am not receiving compensation for it (other than from Seeking Alpha). I have no business relationship with any company whose stock is mentioned in this article.