BlackBerry (BBRY) is a very difficult stock to figure out. Is it doomed or is it a secret bargain?
In my first article on BlackBerry, when the shares were trading around the $6.50 level I thought that BlackBerry's shares would continue to trade downwards, below BlackBerry's net cash value.
However, after John Chen took over, I felt the shares deserved a rerating. In my article: Blackberry's death has been greatly exaggerated, I noted that BlackBerry's Altman Z score was surprising high, indicating that BlackBerry had a good chance of surviving. I also considered how much BBM might be worth by comparing it to other messaging services (Snapchat, WhatsApp, etc.). I suggested that BlackBerry, long term, might be worth as much as $20 a share, though I suggested that investors should take profits if the stock price hit $8.
Well, since then there have been a number of developments. Its stock price has rallied from the $6 mark in early December to above the $8 level now.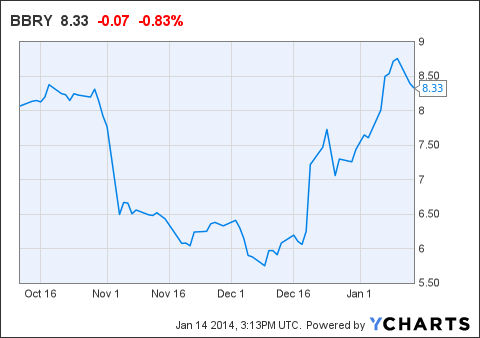 BlackBerry has reported a huge writedown, nearly as large as the entire market cap of the company. It has taken fresh investment from Fairfax Financial Holdings: another $250 million in debentures, and it has announced that in the future in will return to focusing on physical keyboard equipped smartphones.
However, in my mind, the most important and startling development has been the collapse in the short interest.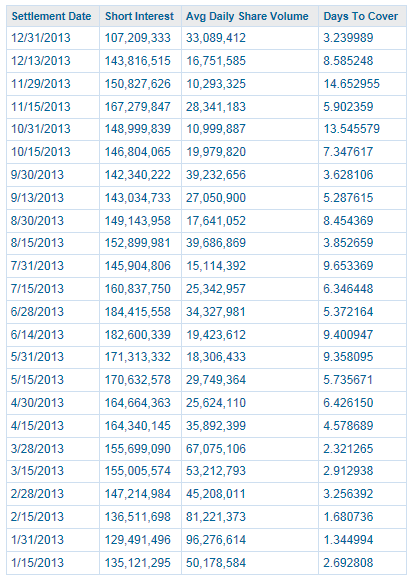 Source: NASDAQ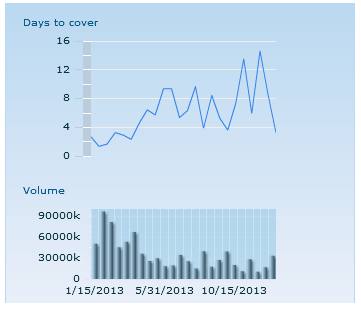 The short interest is down to levels last seen before 2013.
For me this is the equivalent of a siren going off and shouting: "get out of the stock now!"
Why do I say this? Isn't high short interest a negative indicator for the stock? Certainly in the long run, short interest and the stock price are negatively correlated.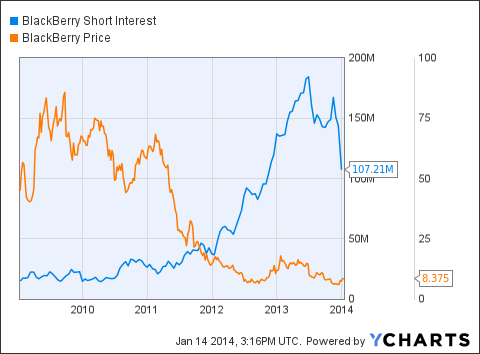 BBRY Short Interest data by YCharts
But in the short run, short interest provides the fuel for short squeezes. The recent move up in BlackBerry's stock has undoubtedly been the result of a short squeeze. The recent liquidation of so much of the short interest will provide ample opportunity for new shorts to come in and establish a position.
Financials and long-term valuation
I'm going to take the opportunity to reconsider BlackBerry's long term valuation. George Kesarios wrote in a recent article that his long term valuation for BlackBerry is 2.5 X sales. He based that on the fact that Apple (NASDAQ:AAPL) trades for 2.8 X sales. This seems a bit aggressive, given than Apple enjoys the highest gross margins of all phone makers. However the real problem is that BlackBerry's revenue is a bit of a moving target, to put it mildly.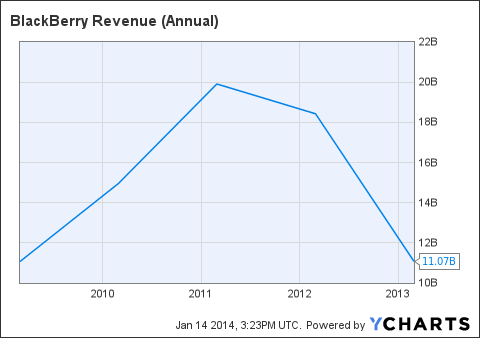 BBRY Revenue (Annual) data by YCharts
This chart only shows last year's annual revenue, for this year and next year, you can assume that the blue line will keep to a south easterly heading.
I am actually going to value BlackBerry on a multiple of sales, however I'm going to use a different multiple and I'm only going to use BlackBerry's service revenues, only - I'm discounting revenue from BlackBerry's device sales entirely.
Until quite recently, BlackBerry shareholders could hope that BlackBerry's enterprise business could be divorced from the device business. From March of 2012 to March of 2013, BlackBerry's smartphones sales basically collapsed, falling by over half from nearly $14 billion to $6.6 billion.

Yet BlackBerry's service and software revenue barely declined. Unfortunately this trend hasn't continued. Service and software revenue is now declining as well, from roughly $1.05 billion per quarter to $700 million.

I don't see any reason why this trend won't continue, at least in the short term. Eventually, when Blackberry is down to its core of physical keyboard wielding smartphone users and government clients, the bleeding should come to an end.
What multiple is appropriate to apply to BlackBerry's service and software revenue, then?
First of all, I think that IBM (NYSE:IBM) is good guide to how to value BlackBerry's enterprise division. IBM trades at 2 X revenue, obviously it wouldn't make sense to give Blackberry's enterprise unit that multiple because IBM is still slowly growing its top line, whereas BlackBerry's is plummeting. I think instead a .5 multiple is fair, which gives a value of $1.5 billion to BlackBerry's service and software division. As I said before, I don't attribute any value to the device business, so the only remaining value is BlackBerry's net cash, its real estate and patent portfolio, and BlackBerry Messenger.
My view of BlackBerry's cash position is unchanged from my previous articles: I think all 's cash will be spent to fulfil its handset orders with contract manufacturers. The real estate and patent portfolio are hard to get a handle on, but I've assumed $1.5 billion.
That leaves BlackBerry Messenger to value. Previously I was optimistic about BBM, comparing it to Snapchat's valuation of $3 billion. However, I've had second thoughts about whether BlackBerry can successfully monetize it, so I think it would be safer to discount it entirely at this point.
In total then, BlackBerry is worth $3 billion, or $5.8 per share.
Disclosure: I have no positions in any stocks mentioned, and no plans to initiate any positions within the next 72 hours. I wrote this article myself, and it expresses my own opinions. I am not receiving compensation for it (other than from Seeking Alpha). I have no business relationship with any company whose stock is mentioned in this article.