Jinko Solar (JKS) has been amongst the best performing solar stocks in the last couple of years, as the company leverages its extremely low processing costs to improve margins and increase shipments. Jinko Solar has emerged stronger from the vicious solar downturn, even as its bigger compatriots Suntech (NYSE:STP) and LDK Solar (NYSE:LDK) are on the verge of closure. Suntech which used to be the largest module supplier in 2009, has collapsed under its large debt burden. It has seen numerous top management changes in the last one year, as the company has repeatedly defaulted on its bonds. The bankruptcy court has sold off its manufacturing assets to Shungfeng and I don't think it will remain listed on the US stock exchanges. LDK Solar too has been facing bond defaults and an asset sale followed by closure seems the most viable option. Jinko Solar along with Trina Solar (NYSE:TSL) have emerged as the strongest panel companies, due to their low debt and costs. Both the companies are now following similar strategies of increasing their capacities without spending too much. The solar glut in the last couple of years resulted in small Chinese companies buying billions of dollars of solar equipment. Most of it is gathering rust, as these companies are unable to compete uneconomically. Jinko is taking advantage of the situation by buying these assets for very cheap prices, as demand exceeds capacity. I remain positive on Jinko Solar and would look to buy it on dips.
Jinko Solar has got the lowest Solar Processing costs in the Industry
Jinko Solar has one of the best margins in the industry, due to its industry leading processing costs. The company has been a consistent low cost panel supplier and is now increasing its lead amongst the other Chinese companies. While the US Solar companies such as SunPower (NASDAQ:SPWR) and First Solar (NASDAQ:FSLR) have seen their valuations increase due to the strength of their downstream solar installation and development business, Jinko Solar's stock price has multiplied based mostly on the strength of its solar panel business. Jinko Solar was the first Chinese company to start showing profits and it has one of the best margins in the industry.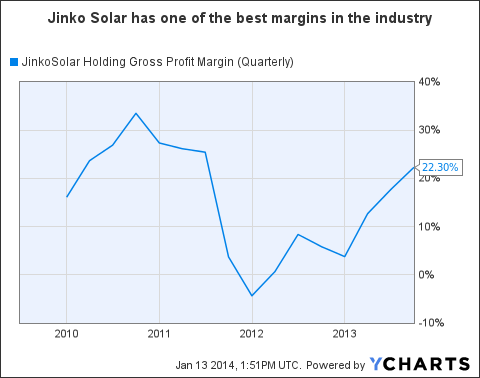 JKS Gross Profit Margin (Quarterly) data by YCharts
How Jinko Solar is taking advantage of the Solar Glut
The Chinese government is cracking down on solar industry overcapacity by removing financial and other support for the smaller solar companies. The ministry recently released a list of 109 companies that would be eligible for government tenders and incentives, leaving around 400 smaller companies in the lurch. The smaller Chinese players are in heavy distress with most having downed their shutters in the last couple of years. Many companies without any competencies in solar energy entered the industry and are now finding it hard to exit. There are few buyers given that the industry has been showing negative net margins. With demand starting to increase again, Jinko Solar is taking advantage of the distress. It has signed an agreement to buy Topoint group's 500 MW of solar wafer and cell capacity. The agreement indicates a leasing agreement followed by outright purchase. This will help reduce JKS's capex and increase its capacity to over 2 GW. Trina Solar, Yingli (NYSE:YGE) as well as ReneSola (NYSE:SOL) are also using this strategy of leasing/outsourcing production to Tier 2 and Tier 3 companies as they look to conserve cash.
Jinko Solar Future Growth Catalysts
The Chinese government has set an ambitious target to build 35 GW of solar power by 2015. It is expected that China will install around 8-10 GW this year and 10-12 GW in 2014. The Chinese solar panel companies are taking advantage of this situation by becoming very aggressive in the solar farm development and installation business. Trina Solar is targeting 150-200 MW of solar farm development per quarter and Jinko Solar also connected ~210 MW of solar farms recently. Both the revenues and margins are higher in the solar farm development business. The US companies such as Sunpower and First Solar are almost totally absent in China. Note First Solar signed an agreement to build a 2 GW farm in Ordos in 2009, but the project is still gathering dust. First Solar had a huge cost advantage at that point of time but the company was not able to build the farm. The company appointed a Chinese head of operations last year, but still has not gained any traction yet. Sunpower is also absent in the Chinese market which has some of the most competitive costs in the world. The Chinese solar farm business will continue to grow in the foreseeable future, given the country's massive energy demand and pollution issues.
Jinko Solar has got a billion dollar credit line from CDB which would help the company in the capital intensive solar development business. The low interest rate loans from CDB can help finance the farms which have a debt component as high as 80-90%.
Philip to answer your question I think by the end of this year the total 213 megawatts total I think of 10 projects will be connected with the grid by the end of this year. So these projects will be fully run electricity by whole year 2014. During 2014, our plan is to add another 300 megawatts to 400 megawatts it's upon our financial situation. So basically from now on we believe I think we are going planning to hold the project rather than to sell the project, because most - all the projects as we developed, so as we - and I think on the roadshow we also say that existing right now current 230 megawatts without leverage our average IRR is about 12%. So to be in the future yes, we will consider the window and the cash flow window and the possible to spin-off either in U.S. market or Hong Kong market it depends on the regulations and also capital market. But in the worst to maximize Jinko's shareholders the value profit I think we will consider the timing and also the valuation in our go to the market.

Source - Jinko Solar 3Q13 CC
Jinko Solar Risks
Grid issues in China - One of the biggest hurdles that wind farm business in China has faced in recent times is the issue of grid connectivity. There have been cases where hundreds of wind turbines have been erected but have not been able to supply power because of the lack of transmission capacity. As solar power increases in scale, the same issues will be faced and could lead to a slowdown. There are also issues in payments made to solar plant developers as the subsidy policy is not clearly laid down.
Competition - While the Chinese solar industry has seen reduced competition in recent times, there are still many strong players left. Goldpoly, Hareon Solar etc. have become extremely aggressive in the solar farm business. Shungfeng Photovoltaic plans to build an astounding 3 GW of solar farms each year in China. This would rival the cumulative total capacity put up by the biggest solar developer - First Solar.
Stock Price and Valuation
Jinko Solar has continued its strong performance in 2012 into 2013 as well. The company has seen its stock price touching new all time highs, as the management continues to execute well and the industry benefits from secular tailwinds. JKS is trading with a P/S of 0.8x and a P/B of 3.2x. The forward P/E ratio is ~18x which means that the company is not ultra cheap as it was 6 months ago, when I had recommend investors to buy the stock. However, the stock is not overvalued and I would look to buy dips, as the solar industry exceeds the 50 GW mark in 2015.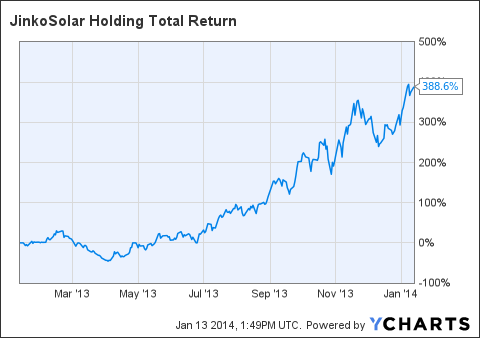 JKS Total Return Price data by YCharts
Summary
Jinko Solar has been one of my favorite picks in the Chinese solar industry space along with ReneSola (SOL) and Yingli Green Energy. The company has done much better than ReneSola and Yingli. Trina Solar has also become one of my favorite picks after the management has executed quite well in the last couple of quarters. The wheat is being separated from the chaff in the Chinese solar industry. The strongest companies are showing improved margins and strong topline growth, while the weakest are facing bankruptcy. Solar industry is going to show strong double digit growth both in 2014 and 2015. Jinko Solar being one of the most efficient solar panel producers is set to reap the benefits of the consolidation in the industry. I had recommended the stock at ~$8 with a PT of $24. The current stock price has far exceeded that stock price based on vastly improved fundamentals. I would look to buy JKS on dips, as the stock price has risen extremely fast in the last one year.
Disclosure: I have no positions in any stocks mentioned, and no plans to initiate any positions within the next 72 hours. I wrote this article myself, and it expresses my own opinions. I am not receiving compensation for it (other than from Seeking Alpha). I have no business relationship with any company whose stock is mentioned in this article.