Previously, I've covered two Nordic telecoms companies that offered attractive dividend yields for income investors, namely TeliaSonera (OTCPK:TLSNY) and Telenor (OTCPK:TELNY). Another alternative is TDC A/S (OTCPK:TDCAF), an under-covered Danish telecommunications company offering a very high dividend yield of 7.4%. TDC has a market capitalization of about $7.6 billion, and is traded in the U.S. in the over-the-counter market [OTC]. However, due to very small liquidity in the OTC market, investors that can buy directly in the Danish stock exchange should avoid the pink sheets.
Company Overview
TDC A/S is a Danish telecommunications company dating back to 1879, being the incumbent telecoms operator in the country. As of today, TDC is the largest telephone company in Denmark with approximately 9 million customers. Even though the Danish market is the company's primary focus of business, TDC is also represented in Norway, Sweden, and Finland through the business unit TDC Nordic. Therefore, its major competitors are other Nordic telecoms operators such as Telenor, TeliaSonera or Tele2 (OTCPK:TLTZY). TDC's businesses divisions consist of Consumer, Business, Nordic, Operations & Wholesale and YouSee. YouSee is Denmark's leading cable TV operator with a fully digitized network covering the majority of Danish households. Through YouSee, TDC offers quad-play (fixed and mobile telephony, broadband and TV) solutions via its cable TV network. Its major shareholder is NTC, which is owned by a consortium of private equity owners.
TDC is leading telecom in Denmark offering a full range of telecommunications services, including fixed line, mobile, internet and cable TV. TDC's market-leading positions secure the necessary scale to keep unit costs down, while providing the scale to fund significant investments in networks and new products. The company has defended its market position well in recent years, using a multi-brand strategy with brands such as TDC, Fullrate, Telmore, M1 and YouSee. TDC's ownership of YouSee is a large competitive advantage compared to many other sector peers that have had to divest their domestic cable TV subsidiaries for regulatory reasons. This business segment has reported very strong revenue growth over the past few years, helping to offset weakness in other businesses such as landline which is losing customers and reporting declining revenues.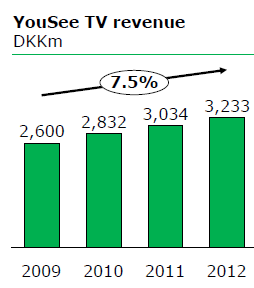 A downside risk for TDC is intense competition in the Danish mobile market, given that the mobile penetration rate is about 135% and there are four operators in the market. Therefore, aggressive price offers can lead to subsequent margin erosion for all operators including TDC, which is the leader with a market share above of almost 60%. TDC has relatively limited geographic diversification with a large dependence on the Danish telecoms market. TDC generates more than 80% of its revenues in its domestic market. This means that the company is very exposed to general development of the Danish economy, as this as an impact on the business and residential spending on telecoms services. According to the European Commission, the Danish economy is expected to grow by 1.7% in 2014 and 1.8% in 2015, which is relatively good in Europe. The unemployment rate is slightly above 7%, which is below the European average that stands above 12%. Its debt levels are very low given that its public debt-to-GDP ratio is only 44%. Furthermore, TDC is a relatively low-cyclical company that should have a lower than average sensitivity to the overall development of the Danish economy, so its business profile should be relatively stable throughout the economic cycle. Outside Denmark, TDC mainly provides telecoms services for businesses in the Nordic region though its pan-Nordic network. Mobile services are offered as a mobile virtual network operator [MVNO] through agreements with the local mobile network operators.
Financial Performance & Dividends
The Danish telecoms market is very competitive and substantial price discounting and expansion of flat rate products in the landline, mobile and broadband markets have had negative effects on TDC's revenues and margins over the past few years. In 2012, TDC faced strong competition combined with a subdued economic climate in Nordic countries, resulted in a revenue decline of 0.7% to $4.8 billion. Its EBITDA decreased slightly to $1.9 billion, but its profitability remained elevated with an EBITDA margin close to 40%. TDC was able to achieve a stable EBITDA margin due to savings on operating expenses which offset declining revenues.
During the first nine months of 2013, TDC's financial performance was negatively affected by regulatory effects. The mobile termination rates [MTR] were reduced by 68% compared to the same period of 2012, leading to a revenue decline of 5.7% year-on-year [yoy]. Approximately 50% of the revenue decline was justified by MTR cuts. The company's revenues were also affected by increasing competition across its markets. On the other hand, its TV business continues to show good operating trends with revenues growth of 6.2% yoy. TDC continues to improve its operational efficiency leading to an EBITDA decline of only 1.9% during this period, achieved through cost savings of $80 million or 7% of operating expenses. Its EBITDA margin improved to 41.2% compared to 39.6% in the same period of 2012, which is impressive given the operating headwinds TDC is facing. For 2014, TDC expects that revenue loss from regulation will decrease substantially which should lead to a more stable top-line performance.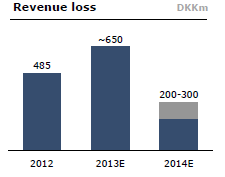 TDC's 2013-2015 strategy was presented in November 2012, which is built around a new focus on integrated household solutions with TDC and YouSee as the leading brands. The company will implement network investments of about $2 billion during the three years, increasing capacity and speed which should facilitate the sale of new products and services. By 2015, TDC aims to cover 99% of the Danish population with 4G technology, which should support data revenue growth as smartphone penetration is expected to increase over the next few years. It also aims to increase customer service which should lead to lower churn rates, which was already visible over the past few quarters.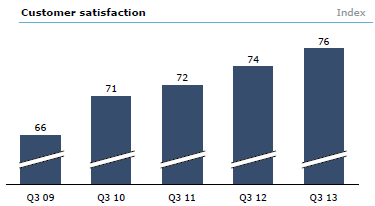 Regarding dividends, for the financial year 2012 its dividend was $0.84 per share, which should decline to $0.68 in 2013. At its current share price, TDC's dividend yield is 7.4%.TDC's policy is to pay a dividend around 90% of 'equity free cash flow' to shareholders. This payout ratio is very high but given the company's strong free cash flow generation it should deliver a high dividend over the next few years. During the first nine months of 2013, its equity free cash flow increased by 18% to almost $500 million supporting its dividend guidance of $0.68 per share, of which an interim dividend of $0.27 was paid on August, 2013.
TDC's financial policy is to maintain stable investment rate credit ratings, targeting a leverage ratio (net debt-to-EBITDA) of 2.1x. As of 30 September, 2013, its net debt was about $3.8 billion, leading to a leverage ratio of 2.2x which is very close to the company's target. Therefore, as TDC does not need to deleverage, its free cash flow generated should continue to be distributed to shareholders over the next few years, supporting its current high-dividend yield.
Conclusion
TDC offers a high-dividend yield which is seems to be sustainable despite the company's negative factors. TDC is heavily exposed to its domestic market, which is mature and faces intense competition putting downward pressure on its revenues and profitability. Nevertheless, the company's strategy is to face these challenges and is already showing encouraging signs, taking into account the results of the past few months.
Compared to its Nordic peers Telenor and TeliaSonera, its business risk is somewhat higher due to TDC's more limited geographic diversification and dependence on the Danish telecoms market. However, TDC has a more limited exposure to volatile emerging markets and has also the support of a strong domestic economy. Thus, TDC should maintain a relatively stable business over the long term and its high-dividend yield is a good opportunity for diversification within Nordic telecoms operators.
Disclosure: I am long TELNY. I wrote this article myself, and it expresses my own opinions. I am not receiving compensation for it (other than from Seeking Alpha). I have no business relationship with any company whose stock is mentioned in this article.