The world's energy demand is going to rise through economic growth. But what is going to drive the world's energy supply? Discoveries around the globe will certainly affect it. They will also increase the demand and supply for liquefied natural gas. So the investment case for LNG is strong, as we will show in this article. Investments in the sector can be achieved by purchasing shares in companies that own and operate LNG carriers.
In this article, I would like to argue the bullish investment case for GasLog (NYSE:GLOG). My valuation indicates that GasLog has a minimum 20% upside offering, with a limited downside risk.
GasLog's operations are showing strong results with ample organic growth opportunities. The company grew its fleet 50% since the time of its IPO. The company is thriving over carriers acquired in 2013, and shares for the company will definitely respond to two future deliveries next year, raising expectations for higher share prices. Moreover, I believe that GasLog will show further improvements when it takes control of six additional carriers in the second half of 2016.
LNG market outlook.
I see the demand for LNG carriers growing. It will be driven by progress on new LNG projects. Douglas-Westwood's World LNG Market Forecast predicts that global Capex on LNG facilities will total nearly $228bn for the 2013-2017 periods, an increase of 109% over the preceding five years. As one can see in the table below, LNG trade will show growth in the next few years.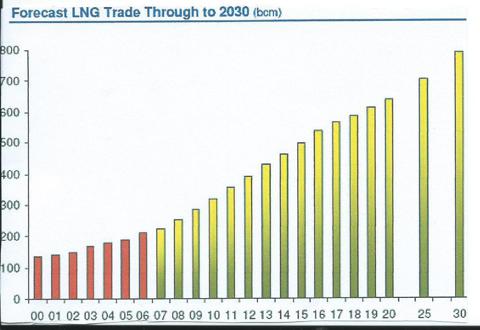 Source: LNG to 2030: A Detailed Review of Future Volumes and Trends, Ocean Shipping Consultants Ltd., UK, August 2008
However, the supply side of the LNG carrier industry is constrained. It takes two to three years to build an LNG carrier. Besides, only few yards can accommodate the construction of these high-quality vehicles. Due to emerging trends in the industry, oil companies and gas majors may leave the LNG shipping business to concentrate on their core areas of operations. Adding to that, the LNG shipping business is a capital intensive one. So there are significant barriers to entry to the industry. These developments may leave the supply side rather inelastic. According to industry analysts, 175 new LNG tankers need to be built by 2017 to meet the rising demand from China and Japan. Applying economics 1-0-1, we therefore expect problems resulting from a rising demand combined with an inelastic supply. This will create growth potentials for GasLog. Additionally, dividends growing at more than 5% have increased the pace of peers Teekay LNG Partners (NYSE:TGP) and Golar LNG (NASDAQ:GLNG) in the past one year. The combination of these factors makes GasLog a highly compelling play.
The business
GasLog's fleet consists of 15 wholly-owned LNG carriers, including two ships delivered in 2010, five ships delivered in 2013, and eight LNG carriers on order. In addition, the company has 12 carriers operating under its technical management for Samsung. GasLog's vessels under construction are within budget with one vessel to be delivered shortly. Two of them will commerce a 7-year charter to a subsidiary of BG Group PLC. The six on-the-water ships in the company's fleet performed without any off-hire during the third quarter, thereby achieving full utilization. The company's growing business enabled it to have a strong third quarter.
The 2013 carrier deliveries
GasLog's strategy is to expand its customer base for significant gains for shareholders. By September, it acquired four carriers. They are the GasLog Shanghai, the GasLog Santiago, the GasLog Sydney, and the GasLog Skagen on Jan 28, 2013, March 25, 2013, May 30, 2013, and July 25, 2013, respectively. GasLog's earnings and share price did well as a result of the acquisitions. GasLog's profit for the third quarter was $9.2 million, compared with $2.9 million for the same period a year ago.
GasLog increased its fleet in October by purchasing STX Frontier. The company renamed the carrier GasLog Chelsea. GasLog signed an agreement with Citibank International PLC for a term loan facility of $100 million to partially finance the acquisition of GasLog Chelsea. Shareholders continued to support the company, and the share price rose. The perception was that GasLog's build-outs and acquisitions grew its business. In the past year, operations have gone very well. The current supply and demand dynamics of the LNG industry are positive for shipping. Given this solid footing for the company, one can only guess where GasLog will be positioned in the near future.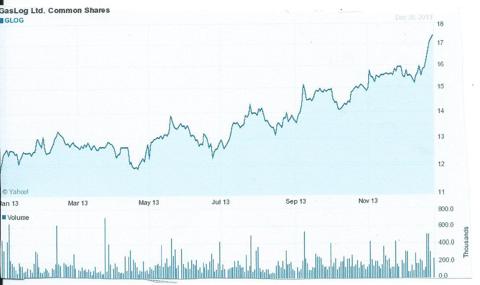 Investment analysis
Consider the chart above. In the past year, the stock has been on the rise. If investors had acted fast, they would have locked in 55% gains over the course of the past twelve months. The stock rose in late January when the announcement of the purchase of GasLog Shangai was made. The stock rose slightly in late March with the acquisition of GasLog Santiago. There were sharp spikes in May and July when the company acquired GasLog Sydney and GasLog Skagen. There was another spike when GasLog Chelsea was added to the company's fleet. GasLog's purchase of a carrier helps the stock to move up by roughly ten percent. Expect to see investors increase the company's share price by 20% with GasLog's acquisition of two new carriers in 2014.
However, with no new announcements about a carrier purchase, it is no surprise the shares are under pressure. But I suspect the decline would not persist for an extended period. I will be looking for a decline to $15.50. However, given the magnitude of previous corrections, $15.00 is within reach. Traders can initiate long positions then. Aggressive traders can initiate a short position today.
GasLog Ltd.
-NYSE Follow
17.41 Dec 26, 4:01PM EST
| | |
| --- | --- |
| Balance Sheet | Get Balance Sheet for: |

Period Ending

Dec 31, 2012

Dec 31, 2011

Dec 31, 2010

 

Assets

Current Assets

 

Cash And Cash Equivalents

110,978

20,093

23,270

 
 
 
 
 

 
 
As you can see from this quarterly report from Yahoo Finance, the cash flow and cash equivalents for the company have also been on the rise. You will notice that the company's cash flow in December 31, 2010 was far less than in December 31, 2012. If my analysis of the LNG carrier market is correct, and if GasLog continues to acquire new carriers, then the share price should respond accordingly. I believe that GasLog's cash flow will continue to increase substantially with the new carriers in 2014. The company also has a huge amount of inbuilt business through to 2016. It has contracted revenue of $2.2 billion going forward. These moves point out to me it is a good time to invest in this company, as its revenue should be substantially higher over the next few years.
Peers
GasLog's long-term anchor is its gross margin. The company boosts one of the most consistently aggressive gross margins among its peers. At a gross margin of 80%, GasLog is performing better than 64% for Golar LNG and 75% for Teekay LNG. At an operating margin of 40.41%, GasLog performs better than 25.32% for Golar LNG. However, what makes GasLog's dividend so compelling is the company's future capacity. GasLog's cash reserve means it will not rely too much on its operating cash flows to finance its growth, leaving a lot of cash for dividends. Expect dividends to continue their growth.
Balance sheet, liquidity, and valuation
At a share price of $17.36 at the time of writing, GasLog's market capitalization computes to $1.07 billion. GasLog recorded earnings of $9.2 million in the third quarter. It was mainly driven by the delivery of the new carriers. The company's revenue at the end of the quarter was $43.2 million, compared with $16.9 million same quarter the year prior. As of September 30, 2013, the company had an aggregate of $924.65 million of indebtedness outstanding, of which $96.75 million is repayable within one year.
All in all, the company's finances seem to be in a healthy state, with a liquidity to perform corporate activities. GasLog's cash flow from operations amounted to $111.0 and $211.75 million respectively for the first and second quarters. As of September 30, 2013, GasLog had cash and cash equivalents of $236.41 million of which $180.11 was held in time deposits. When the new ships are delivered in 2016, GasLog will have even more significant cash flow. Looking forward, we conservatively estimate an average quarterly cash flow from operations of $220 million, $880 million annualized. Based on the growth potential of the LNG carrier business and two new carriers to be acquired next year, I believe that a 20% to 30% annual cash flow increase is appropriate. This would lead to a range of $1.05 billion to $1.14 billion.
Upside
I expect the growth trend in the LNG carrier sector to improve the share price of GasLog in 2014. I also believe that a 20% upside is possible based on the current trend. Two new carriers should increase the share price by 20%.
Downside
Hire rates for LNG carriers may fluctuate substantially. If rates are lower when GasLog is seeking a charter, its revenue and cash flow may decline. Despite this, the stock's share price has risen over the past months. With continued strength of shipping rates, I do not see a probability for the share price to move below its 52-week low of $11.50. An oversupply of ships may also lead to a reduction in the charter hire rates. However, any share price weakness would be corrected by investors' reaction to the delivery of new carriers. Again, I expect the trend that occurred in 2013 to hold in 2014.
Conclusion
I believe that GasLog should have a value at least 20% higher than its current share price indicates. The new carriers make for an exciting future. Investors would appreciate the situation, and GasLog's share price would appreciate accordingly. I identify GasLog as a highly attractive investment proposition. Finally, its gross margin will lead to long-term gains.
Disclosure: I have no positions in any stocks mentioned, and no plans to initiate any positions within the next 72 hours. I wrote this article myself, and it expresses my own opinions. I am not receiving compensation for it (other than from Seeking Alpha). I have no business relationship with any company whose stock is mentioned in this article.