Editors' Note: This article covers a stock trading at less than $1 per share and/or with less than a $100 million market cap. Please be aware of the risks associated with these stocks.
Since the 1970's, giants like Johnson & Johnson (NYSE:JNJ), Procter & Gamble (NYSE:PG), Kimberly-Clark (NYSE:KMB), and Colgate Palmolive (NYSE:CL) have been enjoying billions of dollars in sales of personal care and household cleaning products containing the anti-bacterial, triclosan. Now, after 4 decades of flooding the market with these products, several dozen troubling studies on triclosan have emerged, putting these large sales in serious jeopardy. Even worse, class action lawsuits against the manufacturers are building, making the future look problematic and perhaps even ominous for shareholders.
Class action lawsuits of this nature may have the potential to weigh greatly on the price of the shares and even on the future of dividends. Remember the tobacco lawsuits? Prompted by a recent ruling from the Manhattan 2nd U.S. Circuit Court of Appeals, the U.S. government just announced it has found no evidence that triclosan prevents the spread of germs; and regulators want manufacturers of hundreds of household staples to finally prove their claims that their products actually work. Even more importantly, they want to know that they do not pose health risks to consumers.
The initial focus by the FDA has been on efficacy of triclosan; but, for the following reasons, it appears that safety may become a red hot topic. Over 60 independent studies have shown that triclosan is pervasive to the environment and several of these studies show that it is harmful to humans. More than 27 studies have shown it to be ineffective as an antibacterial. The National Institute of Environmental Health Sciences published a report that triclosan dramatically impairs heart and skeletal muscle contractility. Triclosan is also reported to disrupt the endocrine system. Tufts University published a White Paper detailing some of the dangers of triclosan and its lack of effectiveness as an anti-bacterial. Tufts' White Paper also describes how pervasive triclosan has become in humans and the environment. Triclosan is so widespread that it has been found in 75% of all of the urine samples analyzed and was also found in 57% of all of the United States waterways.
Triclosan was registered with the EPA as a pesticide in 1969 and may be similar in chemical structure to the deadly chemical Agent Orange meaning that hundreds of millions of consumers all around the world may have unknowingly been brushing their teeth, cleaning their bodies, and using everyday household products with a dangerous pesticide similar to Agent Orange.
The safety of triclosan and the question of its efficacy have opened the door to class action lawsuits that are just beginning to surface and may have the potential to rival the giant tobacco judgments if damages can be proven in court. Banning triclosan may also result in billions of dollars in lost sales if triclosan products are pulled off the shelves.
In June, 2013, Colgate Palmolive was named in a class action lawsuit by plaintiffs from across six states. The Dial Corporation, a division of Henkel USA, has been named in at least 10 federal class action lawsuits alleging that their germ-killing claims are unproven and misleading. The lawsuits, which were recently consolidated in a multidistrict litigation and transferred to U.S. District Court, District of New Hampshire, also allege that triclosan has been tied to antibiotic resistance. The law firm, Parker Waichman, is pioneering a class action lawsuit against the Dial Corporation and very likely others who sold triclosan products. U.S. District Judge Michael A. Shipp found that two plaintiffs could bring their Arm & Hammer deodorant class action lawsuit claims against its makers Church & Dwight. The triclosan controversy is building fast now; and, depending on damages proven in court, it is possible that triclosan class action lawsuits may rival or even surpass the giant tobacco class action lawsuits. Far more people have been exposed to triclosan than to tobacco, and the damages may have been just as severe.
The FDA is giving manufacturers until 2016 to prove their claims, but some companies are not waiting and are voluntarily removing their triclosan products from the market. Johnson & Johnson announced plans to eliminate triclosan from all its products by 2015. Kaiser Permanente pulled triclosan from its 37 hospitals across the country, switching to traditional soaps and alcohol-based hand sanitizers. Japan and Canada have already banned triclosan in cosmetics and other products. The EU has classified it as a dangerous irritant that persists in the environment; and in March 2010 they banned the chemical from all products that come into contact with food, such as containers and silverware.
Class action lawsuits are not the only big problem facing Procter & Gamble and Colgate Palmolive, and probably facing Johnson & Johnson, Kimberly-Clark, and dozens of other large companies selling billions of dollars of anti-bacterial products containing triclosan. With the negative press spreading now and with some large companies pulling triclosan from their products, sales are likely to begin falling and are likely to hurt the bottom line sooner than class action lawsuits. These products have been promoted as anti-bacterial; and, if these claims cannot be proven, then their sales are at risk. A surprising list of 590 personal care products is only a portion of consumer products containing triclosan indicating just how deep the problem really is for manufacturers.
Since the need for a safe and effective anti-bacterial is so large, the obvious question is, "Is there a safe replacement for triclosan that really works?" The answer may come as a surprise; but a replacement for triclosan was actually discovered by its own manufacturer, CIBA, a division of the chemical giant, BASF. In 2005 the controversy over triclosan was bubbling again, and CIBA saw its future as being questionable. That same year, CIBA entered into an agreement (which has expired) with Pure Bioscience (NASDAQ:PURE) to replace triclosan by acquiring the worldwide rights to a unique and proprietary anti-microbial called SDC that is also believed to be extremely safe. CIBA even had a name for the triclosan replacement and called it, "Tinosan-SDC." Unfortunately CIBA did not want to spend the time and money to gain an FDA approval for SDC as an active anti-microbial ingredient. CIBA subsequently turned all of their research over to the little-known licensor, Pure Bioscience, and continued to simply milk the remaining time triclosan had left.
CIBA was correct that SDC could be a replacement for triclosan, and they were also correct that there were issues of regulatory requirements and approvals in each country where products are sold. There is also the issue of which products SDC will work best in. It may work better in products with certain PH levels. It may work better in liquids as opposed to solids. All matters aside, one thing is certain: SDC is believed to be one of the safest and most effective anti-microbials known and will likely work in a majority of the multi-billion dollar personal care products worldwide. It currently meets FDA guidelines for use as a preservative in personal care products but not as an active anti-microbial, whereas in Europe SDC is approved as an active anti-microbial. SDC is currently used in Nivea products sold in Europe. Pure Bioscience and the $12 billion Brenntag distributor recently announced their global non-exclusive distribution agreement for SDC use in personal care products.
The most notable aspect about SDC is that it is so safe it is even being used in the food industry. SDC is granted the safest possible designation of Category IV by the EPA. SDC is Silver Dihydrogen Citrate; it is as close to being all natural as possible, given that it is simply citric acid infused with a tiny portion of silver ions. Silver has been used for centuries to heal and fight infection. For example, the first thing a serious burn victim is given in the ER is a silver based coating over the burns to prevent infection. SDC goes even beyond silver and blends silver ions in a unique structure with citric acid to provide the most effective anti-microbial that rapidly destroys pathogens such as MRSA, HIV, Hepatitis, Influenza, Herpes, and many more listed on the following chart. The kill times are very impressive.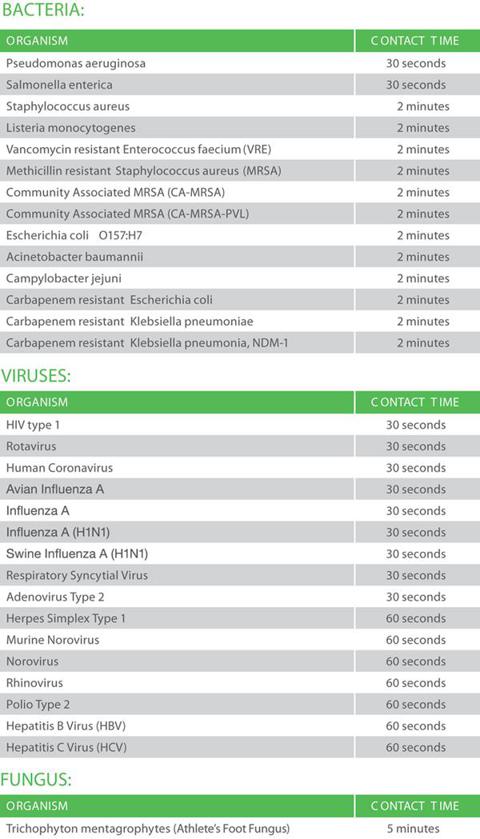 The market for a safe anti-microbial that has been approved by regulatory agencies is very large and is certainly a strong motive for any company to pursue costly and timely approvals, especially in light of the fall of triclosan. With the downfall of triclosan expected to result in a large loss of sales, it is reasonable to assume that CIBA may soon be back on the doorstep of Pure Bio. . . that is, if somebody else doesn't beat them to the punch. The key here is the sense of urgency. The FDA has given manufacturers until 2016, but consumers are already avoiding triclosan products because of the recent press, and manufacturers are already bailing on triclosan. This will tend to motivate manufacturers to move faster than expected.
Recently Pure Bio completely restructured management to include senior executives with decades of experience in the food industry. This enables them to execute their plan targeting the $2 billion opportunity in foods. Armed with SDC, Pure Bioscience may potentially gain a significant share of that market. There is also an opportunity to replace triclosan with SDC in a large number of products, and there are even other large markets for a product like SDC, but management is laser focused on the food industry and ready to begin delivering results. Significantly, the triclosan stakes are so high that it would not be surprising to learn that CIBA returns to the bargaining table. It's even possible that other large companies may reach out to either license the use of SDC or perhaps even make a bid for the entire company, since the amount is so small, the risk so low, and the stakes so high. With stakes this high, urgency is likely to increase. That may also drive Pure Bio valuations higher.
Procter & Gamble, Kimberly-Clark, Johnson & Johnson, and Colgate Palmolive are all financially solid; but sales may be impacted negatively if triclosan-based products are not replaced. Furthermore, if judgments are large as in the case of the tobacco class action suits, we could see a negative impact on the price of their shares and perhaps even dividend cuts in the coming years. Procter & Gamble had revenues of $85 billion in 2013 and about $23 billion in cash or equivalents. Johnson & Johnson had 2013 sales of $67 billion and year ending cash of about $46 billion. Kimberly-Clark had 2013 sales of $21 billion and cash or equivalents of $6 billion, while Colgate Palmolive had sales in 2013 of $17 billion and cash of $4.5 billion. Combined, these companies have a great deal of cash and income that look very attractive to lawyers envisioning class action lawsuits.
With the uncertainty of how sales of these large companies might be affected by the triclosan ban, and mostly with the uncertainty of how damaging potential triclosan class action lawsuits might be, it would seem prudent to assume a defensive posture by holding current shares, and withholding future purchases until more is known. Sales and any relevant news about triclosan that could impact the bottom line and dividends should be watched very closely. Procter & Gamble, Kimberly-Clark, Colgate Palmolive and Johnson & Johnson all have strong sales and cash today, but with the potential for lost sales and large judgments, this could deteriorate their position over the next two years.
Pure Bioscience is a small cap company that stands to benefit greatly from the demise of triclosan. The company has about 25.4 million shares outstanding and about one million in cash. Management is committed to their company and has demonstrated they will do what it takes to be successful. Today the company may be light in cash, but sales are expected to be increasing soon as they execute on their food safety plan. There is also the potential that some large company may want to license SDC for a triclosan replacement or for the food industry. If that happens, cash will be abundant. Until then, management continues to raise adequate cash with very small but effective private placement rounds.
With a product like SDC, with already large demand for a safe and effective anti-microbial, with the triclosan ban, with sales increasing, and with powerhouse management, Pure Bioscience is not expected to have difficulty raising cash. The risks to Pure Bio shareholders are the inability to raise enough cash to remain an ongoing concern, the risk that a superior product may emerge, the risk of unknown lawsuits, and of course the risk of the unknown. Pure Bioscience appears to be a moderate investment risk with the potential for a very large return and SDC appears to be the best "solution" to replace triclosan.
Disclosure: I have no positions in any stocks mentioned, and no plans to initiate any positions within the next 72 hours. I wrote this article myself, and it expresses my own opinions. I am not receiving compensation for it. I have no business relationship with any company whose stock is mentioned in this article.