International markets appear to offer some interesting investment opportunities, particularly relative to domestic stocks. International markets have underperformed U.S. markets for several years, which has opened up the opportunity for some international stocks to play catch up. Valuation metrics also appear to favor international markets. Using the SPDR MSCI ACWI (ex-US) ETF (NYSEARCA:CWI) as a proxy for international markets and the SPDR S&P 500 ETF (NYSEARCA:SPY) as a proxy for U.S. markets we find that yield, forward price to earnings, and price to book metrics all favor CWI.

Source: spdrs.com & Morningstar
Closed end fund investors looking to allocate capital internationally will find few broad international funds. There are many country specific, region specific, and world funds but only a handful of diversified international funds. The BlackRock International Growth & Income Trust (NYSE:BGY) is one of these funds. BGY offers competitive performance and an 8% distribution, while trading at a 12% discount to NAV. This article offers an in depth look at BGY to evaluate its attractiveness as part of an international investment allocation.
Performance:
Using an ETF with a similar investment objective gives a good comparison to allow for evaluation of the management's performance. CWI offers a similar investment universe to BGY and allows a comparison to evaluate performance. However, CWI does not use options to generate extra income, so that strategy must also be considered when evaluating the funds. As you can see below, on a NAV basis, BGY has strong relative returns in recent annualized periods. BGY's 5 year annualized return trails CWI largely due to underperformance in 2009. Reviewing the annual periods, recent performance has been strong. Option strategy funds often trail in strong up market and outperform in flat to down markets. BGY has mostly followed this rule with the exception of 2013, where BGY outperformed. The outperformance in 2013 is likely due to BGY's underweight position in emerging markets.

Data as of 12/31/2013 Source: Morningstar

Data as of 12/31/2013 Source: Morningstar
Premium/Discount: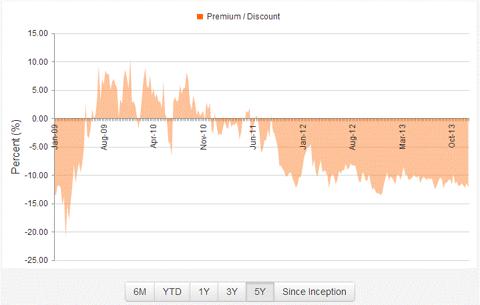 Source: CEFConnect
The fund closed 1/13/2013 at a 12.15% discount to the NAV, or underlying value of the portfolio. This is below the 52 week average discount of 10.98%. During the past 12 months the fund's discount has traded in a very narrow range, going as low as 12.78% and as high as 8.57%. As you can see above, BGY has traded at a premium in the past. The recent expansion in the discount is likely due to concern about international markets and the distribution cuts since March of 2012. High levels of return of capital may also contribute to the discount to NAV.
Expense Ratio:
The management fee is 1% of average daily net managed assets. As of 6/6/2013 the manager has agreed to waive 0.05% of the fee. Administrative fees and director's fees are also charged. The calculated management fee and other expenses came to 1.07% in 2013. The total cost of the fund is relatively low for an international fund, particularly one that uses an options overlay strategy.
Distribution:
BGY has a managed distribution policy and pays a $0.1679 distribution quarterly. This represents 8.18% at the current market price and 7.21% at NAV. A significant portion of the distribution over the past few years has been return of capital. The return of capital in 2013 was not destructive to the fund's NAV.
Leverage:
BGY uses an options overlay but does not employ other leverage.
Liquidity:
BGY is a moderately sized CEF with $1 billion in net assets. Trading volume is also moderate with 340,000 shares traded on average. This represents $2.7 million in daily volume at current prices. This is a reasonable amount of liquidity for a CEF and should allow individual investors the ability to get their orders filled. It is always wise to use limit orders to purchase or sell shares of closed-end funds, as the bid/ask spread can be wide.
Management:
BGY is managed by BlackRock (NYSE:BLK). BLK is one of the largest asset managers in the world. BGY is supported by a large analyst team with access to the significant resources that BLK has to offer.
Holdings:
Asset Allocation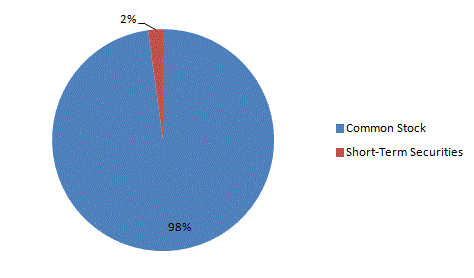 Source: BlackRock
The fund is almost completely invested in listed common equities with only a small portion in short term investments to facilitate account trading.
Region Allocation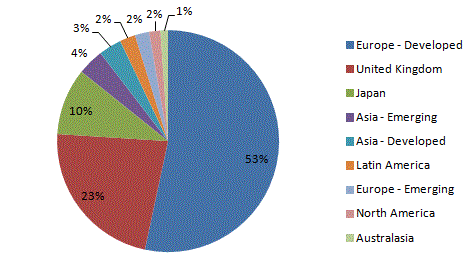 Source: Morningstar
The largest geographic allocation is to Developed Europe which represents more than half of the total portfolio. Another 23% is invested in the United Kingdom. This gives the fund a significant European exposure. The fund also has exposure to the rest of the international market but as of 10/31 only had 8.15% exposure to emerging markets. The international exposure exposes the fund to currency fluctuations which can impact the fund's performance.
Sector Allocation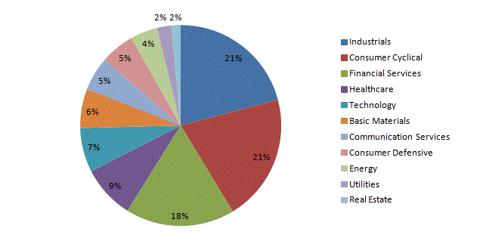 Source: Morningstar
BLK's CEF disclosure is relatively weak so this analysis uses information from Morningstar. The fund management has a positive outlook for the global economy. BGY is weighted toward cyclical industries to reflect this positive outlook. The fund does offer broad international exposure and all sectors.
Holdings Style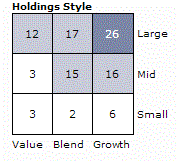 Source: Morningstar
The holdings style is a little bit surprising for an income oriented option overlay fund. BGY has small-cap and mid-cap exposure and a growth bias. This is different than the traditional large cap value focus of most option overlay funds. BGY's exposure to mid-cap and small-cap stocks is another way to benefit from management's view of improving economic trends in international markets.
Top Holdings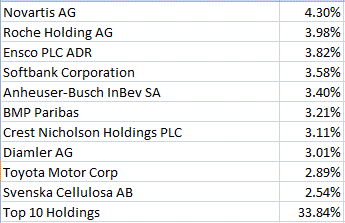 Source: Morningstar
BGY offers a diverse portfolio with 112 positions and only 33.84% of the fund in the top ten holdings. The managers are willing to make some larger bets with a couple of securities held at around 4% of the portfolio. The portfolio turnover is high at over 200% annually likely due to the option overlay strategy.
Strategy:
BGY's primary investment objective is current income and current gains with a secondary objective of long term capital appreciation. The fund invests at least 80% of managed asset in equity securities issued by non-U.S. companies. The fund has an all-cap mandate so it is not constrained by market capitalization. The fund also sells options to produce additional income. The fund writes single stock options. Under normal market conditions, the fund writes options on 45-55% of net assets.
Options:
BGY has an option overlay to generate additional income on the portfolio. BGY uses single stock options to execute this strategy. As of 9/30/2013, options were written against 46.85% of portfolio holdings.
Tax Issues:
As of October 31, 2013, the fund had $115,209,131 of unrealized gains in the portfolio. These gains are more than offset by $543,211,607 in tax loss carry forwards. $467,149,104 of the carry forwards expire in 2017 and $55,605,462 expire in 2018 the remainder have no expiration. These tax loss carry forwards should shelter investors in BGY from capital gains taxes for the next couple of years.
Conclusion:
BGY is an interesting way to get international exposure in a closed end fund. Recently, the fund has performed in line with ETFs that track the space. The options overly should serve to boost returns in a market grinding slowly higher and should provide some protection if there is a market correction. The current discount, and the potential of the discount narrowing, adds to the attractiveness of the fund. Finally, the relatively high distribution, if reinvested at a discount, can add to the attraction of the fund. However, the fund is likely to underperform international benchmarks in a strong market. Also, Europe has not completely put its economic issues behind it and BGY could see a large fall in Europe slips back into recession.
Disclosure: I am long BGY. I wrote this article myself, and it expresses my own opinions. I am not receiving compensation for it (other than from Seeking Alpha). I have no business relationship with any company whose stock is mentioned in this article.