Last week the Energy Information Administration ("EIA") released its weekly natural gas storage report. In my opinion the report established what spot prices have been telling us: the natural gas supply glut is over. While this is bullish and certainly a welcome development for Exxon Mobil (NYSE:XOM), the #1 producer of natural gas in the US, smaller companies like Cabot Oil & Gas (NYSE:COG), Chesapeake Energy (NYSE:CHK) and ConocoPhillips (NYSE:COP) derive a much larger percentage of revenues from domestic natural gas and will therefore see a larger impact on profits.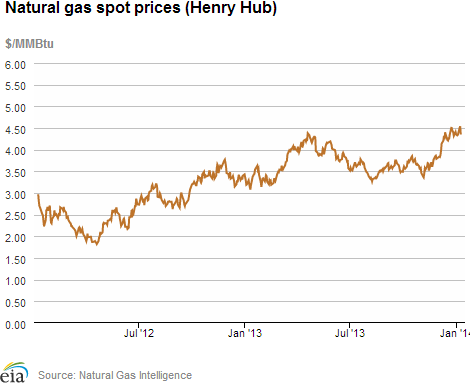 The sharp increase in natural gas spot prices has been widely reported. More interesting to me is the gas in storage versus the historical 5 year range - the blue line within the gray zone of the chart below. This line is clearly at the low end of the range, and indeed is on the verge of moving outside the range. Although gas in storage was on the low-end of the five-year range throughout much of 2013, it certainly did not start out the year that way. In January of 2013, just as in January of 2012, gas in storage started off the year at the very high end of the five-year range, not the low end, or possibly even below the low-end.
I could be jumping the gun here, but it sure seems to me that natural gas producers have adjusted their operations to reflect the abundant natural gas supply of the last few years. As a result, natural gas supplies (and price) appear to be entering a new phase. Yes, we have had a colder than normal winter and certainly that has affected supply and demand. But I believe it is more than that.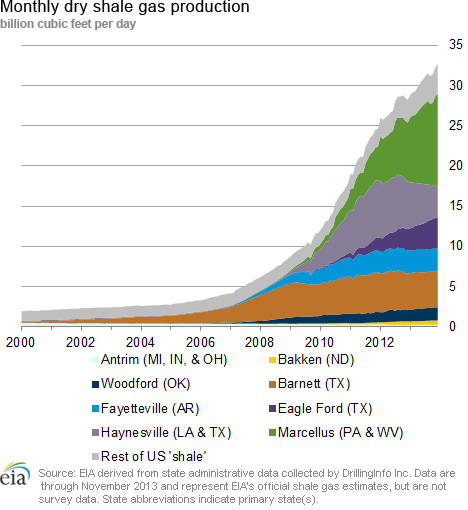 As can be seen from the chart above, other than the Marcellus, production in almost every major gas shale play has been either fairly steady or has contracted. There has been a significant reduction in supply out of the Haynesville shale. The Eagle Ford is still growing, but that is merely a side-effect of strong growth in oil production. It appears that domestic natural gas production is growing significantly, and intentionally, from only the most economic natural gas play: the prolific Marcellus shale.
While this might be anecdotal evidence in support of my opinion that the glut in natural gas is over, combined with the earlier fact that 2014 is starting off on the very low-end natural gas storage supply, it is noteworthy. The next weekly nat gas report is due out tomorrow (January 16th), so we can see if it continues to follow this narrative.
Investment Plays
Cabot Oil & Gas was only the 13th largest US natural gas producer as of Q2 2013. However it is a leader in the prolific Marcellus play. COG has over 200,000 acres in the Marcellus and as of year-end 2012 has 3Tcf of proved reserves. Finding costs have dropped from $0.63/Mcf in 2010 to $0.49/Mcf in 2012.
At year end 2012, the Marcellus accounted for 79% of the company's reserves and for 85% of net production as of Q2 2013.
While all that sounds great, the company is rather expensive with a PE of 38.5 while paying only a $0.08 dividend (0.1%).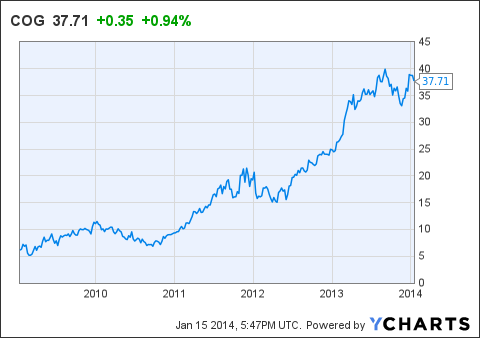 The market is likely valuing COG on the basis of its prolific Marcellus wells which energy expert and Seeking Alpha contributor Richard Zeits wrote about in his article Giant Well Parade In Susquehanna: Cabot Oil & Gas's 20 Bcf Wells. The other catalyst is, of course, the coming step function in demand that will result from LNG exports and the increasing industrial use of nat gas across the power generation, transportation and chemical segments. So while COG can definitely be considered pricey at these levels, there is definitely a compelling risk/reward case for investing in the company.
A safer and more diversified way to play an increase in natural gas prices would be ConocoPhillips, the nation's #7 natural gas producer. COP is trading with a PE ratio less than 1/3 of COG and pays a generous 4% dividend. A third alternative would be Chesapeake Energy, the #2 producer of natural gas in the US. CHK is about midway between COG and COP with a PE of 18.8 and a dividend yield of 1.4%.
Summary And Conclusions
There are definite signs that domestic natural gas producers have adjusted to the abundant domestic supply capacity and abnormally low prices of the last few years. Natural gas in storage is starting the year off on the very low end of the five-year average. This is not normal and is a bullish indicator going forward. Investors wanting to participate in the possibility that natural gas prices will stay firm or increase further should consider shares in COG, one of the fastest growing (and priciest) natural gas producers. If COG is too risky for you, take a look at CHK. Or if you would prefer a more less risky and more diversified company with exposure to international oil prices and paying a nice dividend, ConocoPhillips might work for you. Regardless, keep an eye out for the EIA's next weekly natural gas report tomorrow to see if recent trends continue.
Disclosure: I am long COP, XOM. I wrote this article myself, and it expresses my own opinions. I am not receiving compensation for it (other than from Seeking Alpha). I have no business relationship with any company whose stock is mentioned in this article.
Additional disclosure: I am an engineer, not a CFA. The information and data presented in this article was obtained from company documents and/or sources believed to be reliable, but has not been independently verified. Therefore, the author cannot guarantee its accuracy. Please do your own research and contact a qualified investment advisor. I am not responsible for investment decisions you make. Thanks for reading and good luck!