(Editors' Note: This article covers a stock that is trading at less than $1 per share and/or has less than a $100 million market cap. Please be aware of the risks associated with these stocks.)
The shares of Rockville, MD-based clinical-stage oncology biotech Rexahn Pharmaceuticals Inc. (NYSEMKT:RNN) have been on a roll recently, up from $0.51 at the end of last year to $1.16 at the close on Tuesday, after hitting an intra-day high of $1.85 on Monday. The surge started at the beginning of the year, and picked up steam after the company announced back-to-back clinical trial news last week and this week.
On January 8th, it announced the initiation of a Phase Ib clinical trial of RX-3117 to study its safety and efficacy in solid tumor cancer patients, and then on January 14th, yesterday, it announced the initiation of Phase IIa clinical proof-of-concept trial to study the safety and efficacy of its lead drug Archexin or RX-0201 in patients with metastatic renal cell carcinoma (MRCC).
While the surge was great news for long-term investors and those that got early into the rally more than a week ago, and also cancer patients, the question for potential investors on the sidelines is whether one should get into Rexahn at these levels, after shares more than quadrupled nadir-to-zenith in just the last month. In that context, does the current pullback over the last two days offer another opportunity for long-term investors to get in at a discount price, or was it a 'sucker rally' with the current decline being not an opportunity but a 'bull trap'? We will try to answer this question in the rest of the article by examining Rexahn's development pipeline and the potential it holds for investors.
Rexahn has a lot of things going for it. It has one of the broadest pipeline of drugs (see chart) that we have seen among micro-cap biotech companies, targeting a wide variety of cancer indications, with each of them targeting using a different mechanism of action. This is significant when compared to its peer group of micro-cap biotech companies (those with market-cap less than $300 mill.) that typically have most, if not all, of their pipeline based on just one drug candidate. Even when they have multiple candidates, they are often based on similar mechanisms of action, so that a failure of one drug has strong implications for the entire pipeline and company. Rexahn has minimized that risk so characteristic of micro-cap biotech companies by diversifying in terms of drugs, mechanisms of action, and target indications.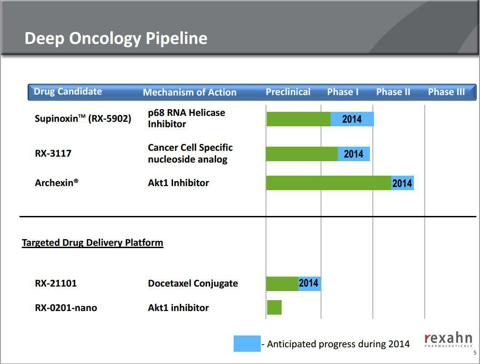 Rexahn's lead candidate Archexin is a first-in-class signal inhibitor that directly impresses the production of Akt, a protein kinase associated with tumor cell survival, proliferation, and invasiveness, that plays a key role in cancer progression. Akt has been found in over 70% of all cancers, and is also generally not found in any healthy tissues in the body. Thus it offers the potential, if successful in clinical trials, of a far better and less toxic approach to cancer treatment than chemotherapy, as it blocks the growth of tumor cells and promotes cell death vs. attacking all cells, including healthy ones, with toxic radiation.
Rexahn has received the U.S. FDA Orphan Drug Designation for Archexin for renal cancer as well as four other cancers including pancreatic cancer, ovarian cancer, glioblastoma and stomach cancer. An orphan drug designation in the U.S. is targeted at promoting drug therapies for diseases and conditions that affect fewer than 200,000 people, and is awarded with benefits such as seven year market exclusivity in the U.S., an accelerated review process, and tax advantages, as an incentive to encourage drug development in indications that otherwise lack a sufficient profit motive. The targeted indications for Archexin, besides being orphan diseases, also are among the most lethal types of cancer. For example, pancreatic cancer has a five-year mortality rate of 94%, stomach cancer 72%, glioblastoma 67%, ovarian cancer 56%, and kidney cancer 28% vs. the more common cancers such as skin, breast and prostate that have mortality rates of 9%, 11% and 1% respectively.
An earlier clinical Phase IIa trial of Archexin in patients with metastatic pancreatic cancer, announced by the company in August of 2012, resulted in positive top-line data. The primary endpoint of the study was achieved, with the study demonstrating that patients treated with Archexin in combination with gemcitabine provided a median survival of 9.1 months, almost twice the historical survival data of 5.65 months from standard single agent gemcitabine therapy.
The Phase IIa trial of Archexin in mRCC announced Tuesday will include 2 stages, with Stage 1 being a dose ranging study to determine the maximum tolerated dose in combination with everolimus, that is an approved drug for the treatment of RCC. Once the maximum tolerated dose of Archexin in combination with everolimus has been determined, thirty mRCC patients will participate in Stage 2, randomized to receive either Archexin in combination with everolimus or everolimus alone, in a ratio of 2:1. The primary endpoint of the trial will be the percentage of progression free patients following eight cycles of therapy, and the company is expected to report interim safety results in 4Q/2014.
Its second compound, RX-3117, is probably even more promising. For one, it can be taken orally, which would be much more preferable to chemotherapy, a treatment that besides being painful also has a host of side effects, including nausea and vomiting. Also, RX-3117 has demonstrated efficacy in human cancer cell lines resistant to gemcitabine, which is significant given that an estimated 25% of all cancer patients become resistant to gemcitabine after receiving one of more cycles of treatment.
RX-3117 is a novel DNA synthesis inhibitor that inhibits the synthesis of DNA in cancer cells, and is being targeted at a wide variety of solid tumors including pancreas, NSCLC, colon, renal, and other solid tumors. It demonstrated oral bioavailability, safety and tolerability in an earlier exploratory Phase I clinical trial in 2012 in Europe in cancer patients with solid tumors. Also, last September, the company reported publication of preclinical data for RX-3117 that demonstrated the broad spectrum of anti-tumor activity against 50 different human cancer cell lines, including colon, lung, renal and pancreas, that were suggestive of its huge potential.
The Phase Ib clinical trial announced last Wednesday will study the safety and efficacy of RX-3117 in cancer patients with solid tumors in the U.S. It will enroll up to 30 patients at three clinical sites. Patients will receive RX-3117 orally three times a week for three weeks followed by one week off, and will have the ability to continue the treatment for up to eight cycles. The company expects to complete enrollment in the trial by 4Q/2014, with the results expected by 2Q/2015.
Supinoxin or RX-5902 is the third lead compound in its pipeline. It is a first-in-class inhibitor of p68 RNA helicase, that is selectively expressed in cancer cells, is absent in normal tissue, and it up-regulates cancer-related genes, thereby increasing their activity and playing a role in tumor progression and metastasis. Supinoxin is being developed to target solid tumors, including pancreatic, NSCLC, colon, renal and other solid tumors. Its distinguishing feature is that it leads to less proliferation or growth of cancer cells, it is synergistic with cytotoxic agents, it is orally bio-available, and it has shown efficacy against drug resistant cancer cells.
A Phase I clinical trial in cancer patients with solid tumors was initiated in August of last year, and is designed to evaluate the safety, tolerability, dose-limiting toxicities and maximal tolerated dose (MTD) in patients with solid tumors. In preclinical studies, Supinoxin has been shown to inhibit proliferation of cancer cells in 18 human cancer cell lines including breast, colon, pancreas, ovarian, and stomach cancers, and showed potent activity in drug-resistant cancer cells. In an animal model, where human cancer cells from melanoma, pancreas, renal or ovarian cancers were grafted into animals, treatment with Supinoxin resulted in a significant reduction in tumor growth. Initial data from the Phase I clinical trial is expected to be released sometime before the end of this quarter.
Besides the three lead compounds discussed above, Rexahn also has a robust pre-clinical oncology product pipeline, including Archexin-Nano, RX-21101 and RX-0047-Nano. Archexin-Nano is a nanoliposomal product of RX-0201, the active ingredient of Archexin, delivered nanoliposomally, so that it provides significant clinical benefits including targeted higher cellular uptake, extended circulation time, reduced drug-related toxicity, and improved efficacy. RX-21101 is an anticancer drug designed to overcome the downside of cytotoxic compounds, and RX-0047-Nano is a potent inhibitor of a key transcription factor involved in cancer cell survival, metastasis and angiogenesis.
The cancer drug market is estimated to be well over $50 billion, accounting for almost a fifth of the overall drug market. Rexahn, with its broad pipeline of three lead compounds, and others in pre-clinical development, targets about a dozen of those indications, with the end market for most of those indications running into multiple billions of dollars. The renal cancer market alone, for example, is estimated to be about $6 billion, and the pancreatic cancer market is estimated at about $1.2 billion.
Even if one of the drugs being developed by Rexahn succeeds in just one of the indications, and it captures say a third of the market - not a bad assumption given the possibility that it could be an oral drug and has limited side effects - that could easily mean sales in the several hundreds of millions of dollars to well over a billion dollars.
This is not unlikely as despite the low success rates for oncology drugs, especially those targeting solid cancers, Rexahn due to its broad pipeline, multiple mechanisms of action and multiple target indications has multiple shots at this. Thus, assuming say a one-in-seven to one-in-ten approval rate, on average, for a phase I compound to be approved, and a one-in-five to one-in-seven approval rate for a phase II compound, given that it will soon have one phase II and three phase I compounds in development, that would amount to a 50% to 75% chance that just one of them makes it to approval. With potential sales in the billion dollar range for each of those indications, it appears that the current market-cap of $155 mill. simply does not fully reflect that potential upside.
One has to factor in that there are development costs associated with progressing a drug through the pipeline. Thus, despite its current cash balance of $19 mill. and an annual burn rate of about $10 mill. to $11 mill., it could lead to dilution down the road if the company chose to progress one or more drugs into pivotal trials. Also, there is the possibility that in the interim, it could be bought out or strike a collaboration deal with a large pharmaceutical company looking to diversify its development stage pipeline, in a deal that could include one-time up-front, milestone and royalty payments.
We believe that the current low price is reflective of a number of things, including that the company has traded in penny stock category for the last two years, that it has only recently narrowed its focus to the oncology space that now makes it easier to value the company, and that most of its pipeline until recently was preclinical. However, things are changing now, and the stock has begun to reflect some of the upside. On a technical basis, however, the stock looks very dicey here, and we would at best only dip our toe in here, taking a small starter position, and building it as the stock consolidates and say falls into its earlier resistance area in the $0.80 to $0.90 range.
We should also mention here that as we finish writing this, the company announced Wednesday morning a $20 mill. registered direct offering at $1.05 per unit, with each unit including one share of common stock and a five year warrant to purchase 0.25 of a share of common stock at an exercise price of $1.28 per share. The placement agent Roth Capital Partners, incidentally also had a bullish note on the stock last week after Wednesday's announcement, reiterating a buy and raising its price target to $3, well above current prices in the $1 range.
Insider and Institutions
Insiders sold 71,139 shares in the last two years, all sold in a single transaction by CFO Jeong Tae Heum in September of 2013. There was no insider buying in the last two years.
Among leading funds, that are part of our 300+ leading Wall St. fund managers, the world's largest or mega funds bought shares in the latest available 3Q/2013 (see Table).

The largest mega fund holder of Rexahn shares is Vanguard Group (click link for latest summarized 13-F), with $2.1 trill. in AUM, that holds 1.98 mill. shares, including adding 1.20 mill. shares in the latest available 3Q/2013, and Northern Trust, with $710 mill. in AUM, that holds 92,575 shares.
We have been following the activities of leading fund managers via numerous articles on Seeking Alpha, and on our website GuruFundPicks.com, and have observed a strong correlation between the activities of leading fund managers and the price performance of stocks in the succeeding quarters. Hence, we view the small accumulation of Rexahn Pharmaceuticals shares by mega fund managers in the latest 3Q/2013 as a positive, and will be looking forward to their buying and selling in the current quarter, which will be available shortly after the filing deadline for 4Q/2013 on February 14th, 2014.
Other institutional investors with large stakes in Rexahn include healthcare-focused Sabby Management, headed by Hal Mintz, that added a new 2.25 mill. share position in 3Q/2013 and Geode Capital Management that holds 0.28 mill. shares. Sabby Management, in fact, recently filed a SC 13D/G on January 7th, indicating that it now owns 7.32 mill. shares, an increase of 5.07 mill. shares from its position at the end of 3Q/2013.
Cautionary Note Regarding Investing In Micro-Cap Stocks
Investors should also keep in mind the risks associated with Rexahn being a micro-cap stock. This is even more so considering that it is a biotech stock that are even more volatile than stocks in other industries. Also, all of its drug candidates are in early, mid-stage and pre-clinical stages, and have a rigorous FDA review procedure ahead of them. A disappointment in any of them could immediately send the stock far lower than it is right now.
Disclosure: I have no positions in any stocks mentioned, but may initiate a long position in RNN over the next 72 hours.
Business relationship disclosure: The article has been written by the Hedge and Mutual Fund Analyst at GuruFundPicks.com. GuruFundPicks.com is not receiving compensation for it (other than from Seeking Alpha). GuruFundPicks.com has no business relationship with any company whose stock is mentioned in this article.
Additional disclosure: Use of GuruFundPicks' research is at your own risk. You should do your own research and due diligence before making any investment decision with respect to securities covered herein. You should assume that as of the publication date of any report or letter, GuruFundPicks, LLC, has a position in all stocks (and/or options of the stock) covered herein that is consistent with the position set forth in our research report. Following publication of any report or letter, GuruFundPicks intends to continue transacting in the securities covered herein, and we may be long, short, or neutral at any time hereafter regardless of our initial recommendation. To the best of our knowledge and belief, all information contained herein is accurate and reliable, and has been obtained from public sources we believe to be accurate and reliable, and not from company or persons who have a relationship with company insiders. Also, in our preparation of this article, we referred investor resources such as Zacks.com, Marketsmith and Sentieo.