By Dee Gill
Campbell Soup Co. (NYSE:CPB) shareholders lived pretty uneventful existences before takeover speculation made food manufacturing stocks look attractive last spring. Campbell shares, showing the first signs of life in years, racked up 25% gains between mid-February and May. But on closer inspection, Campbell's shares are looking pretty unappetizing. In fact, income investors in particular might want to consider selling out now.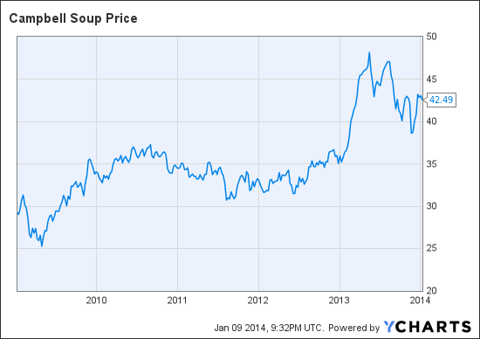 CPB data by YCharts
The bump in the last year of chart traces back to Warren Buffett's $23 billion takeover of ketchup maker Heinz, which was announced Feb. 15. The deal stirred up speculation that Campbell, with a shared customer base and compatible food processing plants, could be Buffett's next big takeover target. Campbell, like Heinz, is an iconic brand, and the low share valuation makes it an obvious subject for takeover gossip. Campbell's forward PE ratio is usually on the low side when compared with other food manufacturers like General Mills (NYSE:GIS), J.M. Smucker (NYSE:SJM), Kraft Foods Group (KRFT) and McCormick (NYSE:MKC).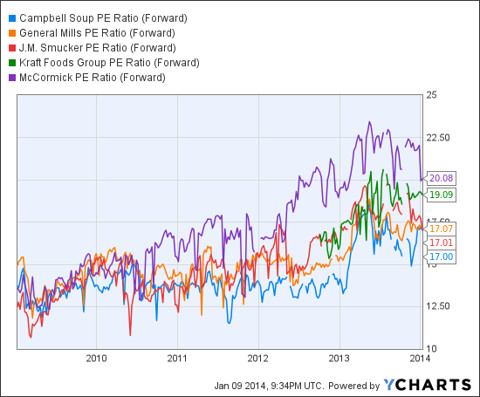 CPB PE Ratio (Forward) data by YCharts
But value and income investors don't lay money down on takeover speculation without a strong backup scenario, and Campbell's go-it-alone strategy is looking particularly weak. Sales in almost all of its core products are in decline, including soups, V-8 juices and ready-to-serve meals like Spaghettios. A 30% decline in earnings last quarter caused the company to lower forecasts. Acquisitions and spin-offs are almost the sole source of growth.
Campbell has been acquiring companies like Bolthouse Farms, maker of smoothies and packaged carrots, in an attempt to ramp revenue growth. However, the acquisitions have cut into Campbell's usually stellar profit margins, and analysts have questioned the wisdom of such strategy. At least three analysts have sell or underweight ratings on the shares.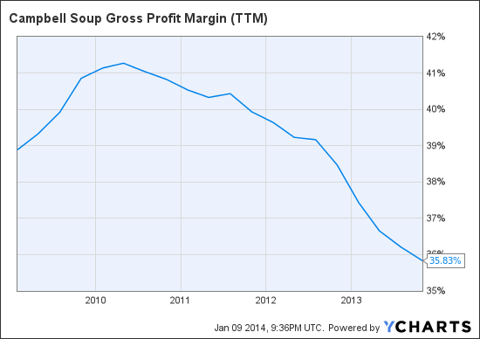 CPB Gross Profit Margin (TTM) data by YCharts
All that takeover hype means Campbell's dividend yield isn't what it used to be anyway. The yield, at just under 3% is almost identical to the 10-Year Treasury. Quick dividend increases that might make the shares more attractive seem less likely now that the company has more debt and less cash flow to fund the payouts. Campbell's payout ratio indicates that the company already uses most of its earnings to pay for dividends. The company has a lot of cash flow to cover those payments, but it also is spending more of it on debt now.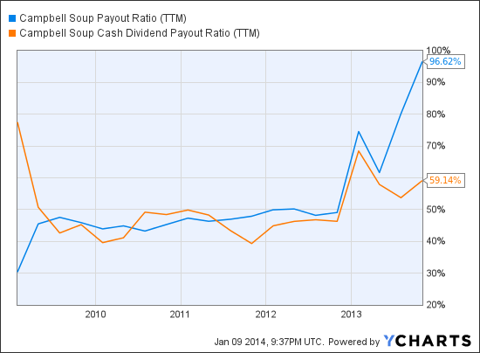 CPB Payout Ratio (TTM) data by YCharts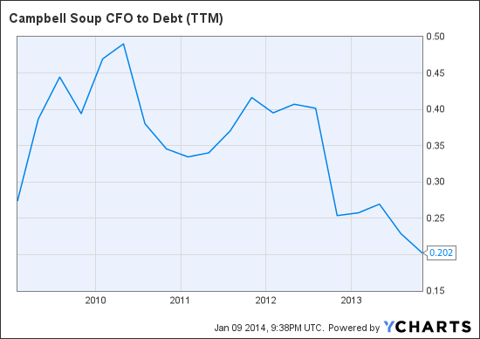 CPB CFO to Debt (TTM) data by YCharts
An actual takeover bid - as opposed to the hope and pure speculation of one in the air now - would surely make Campbell shareholders wealthier. But enacting a strategy around market mussing is difficult. Without an offer, it's hard to find the reason for investors to bother with Campbell from here. Its acquired products look unlikely to make the company rich; dividends appear safe but mundane; and tinned soup isn't getting any sexier. The shares already trade at valuations much higher than normal, and one wonders if those share prices could be sustained if merger speculation dies off.
Dee Gill, a senior contributing editor at YCharts, is a former foreign correspondent for AP-Dow Jones News in London, where she covered the U.K. equities market and economic indicators. She has written for The New York Times, The Wall Street Journal, The Economist and Time magazine.